Low FODMAP Potato Eggplant Curry
Our Low FODMAP Potato Eggplant Curry is an easy-to-make dish that you can tailor to your desired heat level. Along with the two main vegetables it also features tomatoes, mustard seed, cumin, coriander, fresh ginger and cayenne.
At the time that I developed this recipe for Low FODMAP Potato Eggplant Curry we only had one eggplant recipe on the site – and that was not nearly enough!
So I went on a bit of an eggplant frenzy and developed this dish as well as our Lighter Low FODMAP Eggplant Parmigiana and also our Hearty Low FODMAP Eggplant Parmesan. Eggplant lovers unite!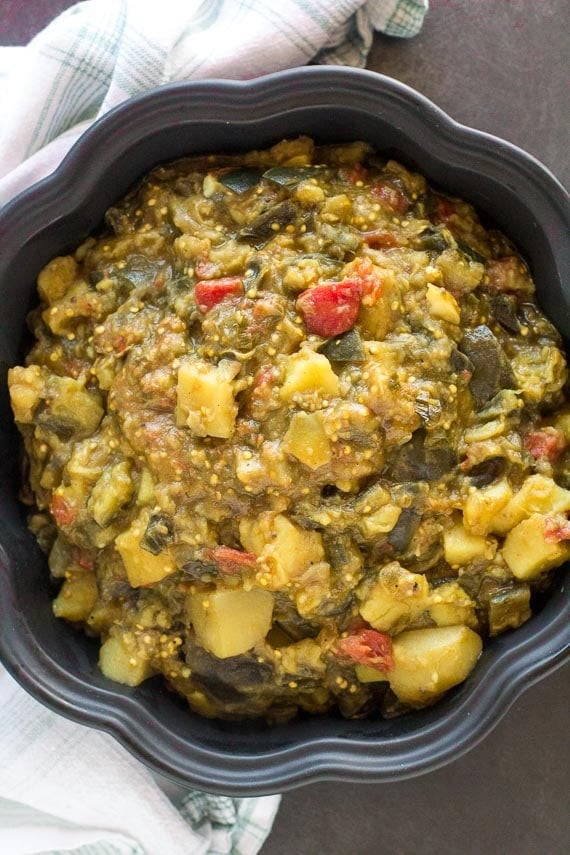 Eggplant & FODMAPs
Eggplant, also called aubergine, is Green Light Low FODMAP in amounts of 1 cup or 75 g. It doesn't become Moderate for FODMAPs until it reaches a very generous quantity of 2 ½ cups or 182 g, so there is a lot of wiggle room.
Buying Eggplant
The most common eggplant, the glove eggplant, is perfectly fine for this dish. Choose eggplants that are heavy for their size and the skin should be shiny and taught – no softness or wrinkles.
Potatoes & FODMAPs
Hopefully by now you know that potatoes contain no FODMAPs. You can learn all about them in our Explore An Ingredient: Potatoes.
The tender and rich potatoes and creamy texture of the eggplant combine in this Low FODMAP Potato Eggplant Curry recipe to create a really lovely hearty side dish or a lovely light main dish. I like to add some poached eggs on top for a more substantial meal.
And while serving it with rice might seem like overkill, given the potatoes, it is actually a fabulous addition.
This dish was inspired by a recipe in How To Cook Everything, by Mark Bittman. Among other differences Mark asks for butter, and you could use it, but if you have ghee available, this is a perfect time to use it.
Low FODMAP Potato Eggplant Curry
Our Low FODMAP Potato Eggplant Curry is an easy and hearty vegetable focused main-dish.
Total Time:
1
hour
50
minutes
Ingredients:
3-

pounds (1.4 kg)

eggplant,

(choose two or three, not one gargantuan eggplant)

1

tablespoon

Garlic-Infused Oil,

made with vegetable oil, or purchased equivalent

1

teaspoon

mustard seed

¼

cup (57 g)

ghee

1

tablespoon

grated fresh ginger root

2

teaspoons

ground coriander

1

teaspoon

ground cumin

½

teaspoon

cayenne,

or to taste

6

medium

fresh beefsteak tomatoes,

cored, seeded and chopped; see Tips

3-

pounds (1.4 kg)

Yukon gold potatoes,

cubed

1

cup (240 ml)

water

2

tablespoons

lime juice

Cilantro; optional
Preparation:
Cube the eggplant, place in a colander in the sink, salt the eggplant and toss well to distribute salt evenly. Let sit 1 hour.

Meanwhile, heat the oil in a large Dutch oven over low-medium heat and add mustard seeds. Cook until the seeds begin to pop, then stir in the ghee, ginger root, coriander, cumin and cayenne and cook until ghee melts, about 30 seconds to 1 minute.

Add the tomatoes, potatoes, eggplant and water. Season with salt and pepper. Give everything a good stir, then cover the pot and bring to a simmer over low-medium heat and cook for about 30 minutes or until potatoes and eggplant are tender and everything has come together. Taste and adjust seasoning with salt and pepper and add more cayenne, if desired. Stir in lime juice. Your Low FODMAP Potato Eggplant Curry is ready to serve. Garnish with chopped cilantro, if you like. The dish can be refrigerated in an airtight container for up to 4 days.
Notes:
Tips
You can peel the fresh tomatoes if you wish. I never bother.
I have also made this recipe with canned, peeled tomatoes and also canned diced tomatoes and it works just fine. Just eyeball these canned products to equal the amount of fresh tomatoes called for.
If You Can Tolerate
Fructans: If you have passed the fructan garlic Challenge, add 1 or two minced garlic cloves to the ghee and spices and sauté.
Nutrition
Calories:
97
kcal
|
Carbohydrates:
14
g
|
Protein:
3
g
|
Fat:
4
g
|
Saturated Fat:
2
g
|
Cholesterol:
8
mg
|
Sodium:
9
mg
|
Potassium:
441
mg
|
Fiber:
4
g
|
Sugar:
3
g
|
Vitamin A:
36
IU
|
Vitamin C:
10
mg
|
Calcium:
29
mg
|
Iron:
2
mg