Low FODMAP Braised Chicken & Mushroom Ragu
This is yet another recipe adapted from Colu Henry's Back Pocket Pasta, a book that I turn to again and again. The concept of the book is to bring you pasta ideas that are easy to make on the fly.
Colu does expect you to have a well-stocked pantry and I whole-heartedly agree. Especially now that you are cooking low FODMAP and you want to have full-flavored luscious food, it will much easier to accomplish this with the best ingredients at hand.
This Low FODMAP Braised Chicken & Mushroom Ragu features deep, complex flavors and even improves after a couple of days, as so many braises do, which makes it a great dish for guests when time is short the day of your party.
Let's Talk Mushrooms
Oyster mushrooms are low FODMAP in amounts of 1 cup (75g). Colu's original recipe called for a good amount of dried porcini as well as cremini mushrooms. I scaled back on the dried and subbed in low FODMAP oyster mushrooms.
This recipe is low FODMAP if you follow our serving size recommendations.
Be careful when you are reading about the low FODMAP diet. 
There is a lot of misinformation out there, both in print, on-line and in apps. It is all too easy to see a list of high FODMAP foods that includes mushrooms and to register in your memory that "mushrooms are high FODMAP".
The low FODMAP diet is complex and nuanced. Saying that mushrooms are high FODMAP is not completely wrong, but it certainly doesn't explain everything you need to know about mushrooms in relation to eating low FODMAP.
As you saw above, oyster mushrooms are low FODMAP (as lab-tested by Monash University) in quite generous portions. And take note that the recipe calls for 8-ounces (225 g) of TRIMMED oyster mushrooms, which means you need to buy more.
They have very heavy, wooden stems, which will be discarded.
And, actually, when it come to dried mushrooms, there are low FODMAP safe amounts – and dried mushrooms are potent! A little goes a long way and you only need a little bit in a dish to impart their earthy, umami flavor.
After soaking the dried porcini mushrooms, Colu calls for using the soaking water, which is packed with flavor, but due to the extra FODMAPs within I have chosen to discard it.
Dried porcini are low FODMAP in 10-gram amounts per serving. The total amount used in the recipe is 30 grams, which means you will be well within low FODMAP guidelines.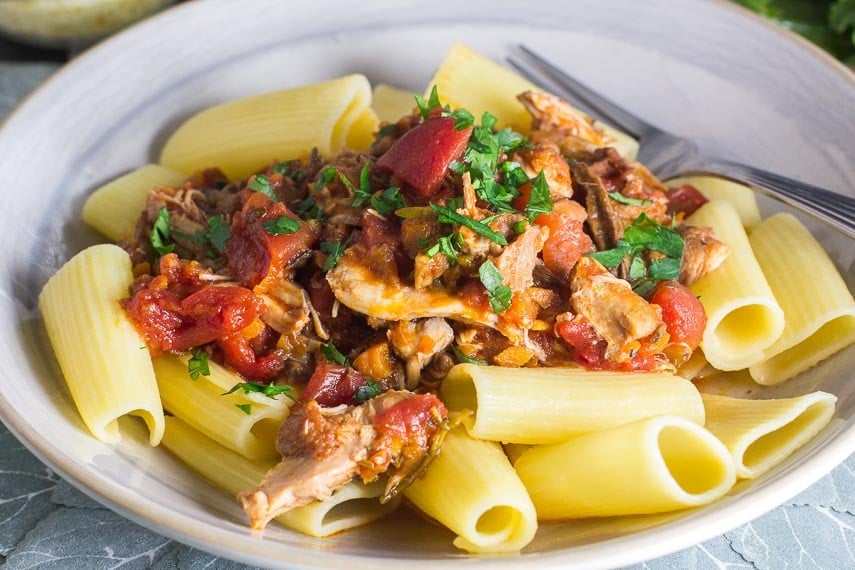 Bone-In; Bone-Out
Colu's recipes called for skin-on, bone-in chicken thighs. You do want the chicken skin intact to provide flavor, but I have made this dish with bone-in thighs, in which case you have to fish out the bones before serving, or I have also made it with boned thighs, which makes things easier yet a tad less flavorful. Your choice.
For Colu's other recipes, please see the Grilled Squid with Chiles & Mint and also her Penne Rigate with Gorgonzola, Radicchio & Walnuts.
If you like hearty braises, also check out our take on a classic – Low FODMAP Coq Au Vin!
And our Low FODMAP Chicken with Artichokes & Olives.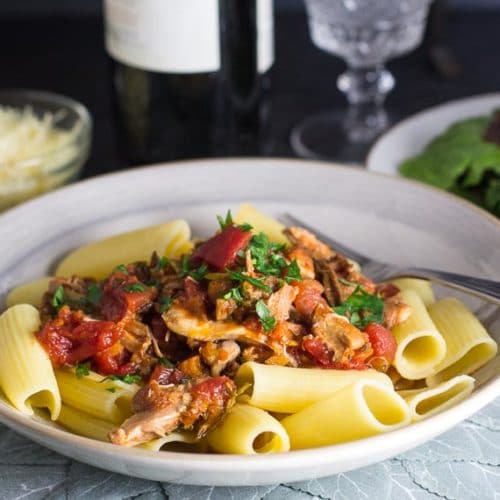 Low FODMAP Braised Chicken & Mushroom Ragu
We love braised dishes because they are easy and even improve over a few days. This Low FODMAP Braised Chicken & Mushroom Ragu is a perfect dish to make for a party - for those following the diet and everyone else.
Ingredients:
1-

ounce (30 g)

dried porcini mushrooms

6

skin-on thicken thighs,

about 2 pounds/910 g, bone-in or boned

Freshly ground black pepper

2

tablespoons

Garlic-Infused Oil,

made with olive oil, or purchased equivalent

1

medium carrot,

trimmed, scrubbed and chopped into large pieces

1

medium stalk celery,

trimmed and chopped into large pieces

½

cup (32 g)

scallions,

green parts only, chopped into large pieces

½

teaspoons

crushed red pepper flakes

1

tablespoon

chopped fresh rosemary

1

tablespoon

chopped fresh thyme

¼

cup (8 g)

chopped flat-leaf parsley,

divided

½

pound (225 g)

trimmed oyster mushrooms,

chopped

1

tablespoon

tomato paste

½

cup (120 ml)

dry red wine

1

cup (240 ml)

low FODMAP chicken stock

1, 28-

ounce (794 g)

can diced San Marzano tomatoes

Lofo Pasta, steamed potatoes or sourdough bread

Pecorino Romano cheese
Preparation:
Place the dried porcini in a small heatproof bowl and cover with boiling water; allow to sit for 15 minutes until softened.

Meanwhile, liberally season the chicken on all sides with salt and pepper. Add oil to a heavy Dutch oven, heat over medium heat, and brown both sides of chicken thighs, cooking about 3 to 5 minutes per side (longer for bone-in). Make sure to get the skin side nice and crispy. Set aside. Pour off any excess fat, leaving about 3 tablespoons in the pot.

Place carrot, celery and scallion greens in bowl of food processor fitted with metal blade. Pulse on and off until very finely minced, then add to pot. Cook over low-medium heat, scraping up any browned chicken bits from the bottom of the pan, and sauté until vegetables are softened - just a few of minutes. Stir in the red pepper flakes, chopped rosemary and thyme, half of the parsley and cook for about 30 seconds. Stir in the fresh mushrooms and tomato paste and cook for a few minutes until mushrooms soften.

Meanwhile, drain the porcini, discard the soaking water and chop the mushrooms. Add these porcini to the pot along with the wine, bring to a simmer and cook until most of the liquid is evaporated. Add the stock and simmer until reduced by about half. Stir in the tomatoes, taste and adjust seasoning (you will need generous salt and pepper in this dish), then nestle the chicken into the braising liquid. Cover, bring to a simmer and cook for about 20 minutes.

If you want to serve this right away with pasta or potatoes, cook them now. I like a lofo rigatoni. But sopping this up with sourdough bread is fantastic! Right before serving you can remove the bones (if in therand shred/chop the chicken. Taste and make a final salt and pepper adjustment. Serve over lofo pasta (or potatoes or alongside bread), garnish with reserved parsley and pass the Pecorino Romano.

We think this dish improved upon sitting. Cool, then refrigerate in an airtight container for up to 4 days. Or freeze for up to a month.
Notes:
Tips
You might be surprised to see mushrooms in a low FODMAP dish but oyster mushrooms in particular are low FODMAP in generous quantities of 75 g (about 1 cup).
Nutrition
Calories:
324
kcal
|
Carbohydrates:
17
g
|
Protein:
34
g
|
Fat:
11
g
|
Saturated Fat:
1
g
|
Sodium:
28
mg
|
Potassium:
100
mg
|
Fiber:
3
g
|
Sugar:
5
g
|
Vitamin A:
40
IU
|
Vitamin C:
0.7
mg
|
Iron:
0.2
mg