Let's Make Low FODMAP Honey Roasted Chili Lime Chicken Wings
Did the title get you? Low FODMAP Honey Roasted Chili Lime Chicken Wings is a delicious mouthful!
Honey is a relatively high FODMAP food, but honey is low FODMAP in 1 teaspoon portions. That is how we are able to use it in this recipe for Low FODMAP Honey Roasted Chili Lime Chicken Wings IF you stick to the serving size.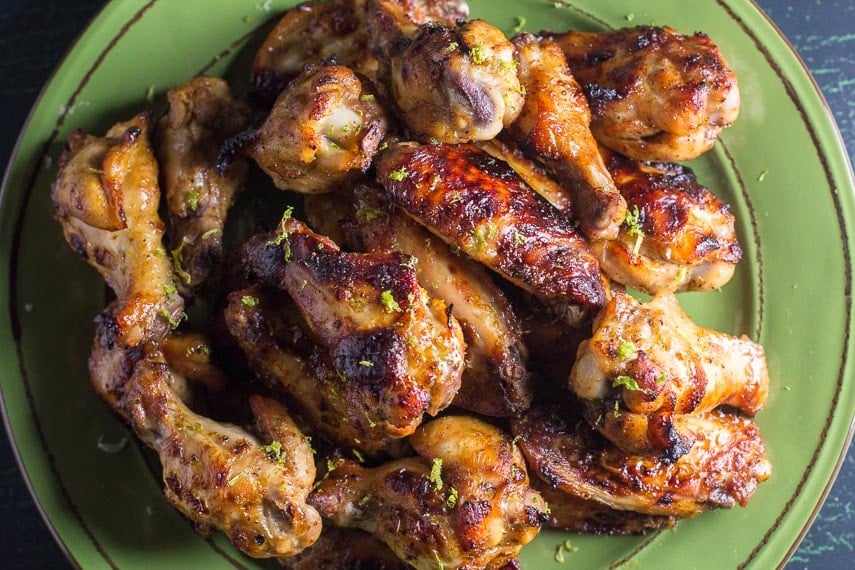 Can I Eat More Than The Recommended Serving Size?
Yes, you can eat a larger serving size, if you tolerate fructose well. It is all individual and you will learn your specific fructose tolerance during a well-structured Challenge Phase.
I can eat double the serving size and not experience symptoms. Always pay attention to your own needs.
Sweet & Acid
Most of you know about sweet, salty, bitter and sour flavors. There is also umami, which you can read about in our article on this important flavor.
For this Low FODMAP Honey Roasted Chili Lime Chicken Wings recipe the balance is all about the sweet from the honey, the acid (sour) from the lime and the spicy from the dry rub.
The salt (salty) balances it all out, without becoming a main flavor component. If the dish seems to be lacking something, try accessing which of these flavors you think is missing and then add more of what is lacking.
It often takes adding more than one ingredient to create balance.
Different commercially prepared spice blends will have different balances of ingredients, which might necessitate you playing around a little bit.
Wings, Wings, Wings
We love chicken wings here at FODMAP Everyday®. Check out our article on All About Chicken Wings to get the basics. Then, if you are a chicken lover too, take a look at our Pesto Chicken Wings, Smoky Spicy Chicken Wings, Sticky Asian Chicken Wings, 5-Spice Chicken Wings, Maple Dijon Chicken Wings and our Wood-Fired Low FODMAP Hot Honey Chicken Wings and Pizza Chicken Wings.
Let's Make Low FODMAP Honey Roasted Chili Lime Chicken Wings!
Low FODMAP Honey Roasted Chili Lime Chicken Wings
We have several low FODMAP chicken wings and this is our latest entry - sticky, sweet, with heat and the zest of lime.
Ingredients:
3

pounds (1.4 kg)

chicken wings, chicken wings,

made up of drumettes and flats (about 24 individual separated chicken wing pieces)

1

tablespoon

Garlic-Infused Oil,

made with vegetable oil

2

tablespoons

honey

2

teaspoons

lime juice,

divided

2

teaspoons

lime zest,

divided

Freshly ground pepper
Preparation:
Preheat oven to 450°F/230°C. Line a rimmed half-sheet pan with aluminum foil and set a rack on top; set aside.

Place wings in mixing bowl and coat with Garlic-Infused Oil. I like to use my hands, but you can use tongs. Add honey, dry rub, 1 teaspoon lime juice, 1 teaspoon lime zest and a generous amount of salt and pepper and turn wings to coat well. Arrange wings evenly spaced on rack set on rimmed pan.

Roast for 10 minutes, then turn all the wings over. Roast for another 10 minutes and turn them over again. Roast for another 10 minutes and check for doneness. Wings should be browned evenly and just cooked through and register 160°F/71°C with an instant read thermometer. Roast further, if necessary.

Remove from oven and sprinkle with remaining lime juice and zest and serve immediately.
Notes:
Tips
Don't be afraid of recipes that have small amounts of foods that have high FODMAP designations in larger amounts. Honey is low FODMAP in small amounts and if you stick to the serving size of these wings, they will still be low FODMAP
Nutrition
Calories:
404
kcal
|
Carbohydrates:
4
g
|
Protein:
30
g
|
Fat:
25
g
|
Sugar:
4
g
|
Vitamin C:
0.4
mg
You will want to check out our round-up of 9 Insanely Delicious Easy Homemade Low FODMAP Chicken Wing Recipes.