Granola Bars Better Than Store Bought
These are nothing like the pre-packaged snack bars that you buy at the store. These Soft, Chewy Granola Bars are a little more like a bakery-style treat, yet they can be made ahead, frozen, and grabbed as you are running to the gym.
And they are just one of the many exclusive recipes that we have developed for you in our Test Kitchen – and they are Elimination phase safe! And, as we say around here, Certifiably Delicious!
They are oat based and you can read much more about oats in our Ingredient column.
We call them "granola" because all of the classic granola ingredients are in there like oats and dried fruit but the texture is as far from dry and crumbly as you can get.
This recipe was adapted from one that a friend makes at her wholesale bakery, but we put them through our low FODMAP Test Kitchen to tweak them for you.
For instance, she plays around with the various nuts, seeds and fruit, but not all of them would be appropriate for us FODMAPers. She, in turn, took inspiration from Smitten Kitchen. This bar will please everyone in the family.
We like to line our pan with either parchment or foil and if you happen to have one of these small rollers around, it is perfect for creating an even layer of batter prior to baking. Your bars will look bakery perfect!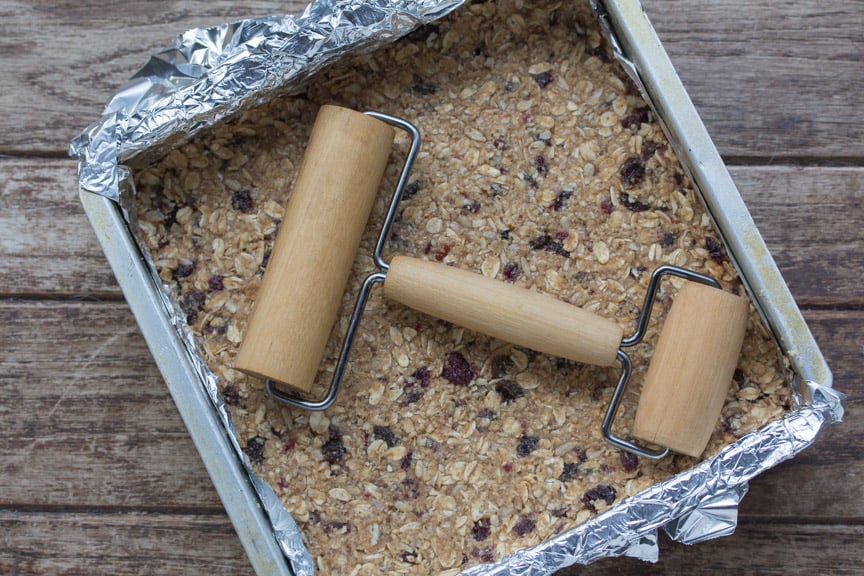 If you want to be prepared to make dinner quickly and easily – be prepared! Check out our article on 12 Essential Pantry Items, 10 Essential Low FODMAP Baking Items and 8 Essential Fridge & Freezer Items.
Soft, Chewy Granola Bars
These granola bars are thick and chewy and so much better than store-bought. They can be frozen, too.
Low FODMAP Serving Size Info: Makes 16 bars; serving size 1 bar
Ingredients:
1 2/3

cups (164 g)

old-fashioned oats

(use gluten-free if on a gluten-free diet)

1/2

cup (80 g)

dried cranberries

1/2

cup (83 g)

raisins

1/2

cup (54 g)

toasted pecan or walnut halves,

chopped

1/3

cup (32 g)

almond flour,

made from blanched or natural almonds

1/4

cup (17 g)

unsweetened shredded coconut

1/4

cup (35 g)

sunflower seeds

1/2

teaspoon

cinnamon

1/2

teaspoon

salt

1/3

cup (75 ml)

creamy, smooth peanut butter

(see Tips)

1/3

cup (66 g)

sugar

1/3

cup (75 ml)

vegetable oil,

such as canola or safflower

1/4

cup (60 ml)

maple syrup

2

tablespoons

rice malt syrup

1

tablespoon

water

1

teaspoon

vanilla essence
Preparation:
Position rack in middle of oven. Preheat oven to 350°F/180°C. Line an 8-inch (20 cm) square pan with aluminum foil or parchment and coat foil or paper with nonstick spray.

Place oats, cranberries, raisins, nuts, almond flour, coconut, sunflower seeds, cinnamon and salt in the bowl of a stand mixer fitted with a flat paddle and blend until combined on low speed. Alternately you can toss together by hand in a large bowl.

Whisk together the peanut butter, sugar, oil, maple syrup, rice malt syrup, water and vanilla in a small bowl until combined and smooth. Add to dry mix and blend until everything is evenly mixed. A mixer makes this easy; if making by hand it will take a little elbow grease, but it can be done! Use a combination of a wooden spoon and silicone spatula if making by hand.

Scrape mixture into prepared pan leveling and smoothing the top with a small offset spatula.

Bake for about 30 minutes or until a toothpick inserted in the center tests clean. Cool pan on rack. Lift foil or parchment out of pan, peel away, and cut into a 4 x 4 grid to yield 16 bars. The bars can be stored in an airtight container at room temperature for up to 3 days. Or, do what we do and wrap bars individually with plastic wrap, place all of those in a zip top bag and store in freezer for up to a month. This makes it very easy to grab on one-the-go and they defrost very quickly.
Notes:
Tips
Serving size is everything with these bars. There are FODMAP limits for nuts, seeds and dried fruit so we suggest that you start with 1 bar per serving and see how you feel.
We like these best if made with no-stir style peanut butter made with palm oil. You can use all-natural peanut butter (ingredients will be peanuts and salts) but the bar's texture will become drier. Try both and see which you like.
Nutrition
Calories:
327
kcal
|
Carbohydrates:
41
g
|
Protein:
6
g
|
Fat:
16
g
|
Saturated Fat:
2
g
|
Sodium:
80
mg
|
Potassium:
205
mg
|
Fiber:
5
g
|
Sugar:
14
g
|
Vitamin C:
0.5
mg
|
Calcium:
25
mg
|
Iron:
1.6
mg