What Can I Eat For Lunch of the Low FODMAP Diet?
We hear this question all the time and it can be perplexing, especially when you first start the low FODMAP diet. But here's the thing. If you liked chicken salad before, you can still have chicken salad now, like this Low FODMAP Curried Chicken Salad.
We have several chicken salad recipes (THIS one has bacon!) including one, which features raisins, celery and mayo as well as lactose-free sour cream.
Check out our Low FODMAP Green Goddess Chicken Salad, too.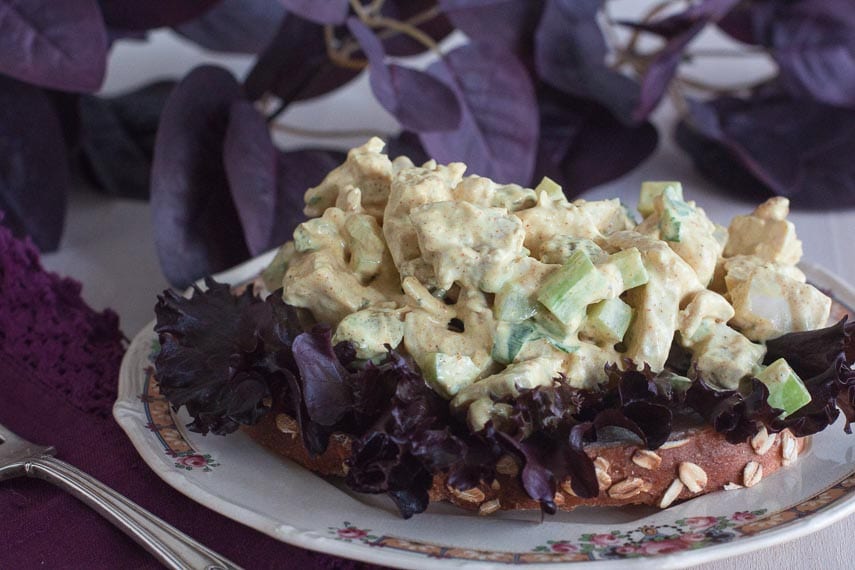 Know Your Curry Powder
Curry powder is a blend and it can be mild, medium, or hot, which is important for your taste buds but what is important for your low FODMAP status is making sure that it does not contain onion and/or garlic, as some blends do.
At the FODMAP Everyday Test Kitchen we are partial to a Frontier Blend as well as a hot blend from Penzey's.
With one of these in your pantry you can make many low FODMAP curry dishes, such as our Coconut Tofu Curry, Turkey Coconut Curry and our  Easy Lamb Curry.
What's That Apple Doing in There?
Pink Lady and Granny Smith Apples are low FODMAP in amounts of 2 generous tablespoons, chopped or 20 grams, according to Monash University testing.
The 20 gram amount looks like this below. The chopped apple in the bowl is 20 grams; the thicker slices to the left are 20 grams and the thinner slices to the right are, too.
Check out our article, Are Apples Low FODMAP?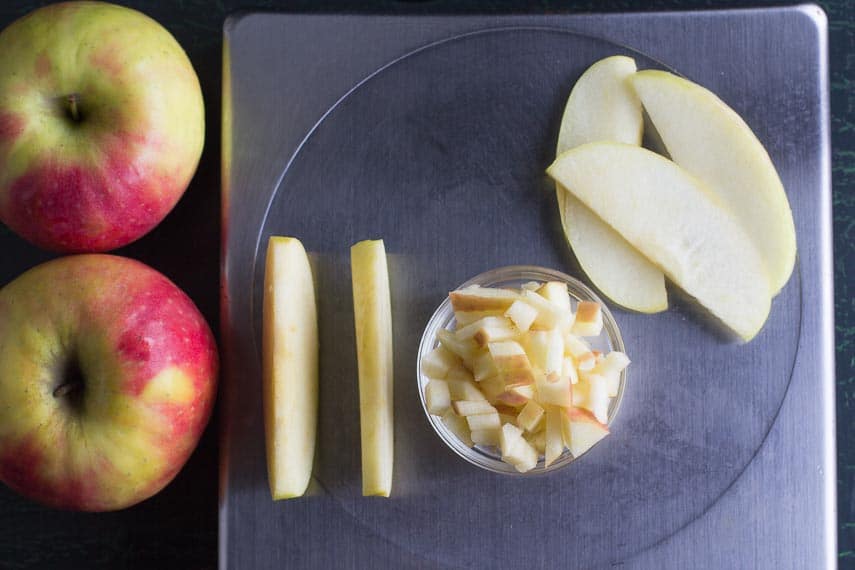 It is a small amount, but plenty to add crunch and flavor to this Low FODMAP Curried Chicken Salad. You can leave it out, if you wish.
You're Gonna Need Chicken
This might be obvious, but there are many ways to go about this for a chicken salad.
You could go to Costco or somewhere that has low FODMAP rotisserie chicken and simply shred that up and make the dressing.
Or, of course, you could cook your chicken from scratch. For salads, if I am starting from the get-go, I like poaching.
Poached chicken is moist and easy. And you can choose to poach white breast meat, which is the more expected chicken in a chicken salad, or use dark thigh meat – or even a combo.
I simply cover raw chicken with water, add a smidge of bay leaf (sometimes), some chopped carrot and/or celery (a very small amount), some fresh parsley, if I've got it, and always some salt and pepper (usually in the form of whole peppercorns).
The point is to give the poaching liquid some flavor. If you have Chicken Stock around, like the pantry-stable Fody Chicken Soup Base, use that!
Once you have cooked chicken, this Low FODMAP Curried Chicken Salad will be a cinch to throw together.
Low FODMAP Curried Chicken Salad
This Low FODMAP Curried Chicken Salad is very easy to make - especially if you already have cooked chicken available.
Ingredients:
1/3

cup (75 g)

mayonnaise

1/3

cup (80 g)

lactose-free sour cream,

such as Green Valley Creamery

1 1/2

teaspoons

low FODMAP curry powder,

or to taste

Freshly ground black pepper

1

pound (455 g)

cooked chicken,

dark or white meat, no skin, either cut into small cubes or shredded

1/2

cup (32 g)

finely chopped scallions,

green parts only

1/4

cup (40 g)

finely diced peeled Granny Smith or Pink Lady apple,

optional

2

tablespoons

dark raisins
Preparation:
Whisk together the mayo, sour cream and curry powder in a large mixing bowl. Taste and season well with salt and pepper.

Fold in the chicken, scallions, apple (if using) and raisins until everything is well mixed and coated.

Taste and season again, if necessary. Your Low FODMAP Curried Chicken Salad is ready to serve or may be refrigerated for up to 4 days in an airtight container. This makes great sandwiches, serve on a bed of lettuce or just eat straight-up as a high protein snack.
Notes:
Tips
Read labels to make sure your curry powder is low FODMAP. AND make sure it is fresh! We suggest replacing herbs and spices every 6 months and store them in a cool, dark place in airtight containers.
Nutrition
Calories:
282
kcal
|
Carbohydrates:
5
g
|
Protein:
20
g
|
Fat:
19
g
|
Saturated Fat:
2
g
|
Cholesterol:
8
mg
|
Sodium:
125
mg
|
Fiber:
1
g
|
Sugar:
5
g
|
Vitamin A:
15
IU
---
Low FODMAP Recipes Created Just For You!
We take low FODMAP recipes seriously at FODMAP Everyday®. That's why Dédé oversees our Test Kitchen and makes sure that each and every recipe works – and is low FODMAP following the most up-to-date science.
Rest assured that you will not find more trustworthy or delicious low FODMAP recipes anywhere – several hundred and counting.
FODMAP Everyday®Low FODMAP Recipes At A Glance:
Come Join Our Low FODMAP Recipe Community!
Use Our Exclusive Recipe Filter To Find The Low FODMAP Recipe You Are Looking For Today!