How to Make Easy Lamb Curry
When I was growing up a nice roast leg of lamb was not reserved just for special occasions and as such, we had the opportunity to create great leftover meals, such as this Easy Lamb Curry, using leftover cooked lamb. I will give you directions to use raw meat, as well.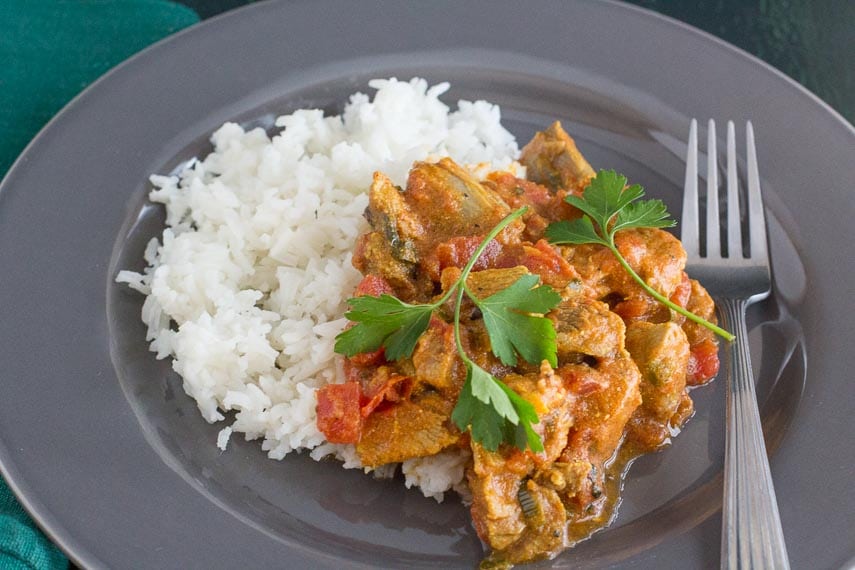 Choose Your Curry Powder Wisely
This dish takes advantage of a few pantry and standard low FODMAP ingredients, such as canned, diced tomatoes, lactose-free yogurt, garam masala and curry powder.
Let's take a look at these two spice blends because there are things to know when shopping for them.
The term "curry powder" is a term for a blend that can contain high FODMAP ingredients, such as garlic and/or onion. Table reading is a must, our if you are buying in bulk, and no label exists, question must be asked.
Don't be shy! It is easy enough these days to find curry powders with low FODMAP ingredients, such as the curry blend from Frontier Co-op above featuring all organic non-GMO ingredients: Coriander, Turmeric, Mustard, Mustard, Fenugreek, Paprika, Cayenne, Cardamom, Nutmeg, Cinnamon and Cloves. It is a complex, flavorful blend that we love, it is well-priced and fairly easy to find.
Note that Frontier has several curry blends so make sure to buy the correct one.
Garam masala is another classic Indian spice blend and thankfully most of these blends are low FODMAP. We chose Simply Organic brand for this recipe. Again, read labels and make sure to buy low FODMAP spices. Or make your own using our recipe for Low FODMAP Garam Masala!
It is easy when it is one herb or spice, but when it is a blend, you have to take the time to read the entire label just to make sure. Simply Organic contains Cardamom, Cloves, Cinnamon, Cloves, Cumin, Black Pepper and Coriander.
Learn more about low FODMAP spices and seasonings in our comprehensive article! How To Make Low FODMAP Seasoning Blends & Spice Mixes
You will also want to have some homemade Garlic-Infused Oil around, or take advantage of FODY Shallot-Infused Olive Oil. Either or a combo as both work beautifully.
BTW, for a vegetarian curry, be sure to check out our Low FODMAP Potato Eggplant Curry!
If you want to learn how to easily make your own Lactose Free Yogurt check this recipe out!
Easy Lamb Curry
Our Easy lamb Curry takes advantage of low FODMAP spice blends that you should have on hand. It will make creating curries on the fly a breeze!
Ingredients:
2

tablespoons

Garlic-Infused Oil,

made with vegetable oil, and/or FODY Shallot Infused Olive Oil

1

tablespoons

grated fresh ginger

1/2

cup (36 g)

chopped leeks,

green parts only

1/2

cup (32 g)

chopped scallions,

green parts only

2

teaspoons

low FODMAP curry powder,

such as Frontier Coop brand

1/2

teaspoon

garam masala,

such as Simply Organics brand

1/2

teaspoon

turmeric

1/4

teaspoon to ½ teaspoon

cayenne,

to taste

1

pound (455 g)

diced leftover lamb,

or raw

1, 28

ounce (794 g)

can diced tomatoes

1

bay leaf

1/2

cup (123 g)

lactose-free yogurt,

such as Green Valley Organics

1/2

cup (120 ml)

water

Cilantro,

optional
Preparation:
Heat a large skillet over low-medium heat, and add oil. When oil is shimmering, add ginger, leeks and scallions and sauté for a few minutes until leeks and scallions soften. Add curry powder, garam masala, turmeric and cayenne (more or less to taste) and stir for about 30 seconds to bloom spices in the mixture.

Add lamb and stir to coat. If lamb is raw, continue to stir and cook until lamb is beginning to cook through, about 5 minutes. If lamb is already cooked, simply toss to coat. Add tomatoes, and all their juices, bay leaf, yogurt and water and stir mixture well to combine. Cover and simmer for about 5 minutes. Taste and season with salt to taste. Cover and simmer for about 5 more minutes for until lamb is warmed or cooked through. Easy lamb curry is ready to serve. We like it with basmati rice and we do like a bit of fresh optional fresh cilantro on top.
Notes:
Tips
With low FODMAP curry powder on hand you will be able to make riffs on this dish with ease. Try chicken, or even tofu!
Nutrition
Calories:
142
kcal
|
Carbohydrates:
6
g
|
Protein:
10
g
|
Fat:
8
g
|
Saturated Fat:
1
g
|
Sodium:
148
mg
|
Potassium:
193
mg
|
Fiber:
1
g
|
Sugar:
4
g
|
Vitamin A:
185
IU
|
Vitamin C:
9.7
mg
|
Calcium:
32
mg
|
Iron:
1
mg