Super Simple Low FODMAP Orange Marmalade BBQ Sauce
My Memphis born husband is all about barbecue. He likes talking about it, eating it, thinking about it and planning his next BBQ meal. He likes to say he has 3 food groups: Pizza, PB&J and barbecue.
While he knows what true barbecue is, he is not a snob and is more than happy to try new ways of approach.
The first time he tried this Low FODMAP Orange Marmalade BBQ Sauce on some oven-roasted baby-back ribs that I made, he gave a thumbs up. And, this sauce is super easy – 3 ingredients – and is just as delicious on pork as it is poultry (as seen below) and even tofu.
---
Orange Marmalade is Low FODMAP
I love orange marmalade. I use it on peanut butter sandwiches, on my low FODMAP English muffins, in a mustard glaze that is perfect for porkand I decided to combine it with BBQ Sauce for this easy-to-make-slather.
The addition of soy sauce to this sauce adds  umami and a certain something. It adds more than saltiness – it adds some depth and complexity.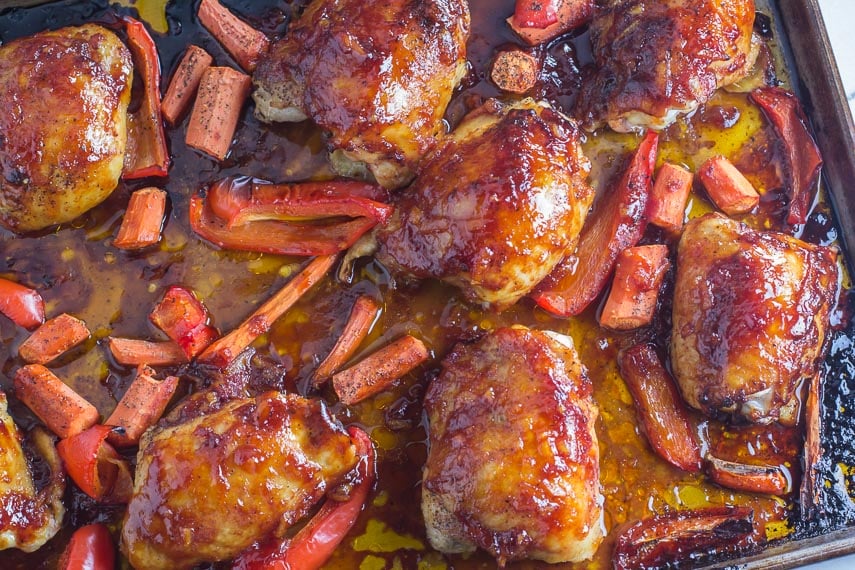 ---
Different Ingredients Yield Different Results
Now, one BBQ sauce is not necessarily like another. They tend to vary in thickness, stickiness, heat and sweetness, to name the primary differences.
This sauce is simple and it will work whether you use our homemade BBQ sauce or a low FODMAP prepared sauce, but you might have to adjust seasoning or the amounts of one of the main ingredients – the BBQ sauce, marmalade or soy sauce.
While this is not a problem in theory, it could alter the FODMAP load, so you have to be aware and adjust serving sizes as needed.
You have to be familiar with the ingredient labels, as always.
Also, when shopping for BBQ sauce keep an eye out during your label reading for high-fructose corn syrup, which is high FODMAP.
 In the U.S. we find it in the great majority of prepared BBQ sauces and many orange marmalades as well.
Low FODMAP Orange Marmalade BBQ Sauce
This 3 ingredient Low FODMAP Orange Marmalade BBQ Sauce comes together in a flash and we love it with pork, but try it with poultry and even tofu!
Low FODMAP Serving Size Info: Makes about 2 cups; about 8 servings; serving size 2 tablespoons
Preparation:
Simply stir together the BBQ sauce, orange marmalade and soy sauce until well combined.

Sauce is ready to use or may be refrigerated in an airtight container for up to 1 week.
Notes:
Tips
Read labels (always of course) when shopping for orange marmalade. Many jams and jellies contain high fructose corn syrup, which you want to avoid.
Nutrition
Calories:
56
kcal
|
Carbohydrates:
15
g
|
Protein:
1
g
|
Fat:
1
g
|
Sodium:
179
mg
|
Potassium:
12
mg
|
Fiber:
1
g
|
Sugar:
13
g
|
Vitamin A:
10
IU
|
Vitamin C:
0.7
mg
|
Calcium:
6
mg
|
Iron:
0.1
mg