Cookies for Breakfast? YES!
I didn't initially know what to call these as Low FODMAP Pumpkin Cranberry Oat Breakfast Cookies is a mouthful. They are lightly sweetened with maple syrup. They feature all kinds of crunchy (pumpkin seeds), chewy (dried cranberries), healthy (oats, hemp and flax) ingredients and they are indeed in cookie form.
But my intention was to create a cookie that I would feel okay about eating for breakfast. And therefore, feel okay about suggesting to you for breakfast! I give you Low FODMAP Pumpkin Cranberry Oat Breakfast Cookies!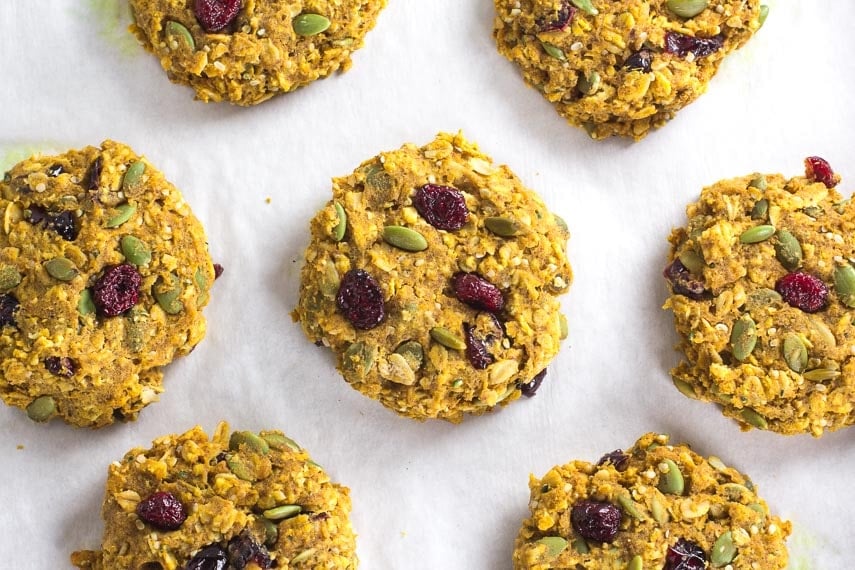 Make these Low FODMAP Pumpkin Cranberry Oat Breakfast Cookies Now
I suggest that you do not wait. Run to the store then run to the kitchen and make these right now. They can be whipped up in the time it takes for the oven to preheat and then…drum roll please…you will have "cookies" that are healthy and satisfying enough for breakfast (or a late night snack) and ever so portable.
Wrap one up in plastic wrap the night before or grab one as you are running out the door.
I find myself nibbling on one as I drive to the gym and it makes me feel simultaneously a little indulgent and smart at the same time! They go so well with a cup of hot tea (my choice) or coffee.
Oh, And They Are Vegan!
Yes my vegan and vegetarian friends, these Low FODMAP Pumpkin Cranberry Oat Breakfast Cookies have no egg, no butter and are as vegan friendly as they are FODMAP friendly! I told you there was no reason to put off making these easy, moist, chewy, delicious cookies.
Morning, Noon & Night
And if you haven't figured it out by now, these cookies are actually great any time of day – in the morning, as a snack any time of day or as dessert. Don't think you have to wait for breakfast time to try them!
Oh, and by the way, your home will smell like pumpkin and cinnamon and maple as these bake. Seriously enticing.
For a different take on breakfast cookies, check out our Cinnamon Apple Breakfast Cookies and our Low FODMAP Banana Coconut Oat Breakfast Cookies.
Looking for more vegetarian breakfasts? Check out this article, with our favorites.
Also check out this article: Satisfy Your Sweet Tooth with These 22 Delicious Dairy-Free Recipes
Low FODMAP Pumpkin Cranberry Oat Breakfast Cookies
Yes you can have healthy cookies for breakfast - and they are low FODMAP, gluten-free AND vegan!
Low FODMAP Serving Size Info: Makes 10 cookies; serving size 1 cookie
Ingredients:
1

cup (99 g)

old-fashioned oats; use gluten-free of following a gluten-free diet

1/2

cup (73 g)

low FODMAP gluten-free all-purpose flour, such as Bob Red Mill's Gluten-Free 1 to 1 Baking Flour

1/2

cup (80 g)

dried cranberries, chopped

1/2

cup (59 g)

raw pepitas

2

tablespoons

ground flax seeds

2

tablespoons

hemp seeds

1 1/4

teaspoons

cinnamon

1/2

teaspoon

baking powder; use gluten-free if following a gluten-free diet

1/4

teaspoon

salt

1/2

cup (122 g)

pure canned pumpkin

1/4

cup (60 ml)

maple syrup

1/4

cup (60 ml)

vegetable oil

1

teaspoon

vanilla extract
Preparation:
Position rack in middle of oven. Preheat oven to 325°F/165°C. Line a half-sheet baking pan with parchment paper; set aside


In a large mixing bowl place the oats, flour, cranberries, Pepitas, flax seeds, hemp seeds, cinnamon, baking powder and salt and whisk together to blend and combine. Make a well in the center.

In a small bowl, whisk together the pumpkin, maple syrup, oil and vanilla. Pour onto dry mixture and fold together very well. Dole out 10 cookies, each a scant ¼ cup (60 ml) in size, evenly spaced on the prepared pan. Don't worry because they will not spread much at all. Press each one down using your palm so that the cookies are about 1/2-inch (12 mm) thick.

Bake for 15 to 20 minutes or until dry on the bottom (you should be able to lift a cookie) and just beginning to take on some color. Cool pan completely on rack. Cookies are ready to eat or may be stored in an airtight container at room temperature for up to 4 days.
Notes:
Tips
These cookies are hearty! The batter is a bit dense - make sure that you do press them down gently before baking so that they bake evenly.
Nutrition
Calories:
241
kcal
|
Carbohydrates:
25
g
|
Protein:
6
g
|
Fat:
14
g
|
Saturated Fat:
1
g
|
Sodium:
78
mg
|
Potassium:
145
mg
|
Fiber:
3
g
|
Sugar:
8
g
|
Vitamin A:
1855
IU
|
Vitamin C:
0.7
mg
|
Calcium:
25
mg
|
Iron:
1.7
mg