Easy to Make Low FODMAP Kale, Carrot & Apple Salad
We love a good kale salad and our  Kale Quinoa Salad with Blueberries, Green Beans, Feta & Pecans has been on the site from our inception. It is so good, in fact, that I served it at my all low FODMAP wedding!
(Not one guest knew; the food was fabulous). This Low FODMAP Kale, Carrot & Apple Salad is streamlined (no grain here) and combines kale and carrots with apples. Yes, apples!
Apples are High(er) FODMAP and YES, You Can Eat Them!
Please read our article, Are Apples Low FODMAP? for a more compete discourse. The simple answer is yes, in 20 gram portions, which look like this, below.
The chopped amount in the bowl on the scale is 20 g, as are each of the bundles of slices, thicker to the left and thinner to the right.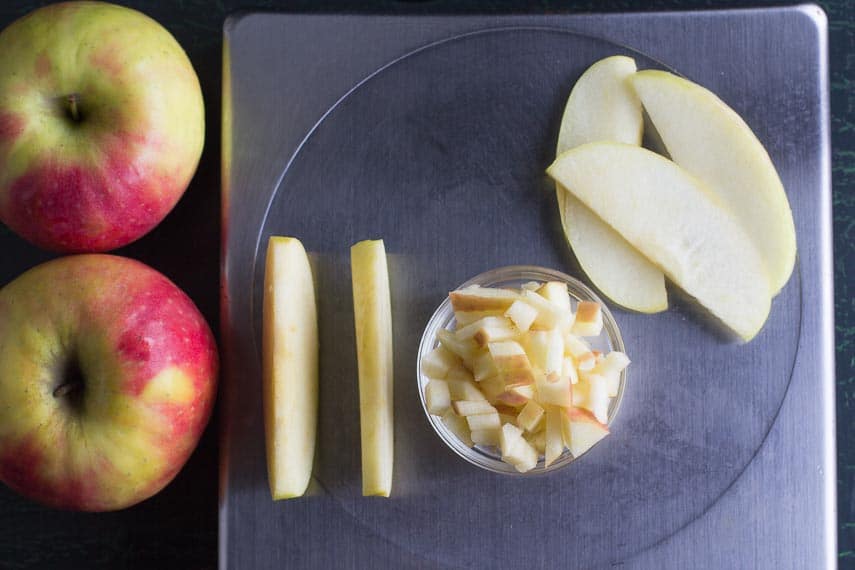 So you see, it sounds like a tiny bit, but it is plenty to incorporate into a recipe. And by shredding the apple, as I did here, a little apple goes a long way!
Sweet, Bitter, Crunchy Deliciousness
For some folks, when they see the term bitter they immediately think that is a bad thing, but that couldn't be further from the truth. Bitter is simply one of many ways to describe a food flavor experience, and sometimes kale can be bitter and sharp – but we think it is in a most pleasant way.
Also, by combining kale with sweet crunchy carrots, we start to create a balance. The addition of a different type of sweet, from apples, and their inherent juiciness and we think we have a kale salad par excellence.
No FODMAPs, Trace FODMAPs, "High" FODMAPs
Speaking of balance, it should be pointed out that while apples are high FODMAP in larger portions, we take advantage of the fact that kale has only trace amounts of FODMAPs and carrots have no detectable FODMAPs.
This balance allows us to avoid FODMAP Stacking within the recipe itself.
I find it easiest to make this salad with a food processor and you will be using the metal blade to "massage" the kale and the shredding blade for the carrots and apple.
Massage Your Kale
You might be thinking, did she say "massage" the kale? Yes I did! Kale can be tough and there are recipes that suggest getting in there with your hands and actually massaging the veggie.
This action – and you don't hold back – begins to break down some of the tough cell structure of the kale, creating a more tender texture and also has the effect of therefore making the veggies easier to digest.
Years ago I said to myself, "there has to be a better way" and I tried tossing torn kale leaves into the food processor fitted with metal blade and pulsed it on and off.
True, this technique means that you will end up with very finely chopped kale, such as in this Low FODMAP Kale, Carrot & Apple Salad, and that might not work for every salad, but it works beautifully for this one.
By the way, the small amount of maple syrup in the dressing also counteracts any bitterness from the kale and is the same dressing as our elimination safe  Low FODMAP Kale Quinoa Salad with Blueberries, Green Beans, Feta & Pecans.
For this salad you will have some leftover dressing and it is great with a simple green salad.
You might also be interested in our article, Explore An Ingredient: Kale.
More Kale & Slaw Recipes!
We love kale and have many options for you:
Low FODMAP Kale, Carrot & Apple Salad
Our Low FODMAP Kale, Carrot & Apple Salad is vegan, super simple to make and keeps well for days in the refrigerator.
Low FODMAP Serving Size Info: Makes about 4 cups (170 g); serving size ½ cup (21 g)
Ingredients:
Salad:
5

ounces (140 g)

fresh kale

3

medium carrots

trimmed

1

cup (120 g)

chopped, peeled and cored Pink Lady apple
Preparation:
For the Dressing: Whisk together oil, vinegar, mustard and maple syrup in a small bowl or shake together in a covered jar. Taste and season with salt and pepper; set aside.

For the Salad: Wash the kale leaves well and remove any thick, tough ribs; pat dry. Chop very finely, preferably in a food processor fitted with a metal blade. Pulse the processor on and off until it reaches a fine texture, using the image for guidance. Pour into a mixing bowl; set aside.

Now assemble the food processor with the shredding disc and shred the carrots and the apple. Add to the kale and toss together well. Tongs work very well at getting all these little vegetable pieces evenly combined.

Dress lightly with vinaigrette; you will have extra leftover. Salad is ready to serve and also keeps pretty well, even with vinaigrette, for 2 days although it loses a bit of its freshness. Any extra can be refrigerated in an airtight container. If you know you will not be serving it all, leave it undressed and dress right before serving.
Notes:
Tips
Dirt can hide in the nooks and crannies of fresh kale. Make sure to wash AND dry it thoroughly.
Nutrition
Calories:
76
kcal
|
Carbohydrates:
11
g
|
Protein:
1
g
|
Fat:
5
g
|
Saturated Fat:
1
g
|
Sodium:
22
mg
|
Fiber:
2
g
|
Sugar:
3
g
|
Calcium:
1
mg
|
Iron:
0.1
mg