Low FODMAP Spicy Sichuan Noodles and Shrimp Salad
I have over 2000 cookbooks. Some sit on the shelves collecting dust. Others are so well-loved and used that they never leave the one shelf in my kitchen and they sport stained pages as indicators of favorite recipes. This recipe for Low FODMAP Spicy Sichuan Noodles and Shrimp Salad is based on such a book.
Asian Noodles by Nina Simonds is a book I return to again and again.
Nina is a fabulous recipe developer and has deep knowledge of Asian cuisines and her recipes always work and provide an education into their origins.
This recipe for Low FODMAP Spicy Sichuan Noodles and Shrimp Salad is based upon a recipe in her book, which in turn is based on her own Spicy Chile Oil Dressing, both of which were easy to adapt to the low FODMAP diet.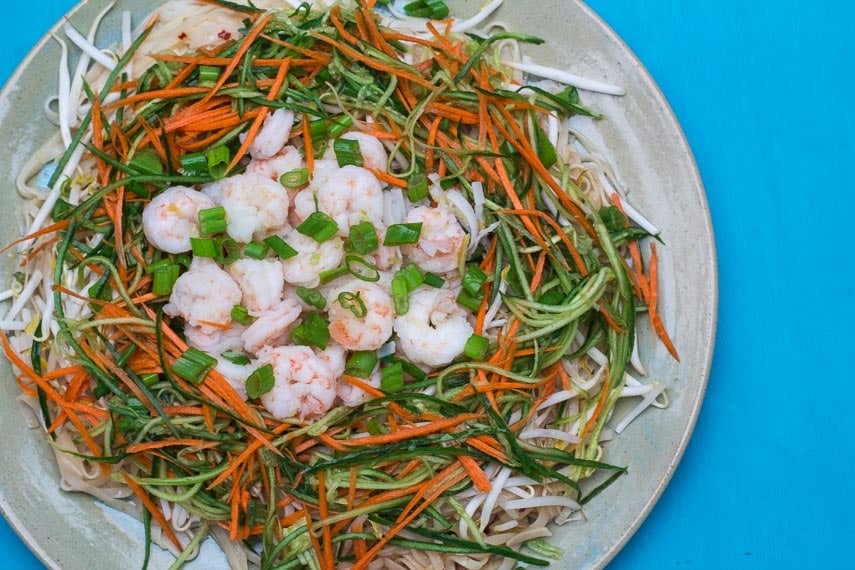 BTW you will probably have extra Dressing leftover, but you will find uses for it and it keeps well refrigerated in an airtight container.
Spicy Food & IBS
Perhaps you are a hot and spicy food fanatic, yet have experienced digestive upset upon eating spicy dishes. Then this dish is not for you. Spicy food can trigger IBS symptoms but it is highly variable.
Some folks are very sensitive, some not at all, and others have certain types of chiles and spicy ingredients that trigger them. And then, there is also the matter of quantity. Perhaps you can tolerate a little spice in your life, but not a lot. Pay attention to your own triggers!
Garlic-Infused Oil Made with Vegetable Oil
Do not use Garlic-Infused Oil made with olive oil. Many commercially prepared brands are and the flavors are not right for this dish. We make our own vegetable oil based and also like Tourangelle brand.
With this on hand you will be ready for all of your Asian and Mexican inspired dishes.
Please read through the recipe because you will also need Chinese black vinegar and a few items that might have to be sourced ahead of time. We highly encourage that you have these Asian ingredients in your pantry for flavorful spur-of-the-moment low FODMAP cooking.
Note that Chinese black vinegar has been lab tested for FODMAPs and has a low FODMAP serving size of 42 g, or about 2 Australian tablespoons.
If you like Asian-style noodle salads and dishes make sure to check out our Low FODMAP Hot and Sour Shrimp Lo Mein,  Low FODMAP Asian Tofu Noodle Papaya Salad, Low FODMAP Asian Steak & Noodle Salad with Mint & Peanuts, Noodles with Shrimp & Broccoli, Pad See Ew, Dumplings, and our Garlicky Peanut Sauce, which we think goes wonderfully with just about anything.
And for a classic recipe – try our SCAMPI!
Yes, it is low FODMAP and packed with garlic flavor! Click on the recipe link to learn all about it.
For more noodle and pasta inspiration, be sure to check out our article: Noodles, Noodles, Noodles: 30 Gut-Friendly Pasta Recipes – Low FODMAP & Gluten Free!
Low FODMAP Spicy Sichuan Noodles and Shrimp Salad
Our Low FODMAP Spicy Sichuan Noodles and Shrimp Salad is spicy, so only indulge if you know that hot foods do not trigger your IBS.
Ingredients:
Noodles & Shrimp:
12-

ounces (340 g)

Asian rice noodles (3 mm wide)

1 ½

pounds (680 g)

medium raw shrimp, (60/70 per pound),

peeled and deveined, patted dry

½

cup (32 g)

minced scallions,

green parts only, divided

2

tablespoons

Chinese rice wine

1 ½

tablespoons

minced fresh ginger

3

medium

carrots,

trimmed, peeled and either julienned or cut into long shreds

1

(6 to 7-inch/15 cm to 17 cm)

English hothouse cucumber,

trimmed, peeled, seeded and either julienned or cut into long shreds, squeezed dry

1 ½

cups (150 g)

mung bean sprouts
Preparation:
Make the Dressing: Heat the Garlic-Infused Oil and toasted sesame oil in a small pot over medium heat just until hot, but not boiling. Remove from heat and stir in the red pepper flakes. Allow to sit for at least 10 minutes, then whisk in the remaining Dressing ingredients until the sugar dissolves. Set aside until needed or refrigerate in an airtight container for up to 1 week.

Make the Noodles & Shrimp: Bring a large pot of salted water to a boil. Stir in noodles until they disperse in the water. Cover, remove from heat and allow to sit for about 6 minutes, stirring often, or until al dente. Drain and rinse; set aside in a large mixing bowl. No need to clean pot, just set it aside for later.

Meanwhile, in a nonreactive bowl, toss the shrimp with 2 tablespoons of minced scallions, the rice wine and ginger and toss to coat well. Allow to marinate for 10 minutes.

Use the reserved pot to refill with water and bring to a boil. Add shrimp, turn heat down and cook just until the shrimp begin to turn pink and become opaque. Drain shrimp well.

Add enough dressing to the noodles in the bowl to coat and toss well. Arrange noodles on platter. Add shrimp to same bowl (no need to clean) and add a little dressing to coat, then arrange shrimp in middle of noodles on platter. Now add the carrots, cucumber and bean sprouts to the bowl and toss with enough dressing to coat, then arrange around the shrimp. Scatter reserved scallions over all. Low FODMAP Spicy Sichuan Noodles and Shrimp Salad is ready to serve. You may offer additional dressing alongside, if you wish.
Notes:
Tips
The crushed red pepper flakes are the key to the hot and spicy aspect this dish. Some folks with IBS do not don well with spicy foods, Know your tolerances and adjust as needed.
Nutrition
Calories:
321
kcal
|
Carbohydrates:
13
g
|
Protein:
26
g
|
Fat:
16
g
|
Sodium:
638
mg
|
Potassium:
111
mg
|
Fiber:
2
g
|
Sugar:
8
g
|
Vitamin A:
10
IU
|
Vitamin C:
7.8
mg
|
Calcium:
50
mg
|
Iron:
0.8
mg