Oodles of noodles and pasta dishes that you can enjoy. Spaghetti, lasagna, gnocchi, soba and other Asian style noodle dishes, macaroni salad, manicotti, primavera, carbonara, mac and cheese, and so many more. 30 in total (and more coming!) to tantalize your taste buds; all low FODMAP, and the majority are also gluten-free.
Bacon. Ranch dressing. Mac and cheese. Any one of these alone is a crave-able food, so we thought, why not combine them in a low FODMAP, gluten-free noodle casserole?
Get the Low FODMAP Bacon Ranch Mac n' Cheese Recipe.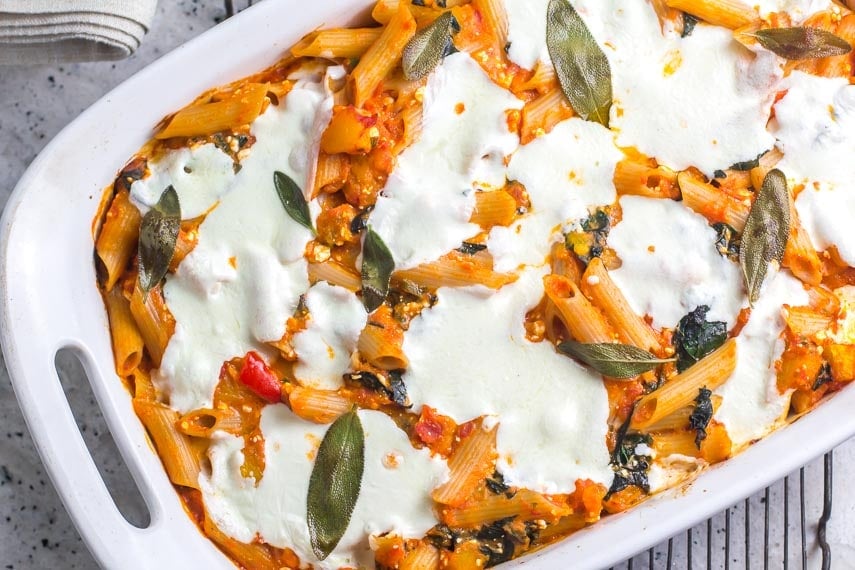 Roasted winter squash (pumpkin) is low FODMAP, smooth, creamy and colorful! It pairs beautifully in this baked pasta dish with mozzarella and crispy fried sage leaves.
Get the Low FODMAP Roasted Pumpkin Baked Pasta With Sage Recipe.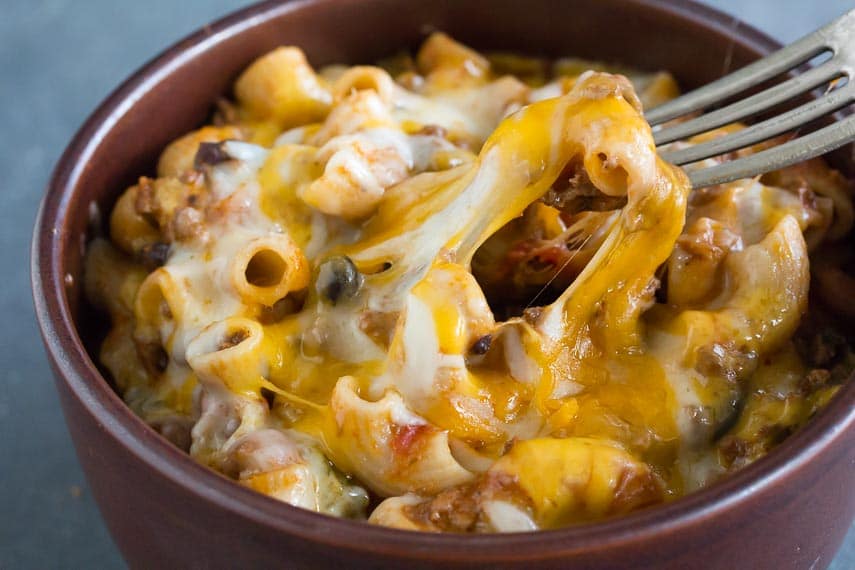 Hearty, beefy chili, beans and mac and cheese are married together in this family-favorite
Get the Low FODMAP Chili Mac recipe.
A lighter pasta dish, this version features spring vegetables. There is a low FODMAP serving of asparagus!
Get the Low FODMAP Primavera recipe.
Another one of our super popular "mash-ups". This time macaroni salad and coleslaw are combined for an all-new side-dish that might become the most requested. Bring this to a summer cookout and be prepared to be asked for the recipe. Makes a great light main dish lunch, too.
Get the Low FODMAP Macaroni Slaw recipe.
This bowl of slurpy, wide Asian style rice noodles is flavor packed with umami ingredients, like soy sauce, oyster sauce as well as low FODMAP garlic replacer and vinegar. Chicken and Chinese broccoli make this a hearty dish.
Get the Low FODMAP Pad See Ew recipe.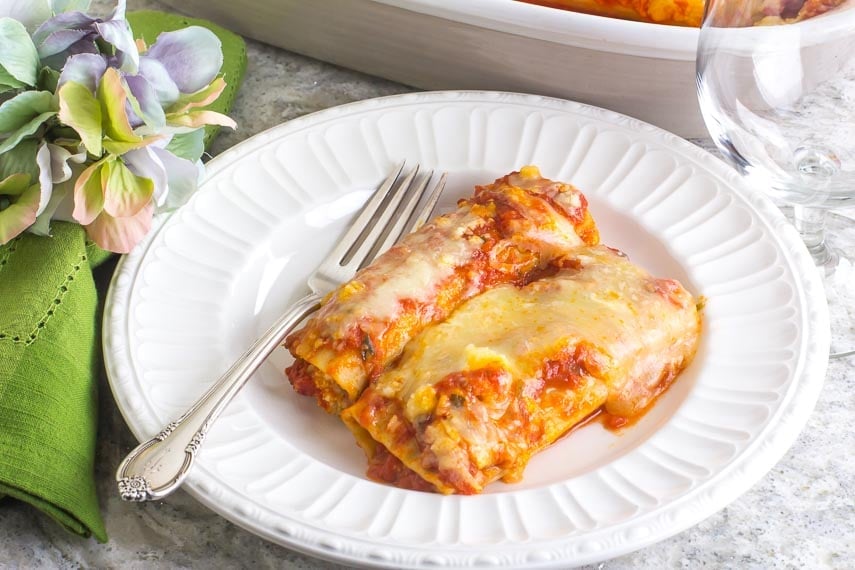 You might have to order the rice-based manicotti noodles ahead, so plan accordingly. Kale adds nutrition to this family favorite.
Get the Low FODMAP Manicotti & Kale recipe.
We always keep a package (or two) of shelf-stable low FODMAP, gluten-free gnocchi around. And once we roasted them, instead of boiling them, we never went back! You gotta try this recipe.
Get the Low FODMAP Roasted Gnocchi recipe.
We love a good steak salad with tomatoes and blue cheese, but how about an Asian vibe? Here you get to indulge in the flavors of fish sauce, lime juice, sambal oelek, toasted sesame oil, ginger and Thai basil. All with slippery, slurpy noodles and tender steak, too.
Get the Low FODMAP Thai Basil Steak Salad recipe.
This one-dish pasta dinner is complete with squash, tomatoes, carrots, red bell peppers and kale. The noodles are lightly dressed with butter, garlic-olive oil and Parmesan and finished off with fresh basil. Get dinner on the table in 30 minutes.
Get the One-Pan Low FODMAP Pasta & Vegetables recipe.
This is what you want to eat on one of those days when it is hot, hot, hot but you still need sustenance. A low FODMAP amount of soba noodles with soy sauce, toasted sesame oil, Sriracha, scallion greens, cucumber, cilantro and line.
Get the Low FODMAP Cold Soba Salad recipe.
In 20 minutes you can make this restaurant worthy dish with mussels, linguine, white wine, Pecorino and parsley.
Get the Low FODMAP Pasta with Mussels recipe.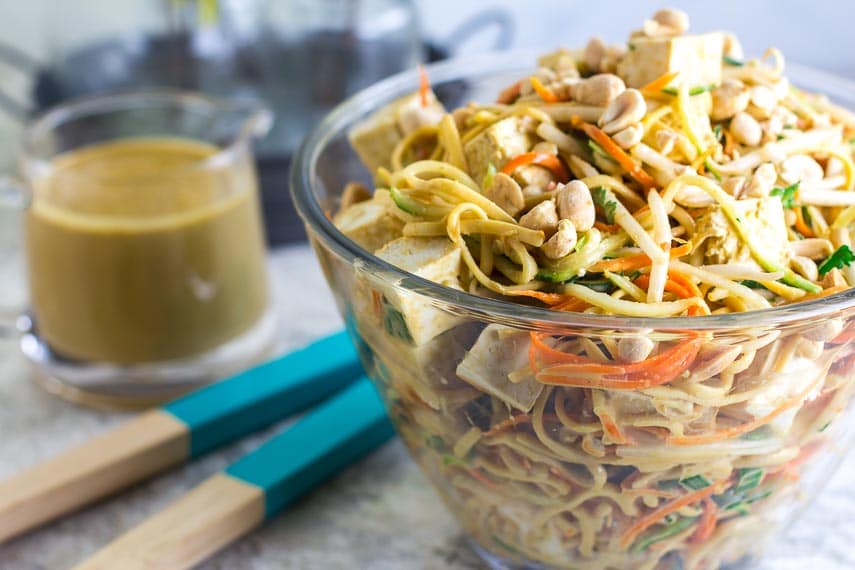 Zoodles are spiralized zucchini and here they pair with skinny noodles for a slurpy, hearty, fiber rich salad. Enjoy as a main dish!
Get the Low FODMAP Zoodles Noodles & Sprouts Salad recipe.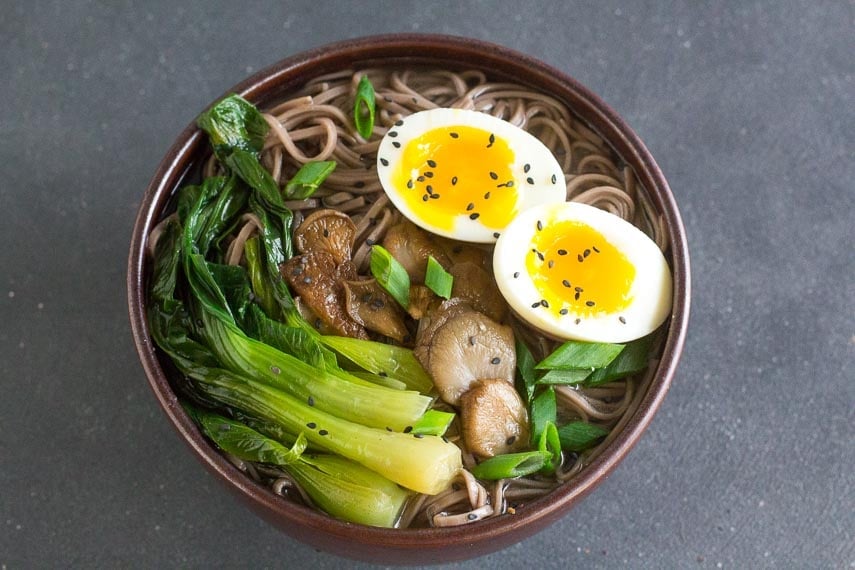 Soba do have a low FODMAP serving size and here they are paired with umami rich miso, tender bok choy and jammy hardboiled eggs.
Get the Low FODMAP Soba Miso Soup with Bon Choy & Jammy Eggs recipe.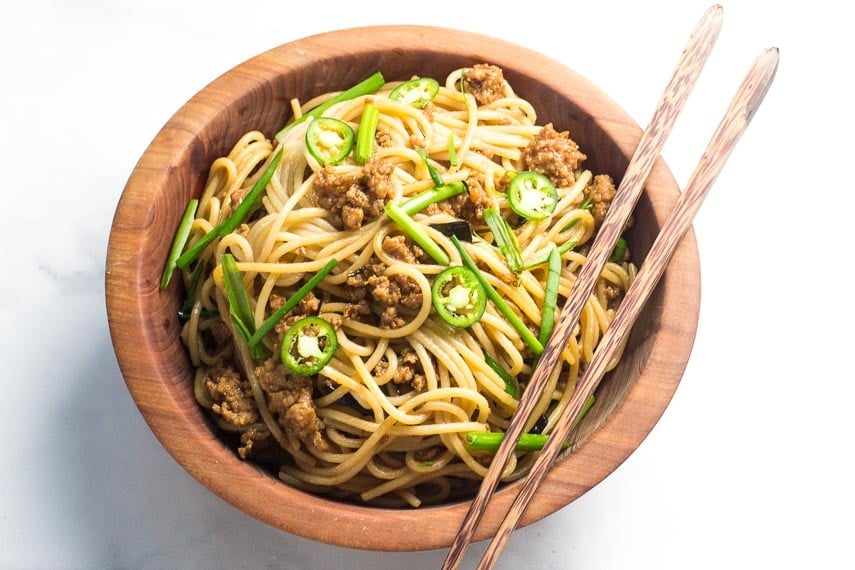 This is a quick weeknight meal featuring ground pork and long, thin noodles.
Get the Low FODMAP Pork & Noodles recipe.
This is our easiest mac and cheese recipe – a true classic that the family will love. Lactose-free, too!
Get the Easy Stovetop Low FODMAP Mac and Cheese recipe.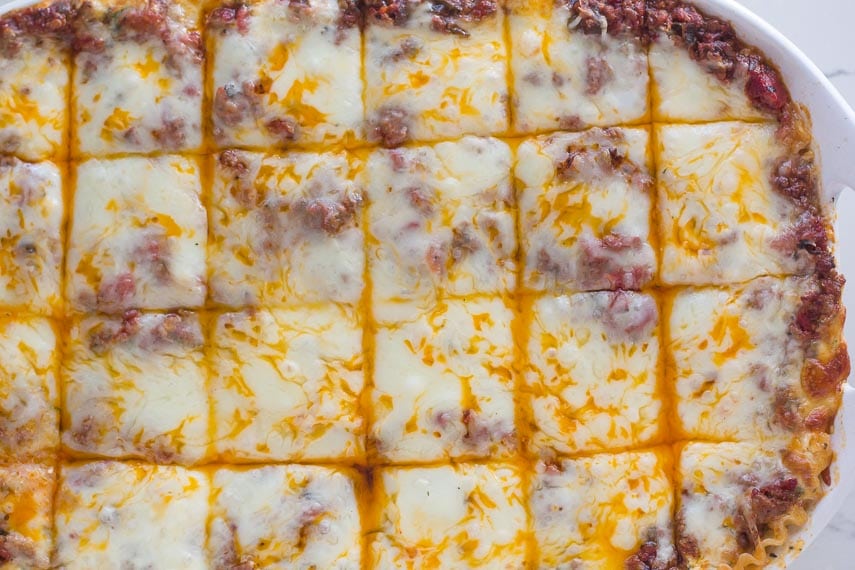 Everyone loves lasagna and we show you how you CAN have it while even on the Elimination Phase of the low FODMAP diet.
Get the Hearty Low FODMAP Lasagna recipe.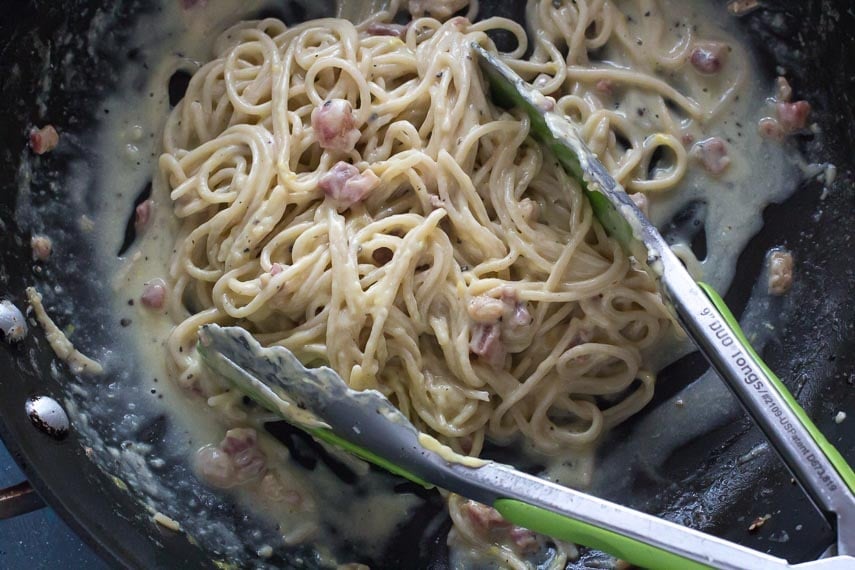 Carbonara is a rich pasta dish. While our serving sizes are low FODMAP, make sure you do understand your relationship with rich dishes, which can be an IBS trigger for some. The lemon adds a bright note.
Get the Lemony Low FODMAP Carbonara.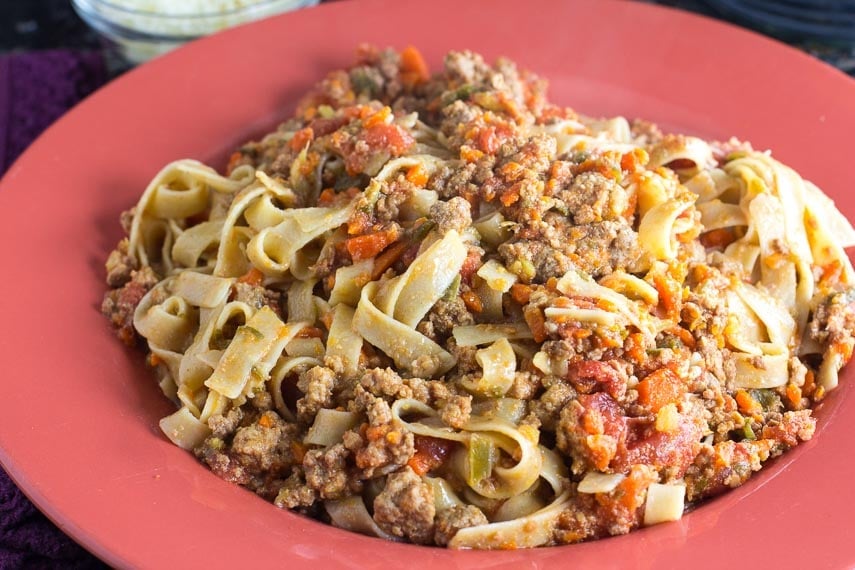 Bolognese sauce. Hearty. Traditional – and now low FODMAP. We love this served with a long and wide pasta, like fettuccine.
Get the Low FODMAP Bolognese recipe.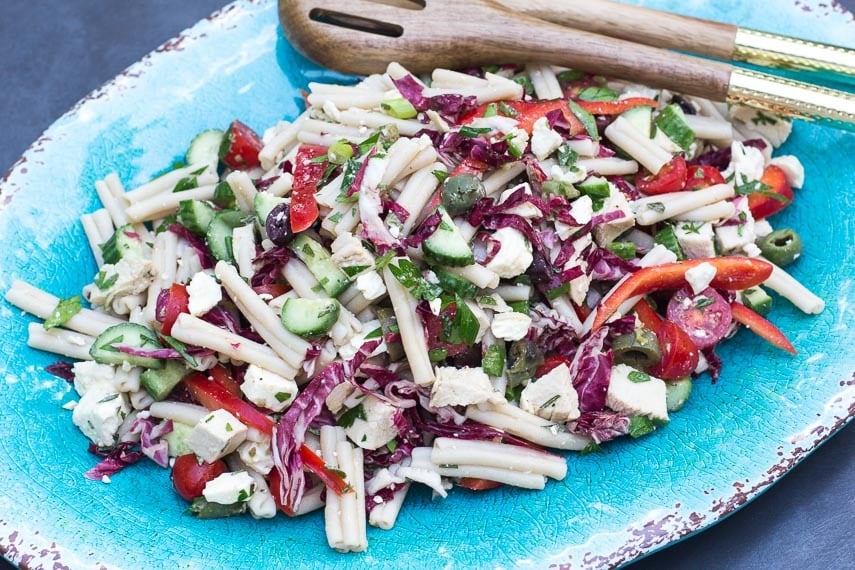 Tender noodles (we used rice-based casarecce), feta, cucumbers, tomatoes and bell peppers. A main dish pasta salad – that happens to be low FODMAP and gluten-free – will transport you to the Mediterranean.
Get the Low FODMAP Mediterranean Pasta Salad recipe.
Extra wide and slurpy rice-based noodles are combined with tender shrimp, broccoli and red bell pepper. An easy and quick weeknight meal.
Get the Low FODMAP Shrimp & Broccoli With Noodles recipe.
We love picking up a low FODMAP rotisserie chicken for quick meals and this pasta dish puts it to good use. A little goat cheese and broccoli and you will have dinner made in no time.
Get the Low FODMAP Quick Pasta With Chicken, Broccoli & Goat Cheese recipe.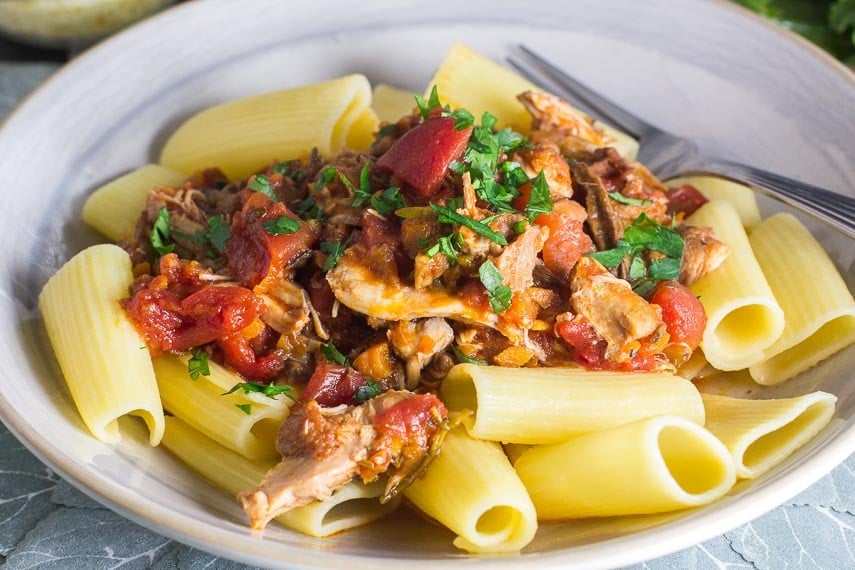 A slow braise, like this ragu, with mushrooms and chicken yields rich flavor. This is a hearty cold winter dish. We like it over a hearty noodle shape.
Get the Low FODMAP Braised Chicken & Mushroom Ragu recipe.
No need to order take-out for low mein. And ours is gluten-free, too! Tender shrimp, crunchy water chestnuts and broccoli for a restaurant-worthy take on a classic.
Get the Low FODMAP Hot & Sour Shrimp Lo Mein recipe.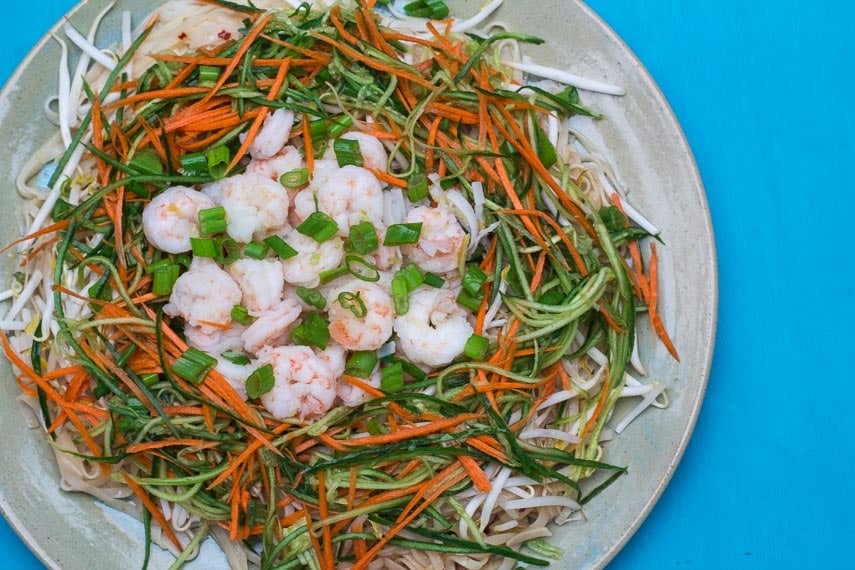 Loads of carrot and cucumber slivers, along with bean sprouts, make this a nutritious, colorful and delicious salad. We used 3mm rice noodles, but you could use any long shaped low FODMAP pasta you like. The sauce is easy to make with soy sauce, toasted sesame oil, vinegar, rice wine and ginger. Red pepper flakes add heat.
Get the Low FODMAP Spicy Sichuan Noodles & Shrimp Salad recipe.
This main dish salad has so much going for it: noodles for carb satisfaction, tofu for protein, papaya for color, texture and sweet flavor and a sauce with sambal oelek, fish sauce, sugar, ginger, soy sauce and lime. Flavor packed!
Get the Low FODMAP Asian Tofu Noodle Papaya Salad recipe.
Another main dish salad that we love, especially in warmer weather, when the mint is plentiful in our garden or the farers market. Noodles, tender steak, fresh mint and crunchy peanuts combine beautifully with rice noodles.
Get the Low FODMAP Asian Steak & Noodle Salad with Mint and Peanuts recipe.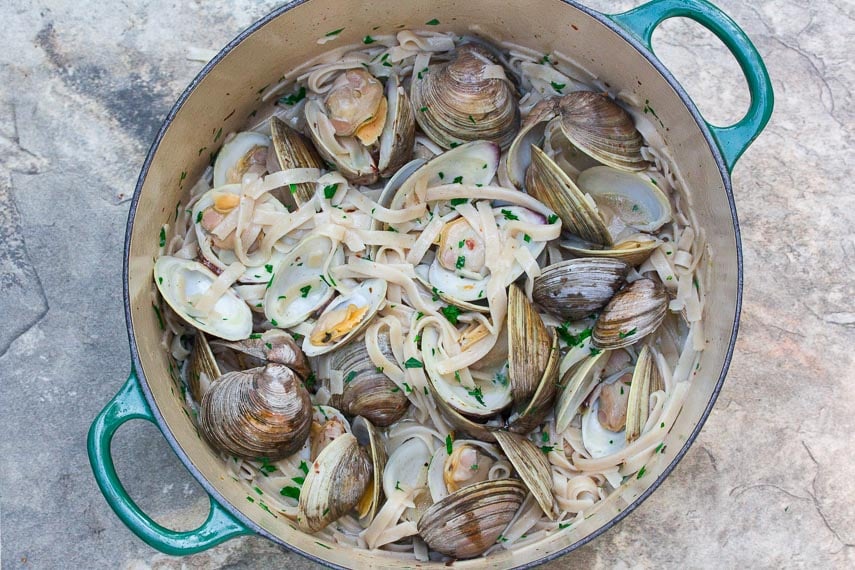 Pasta with clams in a white wine sauce…low FODMAP? Ours is! And it is very quick to prepare. We made this one in our beloved Le Creuset pot.
Get the Low FODMAP Pasta With Clams & White Wine Sauce recipe.
Everyone needs a basic basil pesto recipe – and we have figured out how you can have your garlic flavor in this beloved condiment, and keep it low FODMAP. Use hot or for for cold pasta salads, too. Make sure to use Italian pine nuts.
Get the Low FODMAP Basil Pesto recipe.
The flavors of Buffalo wings – hot sauce and creamy blue cheese – in a fun pasta dish, with shrimp added for good measure. All low FODMAP.
Get the Low FODMAP Buffalo Shrimp Pasta recipe.
This post was originally published on FODMAP Everyday