Easy & Hearty Low FODMAP Vegetable, Pasta & Bean Soup
I had wanted to create a low FODMAP Low FODMAP Vegetable, Pasta & Bean Soup – basically a version of pasta di fagioli, but I kept getting hung up on tradition, which says the soup should contain white beans (which are high FODMAP).
And then I thought about what it was about this soup that I wanted to present and it was the heartiness – the hearty and nourishing combo of beans and pasta and lots of vegetables.
Once I relaxed my self-imposed classical approach I knew I could use a small amount of chickpeas and the rest of the soup came together quickly. I give you comfort food in a bowl – Low FODMAP Vegetable, Pasta & Bean Soup!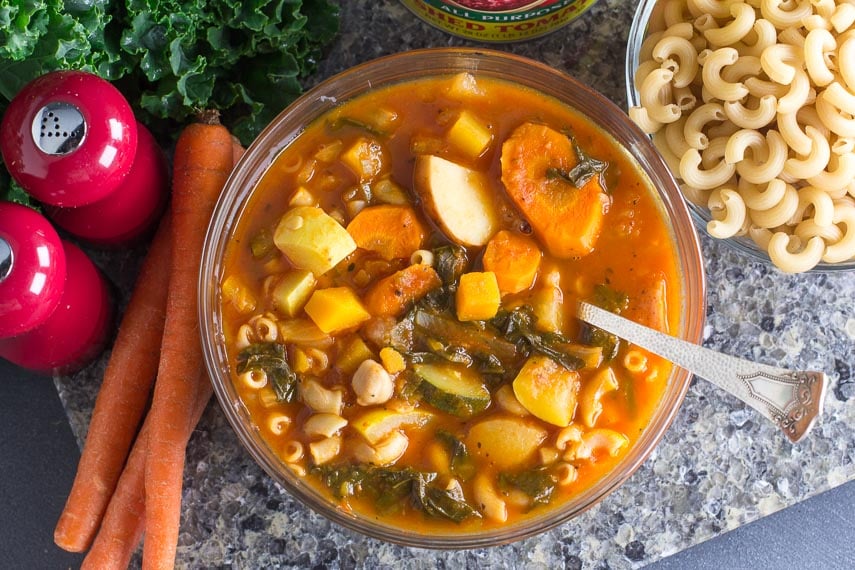 ---
A Little of This, A Little of That
You will notice that this soup has a lot of ingredients, which is fabulous for flavor, color, texture and nutrition but can be problematic for those who are systematically working through their triggers.
This Low FODMAP Vegetable, Pasta & Bean Soup is technically safe for the Elimination phase and yet, all of us have different reactions to foods, FODMAP related or otherwise.
With a dish like this, with numerous ingredients, it can be difficult to hone in on what might be upsetting your tummy, if indeed that happens.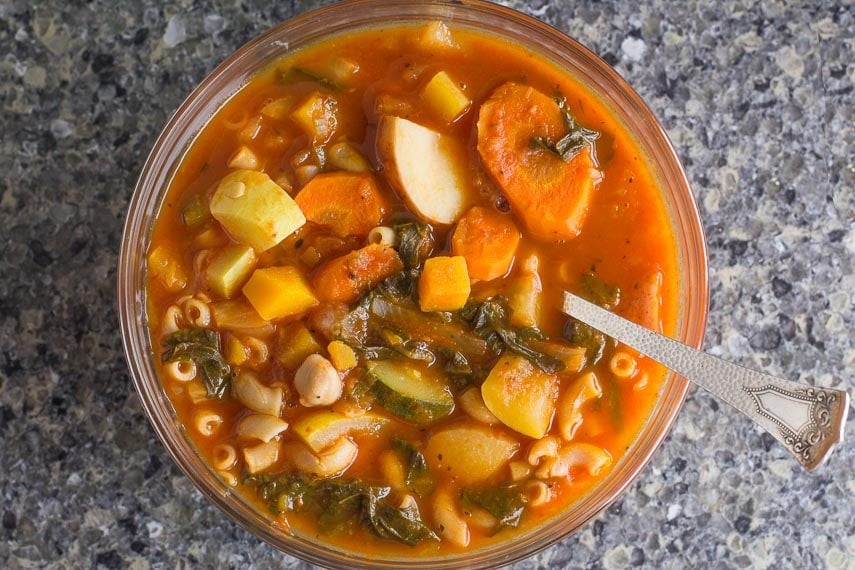 Perhaps if you already have knowledge that all of these ingredients sit well with you, or if you are at a stable stage with your diet, give it a go!
This soup doesn't give me any trouble and in fact I find it very comforting – like comfort food in a bowl. I love being able to curl up with a bowl and spoon and eat my dinner!
Makes a great warming lunch, too.
At any rate, familiarize yourself with FODMAP Stacking, for more in-depth info.
Take Advantage of the Large Batch
This makes a lot, but it keeps well, you can eat it for days and it is no more difficult to make this generous batch.
Vegan Or?
The soup, as it is presented is vegan. You can, however, add a shower of Parmesan cheese if you like.
Low FODMAP Vegetable, Pasta & Bean Soup
This Low FODMAP Vegetable, Pasta & Bean Soup is hearty and nourishing and happens to be vegan! Easy to make, too.
Low FODMAP Serving Size Info: Makes 18 cups (4.2 L); 14 servings; about 3/4 cup (180 ml) per serving.
Ingredients:
2

tablespoons

Garlic-Infused Oil,

made with olive oil, or purchased equivalent

3/4

cup (48 g)

finely chopped scallions,

green parts only

1/4

cup (18 g)

finely chopped leeks,

green parts only

8

cups (2 L)

water

1, 28-

ounce (794 g)

can crushed tomatoes

1, 15.5-

ounce (439 g) can

chickpeas, drained,

rinsed and drained again

12-

ounces (340 g)

diced butternut squash

8-

ounces (225 g)

red potatoes,

scrubbed and cut into small bite-sized pieces

6-

ounces (170 g)

cleaned and trimmed kale,

chopped finely

3

medium carrots,

scrubbed, trimmed and cut into thick rounds (1/2-inch/12 mm or even larger)

2

cups (150 g)

sliced bok choy

1

medium yellow squash

scrubbed, trimmed and cut into thick rounds (about 1/2-inch/12 mm thick)

1

medium zucchini

scrubbed, trimmed, quartered and cut into small bite-sized pieces

1

teaspoon

dried basil

1

teaspoon

smoked paprika

1

teaspoon

dried thyme

Freshly ground black pepper

1

cup (100 g)

raw gluten-free elbow or small shell shaped pasta
Preparation:
Place Garlic-Infused Oil in a large heavy pot or Dutch oven and heat over medium heat. Add scallion and leek greens and sauté for a few minutes until soft. Add water, canned tomatoes, chickpeas, squash, potatoes, kale, carrots, bok choy, yellow squash, zucchini, basil, smoked paprika and thyme and stir all together well. Season with salt and pepper.

Cover and bring to a boil over medium-high heat, then turn heat down and simmer for at least 30 minutes or until vegetables are tender, stirring occasionally. Taste and adjust seasoning as desired.

Meanwhile, cook pasta in a generous amount of salted water till al dente; drain and stir into soup (see Tips). Soup is ready to serve, or cool to room temperature and refrigerate in an airtight container for up to 5 days. Reheat as needed.
Tips
You could cook the pasta right in the soup, but it gives you bit less control over the pasta texture and the pasta also soaks up some of the luscious soup liquid, but if you are short on time or don't want to clean an extra pot, be our guest!
Nutrition
Calories:
142
kcal
|
Carbohydrates:
31
g
|
Protein:
5
g
|
Fat:
3
g
|
Saturated Fat:
1
g
|
Sodium:
7
mg
|
Potassium:
3
mg
|
Fiber:
3
g
|
Sugar:
2
g
|
Vitamin A:
70
IU
|
Calcium:
7
mg
|
Iron:
0.2
mg
Low FODMAP Recipes Created Just For You!
We take low FODMAP recipes seriously at FODMAP Everyday®. That's why Dédé oversees our Test Kitchen and makes sure that each and every recipe works – and is low FODMAP following the most up-to-date science.
Rest assured that you will not find more trustworthy or delicious low FODMAP recipes anywhere – several hundred and counting.
FODMAP Everyday® Low FODMAP Recipes At A Glance:
Come Join Our Low FODMAP Recipe Community!
Use Our Exclusive Recipe Filter To Find The Low FODMAP Recipe You Are Looking For Today!