Low FODMAP Matzo Ball Soup
Passover was looming and I thought, okay Dédé, you are a FODMAPer, eat gluten-free and your Mom was Jewish, so get into the Test Kitchen and develop a recipe for matzo ball soup. At first I was daunted; then I got really excited.
And as the recipe came together, I got REALLY excited. I bring you our exclusive low FODMAP gluten-free Matzo Ball Soup! And it is based upon our Low FODMAP Chicken Stock!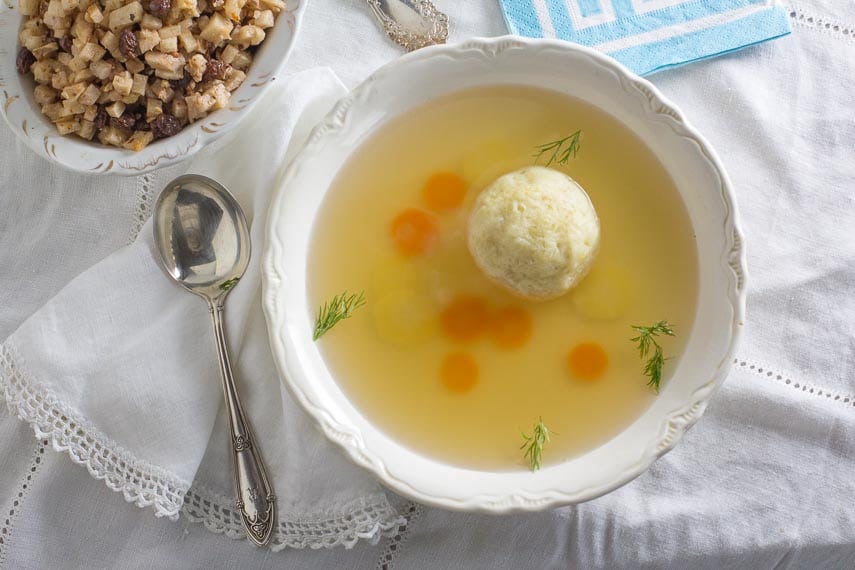 Is This Matzo Ball Soup Appropriate for a Seder?
Good question and one that only your rabbi can answer. Let me explain. The matzo (or matzoh, or matzah) and matzo meal used for Passover is supposed to be wheat based, and if not wheat, there are a very few other choices.
The problem is availability and also that we are additionally concerned with FODMAPs. If you look up "gluten-free matzo" on any of the online Jewish resources you will get an eyeful.
What it boils down to is that if you have a medical condition that would preclude you from eating traditional matzo, then it appears that many rabbis will give you a pass.
Read up and use your own judgment.
Matzo Ingredient Labels
We chose to go with Manischewitz brand. The label says "Gluten Free Matzo-Style Squares" and then right underneath it says "Not a Replacement for Seder Matzo". Go figure.
If you take a liberal approach, our recipe will work for you. If you are Orthodox, all I can tell you is that I tried my best! I like to think my Nana would approve, and she was a stickler.
The Manischewitz GF matzo ingredients are listed as: tapioca starch, potato starch, water, eggs, dehydrated potatoes, palm oil, vinegar, sugar, salt.
Once you have the chicken stock made, this will come together easily. One caveat: more than with traditional matzo balls, these wait for no one. These matzo balls are large and light and fluffy and stay that way for about 15 minutes after they are simmered.
After that they shrink and condense and harden – ahem – I mean, firm up. And not in a good way. Plan accordingly.
Pulverize That Matzo!
You need to grind the gluten-free matzo very finely – as finely as possible – so don't skimp on that step. I used a food processor fitted with a metal blade. One 10-ounce (284 g) box of matzo is more than enough.
Shaping Matzo Balls
There is no getting around the fact that a scoop, like an ice cream scoop, will help you form nice round matzo ball shapes. I use my trusty Zeroll #40 scoop all the time – for cookies, meatballs, portioning other foods.
It is an inexpensive tool and comes in very handy, such as with this recipe.
You want a scoop that makes balls that are about Ping-Pong size. The matzo balls swell up beautifully when cooked.
---
For More Passover Recipes
Check out our Garlic & Herb Roast Leg of Lamb, Coconut Macaroons, Chocolate Macaroons, flourless Clementine Almond Cake, a Lemon Almond version, Charoset, Short Ribs with Horseradish, and our article, The Low FODMAP Seder Plate & Ritual Foods.
We have even added a Charoset with a low FODMAP amount of APPLES!
And for breakfast, why not try our Scrambled Eggs with Smoked Salmon (served without the bagels, of course)?
Matzo Ball Soup
Our Matzo Ball Soup uses low FODMAP gluten-free matzo, which may or may not be considered appropriate for your seder table. Please consult your rabbi. We think we have come up with a really great version. Enjoy!
Total Time:
2
hours
40
minutes
Ingredients:
Matzo Balls:
3

large

eggs

3/4

cup (75 g)

very finely ground low FODMAP gluten-free matzo meal

1/4

cup (60 ml)

melted schmaltz (chicken fat) or vegetable oil

3

tablespoons

club soda

1

teaspoon

kosher salt
Soup:
24

cups (5.7 L)

low FODMAP Chicken Stock, ready to use

2

medium

carrots,

peeled and cut into very thin (1/8-inch/3 mm) rounds

2

medium

parsnips,

peeled and cut into very thin (1/8-inch/3 mm) rounds

Fresh dill
Preparation:
About 2 hours before serving, make the Matzo Ball mixture: whisk the eggs very well in a medium sized mixing bowl. Add the matzo meal, schmaltz, club soda and salt and stir together very well. The mixture will look wet. Cover with plastic wrap and refrigerate for 2 hours.

Bring a large pot of salted water to a boil. Meanwhile, use a small scoop to make approximately 2 tablespoon sized portions and use very wet hands to roll them into beautiful little balls. I roll the matzo balls one by one and lower them into the water as I go. Simmer the matzo balls for about 20 minutes. They should swell up and firm up. Some recipes will tell you to cook until they sink; these will not sink.

Meanwhile, bring stock to a simmer and add your carrot and parsnip rounds and simmer for a few minutes until the vegetables are tender. Ladle soup and vegetables into individual soup dishes, add a matzo ball to each serving and garnish with fresh dill. Serve immediately.
Notes:
Tips
Sourcing the matzo might take some doing. I have had to resort to ordering on-line most of the time, so plan ahead.
Nutrition
Calories:
265
kcal
|
Carbohydrates:
24
g
|
Protein:
14
g
|
Fat:
12
g
|
Saturated Fat:
1
g
|
Cholesterol:
53
mg
|
Sodium:
217
mg
|
Potassium:
116
mg
|
Fiber:
2
g
|
Sugar:
8
g
|
Vitamin A:
75
IU
|
Vitamin C:
4.4
mg
|
Calcium:
17
mg
|
Iron:
0.4
mg