Low FODMAP Roasted Chickpeas
Hummus might be your introduction to chickpeas, which are also called garbanzo beans, but these legumes are so much more versatile than hummus. And yes, you can eat chickpeas while following the low FODMAP diet, with a few caveats, which we'll get to in a moment. But first, let's talk about Roasted Chickpeas.
They are everywhere! Recipes are on blogs, in books and packages from several brands line shelves in the snack aisle.
Roasted chickpeas are now a popular and commonly found snack – and you can make them at home with all sorts of low FODMAP flavorings.
One Technique – Many Flavors
This recipe is a basic recipe for the roasting of the chickpeas, during and after which you can flavor them to your liking – both sweet and savory.
They dry out and get crunchy and you can munch on them like popcorn – or think of them like round crackers.
They are great out-of-hand as well as sprinkled over salads or on top of soup.
Are Chickpeas Low FODMAP?
Okay let's get to the FODMAP discussion. The answer is YES and NO.
As usual, serving size comes into play, which you should always pay attention to, but also the kind of chickpeas make a difference. The FODMAP in chickpeas that we have to be aware of is Oligos (GOS & fructans).
And my reference to "kind" of chickpea has to do with how you will shop for them.
Buy canned! That's right and I'll tell you why. Not only will you save tons of time not having to cook them from scratch, but also when you buy canned, some of the FODMAP issue will be taken care of for you.
The GOS in the chickpeas are water-soluble and a fair amount of the FODMAPs leach out into the water, which you will be draining away.
This is why you will always see a suggestion that canned chickpeas be rinsed and drained before using in a low FODMAP recipe. A good amount of FODMAPs will wash away.
There will still be some GOS and fructans in the chickpeas, which is why you do have to adhere to servings sizes.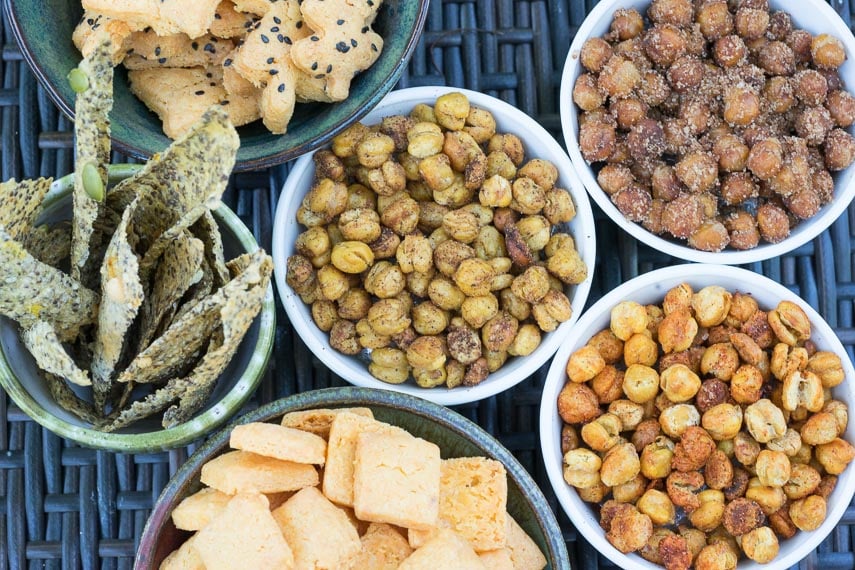 Monash University suggested a serving of ¼ cup (42 g) rinsed and drained canned chickpeas, which is why we have kept to a similar sized serving recommendation by volume for our Roasted Chickpeas.
After roasting they are dried out a bit, they shrink in size, which means ¼ cup (42 g) of our Roasted Chickpeas is actually a few more chickpeas per measured volume than you would get when measuring them out of the can.
Try a quarter cup to start, and see how you do. Your body is your best judge. If you know that you are sensitive to GOS and fructans, start with 3 tablespoons.
These actually go a long way with their crunch and flavor.
Versatility in One Recipe
This recipe provides a template for you to follow to create your own low FODMAP snacks featuring Roasted Chickpeas. You can give them a savory flavor with Garlic-Infused Oil and sea salt, go exotic with garam masala or even sweet with cinnamon sugar.
Once you get the hang of the roasting part, you will come up with your own low FODMAP flavors. Follow the initial roasting instructions and then choose whatever variation you like.
We also like to roast one pan, split the Roasted Chickpeas in half after roasting and then choose two different ways to season them so that we end up with two kinds.
Read through the Variations first, so that you can plan your approach to flavorings. Depending on which flavor you want in the end you can pick and choose the appropriate oil for the roasting part of the recipe. This is up to you!
For a different kind of savory munchy snack, check out our Garlicky Parmesan Herb Popcorn.
And if you are looking for other chickpea recipes, check our Greens, Blood Orange, Quinoa and Chickpea Salad, our Vegan Chickpea Salad, well as our salad featuring Green Beans, Jicama & Chickpeas.
Roasted Chickpeas
This recipe for Roasted Chickpeas is a basic recipe and technique, which you can then flavor in a myriad of ways, both sweet and savory. Read through the entire recipe before you begin to plan your flavors!
Low FODMAP Serving Size Info: Makes about 2 cups (240 g); 8 servings; serving size ¼ cup (30 g)
Total Time:
1
hour
5
minutes
Ingredients:
2,

15.5-ounce (439 g) cans

chickpeas,

rinsed and drained

3

tablespoons

oil

either vegetable oil, extra virgin olive oil, coconut oil or Garlic-Infused Oil (choose your Variation below to know which oil you want to use)
Preparation:
Drain the chickpeas in a colander, give them a quick rinse under cool water, then dump them in a large bowl and cover with cool water. Use your palms to rub the chickpeas together gently under the water to loosen the outer skins, which will float to the top. You might not get them all, which is okay, but aim to remove most of them. Skim off the skins and throw them away then drain the chickpeas well again.

Lay a large amount of triple layered paper towels on your counter and dump the chickpeas on top. Cover with more paper towels and gently but thoroughly pat them as dry as possible. Some more skins might come loose; discard them.

Now, this next step is an optional step; it all depends on how much of a rush you are in. I like to spread the towel-dried chickpeas out on a rimmed sheet pan and allow them to air dry for 30 minutes. I think this extra drying step helps them crisp up in the oven more evenly. But, you can also just proceed to the next step right away of you want. Meanwhile, Position rack in middle off oven. Preheat oven to 400°F/200°C.

Dump the chickpeas in a bowl, add oil of choice and fold to coat well and evenly.

Now scatter the dried chickpeas on your rimmed sheet pan, evenly spaced. Roast for 15 minutes, then shake pan to rotate the chickpeas, and roast for about 15 more minutes or until they are golden brown, dry and crisp. You might need a few more minutes; go by texture, not time!

As soon as you remove the Roasted Chickpeas from the oven, proceed to flavor them as you like from the choices below - or come up with your own low FODMAP ideas. Allow them to cool, then store in airtight containers for up to 4 days. They might last longer, depending on how successful you were at drying them out.
Notes:
Variations 
Sea Salt: As soon as the Roasted Chickpeas come out of the oven, toss them with salt to taste while still warm. I have two thoughts on this. I like cooking with coarse kosher salt, and if you use it here you will get little crunches of salt flakes, which I kind of like. If you use fine sea salt, the salt will more evenly disperse. Just salt to taste, tossing well.
Chili Lime: Toss the warm chickpeas with 2 teaspoons chipotle powder and 1 tablespoon of very finely grated lime zest made with a Microplane zester.
Cinnamon Sugar: Try 2 tablespoons sugar and 1 teaspoon cinnamon to start; adjust to taste
Curry: Roast the chickpeas with Garlic-Infused Oil then toss with salt and low FODMAP curry powder, such as Frontier Co-Op Curry Powder. Always read labels of curry powder as many contain high FODMAP garlic and/or onion.
Garam Masala: This Indian blend can be found commercially; we like Simply Organic, which contains low FODMAP cardamom, cinnamon, cloves, cumin, black pepper and coriander. Start by tossing about 1 teaspoon into your chickpeas and increase as desired. You can also add a little salt to balance it out.
Lemon Pepper: Toss the chickpeas with salt and freshly ground black pepper and about 1 tablespoon of very finely grated lemon zest made with a Microplane zester.
BBQ: Raid your spice drawer and go to town with cumin, chipotle pepper, paprika or smoked paprika, thyme, salt and add some brown sugar to the mix. A dash of Worcestershire sauce is great too, but just don't wet the chickpeas down.
Taco: If you have FODY Taco Spice Blend, use that to season your Roasted Chickpeas.
Spicy Garlic: Use Garlic-Infused Oil to roast the chickpeas. When they come out of the oven, season to taste with salt and a little (or a lot) of cayenne.
Toasted Sesame: This one is a little different. Use only 1 ½ tablespoons vegetable oil and then also use 1 ½ tablespoons toasted sesame oil for roasting the chickpeas. Once they come out of the oven, toss with salt and about 1 tablespoon of white sesame seeds and 1 tablespoon of black sesame seeds.
Nutrition
Calories:
47
kcal
|
Carbohydrates:
1
g
|
Protein:
1
g
|
Fat:
5
g
|
Saturated Fat:
1
g
|
Sodium:
1
mg
|
Sugar:
1
g