Soothing Soup
What is it about soup that soothes us when we are under the weather? The warmth? The easy, smooth textures? The hydration? We are betting on all of the above and indeed, Dédé's flu ridden husband, Damon, inspired this Sick Day Soup.
We were thinking, what if we combined the best of our Jewish Nana's
chicken soup
with some Japanese culinary comfort foods like miso and
ginger
with powerhouse foods like
kale
?
This soup combines the best of both cultures and takes advantage of nutritionally dense ingredients.
We think it is best made with homemade
Low FODMAP Chicken Stock,
but you can also try a high quality low FODMAP store-bought, such as
Gourmend
.

This is a brothy soup, that also has plenty of substance. The best of both worlds.
Simmer, Simmer, Simmer
Maybe you have never made soup before. It is one of the easiest things, really! Follow our instructions and you will be rewarded with a healing, comforting delicious soup! The gentle simmering time brings all the flavors together.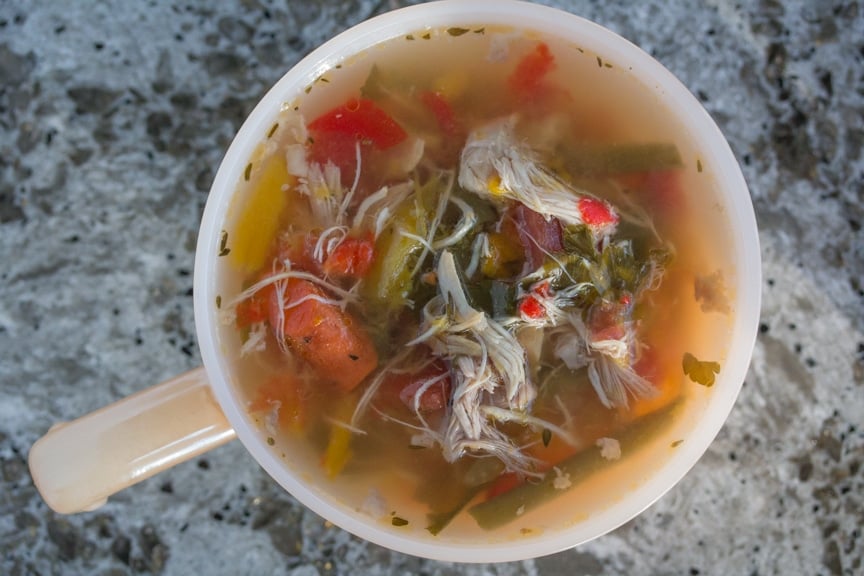 Make sure you follow the instructions when adding he
miso
– which should not be boiled. It is added right before serving. Now, best-case scenario is that someone makes this for you especially if it's you that is feeling sick. But if you have to fend for yourself know that this is super easy to make – everything just goes into a big soup pot!
Note On Serving Sizes
The serving size for this soup is conservative. Always eat to your personal tolerances. You might also be interested in our article,
What Is A Low FODMAP Serving Size?
Anecdotally we have heard (and experienced) that many FODMAPers can handle even twice as much.
Looking for more soup ideas?
Click here
for 30+ delicious soup recipes.
Sick Day Soup - aka Japanese Penicillin
This soup brings good old chicken soup into the millennium with Japanese influence via miso and a dose of nutrition packed kale.
Low FODMAP Serving Size Info: Makes about 12 cups (2.8 L); serving size 1 cup (240 ml)
Cook Time:
1
hour
15
minutes
Total Time:
1
hour
25
minutes
Ingredients:
8

cups (2 L)

Chicken Stock,

either homemade or low-FODMAP purchased version, plus extra if needed

4

skinless chicken thighs,

you could use bone in or out. Bone in gives more flavor

2

cups (134 g)

shredded raw kale,

large ribs removed

1 1/2

cups (105 g)

shredded green cabbage

1/2

cup (36 g)

finely chopped leeks,

green parts only

2

bell peppers,

preferably red, cored and cut into bite-sized strips

2

medium

carrots,

ends trimmed, peeled and cut into bite-sized pieces

1

parsnip,

ends trimmed, peeled and cut into bite-sized pieces

2-

inch (5 cm)

piece of peeled fresh ginger root,

cut in half

2

teaspoons

low-sodium gluten-free soy sauce

Miso,

we like South River Miso Three Year Hearty Brown Rice Miso

Freshly ground pepper
Preparation:
Place chicken stock, chicken thighs, kale, cabbage, leeks, bell peppers, carrots, parsnip, ginger root and soy sauce in a big stockpot. Make sure there is enough chicken stock to cover all the ingredients; add more if needed.

Cover and bring to a boil over medium-high heat. Turn heat down and simmer covered for at least 1 hour; feel free to simmer longer if desired to further meld flavors.

Soup is almost ready to serve. Simply fish out the two pieces of ginger and remove the chicken bones, if used. Shred or chop the chicken into bite-sized pieces and return to the soup. Taste and correct seasoning. You might want a bit more soy sauce or you could add salt and pepper but remember that the miso you are about to add will also increase the saltiness. We think this soup improves after being refrigerated overnight. This would be the step where you would cool the soup and then refrigerate for up to 3 days, or freeze for up to 1 month. Reheat before proceeding.

If you are going to be serving out of the pot to a crowd, then you can add the miso to the whole batch. What we like to do is ladle the soup into individual bowls and pass the miso upon serving. Each person can add a good dollop - about a tablespoon - to their serving and stir it into the hot soup to incorporate. If you are seasoning the batch with miso, start with a half cup, taste, and adjust from there.

You can certainly eat the soup as is, but you can also add cooked rice, quinoa or noodles, if you like.
Notes:
If You Can Tolerate
Fructans: If you have passed the garlic fructan Challenge we strongly recommend that you add at least 3 chopped garlic cloves to the soup before simmering.
Nutrition
Calories:
177
kcal
|
Carbohydrates:
11
g
|
Protein:
20
g
|
Fat:
5
g
|
Sodium:
183
mg
|
Fiber:
1
g
|
Sugar:
9
g
Looking For More Delicious Ideas?