Our Low FODMAP Chili Mac just might be our #1 choice for a comfort food dish. Creamy macaroni and cheese with all the classic American beef chili ingredients you love all in one very easy to make dish. Perfect for beginner cooks – and loved by all family members, big and small.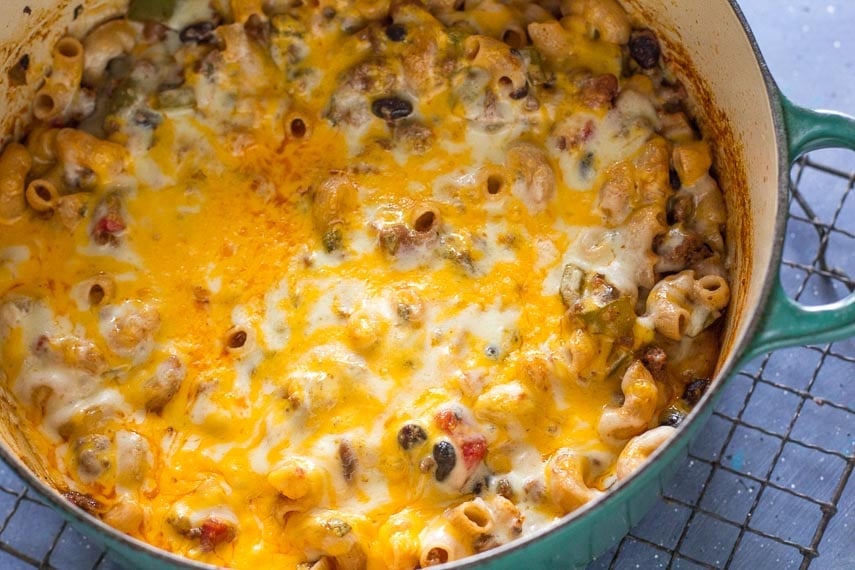 Low FODMAP Comfort Food
The idea of low FODMAP comfort food is one we talk a lot about, simply because having IBS can be so stressful, plus stress can exacerbate it, so staying out of that loop is a worthwhile goal.
We also know that you all like easy meals and recipes that the entire family can enjoy. I am telling you, this Low FODMAP Chili Mac checks off all of the boxes!
History Of Chili Mac
The historical origin of dishes has always fascinated me. I have to say I have been aware of chili mac for years but had never had it. It is more of a Midwestern dish and I grew up in NYC. Not only that but my parents were more European in focus when it came to what was cooked in our household. Carbonara? Yes. Mac and cheese? No.
Researching the history of chili mac proved difficult. Not only is the history muddled, but the research is compounded by the fact that folks can't even seem to agree on what it is.
There are similar dishes that combine spaghetti and chili, with names like Johnny Marzetti, which often included mushrooms, but some historians say it only need contain ground beef, cheese, tomato sauce, and noodles. Or American Chop Suey, which did not contain any cheese, often included Worcestershire sauce, but did combine ground beef, tomato sauce and pasta. Except that it actually originated with rice, hence the name. And then there is goulash, "beefaroni" and other names that crop up, too.
What Is Chili Mac?
It seems that the defining aspects of chili mac are that it is more "chili" than beef spaghetti sauce, so you will always see chili spices included, like cumin and some sort of chili powder. There will always be cheese, because that is the "mac and cheese" half of the equation, and more likely than not the pasta will be elbow macaroni, again due to the mac and cheese relationship. And it is always DELICIOUS!
Ingredients For Low FODMAP Chili Mac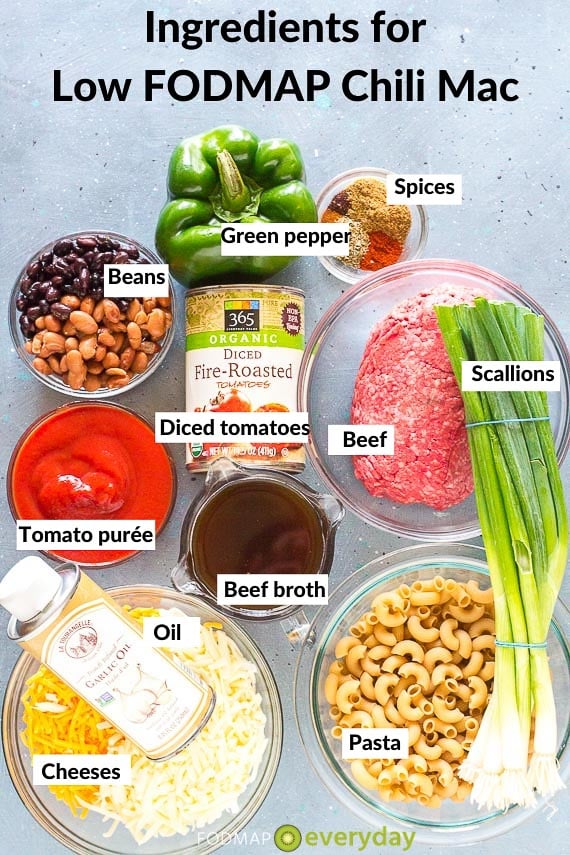 Pasta – Use elbow shaped pasta for the best visual (in our opinion). I am partial to Jovial brand as it holds its shape very well.
Garlic-Infused Oil – Do not, I repeat do not, use garlic-infused oil made with olive oil. This is American chili! This is not a Mediterranean tomato sauce. You can use our recipe to make homemade, or use our favorite brand, Tourangelle, as shown in image.
Scallions & Green Bell Pepper – As always just use the greens of the scallions. Classic chili mac contains a fair amount of onions, so don't skimp on the scallion greens. The green bell pepper adds lovely color, crunch and flavor.
Ground Beef – Any ground beef will do but I prefer around 80% to 82% lean.
Spices – Make sure your dried ground spices are "fresh" for maximum flavor and impact.
Beef Stock – Low FODMAP beef stock can be purchased or you can make your own, if you are so inclined. It adds beefiness!
Diced Tomatoes & Purée – I have used two kinds of canned tomato products in our low FODMAP chili mac, both diced and purée. Together they provide the body that I was looking for.
Canned Beans – Canned, drained beans of several types do have low FODMAP serving sizes. Rest assured that the amounts used in our suggested serving size for the chili mac keeps the dish low FODMAP. See Tips below for more info.
Cheeses – The low FODMAP diet is lower in lactose, but not dairy-free. Many folks are surprised when they learn that many cheeses are low FODMAP, such as cheddar and mozzarella. They are used here in low FODMAP amounts.
Salt & Pepper – Don't forget to taste and season your chili when it is done cooking! Use kosher salt and freshly ground black pepper for best results.
How To Make Low FODMAP Chili Mac
Cook your pasta and set aside. Cook it on the slightly crunchy side of al dente. It will be incorporated with the hot chili and spend some time under the broiler later in the recipe.
Sauté the scallion greens in your garlic-infused oil first. Make sure it is in a vegetable oil base for best flavor results: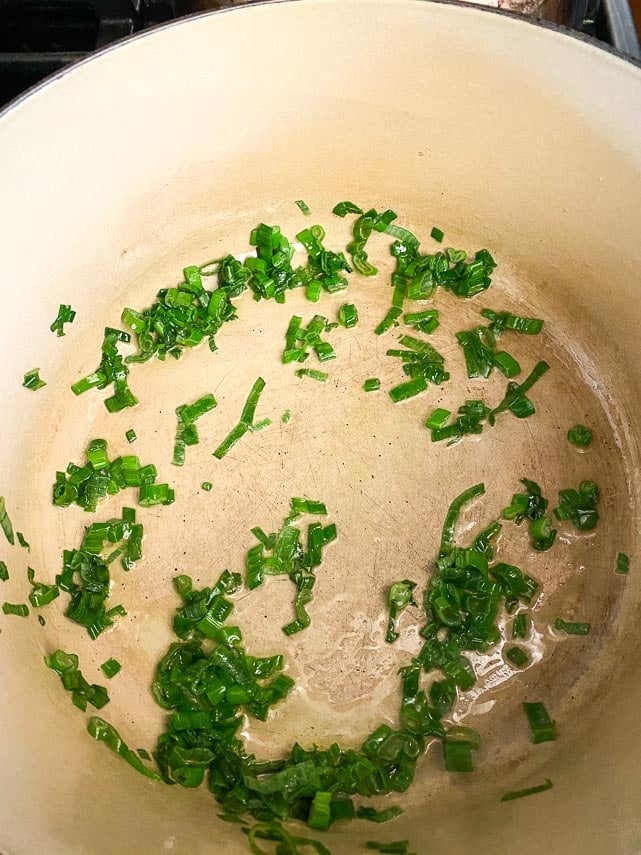 Then the green bell peppers and sauté for a minute or so, then add the beef  – and then the spices once the beef has begun to brown. Break up the beef as you stir it around.
Keep cooking until the beef is browned.
Now it is time to add the tomato purée, diced tomatoes, beans and beef broth.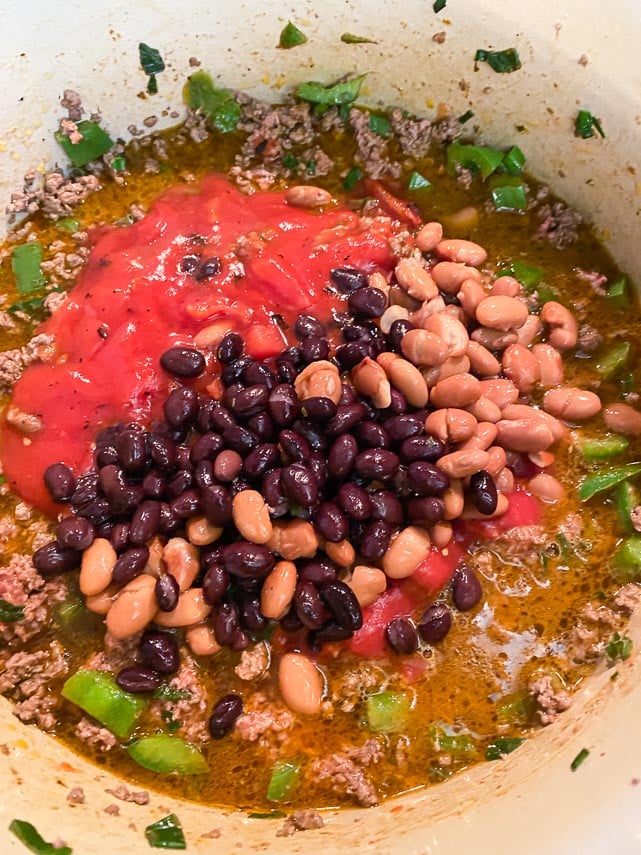 Stir everything together and cook for about 15 minutes and it will look like this below. Taste and adjust seasoning at this time. It might not look pretty at this stage, but keep going! You have a mighty tasty meal coming up!
Now stir in your cooked macaroni:
At this point your broiler should be pre-heated. Sprinkle the cheese on top of the chili mac mixture and broil until the cheese is melted and bubbly. TIME TO EAT!
Use the COMMENTS below to let us know if you made out Chili Mac and what you thought. Don't forget to leave a star rating! We would much appreciate it.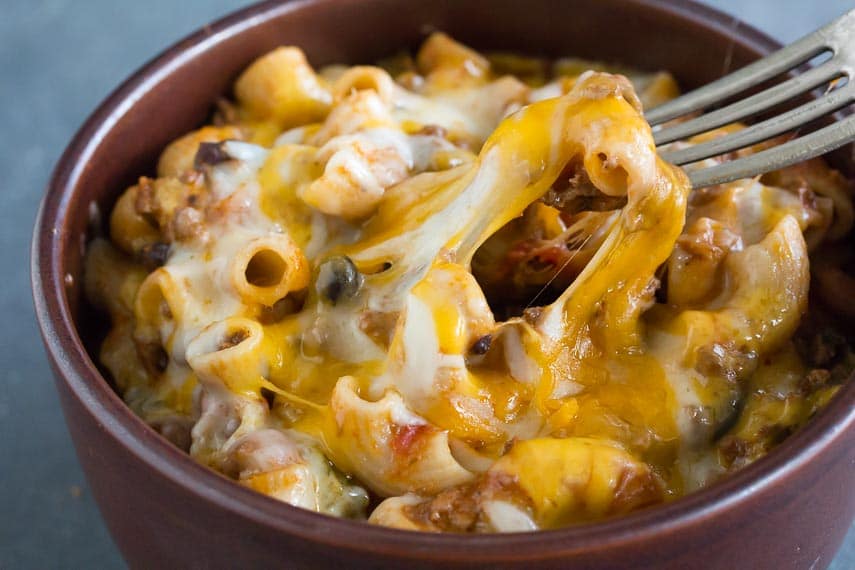 And, if you want to try another cheesy pasta dish we highly recommend our Low FODMAP Bacon Ranch Mac 'n Cheese. Seriously, it is AMAZING.
Low FODMAP Chili Mac
Our Low FODMAP Chili Mac just might be our #1 choice for a comfort food dish. Creamy macaroni and cheese with all the classic American beef chili ingredients you love all in one very easy to make dish. Perfect for beginner cooks – and loved by all family members, big and small.
Ingredients:
8-

ounces (225 g)

low FODMAP gluten-free macaroni,

such as Jovial

1

teaspoon

Garlic-Infused Oil,

made with vegetable oil

1

cup (64 g)

finely chopped scallions,

green parts only

1

green bell pepper,

cored, diced

1-

pound (455 g)

lean ground beef,

preferably at least 80% lean

2

tablespoon

cumin

½

teaspoon

dried oregano

½

teaspoon

smoked paprika

¼

teaspoon

cayenne

¼

teaspoon

chipotle powder

½

teaspoon

kosher salt,

plus extra

Freshly ground black pepper

1

cup (240 ml)

low FODMAP Beef Stock

1

cup (242 g)

canned diced tomatoes, with juice

1

cup (250 g)

canned tomato purée

½

cup (105 g)

canned, drained black beans

½

cup (105 g)

canned, drained pinto beans

3-

ounces (85 g)

sharp cheddar cheese,

shredded

3-

ounces (85 g)

mozzarella,

shredded
Preparation:
Cook your macaroni in a large pot of salted boiling water until a little firmer than al dente, drain and set aside.

Heat the Garlic-Infused Oil in a large Dutch-oven over low heat and sauté the chopped scallion greens until beginning to soften, then add the green pepper and sauté for another minute or two.

Add the ground beef, breaking it up well and cook over medium heat until it is about halfway cooked through, then add the cumin, oregano, paprika, cayenne, chipotle powder, ½ teaspoon salt and generous grindings of black pepper. Keep sautéing until beef is no longer pink.

Add the beef stock, diced tomatoes, tomato purée, black beans and pinto beans and stir everything together well. Cover, adjust heat and simmer for about 15 minutes to develop flavor. Meanwhile, place rack in middle of oven and preheat broiler to high. Taste the chili and adjust seasoning. Fold reserved macaroni into chili. Sprinkle the top with both cheeses and set under broiler until cheese is melted. Serve immediately. Leftovers can be refrigerator for up to 3 days and reheated in the microwave.
Notes:
Tips
FODMAP Information
Our recipes are based on Monash University and FODMAP Friendly science.
Black Beans: Canned and drained beans have the lowest FODMAP contents. Both Monash University and FODMAP Friendly have lab tested black beans. FODMAP Friendly gives them a "Fail" at ½ cup (150 g) and we do not know if they were canned, whether they were drained or whether they were cooked from dry. Monash tells us that canned, drained black beans are Green Light low FODMAP at 40 g or about ⅙ cup.
Cheese: Many cheeses have low FODMAP serving sizes. The low FODMAP diet is not a dairy-free diet. Hard cheeses such as Parmigiano Reggiano or Pecorino Romano have been lab tested by Monash University and are low FODMAP in 40 g amounts.
Garlic-Infused Oil: Make your own Garlic-Infused Oil or buy a commercial equivalent for the easiest way to add garlic flavor to your food. Fructans in garlic are not oil-soluble, so garlic-infused oil is low FODMAP.
Green Bell Peppers: Green bell peppers have been lab tested by Monash University and are recommended in low FODMAP amounts of ½ cup or 52 g. FODMAP Friendly has lab tested green bell peppers and states that 1 small pepper at 75 g is low FODMAP.
Pasta: You have to read labels but there are many low FODMAP and gluten-free brands of pasta available. Use what is called for in individual recipes. Our go-to is rice based pasta. Monash University lab tests states that 145 g for 1 cup cooked pasta is a low FODMAP serving and FODMAP Friendly lab testing suggested 2 cups or 146 g cooked is low FODMAP.
Pinto Beans: Canned and drained beans have the lowest FODMAP contents. Monash University has lab tested canned, drained pinto beans and states that they are low FODMAP in 45 g portions, equal to about 2 Australian tablespoons.
Scallions: The green parts of scallions are low FODMAP as determined by Monash University lab testing and can be used to add onion flavor to your low FODMAP cooking.
Please always refer to the Monash University & FODMAP Friendly smartphone apps for the most up-to-date lab tested information. As always, your tolerance is what counts; please eat accordingly. The ultimate goal of the low FODMAP diet is to eat as broadly as possible, without triggering symptoms, for the healthiest microbiome.
Nutrition
Calories:
316
kcal
|
Carbohydrates:
32
g
|
Protein:
23
g
|
Fat:
11
g
|
Saturated Fat:
3
g
|
Cholesterol:
44
mg
|
Sodium:
349
mg
|
Potassium:
231
mg
|
Fiber:
2
g
|
Sugar:
2
g
|
Vitamin A:
197
IU
|
Vitamin C:
1
mg
|
Calcium:
73
mg
|
Iron:
2
mg
If you want to be ready to make recipes quickly and easily – be prepared! Check out our article on 12 Essential Pantry Items, 10 Essential Low FODMAP Baking Items and 8 Essential Fridge & Freezer Items.