The BEST Low FODMAP Blueberry Muffins
Looking for a recipe for a traditional blueberry muffin? Our Low FODMAP Blueberry Muffins is it! When I develop low FODMAP recipes I strive to create recipes that taste like your beloved classics, so that you won't experience any deprivation even though you are eating low FODMAP.
This blueberry muffins recipe will satisfy and is a version of one from my book, The Low-FODMAP Diet Step by Step.
Buttermilk vs. Milk
Some blueberry muffins use buttermilk as the dairy liquid. I prefer pure milk (lactose-free) for its sweet dairy flavor, which I think better supports the fresh fruit blueberry flavor, without overpowering them.
Crushing some of the blueberries adds rich color and a lovely moistness to the muffins, so don't skip that step.
BTW did you know that you can make your own lactose-free dairy? Check out our DIY Lactose-Free Dairy article to see how easy it is! Or, of course you can simply buy lactose-free whole milk.
You could use milk with less fat, such as 2% or skim, but I think these blueberry muffins are best using whole milk.
Sugar Is Low FODMAP
White sugar is low FODMAP – and the ¼ cup (50 g) amounts listed in the Monash University App is stated as such for "healthy eating guidelines".
It does not reflect the upper amount of sugar that you can eat from a FODMAP perspective. These muffins are low FODMAP.
If you do not want to add the extra sprinkle of sugar on top, you do not have to, but it adds a sparkly, bakery-style finish.
Blueberries Are Low FODMAP
There is some confusion surrounding blueberries. We believe this is largely because the have a Red Light next to them on the Monash app BUT if you click through to view the entire entry you will see that a heaping ¼ cup (40 g) of blueberries is Green Light and low FODMAP. (See image here below).
Always explore ingredient information FULLY, especially in relation to serving sizes. There are a lot of blueberries used in these muffins, as there are in our Blueberry Pie as well, but if you pay attention to the recipe serving sizes, the blueberry content is low FODMAP.
If you are looking for a completely different muffin, but want to give those muffin pans a workout, check out our Low FODMAP high protein Peanut Butter Muffins.
And for another cakey, blueberry concoction, try our Blueberry Sour Cream Bundt cake.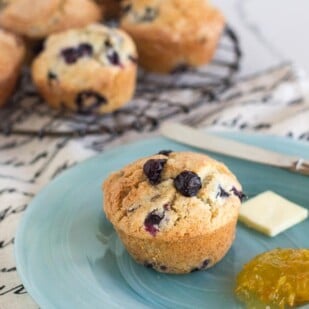 The BEST Low FODMAP Blueberry Muffins
Looking for The BEST Low FODMAP Blueberry Muffins? These are the ones of your dreams. Easy to make, too.
Low FODMAP Serving Size Information: Makes 12 standard sized muffins; serving size 1 muffin
Ingredients:
2

cups (290 g)

low FODMAP gluten free all-purpose flour,

such as Bob's Red Mill Gluten Free 1 to 1 Baking Flour

2

teaspoons

baking powder;

use gluten-free if following a gluten-free diet

1/2

teaspoon

salt

1/2

cup (1 stick; 113 g)

unsalted butter,

softened and cut into pieces

1

cup (198 g) plus 2 tablespoons

sugar,

divided

2

teaspoons

vanilla extract

2

large eggs,

at room temperature

1/2

cup (120 ml)

lactose-free whole milk,

at room temperature

21/4

cups (383 g)

fresh blueberries,

divided
Preparation:
Position rack in middle of oven. Preheat to 400° F/200°C. Coat 12 standard sized muffin wells with nonstick spray, or line with fluted paper cups; set aside.

Whisk together the flour, baking powder and salt in a medium bowl to aerate and combine; set aside.

Beat butter with electric mixer on medium-high speed until creamy, about 2 to 3 minutes. Add 1 cup (198 g) of sugar and beat until lightened in color, about 2 minutes, scraping down the bowl once or twice. Beat in vanilla, then beat in the eggs one at a time, scraping down after each addition, allowing each egg to be absorbed before continuing.

Add the flour mixture in three additions, alternately with the milk just until a few floury streaks remain.

Crush 2/3 cup (113 g) of the blueberries with a potato masher or large sturdy fork. Fold these crushed blueberries, along with any juice, and the whole blueberries into the muffin batter.

Divide batter evenly in muffin pans. Sprinkle tops with remaining 2 tablespoons of sugar, if desired

Place muffin tin(s) in oven and immediately turn oven down to 375°F/190°C. Bake for about 20 to 25 minutes or until a toothpick inserted in center shows a few moist crumbs. Cool pan(s) on rack for 5 minutes then remove muffins and place directly on rack to cool. Serve as soon as possible, either warm or at room temperature. Store at room temperature in airtight container for up to 1 day or freeze for up to one month. If freezing, I like to place in a heavy zip-top bag and remove the air. This makes it easy to remove one at a time as needed.
Dédé's Quick Recipe Tips Video
Notes:
Tips
You can make these with frozen blueberries, in which case do not defrost before folding in. Crushing them will take a bit more elbow grease. Baking time will most likely be a bit longer.
Nutrition
Calories:
271
kcal
|
Carbohydrates:
44
g
|
Protein:
2
g
|
Fat:
9
g
|
Saturated Fat:
5
g
|
Cholesterol:
21
mg
|
Sodium:
166
mg
|
Fiber:
1
g
|
Sugar:
20
g
|
Vitamin A:
245
IU
|
Calcium:
2
mg