Easy Weeknight Turkey Meatloaf
So many of your comfort food favorites can still be enjoyed, even while on the Elimination phase of the low FODMAP diet, and meatloaf is one of them. This Turkey Meatloaf is lighter than the classic beef-based versions.7 Ground Turkey Recipes Everyone Will Gobble Right Up!
Turkey and oyster mushrooms, scallions and carrots make our turkey meatloaf super moist – and yet, it is as easy as dumping everything into a bowl, mixing, shaping your loaf and throwing it in the oven. 
I have included a Roasted Red Pepper Ketchup, which goes on top of the meatloaf before it goes in the oven and is also served alongside. It is an extra step but you will see that it is very easy and incredibly tasty. The Muir Glen fire roasted tomatoes add a smokiness and depth that we just love.
Eat Hot, Eat Cold
We often double this turkey meatloaf recipe and make two loaves. It really doesn't take any more time and then we have tons of leftovers.
If you have never had a meatloaf sandwich, you are missing out!
Low FODMAP bread, a nice thick slice of meatloaf, some mayo, some ketchup, homemade or purchased, or maybe some salad dressing like FODY French Salad Dressing, some tomato and lettuce and you have a sandwich to die for!
Or we should say live for! It is filling, delicious, satisfying – and won't upset your tummy.
What About the Mushrooms?
You might be wondering about the mushrooms.
Are they low FODMAP? Well, yes oyster mushrooms are and in quite generous amounts of 1 cup servings or 75 g.
They add moisture and flavor and a great texture to this turkey meatloaf with their meatiness.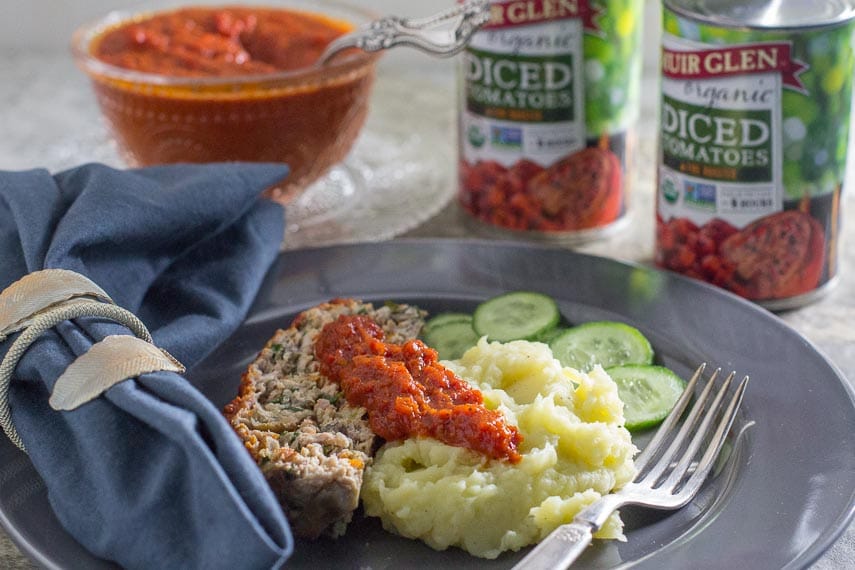 Turkey Meatloaf with Mushrooms & Roasted Red Pepper Ketchup
Our Turkey Meatloaf with Mushrooms & Roasted Red Pepper Ketchup is easy enough to make on a weeknight, but fancy enough for guests. Make two loaves and enjoy some meatloaf sandwiches!
Ingredients:
Roasted Red Pepper Ketchup:
Turkey Meatloaf:
2

slices

low FODMAP sandwich bread,

such as Udi's White Sandwich bread

1/3

cup (75 ml)

lactose-free milk,

whole or 2%

2

tablespoons

Garlic-Infused Oil,

made with olive oil

1

cup (64 g)

chopped scallions,

green parts only

1/2

pound (225 g)

oyster mushrooms,

trimmed of their hard stems, and finely chopped

2

medium

carrots,

scrubbed, stem end trimmed away, shredded

1/2

teaspoon

thyme

Freshly ground black pepper

1 1/4

pounds (570 g)

ground turkey

2

large

eggs,

beaten

3

tablespoons

chopped fresh flat leaf parsley

2

teaspoons

Worcestershire sauce
Preparation:
For the Roasted Red Pepper Ketchup: Place tomatoes, including juice, and roasted red pepper in food processor fitted with metal blade. Pulse on and off, then process until fairly smooth. Scrape into saucepan.

Add brown sugar, vinegar,

Garlic-Infused Oil

and lemon juice and stir together well. Taste and season with salt and pepper. Bring to a simmer over low medium heat and cook for about 8 minutes or until mixture thickens a bit. Cool slightly. Taste and adjust seasoning, if necessary. Ketchup is ready to use or may be refrigerated in an airtight container for up to 4 days.

For the Meatloaf: Position rack in middle of oven. Preheat oven to 375°F/190°C.

Tear the bread into small pieces right into a large mixing bowl. Add milk and allow to soak for 5 minutes.

Meanwhile, heat a large skillet over medium heat and add oil. Once the oil is shimmering add the scallions and sauté for a minute or two until they begin to soften. Add chopped mushrooms and shredded carrots and sauté over medium heat, stirring often, until softened. Add thyme and season well with salt and pepper. The mushrooms will throw off some liquid and you want to continue cooking until the mixture dries out a bit. Cool until just barely warm.

Add vegetable mixture and ground turkey to bowl with soaked bread. Add eggs, too, parsley and Worcestershire sauce and mix together well. The mixture will be moist. Make a nice big slightly oval loaf in an ovenproof dish or skillet. Slather the top with some of the ketchup, using image to guide you. Place in oven and cook until an instant thermometer reads 170°F/77°C when inserted in the center of the meatloaf, about 45 minutes. Allow meatloaf to rest for 10 minutes. Serve with extra ketchup. Leftover meatloaf can be refrigerated in an airtight container for up to 4 days.
Notes:
Tips
Meatloaf sandwiches anyone? We LOVE meatloaf sliced cold as a sandwich with mayo, lettuce and tomato. Add a schmear of the tomato sauce, if you like. Try it with sourdough or lofo bread.
Nutrition
Calories:
203
kcal
|
Carbohydrates:
11
g
|
Protein:
20
g
|
Fat:
9
g
|
Saturated Fat:
1
g
|
Cholesterol:
92
mg
|
Sodium:
110
mg
|
Potassium:
360
mg
|
Fiber:
1
g
|
Sugar:
5
g
|
Vitamin A:
110
IU
|
Vitamin C:
0.9
mg
|
Calcium:
17
mg
|
Iron:
1.2
mg
---
Low FODMAP Recipes Created Just For You!
We take low FODMAP recipes seriously at FODMAP Everyday®. That's why Dédé oversees our Test Kitchen and makes sure that each and every recipe works – and is low FODMAP following the most up-to-date science.
Rest assured that you will not find more trustworthy or delicious low FODMAP recipes anywhere – several hundred and counting.
FODMAP Everyday®Low FODMAP Recipes At A Glance:
Come Join Our Low FODMAP Recipe Community!
Use Our Exclusive Recipe Filter To Find The Low FODMAP Recipe You Are Looking For Today!