Many of us eat gluten-free, but feel deprived? NEVER! We love our chocolate, and a good baked good, and these 20 gluten-free chocolate-centric recipes are sure to please. Blackout cake? You bet! Cookies, brownies and puddings? You better believe it! Along with crème brûlée, cheesecake and…frozen hot chocolate and chocolate pancakes!
Salted Buckwheat Chocolate Chunk Cookies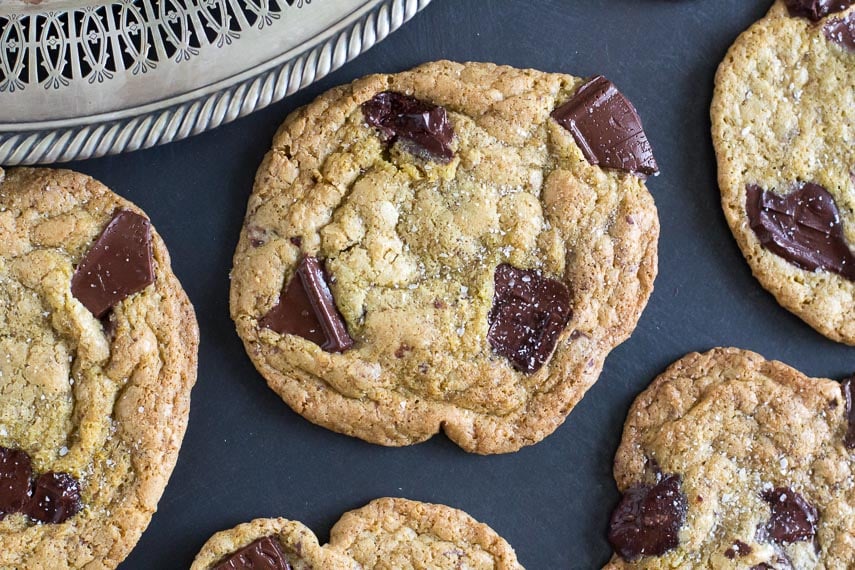 We have dozens of version of gluten-free chocolate chip and chocolate chunk cookies and these are one of our absolute faves! The hearty flavor of buckwheat offset with the sweetness of brown sugar, rich dark chocolate and a sprinkling of salt is a hard combination to beat. Get the Gluten-free Salted Buckwheat Chocolate Chunk Cookie recipe.
Mocha Toffee Crunch Cake
Our basic recipe for Easy Chocolate Cake, which is gluten-free, is brushed with Coffee Liqueur, filled and frosted with Espresso Buttercream and the sides are covered with toffee bits and miniature chocolate chips. Get the Mocha Toffee Crunch Cake recipe.
Dark Chocolate Truffles
Chocolate truffles can be made at home! This is a simple recipe that anyone can make. Just get ready to get your hands a bit dirty – but the "dirt" is cocoa and chocolate, so don't worry! Get the Dark Chocolate Truffle recipe.
Blackout Cake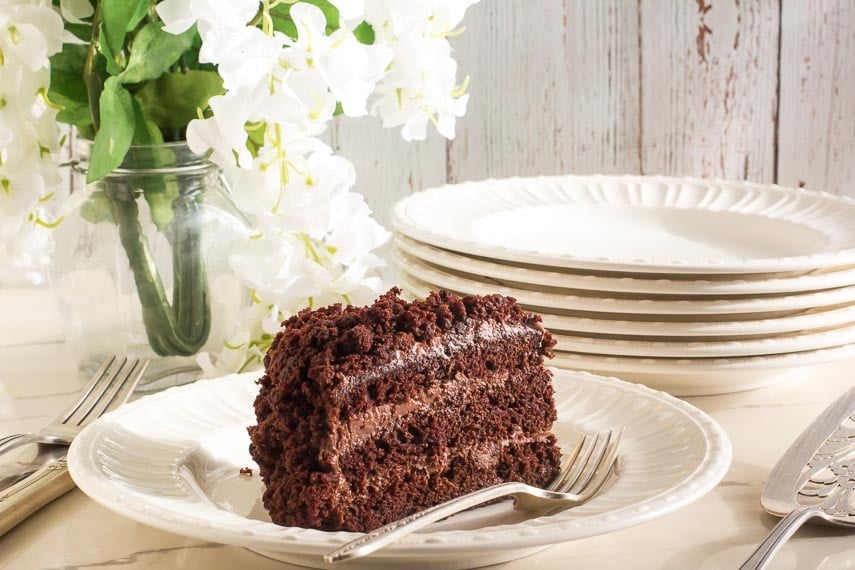 We grew up in NYC in the 70s and "Blackout cake" was a favorite. This version is just as rich, but it is lactose-free and gluten-free. The filling and frosting is actually an easy-to-make pudding, and the exterior is covered with cake crumbs. No cake decorating experience necessary. Get the Blackout Cake recipe.
Frozen Hot Chocolate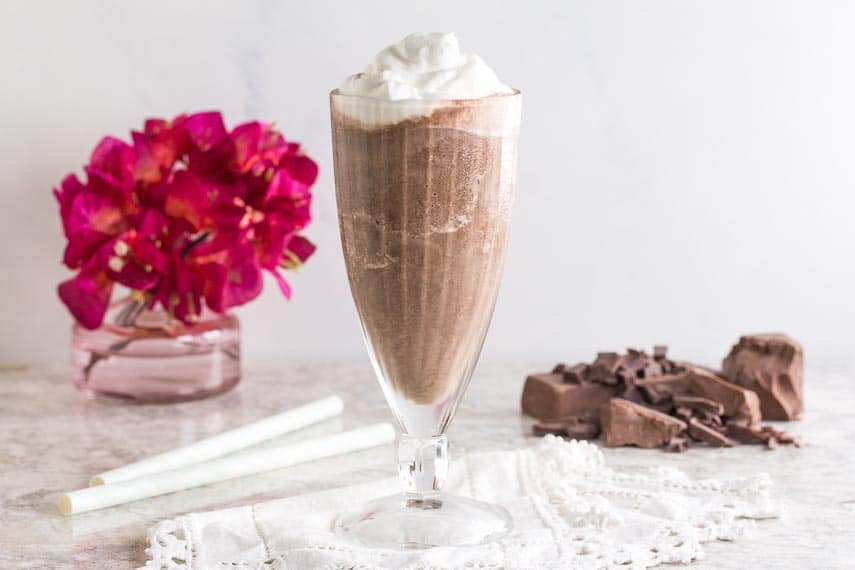 Sound like an oxymoron? Frozen Hot Chocolate came to fame at NYC restaurant Serendipity, which opened in 1954. Envision a slushy, chocolate drink, rich yet icy, topped with whipped cream. Our version is lactose-free, too! Get the Frozen Hot Chocolate recipe.
Black Bottom Pie
This is a crispy chocolate chip cookie crust. Yes, you read that right! The rich chocolate pudding is the filling and on top is an espresso flavored whipped cream. O.M.G. Get the Black Bottom Pie recipe.
Cream Cheese Brownies
This recipe hails from our days as bakery owners. The day was not complete without a batch of Cream Cheese Brownies. A dense, rich dark chocolate brownie base is topped with a vanilla cream cheese and chocolate swirl. Easy to make. We love these ice cold; try it! Also check out our other versions: Espresso; PB&J and Pumpkin Swirl. Get the Cream Cheese Brownies recipe.
Ménage à Trois Cookies
We first made these cookies at our bakery in the 80s and they have been popular ever since. The originals were not gluten-free; these are and like the first version, filled with dark, milk and white chocolate. Get the Ménage à Trois Cookies recipe.
Chocolate Pudding Cake
One batter bakes up with a cake-like top and pudding down below. Serve warm and top with lactose-free vanilla ice cream for a homespun dessert. Get the Chocolate Pudding Cake dessert recipe.
Raspberry Chocolate Truffle Cake
We have several version of flourless chocolate cakes. This one has raspberries embedded within a truffle like cake, which is then glazed with dark chocolate ganache. You can make this in an 8-inch (20 cm) round cake pan, too. Get the Raspberry Chocolate Truffle Cake recipe.
Toasted Almond Coconut Fudge Brownies
This brownie recipe is a bit different. It begins with toasting almond flour and coconut and the results are a moist brownie unlike any other. You have to give these a try! Get the Toasted Almond Coconut Fudge Brownie recipe.
Gluten-Free Chocolate Pancakes
We have eaten these pancakes for breakfast, brunch and dessert and every time we serve them, folks are WOWed. Lactose-free vanilla ice cream and salted caramel sauce on top makes these pancakes sing! Get the Chocolate Pancakes recipe.
Double Chocolate Chip Muffins
Chocolate for breakfast ? Why not? These double chocolate muffins work for breakfast, brunch or a snack. Great for bake sales. Get the Double Chocolate Chip Muffin recipe.
Decadent Chocolate Brownies
We have several brownie recipes, but this one was the first. Consider it the mothership of all brownie recipes. Rich, moist – and we show you how you can make one batch with half nuts, and half without. Get the Decadent Chocolate Brownie recipe.
Chocolate Cheesecake
You can have cheesecake on the low FODMAP diet – and it can be lactose-free! We have several cheesecake recipes, from cakes to brownies. This one features a crisp chocolate crust and a creamy, chocolate NY-style cheesecake filling. Get the Chocolate Cheesecake recipe.
Chocolate Crème Brûlée
What is better than crème brûlée? Chocolate crème brûlée! Smooth, creamy, lightly chocolatey with a crisp caramelized sugar crust. Get out the propane or butane torch! Get the Chocolate Crème Brûlée recipe.
Nutella Brownies
Rich chocolate brownies swirled with Nutella. We even have a homemade Nutella recipe for you. Get the recipe for Nutella Brownies.
One-Bowl Peanut Butter Oatmeal Chocolate Chunk Cookies with Raisins
We have several one-bowl baking recipes, but this one is hands down my fave. A lot of you have asked if you can leave out the raisins. Yes, you can – but we think they add a chewy texture that is quite welcomed, in addition to their sweet flavor. Get the recipe for One-Bowl Peanut Butter Oatmeal Chocolate Chunk Cookies with Raisins.
Gluten-Free Chocolate Coconut Banana Bread
This is possibly the richest quick bread you have ever had! Chocolate, coconut and banana all in one loaf! Watch your portions. Get the Chocolate Coconut Banana Bread recipe.
Chocolate Chunk Nut Blondies
Everyone needs a simple, classic chocolate and nut studded blondie in their repertoire and this gluten-free version is easy, moist and perfect for lunch boxes, bake sales or parties. Get the Chocolate Chunk Nut Blondies recipe.
6 Rich And Fudgy Brownies That Will Make You Want To Lick The Bowl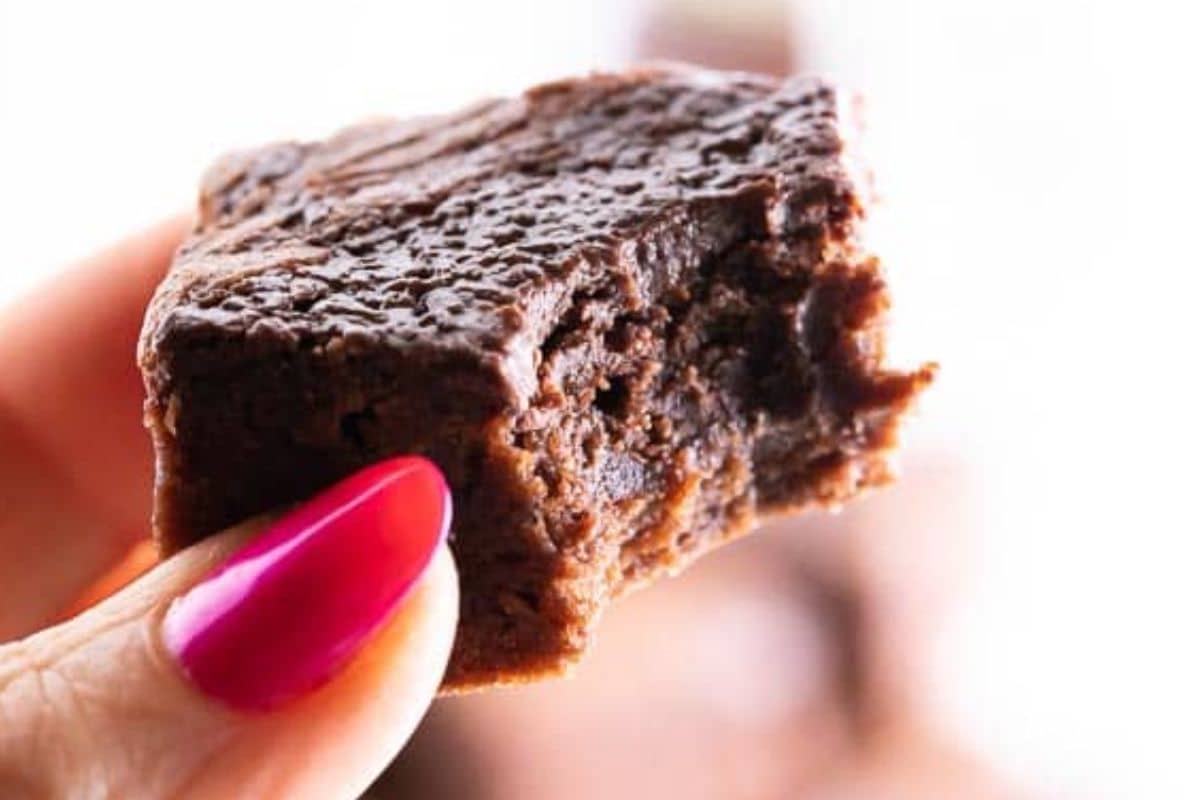 In our opinion, you can never have enough brownie recipes. We have gathered our top 6; the brownie recipes you don't have – yet. And you do need them; trust us. Nutella. Peppermint. Toasted almond & Coconut. S'Mores. PB & J – and even a super quick One-Bowl Brownie. Get ready to be inspired. Click for 6 Rich And Fudgy Brownies That Will Make You Want To Lick The Bowl
85 Desserts For The Chocolate Lover In Your Life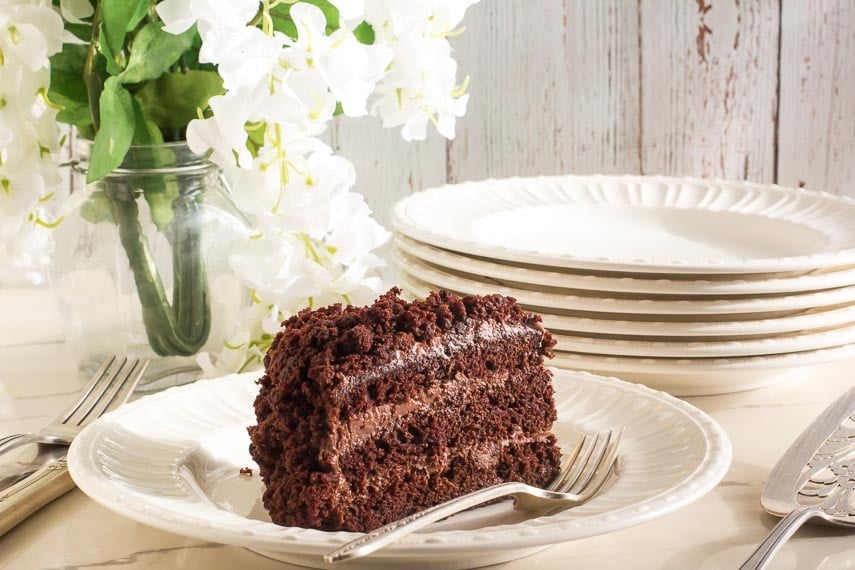 Welcome to the largest collection of desserts for the chocolate lover in your life. Each of these are also gut-friendly so that you don't have to worry about bloating, or a noisy belly when getting romantic! All of these desserts are gluten-free and low FODMAP! Click for 85 Desserts For The Chocolate Lover In Your Life
The Crazy Best and Easy Cookie Recipes Ever!
Cookies – small, large, soft, chewy, crispy, chocolaty, peanut buttery, elegant, homespun, one-bowl, drop, rolled and shaped – we'll take them all. You can never have enough cookie recipes and ours are all created in our very own Test Kitchen; these recipes work! Several can be prepped in the time it takes to preheat the oven. Click for The Crazy Best and Easy Cookie Recipes Ever!
Looking For Dairy Free Ice Cream & Frozen Desserts?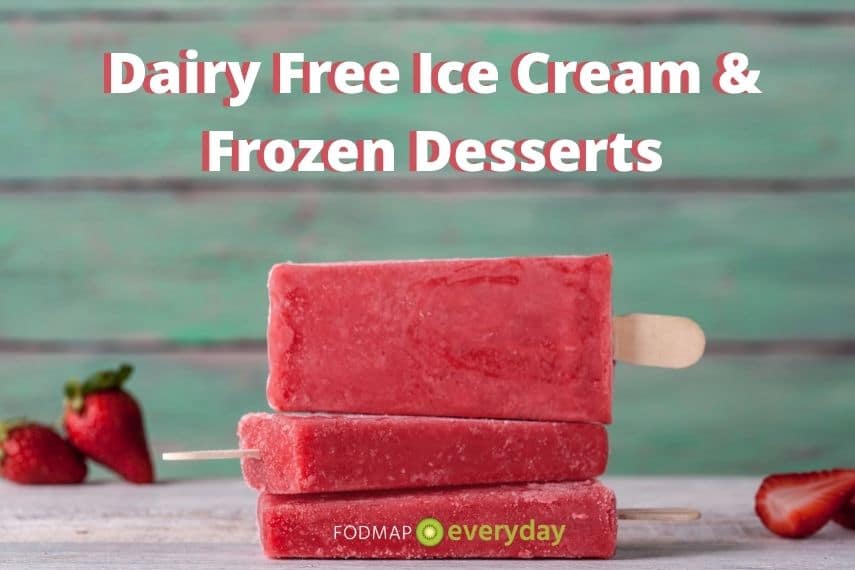 This article will discuss the low FODMAP ice cream and frozen desserts that you can find in supermarkets and restaurants, as well as our own exclusive recipes, and will include information on dairy based as well as alt milk frozen desserts and recipes. Click here for Dairy Free Frozen Desserts Recipes.