We love a good salad, but that doesn't mean we stop in the produce aisle and only shop for lettuces. There are a world of salads out there that do not rely on lettuce, and we have 15 recipes for you that are going to tantalize your taste buds, with salads that hail from Indonesia, Japan, Greece, Italy, Thailand, and beyond.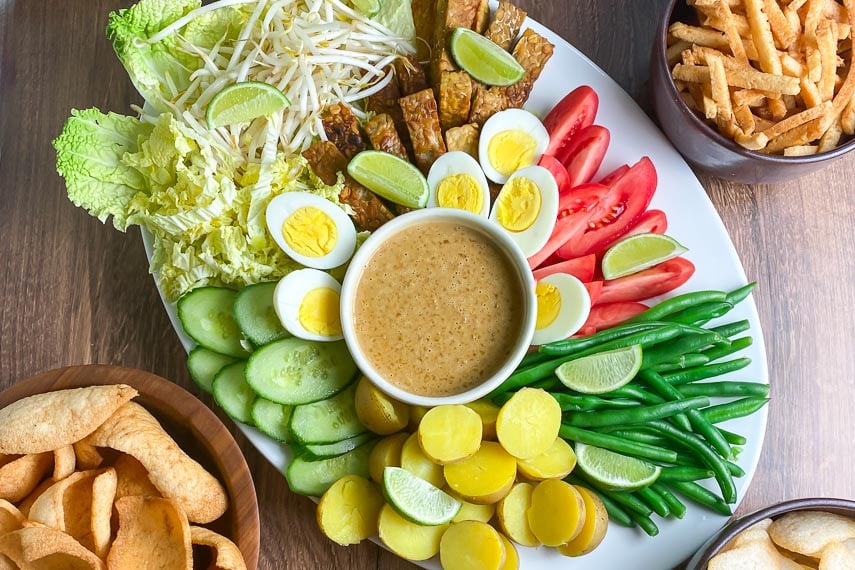 The term "gado-gado" translates as "mix mix" and this refers to the fact that the dish is made up of a mixture of items, which can vary chef to chef, and household to household. Our version includes tempeh. Gado-Gado is always very vegetable-centric, featuring both raw and steamed vegetables, and peanut sauce in always offered. Crisp shrimp crackers are a traditional accompaniment. On a hot day, this makes a great meal, and it should be served room temperature, but not cold. Get the recipe for Gado-Gado.
Gluten-free orzo are the basis for this lovely pasta salad with colorful, juicy, and crunchy cucumbers and tomatoes. A lemony salad dressing works beautifully with the fresh dill, parsley, and scallion greens. Add feta if you like. Get the recipe for Orzo Salad.
This is what you want to eat on one of those days when it is hot, hot, hot but you still need sustenance. A low FODMAP amount of soba noodles with soy sauce, toasted sesame oil, Sriracha, scallion greens, cucumber, cilantro, and line. Get the recipe for Cold Soba Salad with Greens.
Calamari is delicious, but have you ever had it as a salad? Here it is combined with tangy olives and capers, tomatoes, celery and parsley with a tangy red wine vinaigrette. Get the recipe for Calamari Salad.
Halloumi is a cheese that hold up very well to grilling. It is a bit chewy and salty and contrasts beautifully with the sweet melon. Get the recipe for Grilled Halloumi & Melon Salad.
Pasta, shredded chicken, feta, radicchio, tomatoes, olives, cucumbers, bell peppers, scallions and red wine vinaigrette – the perfect potluck dish! Get the recipe for Mediterranean Pasta Salad.
This Italian salad's original name is Insalata Caprese, which translates as "salad from Capri". Caprese salad almost doesn't need a recipe. It is really just an assembled salad of sliced tomatoes, fresh mozzarella and fresh basil. Get Caprese Salad recipe here.
Salads don't have to rely on leafy greens and our Low FODMAP Cantaloupe, Cucumber and Burrata Salad with Basil & Mint will certainly convince you! Sweet melon, cool crunchy cucumbers, shreds of magenta radicchio, fresh basil and mint and creamy burrata cheese. All drizzled with a light vinaigrette. This is an unexpected and welcomed addition to summer cookouts. Get the recipe for Cantaloupe, Cucumber and Burrata Salad with Basil & Mint.
I have always loved texture in my food. I like crunchy and silky and juicy and smooth. Rough and tender and every other word you can think of that describes a sensation brought about by an ingredient. This salad has a LOT going for it in terms of texture as well as flavor and color. Get Brussels Sprouts Salad recipe here.
When we are making a rich main dish, such as a Standing Rib Roast, we definitely like to complement it with a light, green salad. But that doesn't have to mean boring. Just take a look at the images for our Fennel, Kale & Parsley Salad with Clementines & Olives.
This peanut butter dressing, that contains fish sauce, soy sauce, rice vinegar, brown sugar, lime and sambal oelek is hugely flavorful. It pairs perfectly with shredded cooked chicken, cabbage, carrots, red bell pepper, scallions, and fresh cilantro. Get the recipe for Asian Chicken Salad.
A feast for the eyes and the palate! Oven-roasted salmon, potatoes, green beans, tomatoes, hard-boiled eggs, olives, capers, radish and frisée. Our favorite hot weather dinner. Get the recipe for Salmon Salade Nicoise.
We love a good steak salad with tomatoes and blue cheese, but how about an Asian vibe? Here you get to indulge in the flavors of fish sauce, lime juice, sambal oelek, toasted sesame oil, ginger and Thai basil. All with slippery, slurpy noodles and tender steak, too. Get the recipe for Thai Basil Steak Salad.
Our plant-based Baja Tempeh Taco Salad features spicy, seasoned tempeh as the star of the show, but it doesn't stop there! In addition to cumin, cayenne, smoked paprika and oregano tempered with maple syrup and soy sauce we have a fresh crunchy salad with arugula, cilantro, cabbage and pepitas. More texture and flavor from nutritional yeast and tortilla chips top everything off with a garlicky lime dressing. Get the recipe for Baja Tempeh Taco Salad.
This is an unusual chicken salad, elegant enough for a light summer dinner main dish for guests. A very mustardy dressing coats cooked chicken, tender-crips cooked green beans, juicy tomatoes and small batons of Gruyere cheese, showered with fresh basil. A study in color, flavor and texture contrast – that comes together in a flash. Get the recipe for Chicken Salad with Gruyere, Green Beans, Tomatoes & Basil.
36 Dishes You Didn't Know You Could Make With Rice Noodles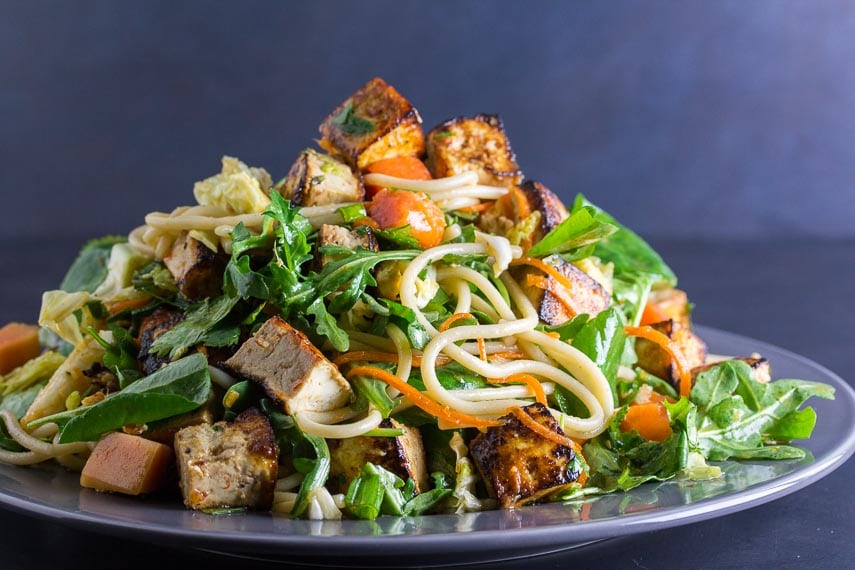 Rice noodles are naturally gluten-free, but that isn't the only reason to cook with them. They are delicious unto themselves, come in a variety of shapes, and are the noodle of choice in so many Asian-inspired recipes. But it doesn't stop there! There are rice-based lasagna noodles, shells, manicotti, elbows…From soups to main dishes, casseroles, salads and summer rolls, we have 36 recipes for you to get you slurping with joy. Click for 36 Dishes You Didn't Know You Could Make With Rice Noodles
30 Quick & Easy Recipes For A Happy Gut: Low FODMAP and Flavor Packed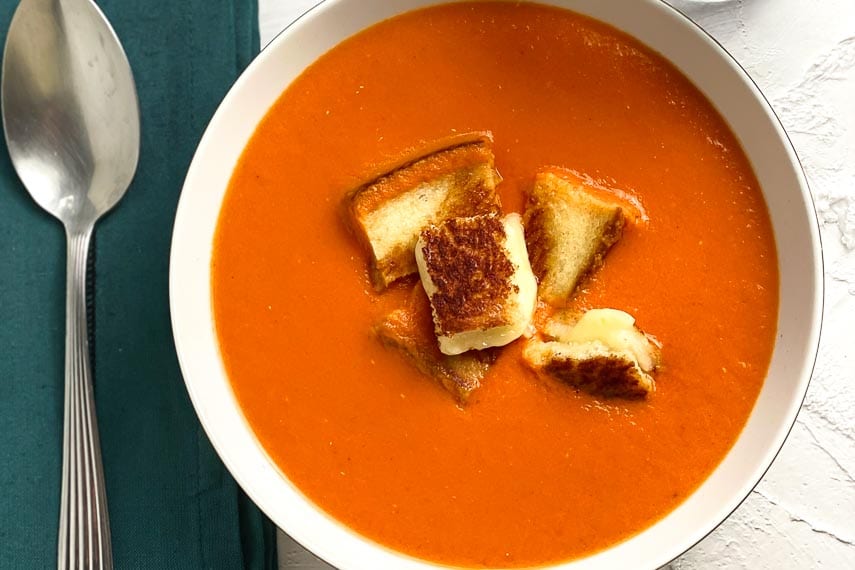 At FODMAP Everyday® we define "Quick" as a dish that can be on the table, ready to eat, in 30 minutes or less. "Easy" recipes have 15 minutes or less of prep time. All of these recipes are low FODMAP and free of gluten so they can be served to tender tummies too! Click for 30 Quick & Easy Recipes For A Happy Gut: Low FODMAP and Flavor Packed