The school day can be long and you've got to have a nutritious lunch to keep you alert and going, right through all your sports and extracurriculars at the end of the day. We've got sandwiches, of course, but we also have salads, wraps and bowls. Vegetarian and vegan options, too! All low FODMAP, but delicious enough for the whole family. No need to make separate food.
Mason Jar Salads
Grab a Mason jar and follow our suggestions for satisfying main dish salads. Get creative! Get the recipe.
Tuna Macaroni Salad
A mash up of classic macaroni salad – with tuna added! Protein and pasta with a creamy dressing. A family favorite. Get the recipe.
Baja Tempeh Taco Salad
Our plant-based Baja Tempeh Taco Salad features spicy, seasoned tempeh as the star of the show, but it doesn't stop there! In addition to cumin, cayenne, smoked paprika and oregano tempered with maple syrup and soy sauce we have a fresh crunchy salad with arugula, cilantro, cabbage and pepitas. More texture and flavor from nutritional yeast and tortilla chips top everything off with a garlicky lime dressing. Get the recipe.
Hummus Wrap
Hummus is a protein rich chickpea spread, perfect for dipping, sandwiches, or wraps, as shown here. Add crunchy, colorful, juicy veggies, like lettuce, julienned carrots and cucumbers, and tomatoes for a hearty wrap. Get the recipe for Hummus Wrap.
Vegan Chickpea Salad
Chickpeas are full of fiber and protein and can be made into more than just hummus! Here they are kept whole and combined with diced vegetables in creamy dressing. Get the recipe for Chickpea Salad.
Get Creative with Tuna
We bet you have a favorite tuna salad recipe. Well, we think having cans of tunas in the pantry is really smart, because tuna is actually very versatile for lunches as well as dinners. Check out our article, 18 Ways To Use Canned Tuna!
Banh Mi Tofu Bowl
Our Banh Mi Tofu Bowl is comprised of cooked rice, tofu, quick pickled carrots and daikon radish, red cabbage, cilantro and a little bit of spicy mayo. Easy to make and perfect for plant-based eating. Low fat and protein packed, too. Get the recipe.
How To Make Low FODMAP Sandwiches
We have included some sandwich recipes here for you, but sometimes making a sandwich is a freewheeling affair – and you just want low FODMAP guidance. THIS is the article for you! Everything you want in one place: how to choose low FODMAP bread, cheeses, condiments, proteins, vegetables – the works! Setting you up for THE BEST low FODMAP sandwiches EVER. Classics, hot sandwiches, sandwiches made from leftovers, and so much more. Check out the article.
Pineapple Chicken Salad
Cooked chicken, fresh pineapple, scallion greens, celery, toasted pecans and tarragon create a very fresh tasting salad. Kids like the sweetness of the pineapple. Get the recipe.
Chicken Salad with Cranberries & Pecans
Dried cranberries and toasted pecans add texture and flavor to this chicken salad made with mayo and a little Dijon. Get the recipe.
Low FODMAP Turkey & Swiss Sandwich
We highly suggest that you try our Low FODMAP Turkey & Swiss Sandwich with our Low FODMAP Russian Dressing. Get your deli-craving satisfied right in your own kitchen – without triggering IBS symptoms. Get the recipe for Low FODMAP Turkey & Swiss Sandwich.
Low FODMAP Avocado Green Goddess Veggie Sandwich
Vegan and looking for a hearty, nutritious LOFO lunch? Our Vegan Low FODMAP Avocado Green Goddess Veggie Sandwich entices visually, and then deeply satisfies with flavor and texture. LOFO sourdough bread layered with our Vegan Low FODMAP Avocado Green Goddess Dressing, alfalfa sprouts, no-fodmap cucumber, arugula and the option of vegan cheese. Get the recipe.
Gluten Free & Low FODMAP Fusilli Pasta Salad with Chickpeas & Feta
The combination of pasta and chickpeas means that this is an especially hearty dish. It is quite the complete experience with the juicy tomatoes, peppers and cucumbers. Speaking of cucumbers, I like the small Persian style cukes as their skin is tender – no need to peel – and they are practically seedless. Get the recipe.
Low FODMAP Tofu Salad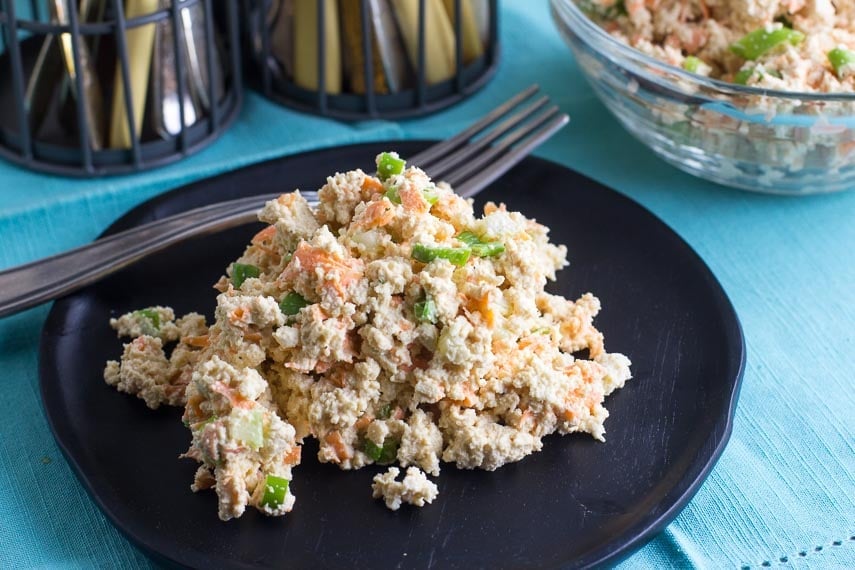 Low FODMAP Tofu Salad is easy, protein packed and versatile enough to serve as a sandwich filling, on a bed of greens or just scoop up with something low FODMAP and crunchy of your choice, like crackers, corn chips or pretzels. A little mayonnaise, Dijon mustard, a spritz of lemon juice, salt and pepper, chopped carrot, celery and scallion greens and lunch is ready! The only trick is that you have to freeze the tofu overnight, so plan ahead. Full explanation below. Get the recipe.