Low FODMAP Cranberry Crisp with Grapes & Citrus
This recipe for Low FODMAP Cranberry Crisp with Grapes & Citrus came about when I had extra cranberries leftover from another recipe (please see our Cranberry Almond Buttermilk Bundt Cake).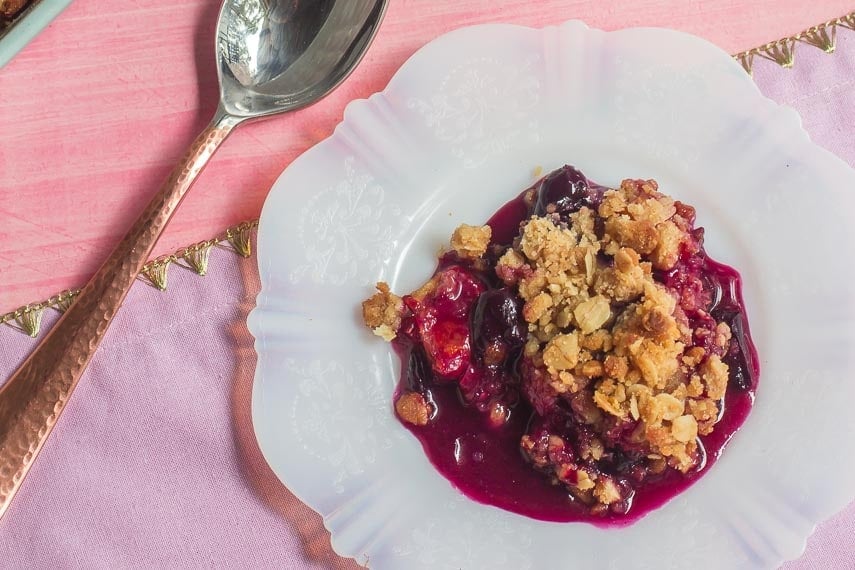 I looked into the fridge and I had some black grapes that were on their way out and I had a few oranges hanging around. I started envisioning the combo in my head, cooked together and nestled under a brown sugar, oat crisp topping.
Make Me A Low FODMAP Crisp!
As you can see in the images, the concept came together beautifully. So if you are missing crisps why not try a crisp like this one? It might sound unusual, and it is, but it is everything you want in a crisp: sweet/tart fruit, warm and bubbling, nestled below a crispy, brown sugar and butter oat topping.
Please read our Explore An Ingredient: Cranberries article, which explains everything you need to know about cranberries, dried and fresh, in terms of their FODMAP content.
Calling All Beginner Bakers!
And this is easy enough for even non-bakers! You will have success the very first time you make this dish. Promise! And you could bring this to a non-FODMAP party and everyone will be impressed.
First you put the fruit in a baking dish, as seen below…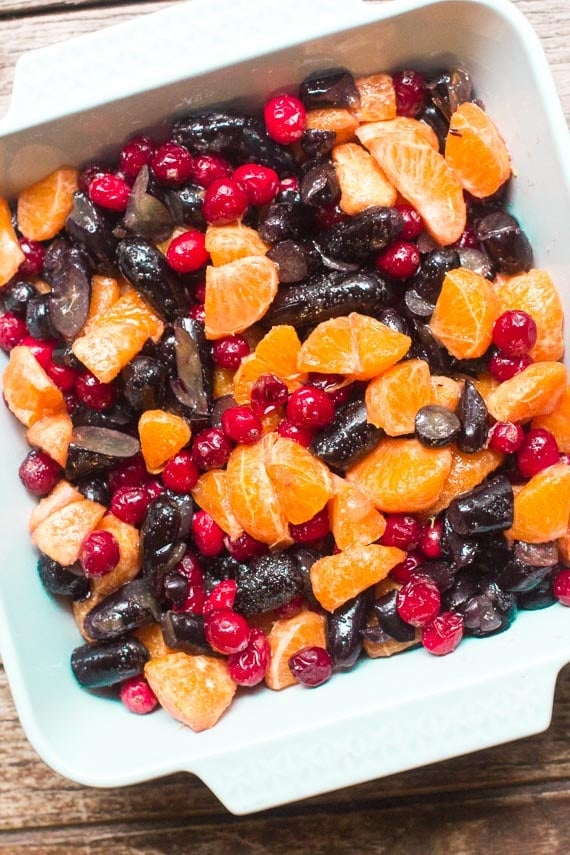 Then, simply crumble the brown sugar oat topping over the fruit…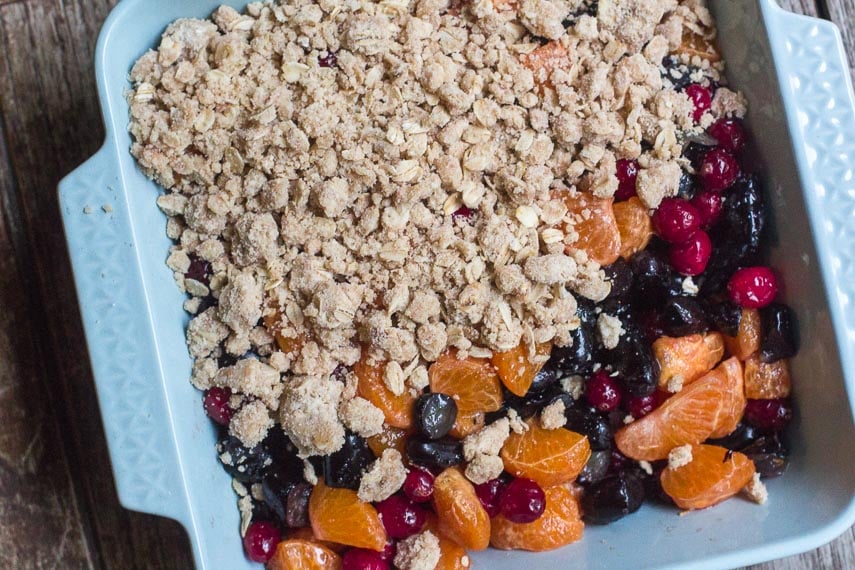 In less than an hour total time, you will be rewarded with a delicious low FODMAP dessert.
Where Are The Apples?
We also, by the way, have a Low FODMAP Grape & Apple Crisp for you, with low FODMAP amounts of apples! Be sure to check that out.
If cooking with grapes intrigues you, check out our Roasted Chicken & Grapes and also our Grape Tart With Sour Cream Custard.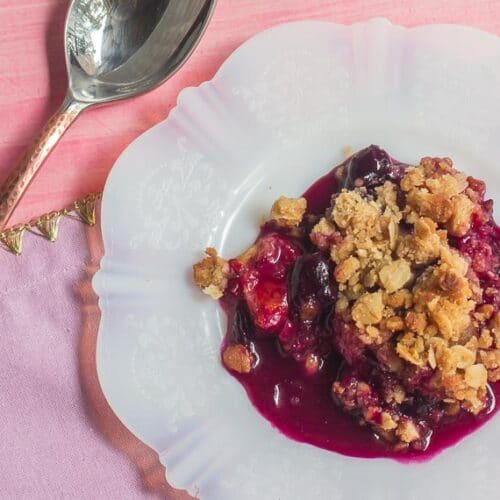 Low FODMAP Cranberry Crisp with Grapes & Citrus
You don't need apples to make a fantastic crisp! Behold our Low FODMAP Cranberry Crisp with Grapes & Citrus!
Preparation:
Position rack in center of oven. Preheat oven to 375°F (190°C). Coat the inside of a ceramic or ovenproof glass 8-inch (20 cm) square baking dish with nonstick spray; set aside.

For the Fruit Filling: Toss the grapes, cranberries and orange sections together in a bowl. Add brown sugar and cornstarch and fold everything together well. Set aside to sit while you make the topping.

For the Crisp Topping: Melt the butter in a medium-size microwave-safe mixing bowl in the microwave on low. (Or melt the butter in a small saucepan on your stove top, if you like, then transfer to a medium-size mixing bowl.) Whisk in the brown sugar, then whisk in the flour, oats, cinnamon, and salt until well combined. Use your hands to help form clumps.

Assembly: Scrape fruit mixture into prepared pan. Scatter the topping evenly over the fruit. Bake for about 30 to 35 minutes or until filling is bubbly and topping is golden brown. Let sit for 5 minutes before serving. The Low FODMAP Cranberry Crisp with Grapes & Citrus may be served warm, at room temperature, or re-warmed after cooling and is best the day it is made. You can store it at room temperature lightly covered with foil overnight but the topping will lose a bit of its crispness.
Notes:
Tips
I love this warmed for breakfast with a dollop if thick, plain, lactose-free yogurt.
The topping is very easy to double. You can store the 2nd batch in a zip-top bag in the freezer for near instant crisp creation. No need to defrost. It will warm up enough while the oven preheats.
Nutrition
Calories:
165
kcal
|
Carbohydrates:
28
g
|
Protein:
1
g
|
Fat:
6
g
|
Saturated Fat:
1
g
|
Sodium:
37
mg
|
Potassium:
87
mg
|
Fiber:
2
g
|
Sugar:
17
g
|
Vitamin A:
130
IU
|
Vitamin C:
31
mg
|
Calcium:
23
mg
|
Iron:
1
mg