You Can Eat Dessert on the Low FODMAP Diet!
Did you know that the low FODMAP diet DOES INCLUDE DESSERTS? YAY! This article, the Best Low FODMAP Desserts, brings you right to our very favorites, from cakes to cookies, bars and brownies, puddings to pies, tarts, crisps, cobblers and even strudel and baklava.
The very word "diet" can sound scary and make you think of deprivation and all of the things that you cannot have. Luckily for us, the low FODMAP diet has strict definitions, which once understood, allows us to have a very broad diet THAT INCLUDES DESSERTS!
That's what FODMAP Everyday®is about – we will show you how to THRIVE on the low FODMAP diet – and this includes being able to eat dessert!
Below are 70 of our EXCLUSIVE Low FODMAP Desserts –
Developed in our own Test Kitchen JUST FOR YOU!
…And these are just some of our dessert recipes. Use our Recipe Filter to search for whatever you are looking for!
---
The Best Low FODMAP Cookies
We have perfected a huge selection of low FODMAP and gluten-free cookies for you. For all occasions! Or no occasion at all!
---
The Best Low FODMAP Brownies, Blondies & Bars
Low FODMAP & gluten-free brownies, blondies and bars make great gifts, are always a hit at potlucks and parties and they freeze well.
---
The Best Low FODMAP Cakes & Cupcakes
There is something special about the perfect nature of a cupcake. Just the right size for a sweet, and the delectable balance of cake and frosting or filling. And who doesn't love cake? There is a reason we eat cake to celebrate life's happiest moments.
---
The Best Low FODMAP Pies & Tarts
We could eat pie all day long. The flaky crusts, the sweet and tart fillings, the melt in your mouth feel. These pies will keep you and your friends happy for days. If they last that long! From fruit filled flakiest gluten-free crusts to the creamiest chocolate filled tarts – fruits to nuts! Over 30+ gluten-free and low FODMAP recipes for you to choose from.
---
The Best Low FODMAP Desserts & Pastries
From homemade ice cream to towering pavlova's – from classics to new wave – fruit to chocolate. We have over 100 desserts to every level cook and every taste. Dive in!
The Best Low FODMAP Candy, Chocolates & Sweet Treats
Candy & chocolate is okay on the low FODMAP diet! As long as you enjoy your treats in moderation, you'll delight in these recipes that you can easily make at home.
---
The Best Breads, Muffins, Scones & Biscuits
Sweet breads and muffins make wonderful snacks. And can substitute for their sweeter counterparts, cupcakes. They also freeze well! Scones with a spot of tea! Jam on a hot buttery biscuit…. yum!!!
---
Dédé = Desserts
By the way, I don't want to come across as tooting my own horn, but baking is what I do! Dessert creation is my lifeblood. Robin teases me because even if I were not creating desserts for all of you, I would be in the Test Kitchen doing it anyway!
I have written 17 cookbooks on sweets, baking and desserts (as well as several books on cooking, including The Low-FODMAP Diet Step by Step), so rest assured, you will not find better low FODMAP dessert recipes anywhere else! And I am Monash University trained and accredited by FODMAP Friendly, so you can rest assured that these recipes will work with your low FODMAP lifestyle.
---
A Few More Special Dessert Options
We even have treats like Chocolate Covered Matzo and Low FODMAP Gluten-Free Hamantaschen with the most delectable poppy seed filling! Want to give your Bundt pan a workout? Try our Banana Nut Bundt Cake with Caramel Glaze. Black & White Brownies are easy to make and a Bake Sale hit. Boston Cream Pie Cupcakes satisfy chocolate lovers and those who like creamy custards.
Looking for an easy, healthy muffin? Our Banana Carrot Chia Corn Muffins are an all-in-one powerhouse treat. Our Grape Tart is unusual, Double Chocolate Shortbread Cookies are about as chocolaty as it gets, although the Double Chocolate Chip Muffins will give them a run for the money. Ditto our Mini Chocolate Ganache Cupcakes and Brookies.
Looking for a flourless cake that's a little fancy? Our Raspberry Chocolate Truffle Cake is elegant, yet easy.
Need a vegan treat? Our Vegan Scones are perfect.
Classics can go lofo too such as our Low FODMAP Pecan Butterballs.
Never baked with grapes? Our Grape & Apple Crisp will turn you into a convert.
---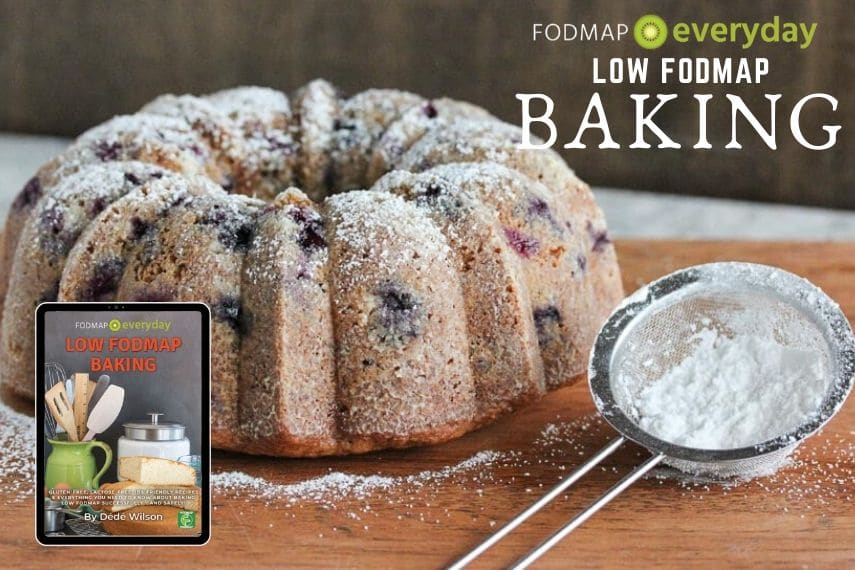 If you are a baker and following the low FODMAP diet, you need our book, Low FODMAP Baking.
It is a 275 page e-book that has EVERYTHING you need to know about low FODMAP baking.
And the recipes are gluten-free and lactose-free!
The book includes:
Info on Equipment
All About Substitution Dos and Dont's
Low FODMAP Flour Blends
A Huge Section All About Chocolate
How to Make the Perfect Bakery-Style Cookies
The Best Way to Cut Brownies & Bars
A Basics Chapter
Over 60 recipes!
All for $3.99 US
---