You Can Make Low FODMAP Tuna Noodle Casserole!
This Low FODMAP Tuna Noodle Casserole was a funny recipe for me to tackle. First of all, this American classic never once appeared on my childhood family dinner table, so for me, it was not a familiar dish.
My father traveled extensively internationally and his pasta dishes veered towards classics like Amatriciana, Alio e olio, Putanesca and the like.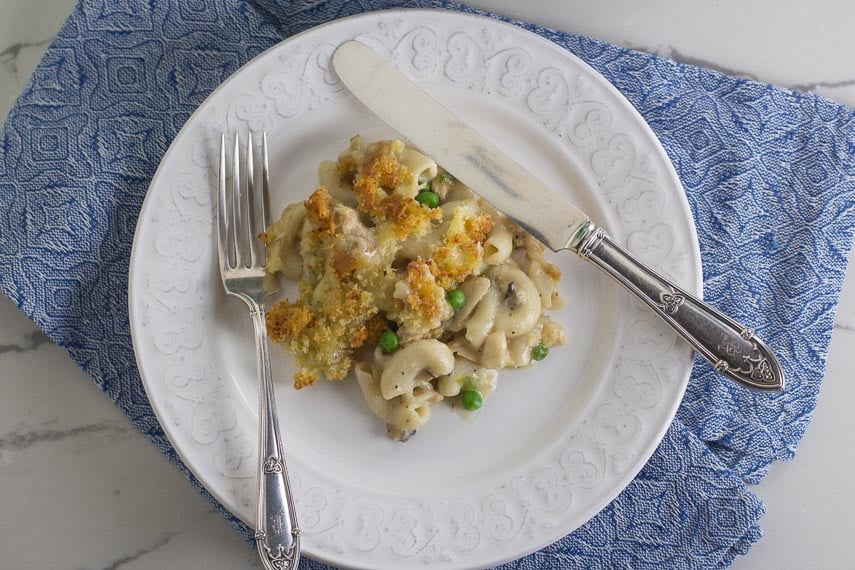 Also, since the original relied on canned cream of celery or mushroom soup, I knew that a low FODMAP makeover was going to take some doing. (The dish was in fact developed by the Campbell Soup Company).
Read All About Tuna, First
Our version of Low FODMAP Tuna Noodle Casserole starts with tuna, of course, and we suggest that you read our article, All About Canned Tuna, before starting.
In our research we discovered some startling things about water-packed tuna!
This Low FODMAP Tuna Noodle Casserole combines pasta, canned tuna, a creamy cheese sauce and a crunchy, gluten-free breadcrumb topping – with more cheese and a dash of garlic (oil). And peas. Yes, peas!
Are Peas Low FODMAP?
As with so many foods, they are low FODMAP in certain portions. Monash has tested frozen peas and they are low FODMAP in amounts of 1 Australian tablespoon (15 g). We like the flavor and texture and color of frozen peas more than canned.
Now, that sounds like a tiny bit, but it goes far in a casserole such as this and as they appeared in the classic version, I thought it would be a great way to showcase them in a low FODMAP recipe.
After we developed this recipe Monash tested canned, drained peas as well and they are low FODMAP in ¼ cup (45 g) amounts. You may use them if you like.
A Note About the Pasta
The classic casserole uses egg noodles and the issue is that currently, in our U.S. markets, the one low FODMAP gluten-free egg noodles that are available do not have a similar texture to the classic version.
(You can see them in our Noodle Kugel recipe).
They taste fabulous but tend to compact quite firmly when baked into a casserole. I opted for elbow shapes for this Low FODMAP Tuna Noodle Casserole.
You will also note that I call for an odd amount of dry pasta. This is because it is the right amount to go with the 2 cans of tuna and the amount of sauce. Any more pasta and the result would be dry.
You could double the recipe and divvy it up in two casseroles, but 14-ounces of pasta isn't the exact size of any one package of pasta either! Your choice.
Let's Talk About Mushrooms
Oyster mushrooms have a generous low FODMAP serving sizes, and that is what we like in this recipe. Some folks have asked about using canned mushrooms.
Canned, drained mushrooms have been lab tested by Monash University and they are low FODMAP in 76 g amounts. You can use them if you like.
What is Soy Sauce Doing in There?
For umami. This is a very mild tasting dish, meant to appeal to children, adults and even picky eaters. Do you like hot and spicy food? This isn't your dish.
The small amount of soy sauce adds a little bit of complexity, but you will not taste it as a prominent flavor.
Low FODMAP Tuna Noodle Casserole
The BEST from-scratch Low FODMAP Tuna Noodle Casserole - no canned soup in site! But you will still get the comfort food casserole we all love.
Low FODMAP Serving Size Info: Makes enough for 6 to 8 servings; each serving is approximately 1 cup (250 ml in volume).
Ingredients:
Tuna Noodle Casserole:
7

ounces (200 g)

low FODMAP gluten-free pasta,

such as elbow shaped

1/4

cup (30 g)

petite peas

(we use frozen)

1/4

cup (57 g)

unsalted butter,

cut into pieces

1/2

cup (36 g)

finely chopped leeks,

green parts only

1/2

cup (32 g)

finely chopped scallions,

green parts only

3 1/2

ounces (100 g)

cleaned oyster mushrooms,

chopped

1/4

cup (36 g)

low FODMAP all-purpose flour,

such as Bob's Red Mill 1 to 1 Gluten-Free Baking Flour

2

cups (480 ml)

low FODMAP chicken stock,

warmed

3/4

cup (180 ml)

lactose-free whole milk,

at room temperature

2

teaspoons

soy sauce;

we use low sodium gluten-free

2-

ounces (55 g)

sharp, white cheddar cheese,

shredded

2, 5-

ounce (280 g total )

cans of white tuna, preferably oil-packed, drained

Freshly ground black pepper
Breadcrumb Topping:
1 1/2

cups (60 )

fresh low FODMAP breadcrumbs

2-

ounces (55 g)

sharp, white cheddar cheese,

shredded

1 1/2

tablespoons

Garlic-Infused Oil,

made with either olive oil or vegetable oil or purchased equivalent

1 1/2

tablespoons

grated Parmesan cheese
Preparation:
For the Casserole: Position rack in middle of oven. Preheat oven to 375°F/190°C. Coat a 2-quart (2 L) casserole dish with nonstick spray; set aside.

Cook the pasta in a large pot of salted water until a very firm al dente. Right before draining, add the peas to the boiling water; drain pasta and peas and set aside.

Melt the butter over medium heat in a large skillet, add the leeks and scallions and sauté for about a minute, then stir in the mushrooms and cook, stirring often, until softened, about 3 to 4 minutes total.

Whisk in flour and cook, stirring often, for a minute or two to lightly cook the flour, then slowly whisk in the stock and milk until smooth. Simmer for a few minutes, whisking often until sauce thickens; whisk in soy sauce. Sprinkle in the cheese and whisk well, again cooking until smooth and incorporated. Add tuna and break it up gently. Remove from heat. Taste and season with salt and pepper. Fold in the pasta and peas and scrape the mixture into your prepared casserole dish.

For the Topping: Toss together the breadcrumbs, cheese, Garlic-Infused Oil and Parmesan cheese in a small bowl until well combined. Sprinkle evenly over the casserole.

Bake for about 20 to 25 minutes or until casserole is hot and bubble and topping is golden brown. Serve immediately while the topping is nice and crispy and the inside is hot and creamy. A green salad is a great side.
Dédé's Quick Recipe Tips Video
Notes:
Tips
While it might be tempting to purchase pre-shredded cheese, we do not recommend it. It is packaged with an anti-caking agent, which also keeps it from letting smoothly. And you want maximum meltability.
Nutrition
Calories:
377
kcal
|
Carbohydrates:
37
g
|
Protein:
20
g
|
Fat:
17
g
|
Saturated Fat:
1
g
|
Cholesterol:
1
mg
|
Sodium:
254
mg
|
Potassium:
18
mg
|
Fiber:
2
g
|
Sugar:
3
g
|
Vitamin A:
65
IU
|
Vitamin C:
3
mg
|
Calcium:
12
mg
|
Iron:
0.1
mg