Looking for a vegetarian or vegan main dish that's good (great!) enough for a party or holiday meal? We've got 15 festive recipes that are sure to please! From pot pies to main-dish stuffings, soups, stuffed squash, eggplant parmigiana, main dish salads and more. All right here! Which one will you try first?
Vegan Gluten-Free Pot Pie with Biscuit Topping
Jam-packed with root vegetables like carrots, potatoes, parsnips, as well as kale, meaty mushrooms (oyster 'shrooms!), miso for umami, a light thyme-scented sauce made with Vegetable Broth and unsweetened almond milk.
All of this is topped with "buttery", super-simple drop biscuits made with gluten-free flour and vegan "butter" spread. Get the recipe.
Loaded Vegetarian Stuffing
We know this says this is merely a "stuffing" but it is so hearty, it can function as a main attraction. Look at the ingredients: sourdough bread, winter squash, chestnuts, grapes, scallions, leek greens, kale, fresh herbs and more.
Roasted Gnocchi With Tomatoes
Have you ever oven-roasted prepared gnocchi? You will never boil them again! This one-pan wonder will blow you away. Juicy roasted tomatoes, fresh arugula and basil, along with gluten-free potato gnocchi are so much more than a sum of the parts. Get the recipe.
Stuffed Zucchini Boats
Our Low FODMAP Stuffed Zucchini Boats are vegetarian, feature a rice, tofu and cheese filling and are covered with tomato sauce and more cheese. Please note that this recipe is for those who are in their Challenge Phase or beyond (more on that below). Get the recipe for Stuffed Zucchini Boats.
Root Vegetable Soup
Potatoes, parsnips, and carrots puréed make a creamy soup, with no added dairy. It all starts with sautéing scallion greens in garlic-oil. And only 5 minutes of prep and about 35 minutes of simmering. Get the recipe.
Lighter Eggplant Parmigiana
Are you looking for a quick and easy, light eggplant Parmesan? With no breading and reduced calories? This Lighter Eggplant Parmigiana is the recipe for you. We like this version as a side dish. Get the recipe for Lighter Eggplant Parmigiana. And PS: if you want a heartier version, we have that too!
Roasted Pumpkin Quinoa Salad
Our Roasted Pumpkin Quinoa Salad is hearty enough for a main dish at lunch, or add a small amount of roasted meat, chicken, fish or tofu for dinner. The quinoa is protein-packed and easy to cook. Combined with fresh herbs and nuts and fresh, juicy pomegranate seeds, this is a memorable salad. Company worthy. Get the recipe.
Roasted Pumpkin Baked Pasta with Sage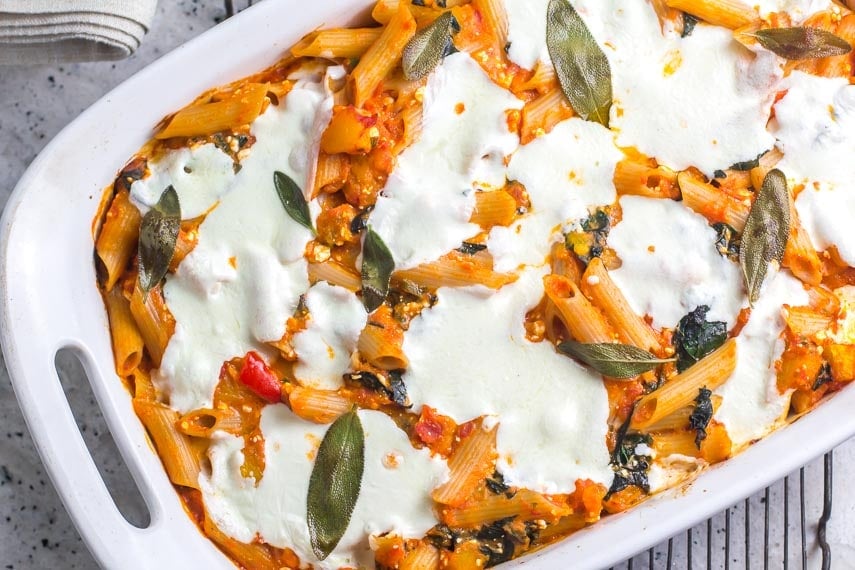 Roasted Pumpkin Baked Pasta with Sage is hearty, yet a bit elegant. Gluten-free pasta combined with roasted kabocha squash (also called pumpkin), red bell peppers and kale with Garlic-Infused Oil along with marinara, fresh mozzarella and sage. Comfort food, easy to make, and will please everyone at the party. Reheats well, too. Get the recipe.
Vegetable Soup with Beans & Pasta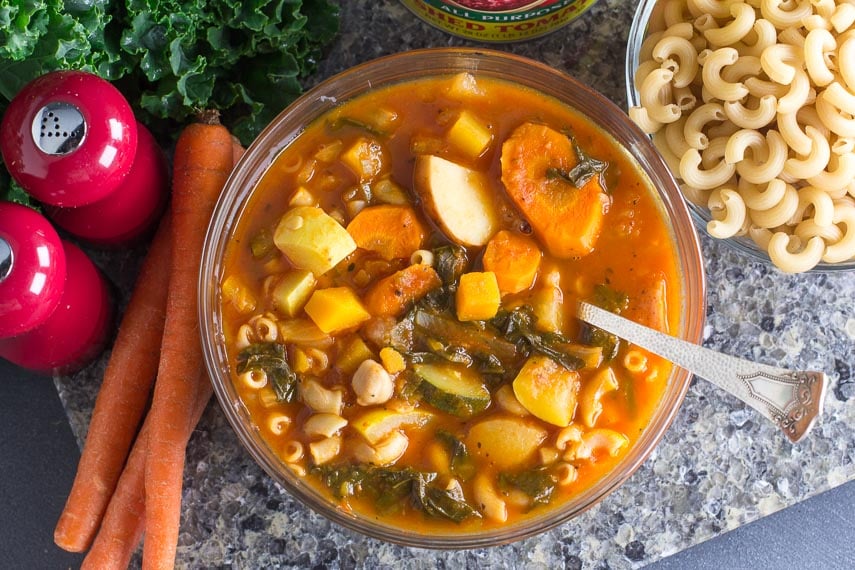 Want a hearty plant-based soup that has tons of fiber and protein? Look no further than this soup with many kinds of vegetables, vegetable broth, pasta, and beans. We have a recipe for the broth, but you can use purchased as well. Get the recipe.
Polenta with Mushrooms & Kale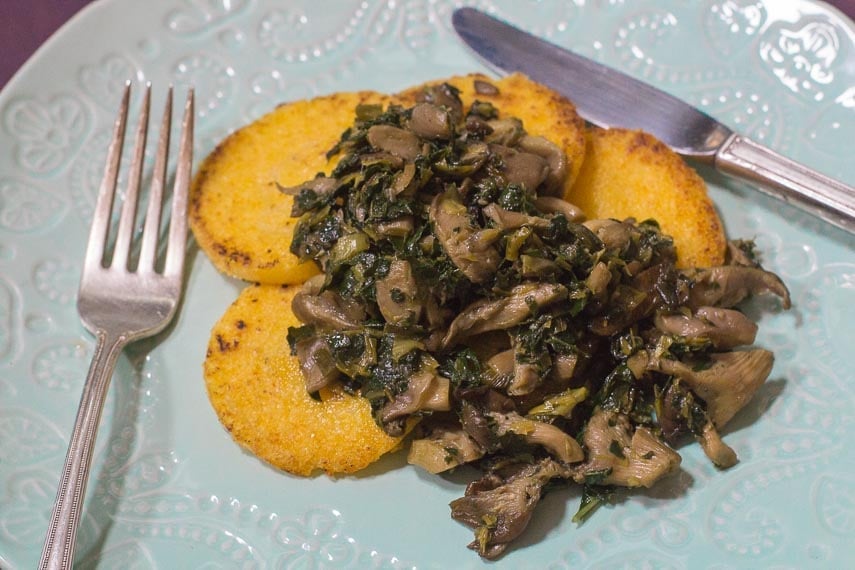 Looking for a vegan fall and winter main dish? This recipe for Polenta with Sautéed Mushrooms & Kale will please vegans, vegetarians and meat eaters alike. The polenta is purchased in logs and ready to go, which means that this elegant dish can be whipped up on a weeknight. The mushrooms are simply sautéed in a skillet with garlicky oil and seasoning and ladled over the crisp polenta rounds. Get the recipe.
Four Cheese Baked Penne
This baked pasta dish can be made in a casserole, but how impressive is it to be able to unmold it and present it as seen in the image above? All you need is a 9-inch (23 cm) springform pan.
This Four Cheese Baked Penne with Greens and Tomatoes is comprised of gluten-free penne (we like Jovial), a silky-smooth white sauce, Parmigiano Reggiano, feta, Havarti and cottage cheese with spinach and tomatoes.
Present at a dinner party and await the oohs and aahs. Take note that several of the ingredients are divided and used at various points in the recipe; make sure to read recipe through before starting to acquaint yourself with the procedure. Get the recipe.
Manicotti with Kale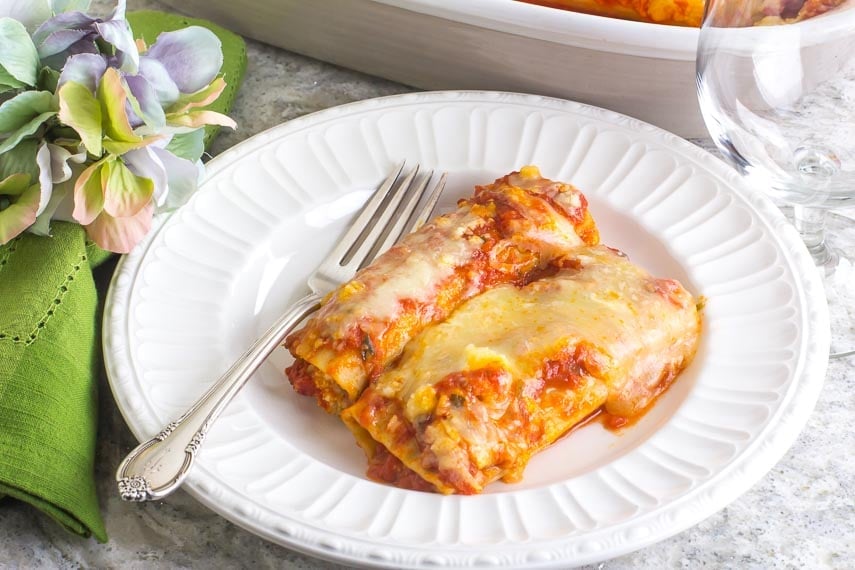 Gluten-free manicotti shells stuffed with ricotta, mozzarella, Parmesan and chopped baby kale for added color and nutrition. You might have to order the rice-based manicotti shells, so plan ahead. Get the recipe.
Spanakopita
Our version of spanakopita is low FODMAP. It does rely on classic wheat-based filo dough, but in portions that are compliant with the diet. And our version is lactose-free, too! So, if you've been looking for a spanakopita that you can eat without triggering IBS symptoms, this one is it. Get the recipe for Spanakopita.
Winter Vegetable Frittata
This recipe is a great way of using up odd bits of vegetables; I always have eggs in the house so any fridge raiding tends to turn into some sort of omelette or frittata. Make sure that the vegetables are just cooked through and well seasoned before adding the eggs, as once they hit the pan there's no going back. Keep an eye on the wobble too – the eggs should be very lightly set rather than completely firm. Get the recipe.
Spinach and Blue Cheese Polenta with Slow-Roasted Tomatoes
This dish relies on just a few simple ingredients and plenty of time. The tomatoes are the real star of the show and can't be rushed; the only way to sticky, jammy sweetness is through low, slow roasting. You could use quick-cook polenta, but why bother when there's no rush? You have to wait for the tomatoes, so you may as well use the long-cook variety, which has a far better flavor and texture. This is Sunday afternoon cooking at its best, so take your time, put your feet up and it will be worth the wait. Get the recipe.
Easy Peasy Dinner and Dessert: 20 One-Pan, One Bowl Recipes for Busy Nights
We all need One-Pan, One-Bowl recipes in our repertoire, and we've got 'em! From main dishes to soups, pasta, curries and desserts, these kitchen-tested recipes will get you in and out of the kitchen fast. With minimal clean-up, too! Click here for all of our One-Pan, One Bowl recipes!
36 Dishes You Didn't Know You Could Make With Rice Noodles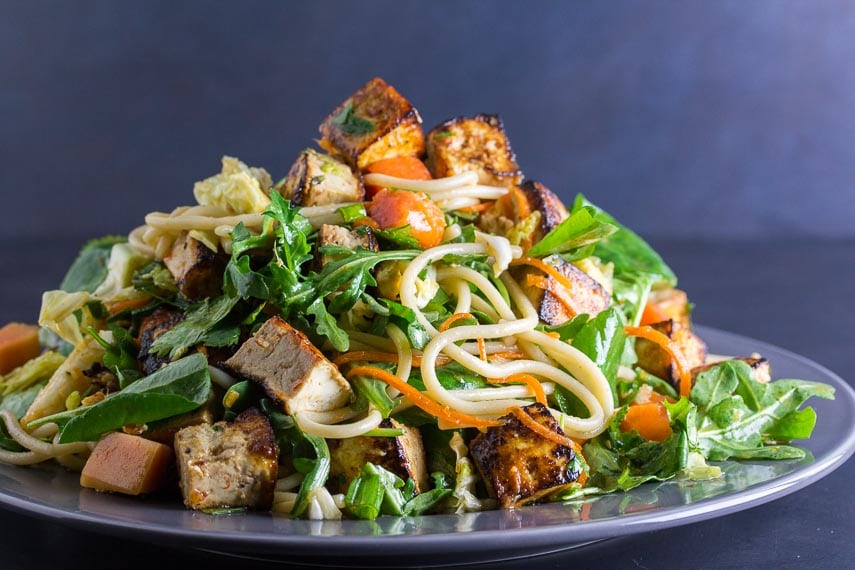 Rice noodles are naturally gluten-free, but that isn't the only reason to cook with them. They are delicious unto themselves, come in a variety of shapes, and are the noodle of choice in so many Asian-inspired recipes. But it doesn't stop there! There are rice-based lasagna noodles, shells, manicotti, elbows…From soups to main dishes, casseroles, salads and summer rolls, we have 36 recipes for you to get you slurping with joy. Click for 36 Dishes You Didn't Know You Could Make With Rice Noodles
30 Quick & Easy Recipes For A Happy Gut: Low FODMAP and Flavor Packed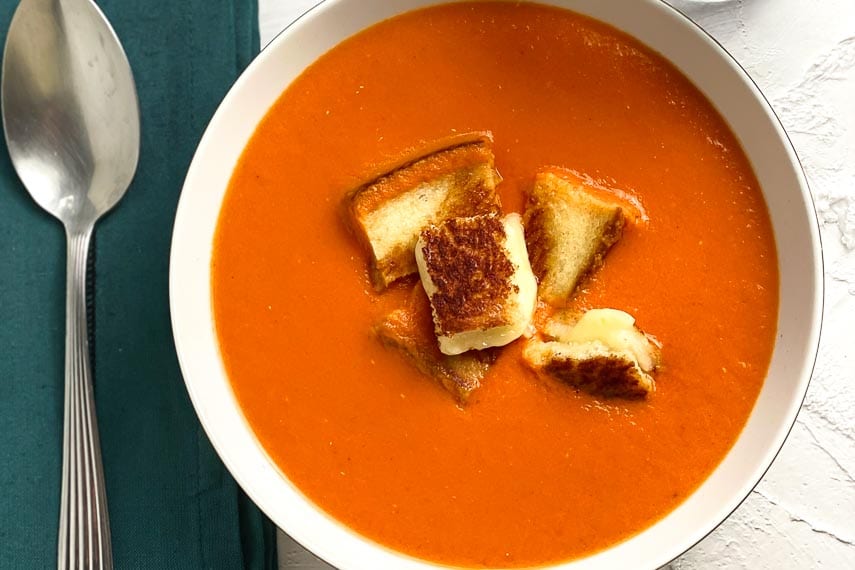 At FODMAP Everyday® we define "Quick" as a dish that can be on the table, ready to eat, in 30 minutes or less. "Easy" recipes have 15 minutes or less of prep time. All of these recipes are low FODMAP and free of gluten so they can be served to tender tummies too! Click for 30 Quick & Easy Recipes For A Happy