We might be eating low FODMAP, but we still need quick and easy recipes to fit into our busy lives. At FODMAP Everyday® we define "Quick" as a dish that can be on the table, ready to eat, in 30 minutes or less. "Easy" recipes have 15 minutes or less of prep time. So, no excuses! You can remain low FODMAP, keep those IBS symptoms in check, eat deliciously – and spend less time in the kitchen.
Flaky white fish, carrots, parsnips, potatoes, leek greens and a little heavy cream in a bottled clam juice base. A soup that tastes like it simmered all day, but you can get it on the table in 30 minutes!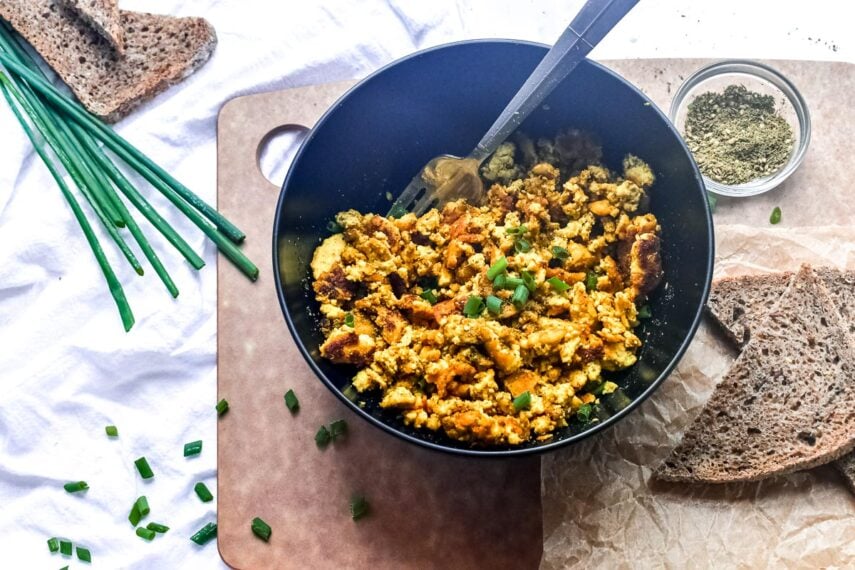 This plant-based tofu scramble is seasoned with za'atar: our version is a combo of coriander, cumin, sesame seeds, sumac, thyme, and red pepper flakes. Perfect for breakfast, brunch, or lunch.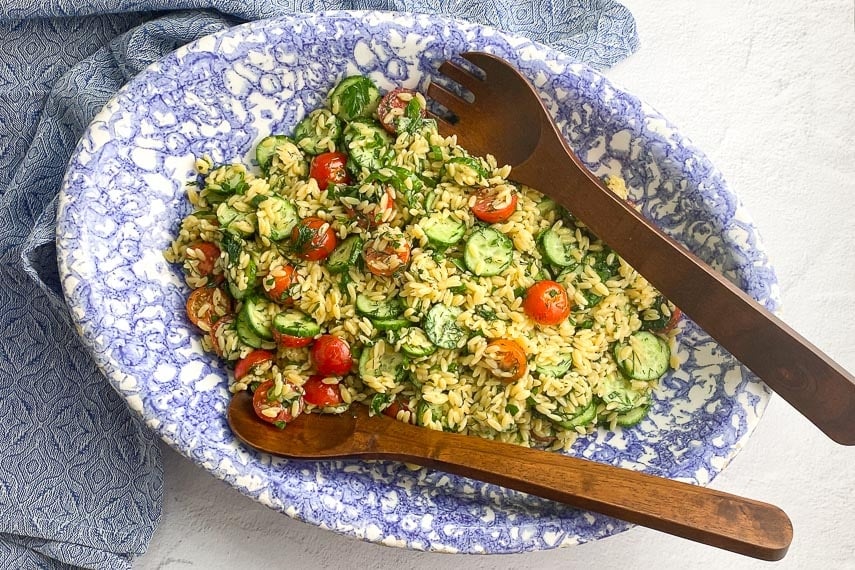 There is low FODMAP, gluten-free orzo! Here we combined it with cucumbers, tomatoes, and a lemony vinaigrette.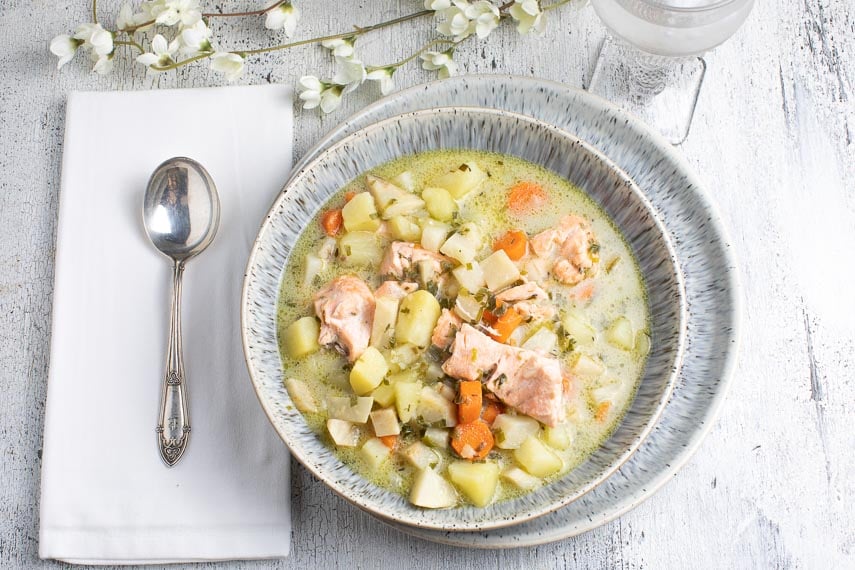 Soups in minutes? We have several chowders that come together in a flash. Here rich salmon is brought together with coconut milk, carrots, scallion and leek greens, bay leaf and thyme – and hearty potatoes!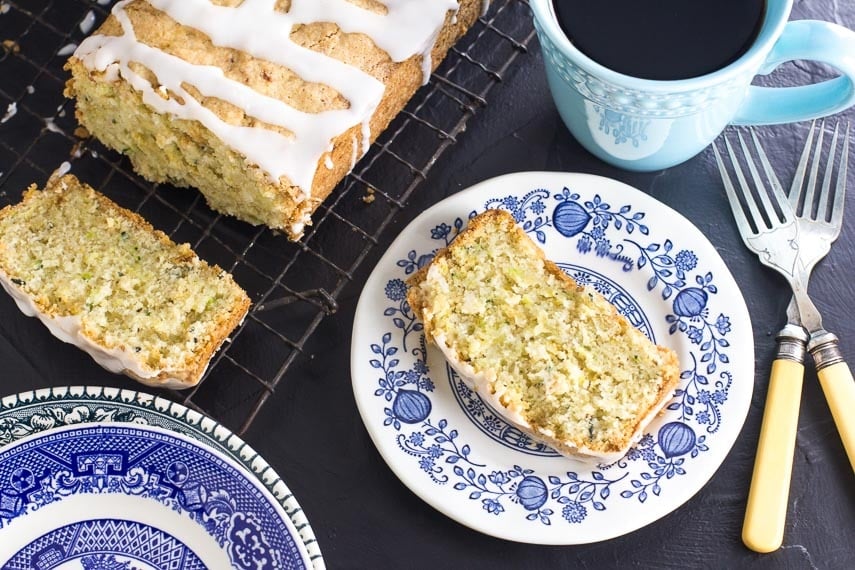 Quick breads are easy enough even for non-bakers and this zucchini bread has the addition of bright and zest lime juice and zest.
Scampi is laden with garlic. So how do you make it low FODMAP? We show you! Garlic flavor that won't upset your tummy. Did you know that there is such a thing as low FODMAP garlic powder? There is!
We love beef-based hamburgers, but these lamb burgers are an eye-opener! Don't skimp on making the lemony tahini sauce.
One-pan dishes get food on the table FAST! Here we have pasta and vegetables, hearty enough for a main dish. Or add a protein alongside, like steak or chicken.
Kimchi, either homemade or purchased, adds flavor to so many dishes. Here it is featured in a spicy tofu soupy stew.
Look at the picture! A big wedge of iceberg lettuce topped with bacon, tomatoes, blue cheese and chives. Just like the classic – but our approach is low FODMAP and lactose-free!
We eat salmon every week, but sometimes we are pressed for time. Pull out a large skillet and this dish with feta cheese and bell peppers is simple, elegant and delicious.
Snack cakes are simple affairs – no frosting needed, but they are still packed with flavor and texture. And in this case, color too! A little cornmeal for texture in the batter, and juicy berries throughout. Eat alone or how about with a dollop of low FODMAP yogurt?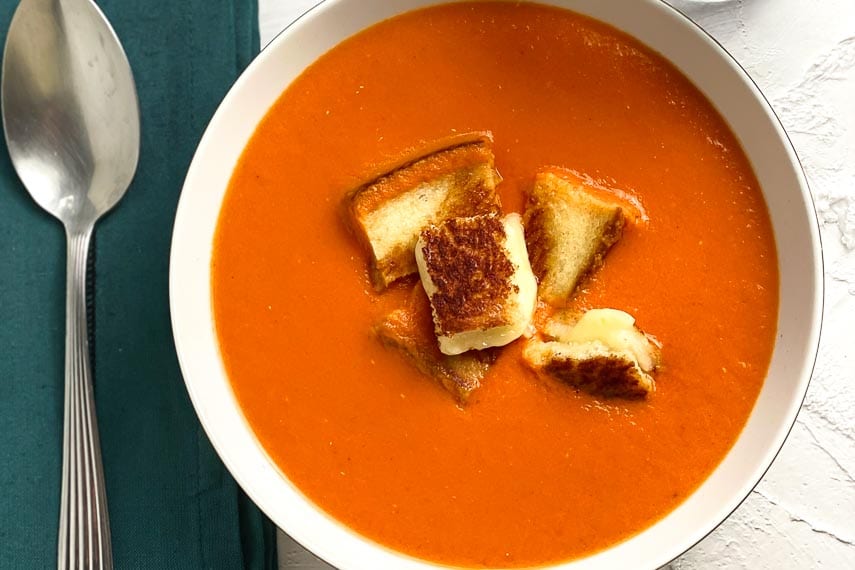 Ah, takes us back to childhood when we got to have tomato soup with a grilled cheese sandwich on the side. Here we make a creamy but lactose-free tomato soup and then – drum roll please – make grilled cheese croutons! They are like mini grilled cheese sandwiches that you can float in your soup!
We've got all kinds of burgers: beef, lamb, salmon and these lower fat turkey burgers! We have some special tricks to keeping the ground turkey super moist.
OK, folks, if you are looking for a one-bowl cookie, THIS. IS. IT! Just look at the picture! Chocolate chunks, oats, raisins, and peanut butter, with a brown sugar and butter base. These are always a big hit.
Our Low FODMAP Banh Mi Tofu Bowl is comprised of cooked rice, tofu, quick pickled carrots and daikon radish, red cabbage, cilantro and a little bit of spicy mayo. Easy to make and perfect for plant-based eating. Low fat and protein packed, too.
This pork loin recipe has been with us since day 1, and is a community favorite. A lean pork loin is wrapped with bacon and slathered with orange marmalade for a sweet and savory pork main dish.
Shredding Brussels sprouts really transforms them into fluffy greens. Here they are tossed with pomegranate seeds and parsley with a mustardy, lemony vinaigrette.
Artichokes? YES! Our Low FODMAP Chicken with Artichokes & Olives recipe features canned, drained artichokes, green and black olives and rosemary. Use chicken thighs for extra-juicy results. About 5 minutes of prep with this dish.
Cornmeal and low FODMAP flour with fresh corn kernels, some lactose-free milk and baking powder make corn fritters that are crisp outside and tender inside. Dip in salsa for an interesting treat!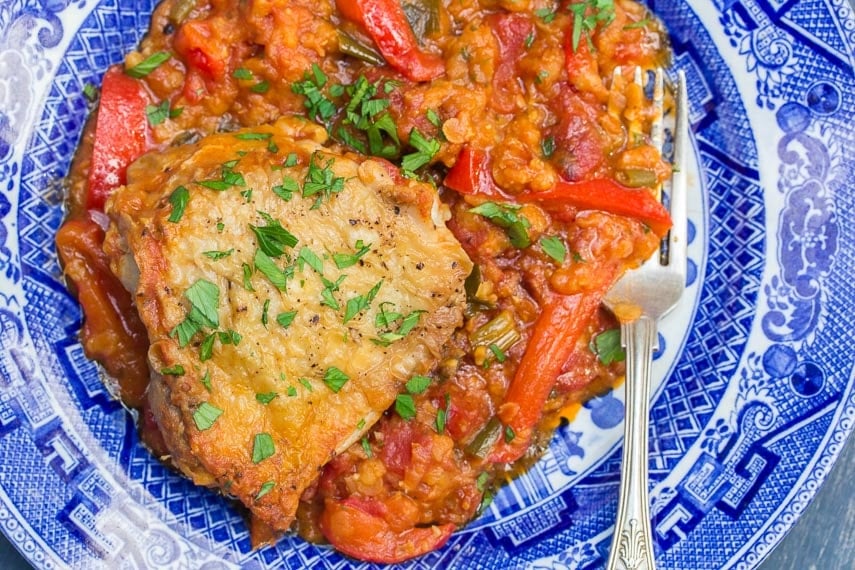 Looking for a top-of-the-stove braise? Juicy chicken thighs and red lentils provide tons of protein and flavor in one dish with a short prep time. We love this with rice.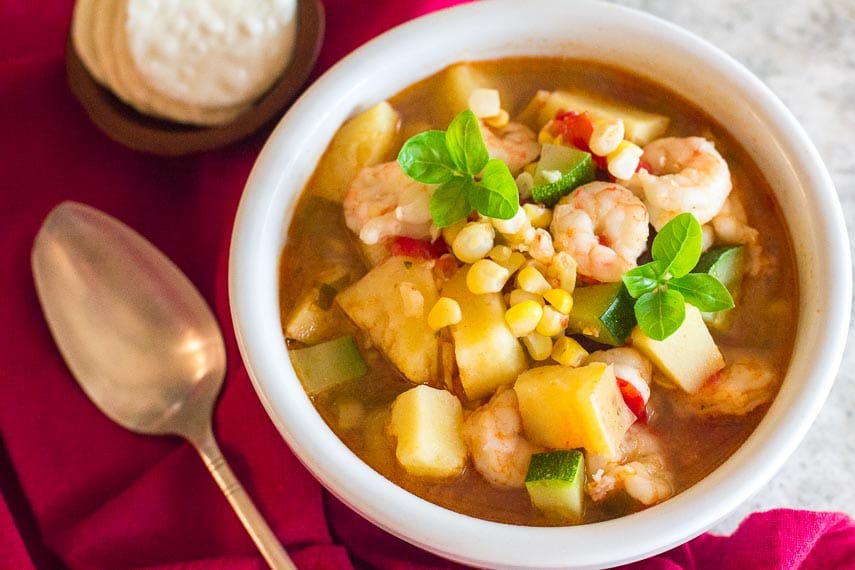 We have a few chowders that are fast to the table. This one relies on shrimp and corn, with bits of potato, zucchini, tomatoes and fresh basil. Keep a pound or two of frozen shrimp around; they defrost in no time for quick meals.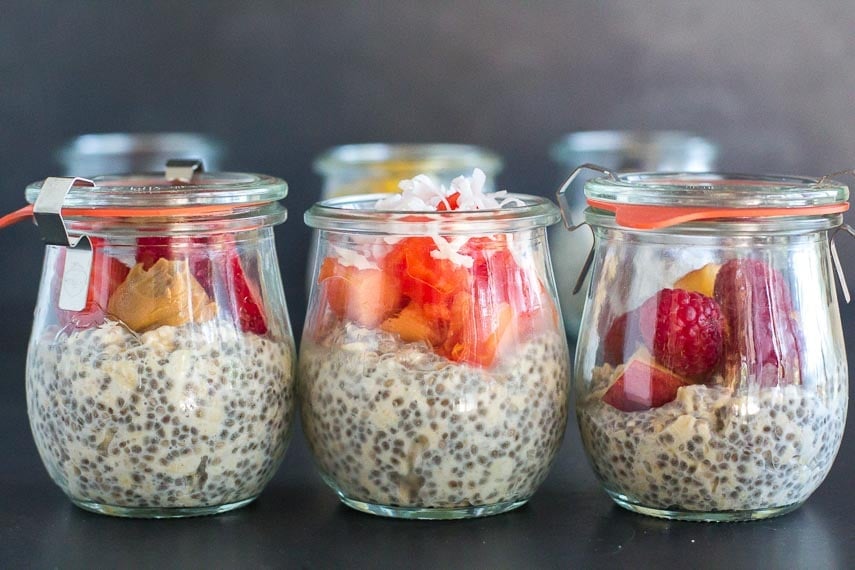 Overnight oats are a fantastic breakfast. The addition of chia adds protein and texture. Our version, made with low FODMAP unsweetened almond milk, can be sweetened with maple syrup, if you like. We show you many low FODMAP add-ins like fresh and dried fruit, nuts, coconut, seeds and more.
Bacon, blue cheese, tomato and baby lettuces in an omelet? YES! The classic BLT combo works beautifully in this hot dish that works for breakfast, lunch or a light dinner.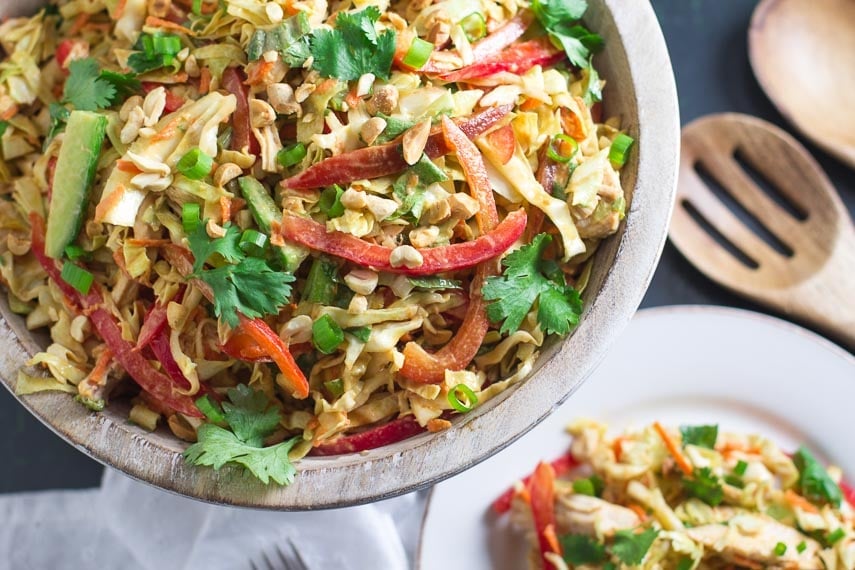 While we have many chicken salad recipes for you, this is the hardiest. Start with a low FODMAP rotisserie chicken, shred or chop, and combine with bell peppers, cabbage, scallions, cucumbers, cilantro, peanuts and a rich and smooth peanut butter dressing made with fish sauce, soy sauce, brown sugar, lime juice and sambal oelek.
Just 10 minutes of prep time and you will get this one-pan chicken and vegetable dish in the oven. While it roasts, help the kids with their homework, or kick back with a glass of wine. This classic recipe will make it into weekly rotation.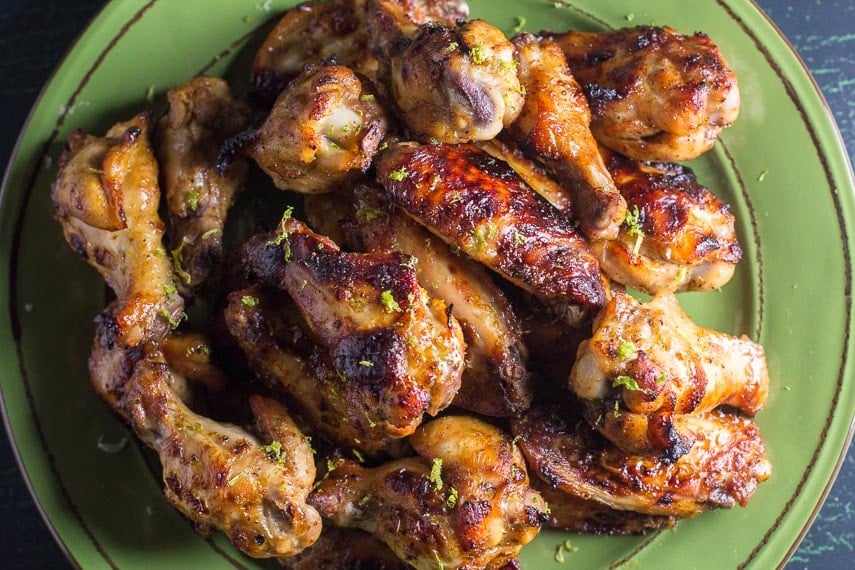 Honey has a small low FODMAP serving size put to great effect with zesty lime juice, and heat from chiles in this chicken wing recipe. Fun and welcomed at parties – but don't wait for a gathering. The family will rejoice when you bring these to the table.
If you are a crisp chocolate chip cookie fan, this approach is for you. Super thin, crisp and crunchy, loaded with chocolate chips, these slabs are buttery and packed with caramelized brown sugar flavor.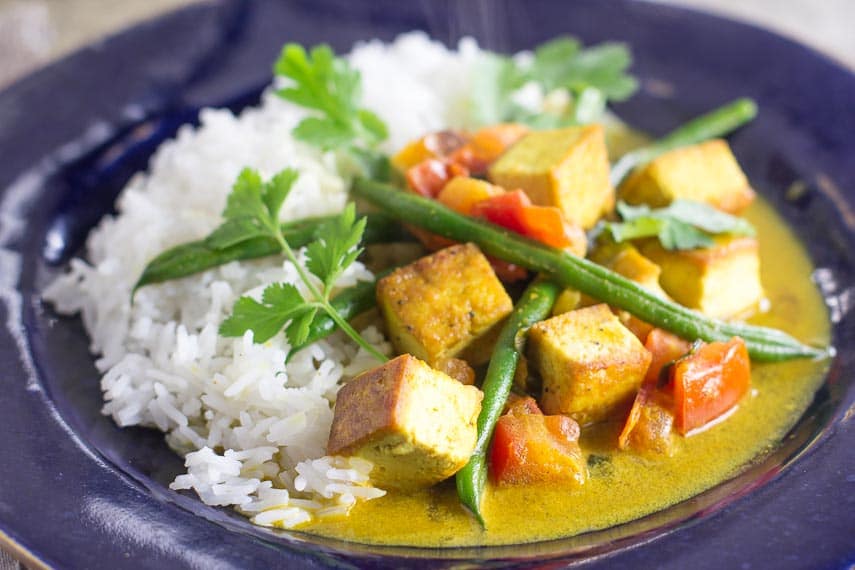 Some prepared curry powders are high FODMAP, and some are low. We show you how to tell the difference and feature an appropriate blend in this dish with tofu and crisp green beans.
Peanut butter and bananas are a favorite combo, here brought together in a muffin that we think makes the perfect snack. Make a big batch and freeze. Perfect to take-along in a lunch box.