Are You a Reese's Peanut Butter Cup Fan?
Need a mid-day pick me up? Yearning for a bit of a treat? Look no further than these Chocolate Peanut Butter Energy Balls. This recipe aligns with all of the most up-to-date Monash University science, which means you can rest assured that these are even Elimination Phase compliant.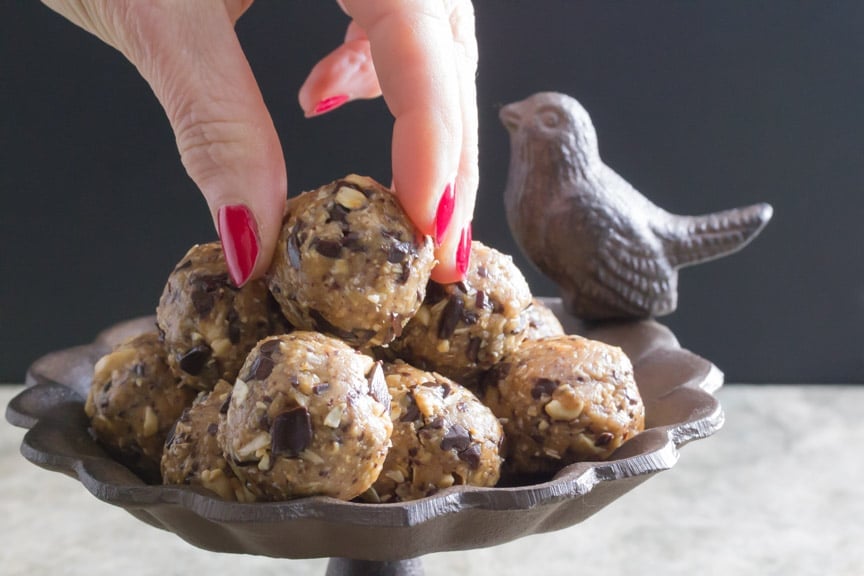 The Perfect Snack Stash!
They are compact enough to stash in your briefcase, gym bag, kid's lunch box or backpack and they taste like Reese's Peanut Butter Cups, only these have no hydrogenated oils or preservatives. Plus, they are actually fun to make and you can whip up a batch in no time.
Freeze Them To Keep On Hand
Keep a batch of these in the freezer and you will never be without a low FODMAP treat. If you are not familiar with rice malt syrup it is a great low FODMAP sweetener to try when you don't want the pronounced flavor of maple syrup, but want something with more interest than corn syrup.
In this recipe it lets the peanut butter and chocolate flavors shine through.
Rice Malt Syrup vs. Rice Syrup – They Are The Same!
By the way, it is called rice malt syrup on the Monash app but it is the very same product as rice syrup, which is good to know when you are shopping. Also, we do like to use either Teddie or Smucker's peanut butter for this recipe; please note that Monash has not tested either product and this is not an endorsement on their part.
Note from Robin: You may be like me… you try to like those energy bars. You keep your mind open, you buy one of them from the thousands offered in the Whole Foods aisle and you put down frankly, too much money for what usually ends up tasting like chewy cardboard with tough raisins.
Or they are always made with dates…which are off limits in large amounts.
So when Dédé brought these over the first time for me to try I was really skeptical. I thought…oh…a ball of chewy cardboard! Okay…I'll try them. Wow! Was that a Reese's Peanut Butter Cup in that energy ball? No? Okay…can I have another?
By the end of the afternoon I had consumed about half of them- and put the rest in the freezer. Basically a treat as well as a way to ward off hunger and to keep my energy levels even. These have become one of my favorite go-to snacks – and truly a couple of them do the trick. Enjoy!
More Chocolate Peanut Butter Favorites
Chocolate Peanut Butter Energy Balls
If you like the peanut butter and chocolate combo of Reese's Peanut Butter Cups you are going to love these low FODMAP high protein treats.
Low FODMAP Serving Size Info: Makes about 20 balls; serving size 2 balls
Ingredients:
1/2

cup (135 g)

smooth natural peanut butter

1

cup (99 g)

old-fashioned oats

(use gluten-free if on a gluten-free diet)

1/3

cup (75 ml)

rice malt syrup

1/4

cup (37 g)

roasted peanuts,

chopped

2 1/2

ounces (70 g)

dark chocolate,

finely chopped, preferably 55% to 65% cacao

1/4

teaspoon

kosher salt
Preparation:
Combine all of the ingredients really well in a bowl with your hands, a sturdy wooden spoon, silicone spatula. It's going to take some elbow grease because the rice syrup is very sticky. Or do what we do and mix these up in a stand mixer fitted with a flat paddle.

Roll mixture into small 1-inch to 1 1/4-inch (2.5 to 3 cm) balls. The mixture needs to be compressed firmly using your fingers and palms. Chocolate Peanut Butter Energy Balls are ready to eat. Store in airtight containers at room temperature for up to 4 days or freeze up to 1 month.
Dédé's Quick Recipe Tips Video
Notes:
Tips
Using a scoop to form these will keep your portions in check! We highly recommend this technique. Here is one we love.
Nutrition
Calories:
240
kcal
|
Carbohydrates:
29
g
|
Protein:
8
g
|
Fat:
11
g
|
Saturated Fat:
1
g
|
Sodium:
65
mg
|
Potassium:
86
mg
|
Fiber:
4
g
|
Sugar:
9
g
|
Calcium:
18
mg
|
Iron:
1
mg
SaveSave