Low FODMAP Recipe for Gingerbread Caramel Crunch Popcorn
Are you surprised that you might be able to indulge in Low FODMAP Gingerbread Caramel Crunch Popcorn?
Popcorn itself is low FODMAP in 7 cup (120 g) amounts! That's a lot of popcorn! We love it as a snack for so many reasons. It is easy to make fresh; you can air pop it or pop with oil in a big pot.
You can eat it plain, with butter, a mist of Garlic-Infused Olive Oil, or go sweet, which is what this Gingerbread Caramel Crunch Popcorn low FODMAP recipe is all about.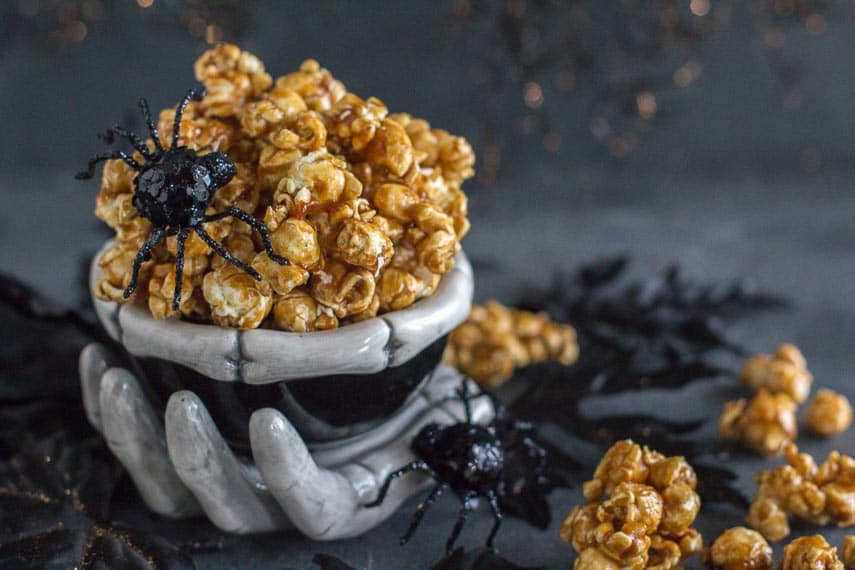 Make this Gingerbread Caramel Crunch Popcorn for your Halloween party at work or school, or make as a winter-holiday host or hostess gift.
We packaged it for a friend last Christmas in these large red ceramic mugs (seen below), which she could re-use for soup!
Pop That Corn
If you have an air-popper, use that as the overall fat and calories will be reduced. Or, pop your corn in some lightly flavored oil, such as rice bran.
Then you'll be making a rich, golden brown sugar caramel that's loaded with gingerbread spices!
After folding the popcorn with the caramel, you dry it out in the oven to help preserve its shiny, crispy coating!
Try to Resist!
WARNING: This Gingerbread Caramel Crunch Popcorn is seriously addictive and hard to stop eating…try to stick to the portions recommended.
Make sure that you store it in an airtight container as they caramel coating can easily pick up on humidity.
AND while you are in the Halloween holiday mood, be sure to check out our Low FODMAP Halloween Candy article as well as its companion article on Candy Ingredients with serving size recommendations.
Looking for more gingerbread deliciousness? Check out our Low FODMAP Sticky Cranberry Gingerbread.
Also, please review our article, Is Corn Low FODMAP? for a deeper dive into this versatile ingredient.
Low FODMAP Gingerbread Caramel Crunch Popcorn
Gingerbread Caramel Crunch Popcorn - sweet, salty, crunchy and hard to stop eating! Watch your portions!
Low FODMAP Serving Size Info: Makes about 20 cups (600 g); serving size ½ cup (15 g)
Cook Time:
1
hour
10
minutes
Total Time:
1
hour
20
minutes
Preparation:
Position two racks in lower and upper levels of oven. Preheat oven to 250°F/121°C. Coat two rimmed half-sheet pans with nonstick spray and set aside.

Coat the inside of a very large mixing bowl with nonstick spray and also coat a large silicone spatula. Pour popped corn into the bowl.

Place butter, brown sugar, corn syrup, rice malt syrup (is using), molasses, ginger, cinnamon, cloves and salt in a saucepan and stir to combine. Bring to a light boil over medium heat, swirling pan once or twice (but do not stir). Boil for 4 minutes; the mixture should darken and thicken (the bubbles will open more slowly). Remove from heat, add baking soda and vanilla and swirl pan quickly (watch for it bubbling up) to combine then slowly pour over the popped corn, folding as you go with the nonstick spray coated spatula. Keep folding to evenly coat the popped corn. Be patient! It will work.

Scrape onto the two pans, dividing evenly, and tamp down into an even layer. Bake for 1 hour, turning the popped corn over with a broad metal spatula about every 15 minutes. This will help the popped corn stay evenly coated with gingerbread caramel. Cool on racks completely then get into airtight bags or containers quickly - to preserve it best but also to keep yourself from eating it all! Just TRY not to eat this stuff; you have been warned.
Notes:
Tips
Molasses is low FODMAP in amounts of 1 teaspoon or 5g. It sports a RED LIGHT on the Monash app, which means that perhaps you have overlooked it as an ingredient. If you stick with small amounts PER SERVING, you might be able to add it to your diet with no IBS triggers.
Nutrition
Calories:
413
kcal
|
Carbohydrates:
81
g
|
Protein:
12
g
|
Fat:
7
g
|
Saturated Fat:
1
g
|
Sodium:
25
mg
|
Potassium:
327
mg
|
Fiber:
14
g
|
Sugar:
6
g
|
Vitamin A:
185
IU
|
Calcium:
10
mg
|
Iron:
3.1
mg