This recipe for Kicking Low FODMAP Cajun Tuna Salad was created by MaryGrace Duggar and the recipe made her the winner of our FODMAP Everyday® Low FODMAP Quarantine Savory Cookoff, which we ran through Facebook in April 2020. It was a virtual cookoff! Avid LOFO cooks presented the judges with recipes, images and explanations about why the dish was low FODMAP. MaryGrace won the Monash University Patient's Course, among other prizes.

(You can see Hilary Hursh's recipe for Nutty Low FODMAP Strawberry Oat Squares that won our Sweet Cookoff, too).
Canned Tuna Is A Great LOFO Pantry Item
MaryGrace explained that she approached the recipe as a way to take advantage of what she had in the house, was part of what the judges were looking for. Creativity with what was at hand!
And we love canned tuna! We have a few articles for you on how to choose the best LOFO canned tuna as well as some of our favorite ways to use it, but MaryGrace brought us yet another flavorful approach that we encourage you to try.
Not only did she come up with an easy tuna salad to use in a sandwich or as a salad, but she also offered an easy variation to make it into tuna patties, like our Salmon Burgers or crab cakes. Brilliant. Simply coat with some ground oats (oat flour) and fry! You can see ours below; they were delicious and economical:
MaryGrace's Low FODMAP Cajun Tuna Salad is a little spicy, but not too spicy. It is different enough from classic tuna salad to be something new, and yet not so exotic that it is unapproachable. And you can whip it up in minutes.
Let's Talk About Cajun Spices
Her inclusion of Cajun spices allowed us to have a great chat about Certified Low FODMAP products.
MaryGrace's original recipe called for a Cajun/Creole spice blend from a company called Red Stick Spice Co.
The company presents the blend as low FODMAP. The problem is that it is not. The blend contains filé powder, which is made from sassafras, and is very popular in classic gumbo recipes. As far as we knew, filé not been lab tested for FODMAPs, so we contacted the spice company to see if they had lab tested the file on their own and knew something that we did not. They did not answer our queries.
So here we had a perfect teaching moment. Someone following the low FODMAP diet found a product online that was presented as low FODMAP, and yet it was not. She also made the mistake of thinking that because it was stated to be low FODMAP that it was "certified".
Let's Talk About Certified Low FODMAP Products
This is a mini review. You can read more in our articles on Monash University, FODMAP Friendly and How To Read A Certified Low FODMAP Product Label.
Here are the highlights:
Only Monash University and FODMAP Friendly are testing individual ingredients and commercially prepared products and publishing results.
USE THEIR APPS! If an item isn't in the app, it has not been lab tested.
However, we have heard of exceptions, where an individual or company has had an ingredient or product tested for their own internal knowledge. Therefore, if they have this information, but do not publish the results, the public will not have access to that info. This is a rare occurrence.
If a product has gone through one the certification programs, either through FODMAP Friendly or Monash, it will most likely (almost 100% of the time) sport the icon from either FODMAP Friendly or Monash and state that the product is certified low FODMAP on the label in a formal way.
Again, there are exceptions. EnjoyLife comes to mind. They have some products that they have had lab tested and certified with FODMAP Friendly, but they have chosen not to put the certification on their product.
So, what does this mean for you, the LOFO consumer? Here is our recommended approach:
Use the Monash University and FODMAP Friendly smartphone apps to read and learn about the ingredients and products that they have CERTIFIED via lab testing. If a product has gone through lab testing and certification, it is guaranteed to be low FODMAP in the serving sizes recommended.
Look for the certification icons on products in stores and online
If a product is said to be low FODMAP, but does not sport one of these icons below, use your apps to double check ingredients.
Casa de Santé To The Rescue
Luckily, there is a Certified Low FODMAP Cajun/Creole seasoning that we can use in this recipe made by Casa de Santé! Not only does it taste fantastic, but you can see right on the label that it was lab tested and certified by FODMAP Friendly. That's the green icon, upper right, seen below on the packet. The seasoning comes in shaker jars as well.
Ingredients For Low FODMAP Cajun Tuna Salad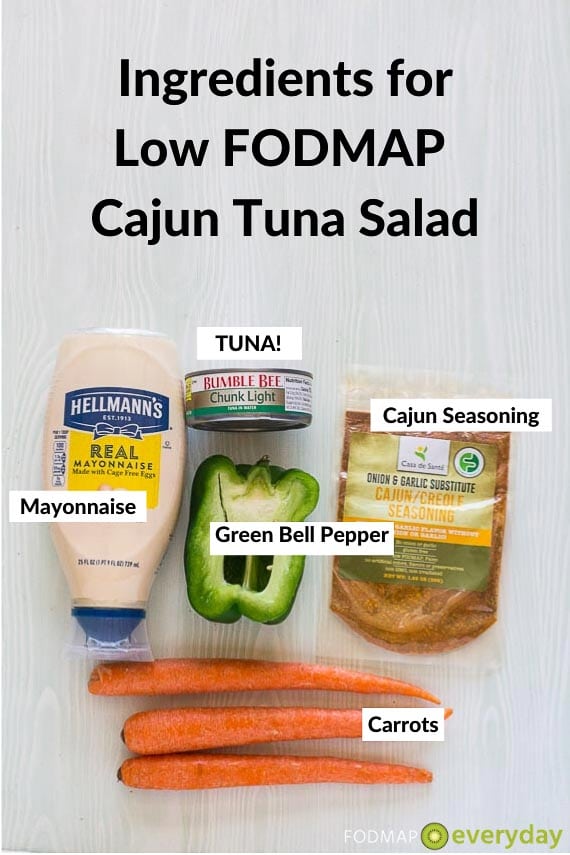 How To Make Low FODMAP Cajun Tuna Salad
This recipe for low FODMAP Cajun tuna salad is a one-bowl, mix everything together kind of recipe. Super simple.
First, make sure to drain the tuna very well. Dump in a wire-meshed strainer and press the liquid out with a firm silicone spatula or broad wooden spoon.
Then you need to squeeze as much liquid as possible out of the grated carrots. Here they are dumped out on a linen tea towel:
You can squeeze over the sink, or catch the carrot juice in a bowl to drink later!
Then it is as simple as mixing all the ingredients together.
If you want to make the tuna patties you will add eggs and oat flour. We found that after adding the oat flour and eggs that the mixture was still quite moist – but you do want a moist finished product! So don't be tempted to keep adding oat flour, which could throw off the FODMAP load as well as create a dry end-product. We found that using an ice cream scoop to get the patties into a preheated pan was very helpful and worked perfectly!
Scoop the patties into a hot pan, spaced apart for maximum crisping.
Flip them over once the first side is golden brown and crisp up the second side.
We loved these tuna patties placed on a LOFO roll with lettuce, tomato and a dab of mayo. You can even make a spicy mayo by adding a little of the Cajun seasoning to your mayonnaise. Great for a hot lunch or a simple, economical dinner.
How MaryGrace Won Our Contest!
Here were the contest rules. The contestants had to choose 5 out of 12 items that we presented them with, and then they could also use whatever else they wanted.
Here were their choices:
A whole grain
A dairy product
Something red
A green vegetable
Something about to go-out-of-date
A protein that had hooves
A fat other than oil or butter
A canned product
Something leafy
Tuna fish
Something spicy
Root vegetable
Then, contestants also had to include:
The name of the dish
Ingredients and preparation
Which items were used from our list?
Photos
Explanation of why the dish is low FODMAP, using the Monash app as reference
Entries were judged on the following:
Here is MaryGrace's pic below!  We liked it on bread as a sandwich, as well as a salad with greens.
Here is MaryGrace's breakdown, which she provided in her submission:
Ingredients used:
Canned product – tuna
Something spicy- Cajun/Creole spices
Root vegetable – carrot
Green vegetable – green bell pepper
Fat other than butter or oil – mayonnaise
FODMAP Info:
This recipe makes enough Kicking Low FODMAP Cajun Tuna Salad for 4 sandwiches. We suggest 1 sandwich, or equivalent serving, per person.
Tuna is low FODMAP being a protein
Carrots have no fodmaps detected and are safe to eat in abundance.
Green bell peppers are low FODMAP in 52 g portions and our serving size is well below that.
Mayonnaise is low FODMAP in 40 g portions, below our serving size amount.
Once you spend time with the FODMAP Friendly and Monash apps, all of this kind of information will become more second nature and memorized before you know it!
Congratulations MaryGrace!
We are so excited that MaryGrace gets to take the Monash Patient Course, which you should look into as well if you are following the diet – and if you are reading this, that means every single one of you! You can read my review of the course, here.
If you want to be prepared to make recipes quickly and easily – be prepared! Check out our article on 12 Essential Pantry Items, 10 Essential Low FODMAP Baking Items and 8 Essential Fridge & Freezer Items.
Kicking Low FODMAP Cajun Tuna Salad
Think tuna is boring? This Kicking Low FODMAP Cajun Tuna Salad is spicy, but not too spicy, simple to make and can be served as a salad, a sandwich or turned into cooked patties.
Preparation:
Open one can of light chunk tuna and drain very well. Empty tuna into a mixing bowl.

Grate the carrot and then use a paper towel, cheesecloth or linen towel to squeeze out the excess liquid. Keep squeezing until dry. Add carrots to tuna; discard or drink the juice!

Add the green pepper, mayonnaise, seasoning and vinegar and mix everything together well. Make sandwiches or serve as a salad and enjoy! You can also refrigerate in an airtight container for up to 2 days. See Tips below for a way to turn your tuna mixture into cooked, crispy tuna patties.
Notes:
Tips
Kicking Cajun Tuna Patties: MaryGrace says add 2 large eggs and ½ cup (60 g) of oat flour to the tuna mixture, mixing together well. You can buy oat flour, or you can make your own in a blender or food processor from whole rolled oats. Depending on the moisture level of your tuna salad, you might need a bit more oat flour. Form into patties; I used an ice cream scoop to get the mixture into my hot pan. Brown in a skillet on both sides – I did this successfully with both butter and Garlic or Onion-Infused Oil, made with vegetable oil, to delicious results. We served 2 patties per person and you can eat as is, or put on a LOFO roll with lettuce, tomato and LOFO condiments of your choice.
FODMAP Information
Our recipes are based on Monash University and FODMAP Friendly science.
Carrots: Carrots have been lab tested and deemed low FODMAP by both Monash University and FODMAP Friendly. According to Monash carrots contain no FODMAPs.
Green Bell Peppers: Green bell peppers have been lab tested by Monash University and are recommended in low FODMAP amounts of ½ cup or 52 g. FODMAP Friendly has lab tested green bell peppers and states that 1 small pepper at 75 g is low FODMAP.
Lettuce: Iceberg lettuce has been lab tested by Monash and FODMAP Friendly and both recommend a generous low FODMAP serving size of 1 cup (75 g), as it only contains trace amounts of FODMAPs (according to Monash).
Lettuce: Romaine lettuce, has been lab tested by both Monash and FODMAP Friendly. Also labeled as cos lettuce on the Monash app, their lab tested determined a generous low FODMAP serving size of 2 cups (75 g). FODMAP Friendly gives it a "Pass" at 1 cup (75 g).
Tomato: Both Monash University and FODMAP Friendly have lab tested common, beefsteak tomatoes. Monash University lab tests have shown no FODMAPs. FODMAP Friendly gives them a "Pass" at ½ cup (75 g) portions.
Please always refer to the Monash University & FODMAP Friendly smartphone apps for the most up-to-date lab tested information. As always, your tolerance is what counts; please eat accordingly. The ultimate goal of the low FODMAP diet is to eat as broadly as possible, without triggering symptoms, for the healthiest microbiome.
Nutrition
Calories:
158
kcal
|
Carbohydrates:
2
g
|
Protein:
11
g
|
Fat:
11
g
|
Saturated Fat:
2
g
|
Cholesterol:
6
mg
|
Sodium:
94
mg
|
Fiber:
1
g
|
Sugar:
1
g