Mile High Low FODMAP Chili Nachos with Avocado Crema
This recipe for Mile High Low FODMAP Chili Nachos has EVERYTHING going for it, from my point of view. It re-cycles leftovers (the chili – choose from all-beef, turkey or tempeh!) and it combines crunchy, creamy textures and hot and cold temperatures.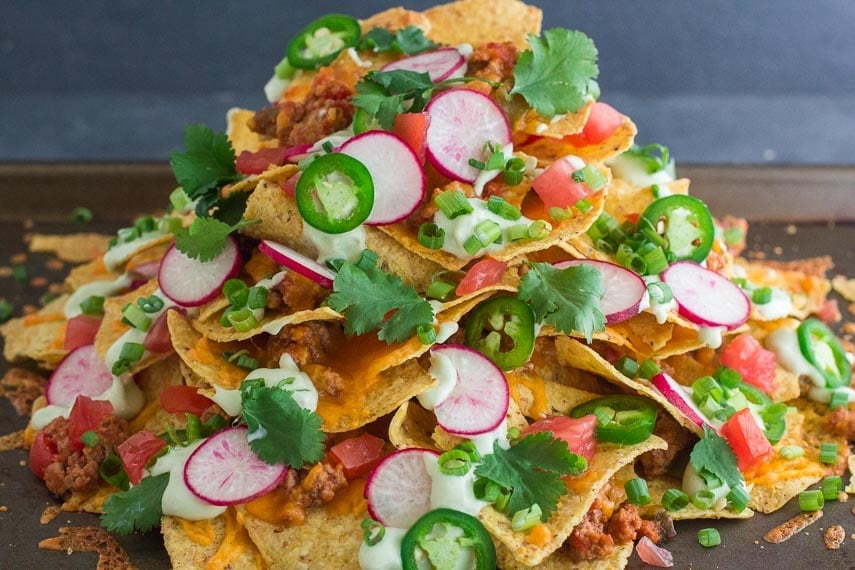 I LOVE when there is a combo of temperatures and textures! If this rings your bells, the GREAT news is that once you get the hang of the recipe, and of FODMAP Stacking, you will be able to vary the approach to your very own mile-high nachos to your heart (and gut's) content.
Low FODMAP Chili Nachos – With No Chili?
For instance, no chili hanging around? No problem, you don't really need it, except without it the recipe turns more into a snack rather than a MEAL as it is here.
You could just scatter some drained, canned black beans on top of your chips sticking to a maximum of ¼ cup or 45 g per serving.
Choose Your Cheese
I hope you have read our article Is Cheese Low FODMAP? It explains which cheeses are low FODMAP, which are not, and how to tell if a cheese is low FODMAP even if it hasn't been lab tested!
I like the look of orange colored sharp cheddar cheese for these Mile High Low FODMAP Chili Nachos, but you could use Monterey jack, pepper jack, mild cheddar or a combo!
Low FODMAP Salsa
You can make your own Low FODMAP Salsa, and we love our easy, classic recipe, but there are also commercially available options from Casa de Santé as well as Fody Foods. Keep some jars around for last-minute munchies!
Let's Talk About Avocados
Our article Is Avocado Low FODMAP? is one of our most visited pages. Here is the deal; avocados have high, moderate as well as low FODMAP serving sizes. Confused? Check out High FODMAP Foods With Low FODMAP Serving Sizes.
You can have up to 30 g of ripe avocado, even during the Elimination Phase. By creating a crema, or creamy sauce, using ripe puréed avocado, lactose-free sour cream and lime juice the avocado flavor goes even farther.
One avocado, about 6-ounces (170 g) in weight whole will give you the amount of avocado you need.
If you are a nachos fan, be sure to check out our Salad Nachos as well as our Thanksgiving Leftover Nachos! I know these last ones sound downright weird, but let me tell you, they are AMAZING!
Let's make Mile High Low FODMAP Chili Nachos with Avocado Crema!
Mile High Low FODMAP Chili Nachos with Avocado Crema
Our Mile High Low FODMAP Chili Nachos with Avocado Crema take advantage of leftover chili      - your choice of tempeh, all-beef or turkey. We've got them all!                                    
Ingredients:
1-

pound (455 g)

bag of tortilla corn chips

2

cups (480 ml)

leftover low FODMAP chili,

hot

12-

ounces (340 g)

shredded orange cheddar cheese

1

ripe medium

Hass avocado to yield 120 g ripe avocado chunks

½

cup (120 g)

lactose-free sour cream

2

tablespoons

lime juice

1

teaspoon

lime zest

Pinch

cayenne

Lactose-free milk

¼

cup (4 g)

cilantro leaves

2

tablespoons

finely chopped scallions,

green parts only

3

red radishes,

trimmed and sliced thinly crosswise

1

medium

beefsteak common tomato,

stemmed, seeded and chopped

1

jalapeno,

trimmed and sliced thinly crosswise, or equivalent of pickled jalapenos
Preparation:
Position rack in middle of oven. Preheat oven to 350°F (180°C). Coat a rimmed half-sheet baking sheet pan with nonstick spray; set aside.

Scatter a layer of chips on the bottom of the prepared pan. Dollop chili here and there, then cover with a layer of cheese. Arrange another layer of chips on top, this time not as wide in diameter (you are beginning to build the "mile-high" peaked shape). Repeat with chili and cheese and keep going until all the chips, chili and cheese are used.

Place nachos in oven. Meanwhile, place avocado in food processor fitted with metal blade and pulse on and off until smooth. Pulse in sour cream, lime juice, zest and cayenne. Taste and add salt, if desired. Thin out with a little milk, of necessary.

The nachos are done when all the cheese is melted and some of the chips are roasty toasty and a bit golden brown. Remove from oven and immediately sprinkle and scatter cilantro leaves, scallions, radishes, tomato and jalapeno on top. Drizzle with avocado crema and serve immediately. Any extra sauce can be served alongside.
Notes:
Tips
I am sure you have a favorite brand of low FODMAP corn chips. Our suggestion for this recipe is to use ones that are more sturdy, rather than thin and delicate. Slightly thicker ones will stand up to the layering of all the various ingredients.
Nutrition
Calories:
582
kcal
|
Carbohydrates:
40
g
|
Protein:
16
g
|
Fat:
31
g
|
Saturated Fat:
1
g
|
Sodium:
264
mg
|
Potassium:
39
mg
|
Fiber:
1
g
|
Sugar:
1
g
|
Vitamin A:
518
IU
|
Vitamin C:
5
mg
|
Calcium:
5
mg
|
Iron:
1
mg
For More Avocado Obsession: 10 Low FODMAP Avocado Recipes You Won't Be Able to Resist.