Easy Low FODMAP Hasselback Potatoes
Hasselback potatoes have everything going for them. They are crispy on the outside, creamy on the inside, easy to make and go with many different mains. Here is our version of Low FODMAP Hasselback Potatoes with Garlic-Infused Oil, butter and fresh thyme.
We like them best made with Yukon Gold type potatoes.
The name, by the way, hails from a classic Swedish preparation, Hasselbackspotatis. The original recipe included breadcrumbs, but the slicing technique of prepping the potatoes has been adopted to represent recipes with the moniker.
---
Hasselback Potatoes Are Easier To Make Than You Think
Hasselback potatoes look kind of fancy, but the technique is actually very easy. The scrubbed potatoes are sliced 1/8-inch (3 mm) thick crosswise, but not all the way through. This allows the potatoes to fan out a little but, exposing the flesh to the high heat.
Chopsticks To The Rescue!
We find the best way to slice them evenly and safely is to use chopsticks. Not to cut them, but to guide your knife. As your knife goes down into the potato, the chopsticks will provide a perfect guide preventing you from cutting all the way through the potatoes.
See the recipe proper for a complete explanation.
Next time you are getting Chinese takeout, grab an extra pair of wooden toothpicks and save them for when you are making Hasselback potatoes!
---
Hasselback Potatoes Go With…
And need we tell you that they go beautifully with our Low FODMAP Filet Mignon Medallions, as seen below. Perfect for Valentine's Day dinner or anytime you want a special meal.
Consider them with roast chicken, one of our roast beef dishes or ham. And we are sure you will find many times that Hasselback potatoes will be the perfect choice.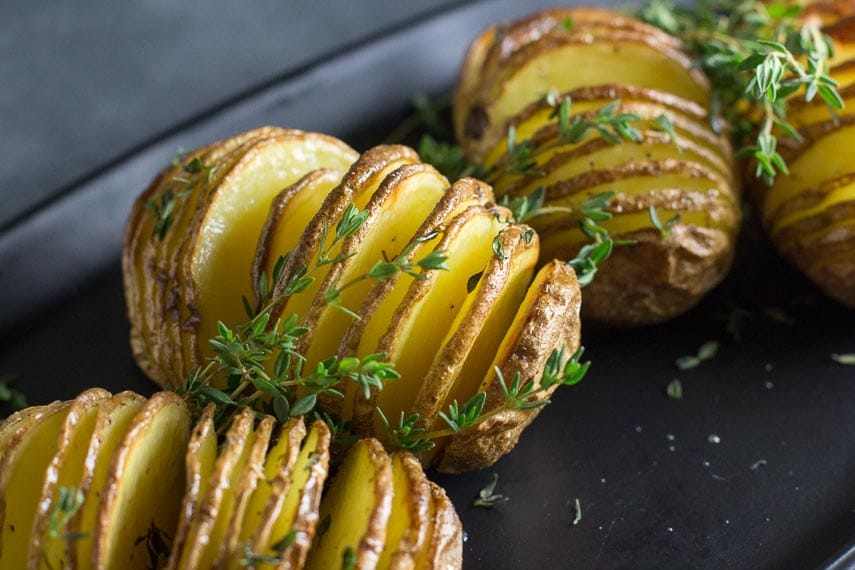 Low FODMAP Hasselback Potatoes
These Low FODMAP Hasselback Potatoes are easy to make and work so well with poultry, meats and fish.
Low FODMAP Serving Size Info: Makes 4 potatoes; 4 servings; 1 potato per serving
Ingredients:
4

medium

Yukon gold potatoes,

scrubbed and dried

1 ½

tablespoons

unsalted butter,

melted

1 ½

tablespoons

Garlic-Infused Oil,

made with olive oil, or purchased equivalent

Freshly ground black pepper

Fresh thyme,

optional
Preparation:
Position rack in upper third of oven. Preheat oven to 450°F/230°C.

Place your chopsticks horizontally on your work surface a couple of inches (5 cm) apart. Place a potato in-between the chopsticks and press them against the bottom of the sides of the potato firmly. Use a sharp, thin-bladed slicing knife to make crosswise cuts, 1/8-inch (3 mm) apart until all of the potato is sporting evenly spaced slits. As your knife goes down into the potato, the chopsticks provide a perfect stopping point so that you do not cut all the way through the potatoes.

Place potatoes on a roasting pan.

Whisk together the melted butter and oil. Slather most of the butter/oil mixture all over the potatoes, making sure to saturate all the cut surfaces as well as the outside of the potatoes. Season well with salt and pepper.

Roast the potatoes for about 40 to 45 minutes or until browned on the outside and tender on the inside when pierced with a knife. Brush with remaining butter/oil, garnish with fresh thyme leaves, if using, and serve immediately.
Notes:
Tips
Did you now that potatoes have shown no detectable FODMAPs in lab tests? They are truly a very low FODMAP food.
Nutrition
Calories:
149
kcal
|
Carbohydrates:
15
g
|
Protein:
2
g
|
Fat:
9
g
|
Fiber:
2
g
|
Sugar:
1
g