Easy-to-Make Low FODMAP One-Bowl Chocolate Chunk Cookies
One bowl (and a spoon) to chocolate nirvana! These Low FODMAP One-Bowl Chocolate Chunk Cookies are basically the same as our classic approach to Chocolate Chunk Cookies, but this time we have streamlined the process with melted butter.
Otherwise this is the same recipe, ingredient wise.
Use The Microwave!
I use our microwave all the time in the Test Kitchen; I think it is the most important appliance for making prep time more convenient. I use it to soften butter and buttercream. I use it to make ganache and melt chocolate. I nuke potatoes when I don't have time to bake them.
It heats food for me so that photos look fresh, fresh, fresh and I use it to defrost English muffins several times a week.
But let's talk about the butter melting. If you melt the butter for this recipe in a large microwave safe bowl, then you will be able to make the recipe in that one bowl.
This means quick prep and little dish washing. Pluses in my book, for sure.
Chill the Dough – or Not
You have a choice here; you can make the recipe start to finish in less than 30 minutes and you will be eating ooey gooey chocolate chunk cookies before your next TV show comes on.
Or, you can chill the dough for two hours or even overnight, in which case the cookies will hold their shape a little better, and the flavor of the dough will be richer and more butterscotchy. Yeah, I just made that a word.
Older is Better
Aging chocolate chip/chunk cookie dough in the fridge overnight is a well-known technique and it works just as well with this version of Low FODMAP One-Bowl Chocolate Chunk Cookies.
The cookies in these images were made from chilled dough.
One Recipe – Three Versions
Take a good look at the image below. On the left are Low FODMAP One-Bowl Chocolate Chunk Cookies with the addition of nuts. The cookies in the center are sans nuts.
The cookies on the right are without nuts and are baked until crispy, as opposed to chewy (the other two versions).
It is very easy to create any – or all – of these cookies even with the same batch of dough. Just follow the directions below in Step 4.
For another One-Bowl cookie, check out our yummy Oatmeal version!
And if you are looking for a VEGAN chocolate chunk cookie, we have a FANTASTIC version!
We think you will like our Salted Buckwheat Chocolate Chunk Cookies, too.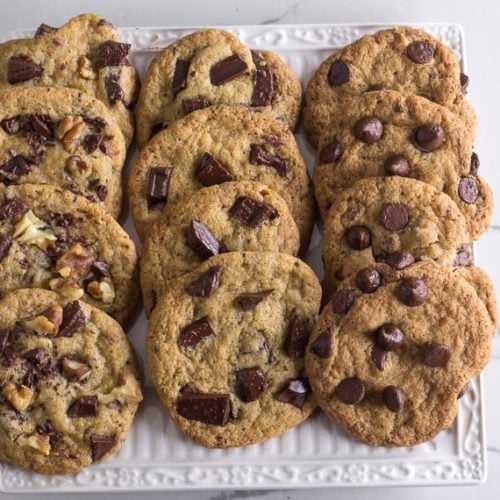 Low FODMAP One-Bowl Chocolate Chunk Cookies
Like Chocolate Chunk Cookies? Hate clean-up? Want to get them into your mouth as soon as possible? This recipe for Low FODMAP One-Bowl Chocolate Chunk Cookies is your new best friend.
Low FODMAP Serving Size Info: Makes about 2 dozen cookies; serving size 1 cookie
Ingredients:
1

cup (2 sticks; 226 g)

unsalted butter,

at room temperature, cut into pieces

1

cup (213 g)

firmly packed light brown sugar

1/2

cup (99 g)

sugar

2

teaspoons

vanilla extract

2

large eggs,

at room temperature

2 1/3

cups (338 g)

low FODMAP gluten-free all-purpose flour,

such as Bob's Red Mill Gluten Free 1 to 1 Baking Flour

1

teaspoon

baking soda

1

teaspoon

salt

12-

ounces (340 g)

dark chocolate,

cut into approximately ½ inch (12 mm) pieces (about 2 cups); we like 60% to 70% cacao

1 1/3

cups (132 g)

toasted walnut or pecan halves,

chopped (optional)
Preparation:
Position racks in upper and lower thirds of oven. Preheat oven to 375°F/190° Line two half-sheet baking pans with parchment paper.

Melt the butter in a microwave safe bowl in the microwave - or melt in a saucepan and then transfer to a large mixing bowl (in which case this will be one bowl and one pot!). Using a whisk or a sturdy wooden spoon beat in the brown sugar, sugar and vanilla until very well combined. Let the mixture cool to room temperature at this point. Beat in the eggs, adding one at a time to better incorporate them.

Sprinkle the flour over the wet mixture along with the baking soda and salt, stirring as you go. When a few floury streaks remain, stir in the chocolate and nuts if using (see headnote above under One Recipe - Three Versions). If you want some of the cookies to have nuts, simply divide the dough at this point and stir in HALF the amount of nuts listed above in the ingredient list. Proceed to baking or cover dough with plastic wrap and chill for 2 hours or overnight.

Form golf ball sized balls and place the cookies 8 per pan, spaced evenly apart. No need to press them down. Bake for about 9 to 12 minutes total, rotating the pans front to back and moving from upper rack to lower rack halfway through baking, until lightly browned with the edges firmer than the centers, which should be soft. This will give you chewy cookies with a thin, crispy edge. If you want your cookies crisp through and through simply bake a minute or two longer until golden brown all over. Remember that the cookies firm up tremendously upon cooling.

Cool cookies completely on pans set on racks. (Make subsequent batches with cooled pans). Cookies are best served the same day but may be stored at room temperature in an airtight container for up to 3 days.
Dédé's Quick Recipe Tips Video
Notes:
If You Can Tolerate
Fructans: If you have passed the wheat fructan challenge you can use conventional all-purpose flour. Use weights for best equivalent substitution. Note that the recipe will no longer be gluten-free.
Nutrition
Calories:
303
kcal
|
Carbohydrates:
32
g
|
Protein:
3
g
|
Fat:
18
g
|
Saturated Fat:
3
g
|
Cholesterol:
1
mg
|
Sodium:
150
mg
|
Potassium:
101
mg
|
Fiber:
2
g
|
Sugar:
16
g
|
Vitamin A:
5
IU
|
Calcium:
10
mg
|
Iron:
1.7
mg