Let's Make One-Bowl Oatmeal Chocolate Chip Cookies
Is it an oatmeal cookie? Or chocolate chip? I can't decide! I do know this: our One-Bowl Oatmeal Chocolate Chip Cookies are super easy to make and please lovers of both kinds of cookies.
They are especially oaty, with more oats than flour. Mini chocolate morsels provide just the right amount of chocolate while the raisins lend chewiness and a whole other level of flavor. A nice dose of cinnamon and vanilla bring everything together.
The nuts are optional, but add a nice crunch, which contrasts so well with the chewy cookie.
Speaking of Chewy Cookies
There are folks who like chewy cookies and those who like crispy. Some recipes will always be one or the other, but many cookie recipes can veer into one territory or the other depending on the baking time.
And it is precise.
Thirty seconds to 1 minute too long in the oven and these cookies will go from chewy to crispy. Not that there is anything wrong with crispy! Just know that you have to pay attention to timing.
Cookies are easy to over-bake for two main reasons. First of all, they are small individual treats, which means they can crisp up fast. Also, most home bakers don't think about the residual heat of the baking pans. You do want to pull these cookies out of the oven while they are still soft in the middle.
They will continue to "bake" on the pan for a few minutes even though they are "cooling".
Think about it: the pans have been in a 325°F/165°C oven and the metal of the pan holds onto that heat for a while!
And Speaking of Texture
We use our favorite low FODMAP flour blend, Bob's Red Mill Gluten-Free 1 to 1 Baking Flour, for these cookies. The blend has a bit of xanthan gum added, and we like the results it provides. It helps with that chewy texture that can be lacking from so many GF baked goods.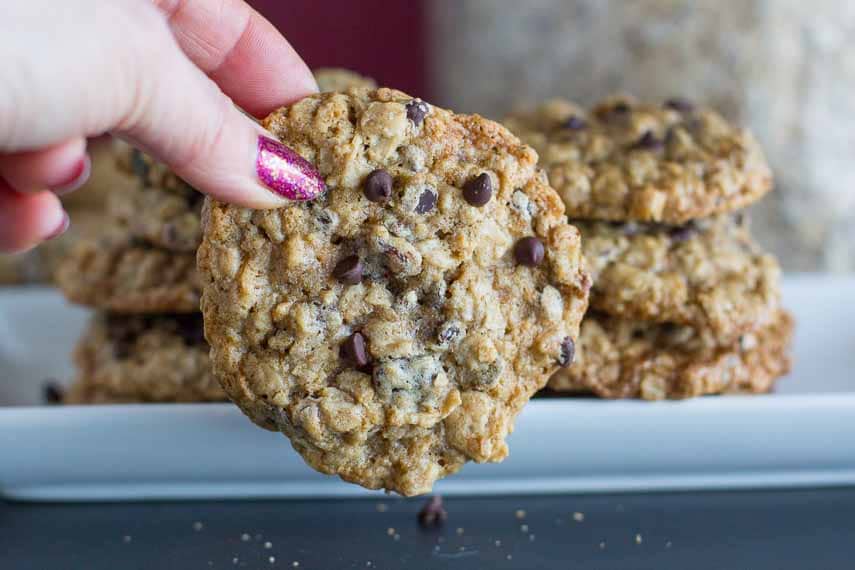 One-Bowl Cookies Made in a Flash
 This recipe can be whipped up by hand in one bowl. No mixer needed. I like to melt the butter in a large bowl in the microwave. Super duper easy! This is a great recipe to make with kids. It's a perfect beginner baker recipe!
Check out our One Bowl PB Cookies, Peanut Butter Oatmeal Chocolate Chunk and our One Bowl Chocolate Chunk, too!
One-Bowl Oatmeal Chocolate Chip Cookies
Our low FODMAP One-Bowl Oatmeal Chocolate Chip Cookies are quick to make- easy enough for beginner bakers! tasty too. Now you don't have to choose between oatmeal cookies and chocolate chip! This cookie gives you both.
Low FODMAP Serving Size Info: Makes 36 cookies; serving size 1 cookie
Preparation:
Position racks in upper and lower third of oven. Preheat oven to 325°F/165° Line 2 cookie sheet pans with parchment paper.

In a large bowl whisk together the melted butter and brown sugar until blended. Whisk in the vanilla, cinnamon and eggs until the mixture is smooth and well combined. Use a sturdy wooden spoon to stir in the oats, flour, baking soda and salt until blended. Stir in morsels and nuts, if using, and raisins.

Drop cookie dough by generously rounded tablespoons 2 inches (5 cm) apart on cookie sheets; flatten cookies slightly. Bake for about 10 to 12 minutes, rotating pans halfway through, or until edges and tops have just begun to turn light golden brown. The cookies will be a bit soft in the center. Place pans on racks to cool cookies completely. Store cookies at room temperature in airtight container for up to 5 days.
Notes:
Tips
If you want to make our version with additional raisins (as shown in the video), we suggest reducing the chocolate chips by half and then add ½ cup (83 g) of raisins.
If You Can Tolerate
Fructans: If you have passed the fructan wheat challenge, feel free to use regular all-purpose flour. Use the weight equivalent for best results.
Nutrition
Calories:
206
kcal
|
Carbohydrates:
28
g
|
Protein:
3
g
|
Fat:
9
g
|
Saturated Fat:
3
g
|
Cholesterol:
25
mg
|
Sodium:
69
mg
|
Potassium:
92
mg
|
Fiber:
2
g
|
Sugar:
9
g
|
Vitamin A:
180
IU
|
Vitamin C:
0.2
mg
|
Calcium:
14
mg
|
Iron:
0.8
mg
---