Low FODMAP Roasted & Glazed Carrots
Rainbow carrots! Sometimes we are like kids in a candy store when we discover a "new" vegetable or fruit. Oftentimes it is just new to us, but sometimes it is because it is newly available at market.
Such is the case with "rainbow" carrots.
A few years ago they began being stocked regularly in our supermarket and we love them! Who doesn't like eating burgundy colored food? Well, maybe that isn't that question to ask, but seriously aren't they pretty?
Here we have used them in our Roasted & Glazed Carrots recipe, which we love alongside our mains such as Garlic & Herb Roast Leg of Lamb and Brown Sugar Baked Ham.
But they go just as wonderfully with a weekday roast chicken.
Which Carrots Have Been Lab Tested?
Conventional orange carrots have been lab tested by Monash University (and FODMAP Friendly) and have been shown to contain NO FODMAPs. FODMAP Friendly has lab tested yellow, white and purple carrots, too! They did not find a low FODMAP serving size of purple or white carrots as both were high in fructose. Yellow carrots did not show FODMAPs.
This recipe would be best for those who tolerate fructose well. Always eat to your own tolerance.
You might find our article, What If A Food Hasn't Been Lab Tested For FODMAPs to be an interesting read.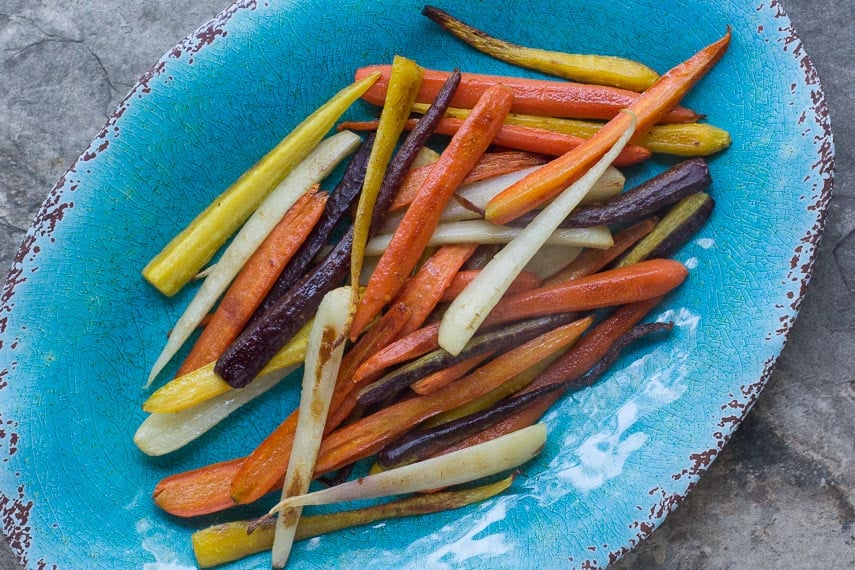 Roasted AND Glazed
The roasting part takes place in the oven set at a high temperature. The glazing happens with the addition of a little sugar, which is optional, but gives the carrots a nice sheen and a little sweetness. Leave it out if you wish.
Carrots and FODMAPs
And by the way, if you didn't know it already, no FODMAPs have been detected in carrots, so they are a great addition to a more crowded or adventurous menu, where you might have to be carefully watching your FODMAP Stacking.
We think you might also like our Low FODMAP Spicy Roasted Broccolini with Garlic & Lemon.
Roasted & Glazed Carrots
Roasted & Glazed Carrots are easy to make in the oven using a high temperature, which naturally caramelizes the sugars in the vegetable, making them a bit sweet.
Ingredients:
2

pounds (910 g)

whole medium sized carrots,

rainbow or plain old orange carrots, peeled, root ends trimmed away

1 1/2

tablespoon

extra virgin olive oil

2

teaspoons

sugar,

optional
Preparation:
Position racks in upper and lower third of oven. Preheat oven to 400°F/200°C. Have ready two rimmed baking sheet pans.

Trim root ends of carrots and discard. Slice carrots in half if they are extra-thick and place in a bowl. Toss carrots with olive oil and sugar, if using, until evenly coated. Season very lightly with salt and toss again. Scatter in even layers on the two sheet pans, dividing evenly.

Roast for about 20 minutes, shake the pans and rotate the pans from front to back and top to bottom. Roast for about 15 to 20 minutes more until carrots are crisp tender and beginning to show a little blistering here and there. Carrots are ready to serve hot, warm or at room temperature.
Notes:
Tips
We like these best right after they are finished cooking, but they are so quick & easy to prepare, you should be able to organize yourself to do so. Read the recipe through to familiarize yourself with the process.
Nutrition
Calories:
71
kcal
|
Carbohydrates:
12
g
|
Protein:
1
g
|
Fat:
3
g
|
Saturated Fat:
1
g
|
Sodium:
1
mg
|
Fiber:
3
g
|
Sugar:
6
g