If you have a Trader Joe's near you and you are following the low FODMAP diet, we've got great news – they carry loads of low FODMAP foods – fresh, frozen and packaged – and our Monash trained RD, Vanessa Vargas, helped us assemble a Trader Joe's Shopping List that contains hundreds of items. It is not to be missed.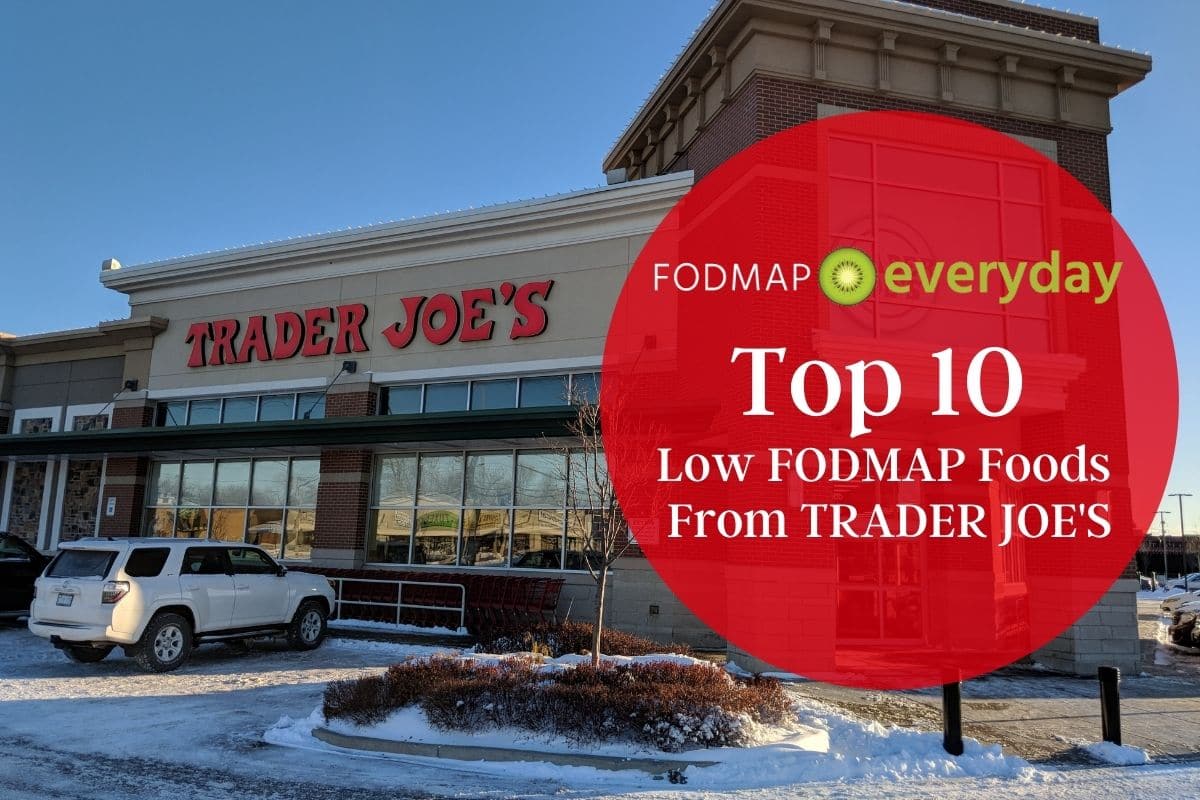 Here is a highlight with our top 10 favorite low FODMAP items from Trader Joe's.
1. Sweet or Spicy All Natural Fully Cooked Chicken Sausages
That's right! Italian sausages in either sweet or spicy style. No need to do without. Whip up a pot of low FODMAP spaghetti or the pasta below and red sauce and add these chicken sausages to your next feast. Make sure you get the light blue label for the sweet sausage, and the yellow label for the spicy. Do not buy the "organic" versions. The former are low FODMAP, but the organic ones contain onion and garlic. Always read labels when shopping!
2. Gluten Free Egg Fettuccine Pasta
Found in the refrigerator section, this pasta is just like the classic version – only better since it won't trigger your IBS symptoms. A little olive oil and a hunk of good Parmigiano Reggiano and you've got dinner!
3. Oils of all kinds!
Trader Joe's always has a big selection of oils at great prices. And since pure oils are fats, they contain no carbohydrates and therefore no FODMAPs. Stock up on large bottles of olive oil and either grapeseed or sunflower oil for your homemade garlic and onion-infused oils. You have both olive oil and neutral oil-based versions on hand, right? The neutral flavored garlic-infused oils are perfect for our Tex-Mex and Asian cooking.
4. Trader Joe's Tomato Paste
We love tomato paste that comes in a tube and Trader Joe's has a house brand that is packaged just like that – like toothpaste! You will never have to open a small can again, use part of it, and then wonder what to do with the rest. Yeah, we know you can dollop out little portions, wrap them up and pop them in the freezer, but if you are anything like us, they get lost in there and we forget that we have them! The tube style is perfect.
5. Trader Joe's Dukkah Nut and Spice Blend
Looking to spice up your low FODMAP cooking? This low FODMAP blend of ground almonds, sesame seeds, fennel seeds, coriander, anise seeds and kosher salt is the spice blend that you didn't know you were missing. Use as a dry rub on proteins, sprinkle on popcorn, whisk into salad dressing or make a dip with yogurt.
6. Trader Joe's Gone Bananas
Dark chocolate is low FODMAP and so are bananas (both serving sizes, of course). Bring them together and whatcha got? Chocolate dipped bananas found in the freezer section called Trader Joe's Gone Bananas. These little bites are the perfect sweet treat.
7. Grapefruit & Lemon Hand Sanitizer Spray
Okay we know this isn't a food, but things have changed and whereas before COVID (BC) we didn't carry around hand sanitizer, now we do. And this one smells GOOD! It also looks good; the blue bottle gives off a vaguely vintage apothecary vibe.
8. Trader Joe's Bamba Peanut Snacks
These are light, crunchy, peanutty and the perfect snack for…well, let's see, watching a movie, hanging out with friends, on long drives when you need a snack (why does that happen?)…really anytime you want a savory, crunchy treat.
9. Sparkling Strawberry Juice
A simple combination of strawberry juice, pure water and bubbles. Super refreshing and a pretty and elegant tall pink can that will look at home at any party. Also a great mixer for vodka!
10. Trader Joe's Cold Brew Concentrate
Buying cold brew at the local coffee shop can add up. Cha ching! Sure, you can make your own at home but that takes time – at least 12 hours for steeping. And when we want coffee, we often want it now! This cold brew concentrate makes whipping up a glass of icy cold coffee a breeze, and it is economical.
The Takeaway
Trader Joe's offers the FODMAPer all kinds of creative foods. Download our Monash trained RD curated Trader Joe's Shopping List and start walking those aisles. And always remember to come back to us here at FODMAP Everyday® because we are dedicated to helping you learn to thrive on the low FODMAP diet.