Let's Get Ready For Low FODMAP Back-to-School!
It used to "just" be "back-to-school", and that was stressful and exciting enough. Now we have to manage low FODMAP back-to-school!
Fall is near and that means it is time to get organized for the new school year. Some working parents may be breathing a sigh of relief while others will miss the relaxed summer days.
School days are synonymous with rushed mornings, after school activities, and new routines.
Managing the low FODMAP diet for yourself or loved one during this change of season can be stressful, but there are plenty of foods and meal ideas to choose from.
If you are heading away to school then you may want to read: Can I Follow The Low FODMAP Diet While Away at School? and How to Make the Low FODMAP Diet Work for You • a Teen's Perspective
Make Breakfast a Priority
Breakfast is an extremely important meal, especially for children. Breakfast provides fuel for healthy growth, aids in weight control, wards off hunger, and has been shown to help improve children's behavior and ability to concentrate.
Mornings are often rushed, and time is limited, but we need to make the time to squeeze in a balanced breakfast.
My Favorite low FODMAP Quick Breakfast Options
Overnight Oats
Overnight oats have become a staple at my house, they are quick, healthy, and easy to grab and go on fast-paced mornings. My children often help me prep these with their favorite add-ins on slow days or weekends.
Yogurt Parfaits
Yogurt Parfaits made with lactose-free yogurt such as Green Valley Creamery Organics Lactose-Free Yogurt, Yoplait Lactose-Free, YQ by Yoplait, or Siggi's Plain Lactose-Free Skyr Yogurt, a green light serving of your favorite low FODMAP fruit, and ¼ cup low FODMAP granola such as Nature's Path Pumpkin Seed + Flax Granola.
Tip: prep fruit in advance to save a little time. Just assemble in the morning.
Oatmeal
To save time bulk cook rolled or steel cut oats in the crock-pot or slow cooker. Just heat and add your favorite low FODMAP toppings such as green light servings of blueberries or strawberries, your choice of low FODMAP nuts, chia seeds, flax seeds, cinnamon, or a tablespoon of craisins or raisins. Just keep the amounts of your toppers in check by using the Monash University Low FODMAP Diet App as a guide.
PB & Egg
Udi's White Delicious Sandwich Bread or your favorite low FODMAP bread and 1-2 tablespoon peanut butter and a hard-boiled egg is simple and satisfying.
Cold Cereal
Cold cereal and lactose-free, oat, or almond milk. Check out our Low FODMAP Shopping Lists to get dozens of specific low FODMAP cereal ideas. Cheerios, Rice Chex, Kix, Barbara's Puffins Original, EnviroKidz Organic Gorilla Munch Corn Puffs, Rice Krispies are a few popular, kid friendly options. Top with ⅓ of a ripe banana or fresh strawberries.
Mini Eggcups
Mini eggcups can be cooked in advance and warmed up in the morning. This recipe by Super Healthy Kids looks kid friendly, just swap out milk for lactose-free milk to make it low FODMAP. Or try our Low FODMAP Salsa Quinoa Egg Cups over on the Fody Foods website.
Bobo Bites
Bobo Bites – Original, Coconut, Peanut Butter Chocolate Chip, Lemon Poppyseed, and Original with Chocolate Chips or half a 2.5 oz bar. These are portable and individually wrapped, which makes them easy to grab on-the-go.
Enjoy Life Breakfast Ovals
Enjoy Life Breakfast Ovals – Berry Medley, Chocolate Chip Banana, Maple Fig are all certified low FODMAP. Yes! You might be surprised at the inclusion of fig, but it is a small amount and the lab tests have given these the thumbs up, so you KNOW they are low FODMAP.
Smoothies
Low FODMAP Smoothies are not only easy and portable, but also a wonderful way to boost fiber intake with low FODMAP fruits, spinach, flax seeds, chia seeds, and oats.
We have an article on smoothies in general, as well as a Green Smoothie for you, a Mocha Banana Smoothie and my article on protein powders might be of interest.
Plan Ahead For Low FODMAP Lunch
School lunches can be tricky if your child is on a low FODMAP diet. Be sure to check with your school in person, over the phone, or check the school menu online.
Some schools do well identifying food allergens, which may be helpful with reducing wheat-based products.
Handy Card for School Teachers, Lunch Room Staff & Your Child
To help make it a bit easier to communicate to your child's school and kitchen staff about your child's dietary restrictions you can download and print out this card – using both or just the AVOID side of the card. We suggest making a few you can give out – and one you laminate so your child can keep one in their lunch box or knapsack as a reminder of what they can and cannot eat. These cards are 3″ x 4″. The size of a standard index card. We suggest printing to card stock.
Just click on the image to download the PDF to your computer for printing.


Teach Your Children Well
Sit down with your child and review the weekly school menu. This is a great opportunity to teach your child how to make good dietary decisions and you get to hear their questions and help them before they make a choice that may make them feel sick. Point out any low FODMAP choices and inquire if your child would be interested in getting that option when at the cafeteria.
Be sure to consider the salad bar and any other alternatives your school has to offer.
BYOB Instead Of School Beverages
Unfortunately, many of the school beverages are high FODMAP so you may want to pack your own beverage.
And good hydration is always helpful! Check out our shopping lists to find the brands and flavors of canned beverages you can stow in a lunch box or back pack.
Most schools offer milk, apple juice, and orange juice (most likely reconstituted) which are all high FODMAP.
Instead, try these low FODMAP beverages which come in single serve boxes:
---
Keep It Cold
Cold lunches are likely a better option since you will have more control over your child's food choices. If possible, pack lunch the night before and get your kids involved. Ask your child what they would like to have in their lunch, maybe provide a few different options to choose from since this can increase the likelihood of them eating their lunch.
Low FODMAP Lunch Ideas
PB & J Sandwich
Spread peanut butter or 1 tablespoon of almond butter and strawberry or raspberry sugar sweetened jam on your favorite low FODMAP bread – such as Udi's Gluten Free Delicous Soft White Sandwich Bread, Trader Joe's Gluten Free White Sandwich and Gluten- Free Whole Grain Bread, Canyon Bakehouse Gluten Free Country White Bread, Franz Gluten Free 7 Grain, Great Seed, or Whole Grain White Bread.
You might be tempted to look at jellies and jams that are low in sugar or sweetened with fruit juice, but they often have high FODMAP ingredients. Stick with simple, sugar-sweetened jams and jellies. You can find some of our low FODMAP favorites listed on our Supermarket Shopping Lists.
Deli Meat Sandwich
Your choice of garlic and onion-free deli meat, perhaps a slice of cheese and your choice of low FODMAP condiments.
Hellman's and Best Foods mayo is low FODMAP, Dijon, brown or yellow mustard, and your choice of low FODMAP bread.
Don't forget that you CAN eat sourdough! READ: The Low FODMAP Diet is NOT a Gluten Free Diet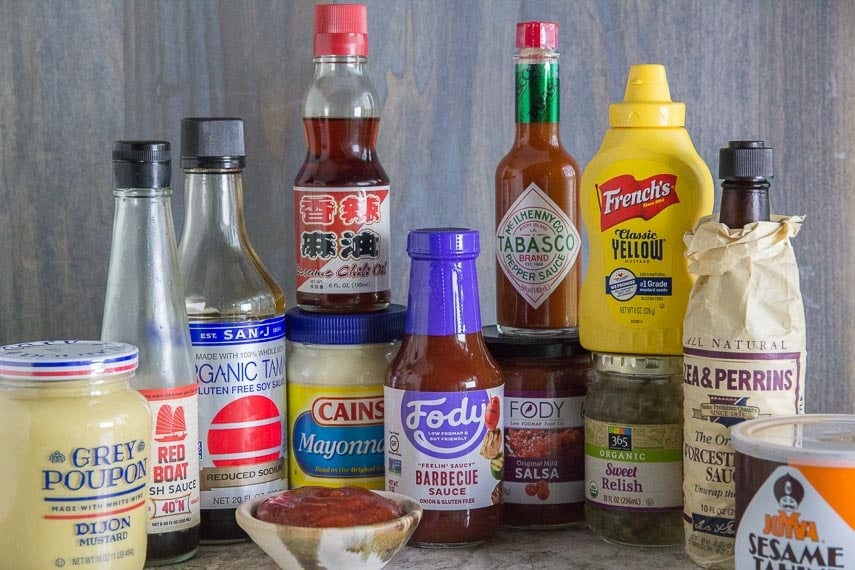 DIY "Lunchables"
Small pieces of sliced low FODMAP deli meat, cheese slices, low FODMAP crackers and one serving of a low FODMAP fruit. My favorite combo is Applegate Naturals Oven Roasted Chicken or Turkey Breast, Crunchmaster Multi-Grain Sea Salt Crackers, aged cheddar cheese, ten almonds, and one cup of grapes.
Chicken, Tuna, and Egg Salad
Prepared with a low FODMAP mayonnaise and your favorite low FODMAP crackers or bread, cucumbers, carrots, or peppers. Check out this article to learn more about low FODMAP tuna options. Dédé likes to use low FODMAP pretzels as a vehicle for her tuna salad. And you can find 18 ways to use canned tuna here.
Pasta & Red Sauce
One of our favorite pasta is Tinkyada Brown Rice Pasta and you can pair it with FODY marinara, Prego Sensitive, or Rao's Sensitive Formula Marinara Sauce warmed up in a small thermos.
Simple Butter Noodles
Your favorite low FODMAP pasta, butter and parmesan cheese warmed up in a small thermos.
Quinoa or Rice Bowls
Heat up your choices of quinoa or brown rice, your choices of protein, low FODMAP vegetables, and maybe FODY Foods Teriyaki, Korean BBQ, or Sesame Ginger Sauce & Marinade for some flavor in a small thermos.
If you've never bought or cooked Quinoa before be sure to read about that here. Super easy! And yummy!
Salad
Your choices of salad greens, a few cherry tomatoes, cucumber slices, cheese, rotisserie chicken (double check ingredients and avoid those made with garlic or onion), and your favorite low FODMAP salad dressing. These salad kits keep your salad from getting soggy and keep all your vegetables fresh.
Mason Jar Salad
Traditional Mason jars are made from glass, which is not necessarily the best material for school, but check out this article on how to make mix and match salads and you can pack them in a non-breakable jar for your child. Kids love helping to make these! Use BPA free plastic jars like these instead.
Great Containers Help Make Lunch Easy and Safe
Over the years, I have found some amazing school lunch containers.
My favorites are the LunchBots for dry foods and U-Konserve small containers for fresh fruits.
The Yumbox Zuppa Triple Insulated Stainless Steel Thermal Food Jar has been great at keeping foods warm without leakage.
A few of our favorite thermal lunch boxes to keep it all cold!
---
Simple Sides – All Low FODMAP
Be sure to pack some of these in the bag too!
Sweet Treats
And if you include a low FODMAP sweet treat you are bound to have a happy lunch eater!
After School Snacks
Most kids are hungry after school, it is important to find the right sized balanced snack at this time. Too large of a snack may cause your child to not be hungry come dinnertime.
If your child is involved in after school sports a more substantial snack may be necessary. Consider packing this after school snack in your child's backpack if they have a long bus ride home.
Some easy, kid-friendly snack ideas include:
Try to Be Prepared Weekly
While it is not necessary to spend all day Sunday bulk cooking for the week, it is helpful to have an idea of weekday meals to make shopping more efficient and to be prepared.
Many enjoy online grocery services such as Instacart or Thrive Market to minimize time spent grocery shopping, food items can be added to the cart when planning the week's meals. We curated a Thrive Market Low FODMAP Product Shopping List just for you! Be sure to check it out.
A simple hand-written shopping list works wonderfully as well.
Be sure to check the family calendar to determine how many dinners will be prepared at home, who will be present and projected mealtime. Many of us need to balance after school activities and sports that often run late.
Low FODMAP Dinner Ideas
Strive for family dinners since these are a time to connect, share stories, and relax. Strong evidence supports family dinner together at the table helps children to eat healthier diets, reduce behavioral issues, achieve better grades, improve self-esteem and more.
If planning meals for a whole week seems daunting, aim for just the next one to two days, start small and be realistic. Choose a few low FODMAP breakfast options that look good to you and repeat a few times over the course of the week.
Same with lunch, it can lower your stress levels if you have some repeat meals.
Ask your family to share some dinner ideas, maybe look at a low FODMAP cookbook together and choose a few recipes that look tasty.
Maybe try a slow-cooker meal or one-pan meal one or two times a week and a quick simple meal on other days.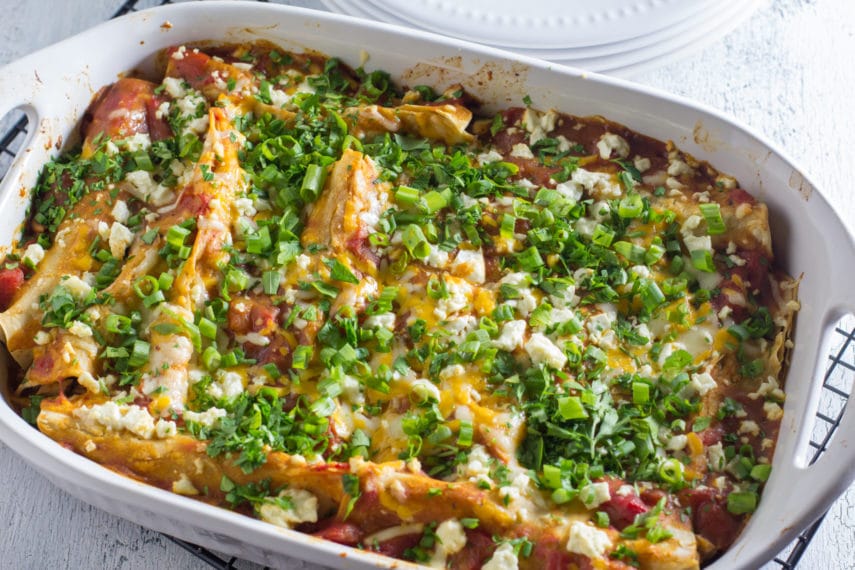 Balance Protein with Good Fats and Fiber
I always try to include a protein source, healthy fat for sautéing and flavor, and a plant-based fiber in low FODMAP portions like sweet potato, green beans, zucchini, etc. for a balanced meal.
Consider using certified low FODMAP spices and sauces to add flavor without FODMAPs, FODY Foods and Casa de Santé offer many options.
Use Your Freezer & Make Double Batches
We like making burgers of all sorts, whether they are beef, salmon or turkey, for instance, in large batches and freeze some for later use.
If you are based in the US you can save time, money and get truly excellent quality meat, poultry and fish buying from Butcher Box. They also run these amazing new subscriber deals. Always worth checking out and comparing to what you can buy locally.
When making meatloaf, it is also simple to make two and freeze one. Check out these easy meatloaf recipes:
Large items, like lasagna, can be split in half and one part can be frozen for later and will be just as ooey, gooey and cheesy upon reheating. These two are delicious and easy to make and freeze:
Rotisserie Chicken
No matter where you live, we bet you have access to low FODMAP rotisserie chicken and you might not even know it!
Costco has a plain rotisserie chicken that is low FODMAP. There is a Whole Foods and two other supermarket chains right near the Test Kitchen that have low FODMAP rotisserie chickens, too. Check your markets.
Then just hit our search bar and type in "chicken salad" for a great selection of quick and easy lunch and dinner ideas!
Read labels and stick with "plain". Very often teriyaki or BBQ or other flavors do contain FODMAPs, particularly garlic and/or onion.
Use the cooked chicken for lunch or dinner salads, soups, enchiladas, tossed onto dinner nachos or one of our favorite ways to use it for dinner is to use corn tortillas along with the chicken, shredded cheese, lettuce, other low FODMAP vegetables and low FODMAP salsa for a meal that almost makes itself. Dollop with lactose-free sour cream, if you like!
Now you are ready for back-to-school with easy to make low FODMAP meal ideas.
What are your favorite back to school tips and meals?
---
We LOVE Vanessa's articles and if you have a family, we think you will find them helpful, too. Check out her article on CAMPING!