The first day of a new grade can be exciting, daunting, and everything in-between, for parents and kids alike. Food fuels us and can set students up right for a full day of learning and physical activities.
Best case scenario is to be super organized, and we are going to help you get there, with the best breakfasts for kids – elementary through high school – and we even have vegan and vegetarian options, too, from Overnight Oats, to homemade granola, savory egg bites, Green Smoothies, a tofu scramble – even Breakfast Cookies!
Pumpkin Cranberry Oat Breakfast Cookies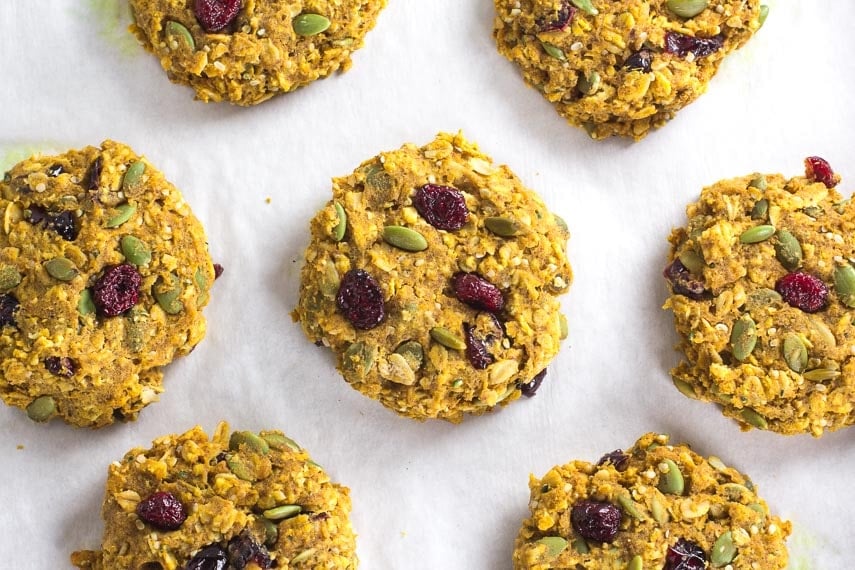 Cookies for breakfast? You bet, and we actually have several breakfast cookie recipes for you. This one is based on fiber-rich oats, canned pumpkin, and sweet/tart dried cranberries. The pumpkin seeds add fiber, too. Get the recipe for Pumpkin Cranberry Oat Breakfast Cookies.
Overnight Oats & Chia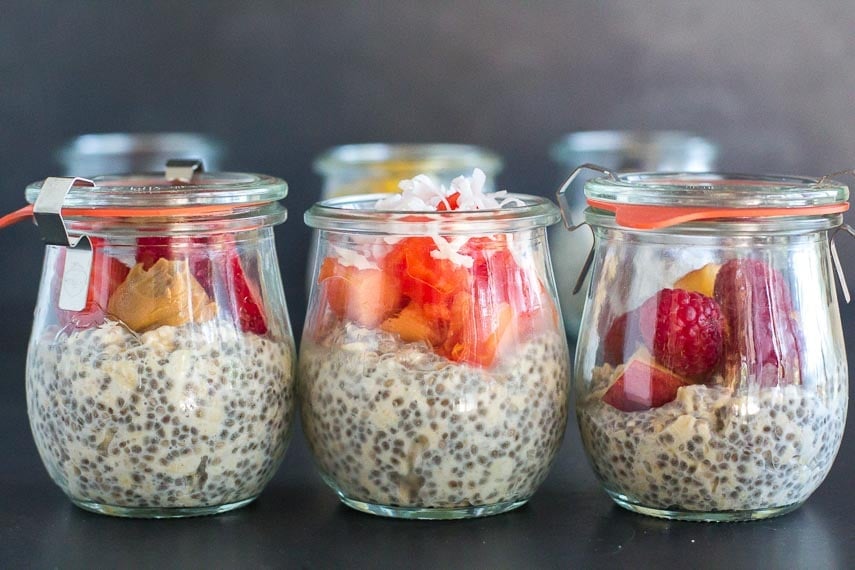 Overnight oats are hugely popular – and you can have them, even during the initial restrictive phase of the low FODMAP diet. Whole grain oats and chia seeds combined with unsweetened almond milk and a tiny bit of maple syrup (optional) are soaked overnight for this popular, hearty low FODMAP vegetarian breakfast. We show you many ways to garnish with fruit, dried fruit, nuts, seeds and more. All low FODMAP! Click here for the recipe.
Maple Pumpkin Spice Granola with Pecans
Are you a pumpkin-spice fan? We've got the DIY granola for you! Crispy, crunchy, gently spiced, sweetened with maple syrup, with the addition of pecans and dried cranberries. Get the recipe for Maple Pumpkin Spice Granola with Pecans.
Za'atar Spiced Tofu Scramble
A great breakfast or lunch, or even light dinner, this tofu scramble is boldly seasoned with za'atar, which is a comb of coriander, cumin, sesame seeds, sumac, thyme and hot peppers flakes. Nutritional yeast adds a cheesy, umami flavor. Get the recipe.
Chocolate Granola with Almonds
Chocolate for breakfast? Sure, why not? Enhanced with oats and almonds – which do have a low FODMAP serving size – this easy-to-make granola is lightly sweetened. We love it withy unsweetened alt milks or low FODMAP yogurt. Click here for the recipe.
Cinnamon Apple Breakfast Cookies
We know you want to know about breakfast cookies! These are easy to whip up in a bowl and feature fiber-rich whole-grain oats, low FODMAP amount of juicy apple, plump raisins, as well as nuts, seeds and cinnamon. Click here for the recipe.
Blueberry Muffins
Blueberry muffins are a community favorite and ours and we are here to tell you that you can have tender, delicious gluten-free muffins with juicy blueberries. And we have an easy trick during preparation that maximizes the blueberries for the best results, ever! Click here for the recipe.
Everyday Green Smoothie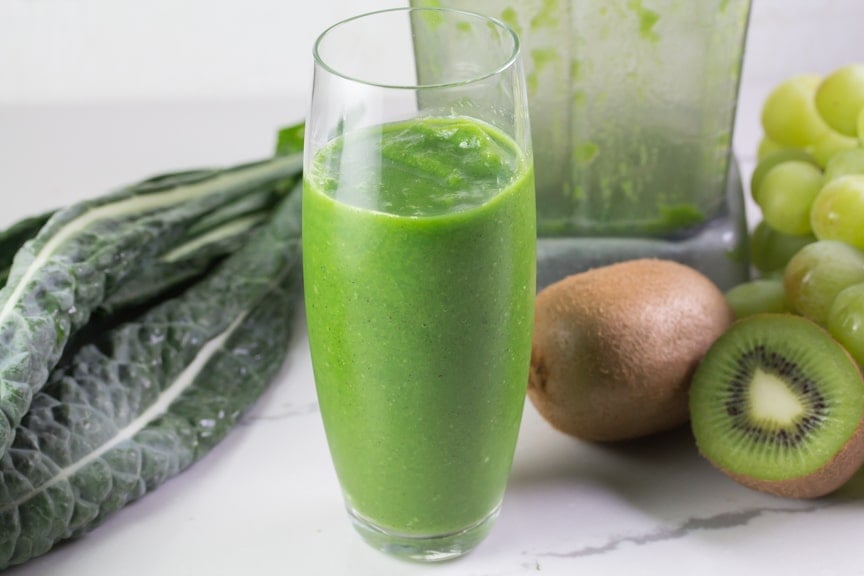 Looking for a delicious and nutritious smoothie? This is the one! Get the recipe for our Everyday Green Smoothie, complete with kiwi, grapes, and kale (or spinach). Start your blenders!
Smoked Gouda Apple Muffins
Muffins can be savory and sweet. These combine gouda cheese, hazelnuts and bits of apple – all in a gluten-free muffin. Click here for the recipe.
High Protein Peanut Butter Muffins
Peanut butter is not just for sandwiches! Our muffins are easy to make, high in protein – and freeze well. Make a big batch. Get the recipe for High Protein Peanut Butter Muffins
Dairy-Free Gluten-Free Pumpkin Streusel Muffins
Moist pumpkin, spices, and a brown sugar crumble – in a dairy-free and gluten-free muffin! The kids will love to help make these. Get the recipe for Dairy-Free Gluten-Free Pumpkin Streusel Muffins.
Mini Frittatas Your Way
A frittata is like an open faced omelet, often cooked in a skillet. These mini frittatas are cooked in muffin tins, which not only provide portion control, but you can also make each one a new flavor combo. For non-vegetarian family members, we have add-in suggestions for them, too. We love these for breakfast or even as a high-protein snack. Add a hunk of low FODMAP bread alongside. Our article How To Choose Low FODMAP Bread will guide you. Click here for the recipe.
Olive Oil Muffins with Goat Cheese & Raspberries
These muffins are based on olive oil, which makes them particular soft. The flavor is not overly pronounced, but it is present and is complemented beautifully with goat cheese and sweet raspberries. Click here for the recipe.
Looking For More Breakfast Ideas?
You know the old adage, that "breakfast is the most important meal of the day"? We feel better all day long when we eat a good breakfast. Click for more breakfast recipes here.
Morning – or whenever you start your day – can mean dashing out the door, or sometimes on our days off we can take a leisurely approach. Any which way, we know you want some fortifying food. Delicious foods.
We have hundreds of low FODMAP recipes for you. All of them created and tested in our FODMAP Everyday® Test Kitchen (with a small smattering from other cookbook authors and vetted by us).
Fueling Success: Nutritious and Tasty Back-to-School Low FODMAP Lunch Recipes
The school day can be long and you've got to have a nutritious lunch to keep you alert and going, right through all your sports and extracurriculars at the end of the day. We've got sandwiches, of course, but we also have salads, wraps and bowls. Vegetarian and vegan options, too! All low FODMAP, but delicious enough for the whole family. No need to make separate food.
Read: Fueling Success: Nutritious and Tasty Back-to-School Low FODMAP Lunch Recipes