Grabbing a rotisserie chicken at the supermarket is not "cheating" by any stretch of the imagination. Having cooked chicken ready to use is a great jump-start to all sorts of creative recipes – from salads to main dishes, lunches and dinners – and is a brilliant move, in our book.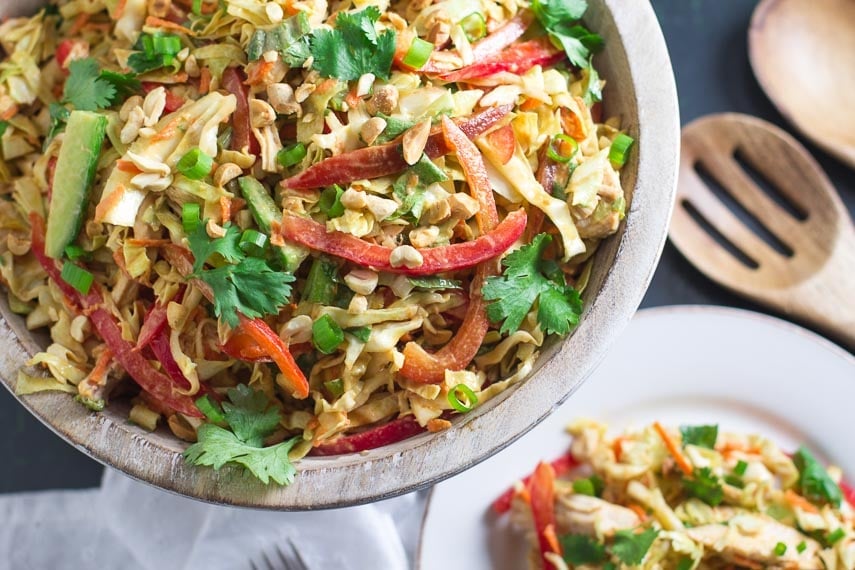 Choose Your Bird Wisely
Not all rotisserie chickens are the same. One store might have super plump birds, while others are downright scrawny. They are certainly not created equal in terms of bang for your buck or taste. Try a few to determine the best for you, and then make the purchase part of your regular shopping trip. We buy one almost weekly and are always thankful, especially on a busy weeknight.
Cold vs. Hot
Some stores have hot birds as well as refrigerated. All are ready-to-eat, but we find they have their pros and cons. If you want to make chicken salad, then cold might be better, however, the hot ones – which are really just warm – are much easier to shred. Your choice. FYI, sometimes the cold are discounted a bit.
Here are 18 recipes that begin with cooked chicken.
Chicken, Bacon Ranch Mac & Cheese
This mash-up combines mac n' cheese with bacon and chicken – and then ranch dressing as well, incorporated into the cheese sauce. Get the recipe.
Chicken Papaya Salad with Poppyseed Dressing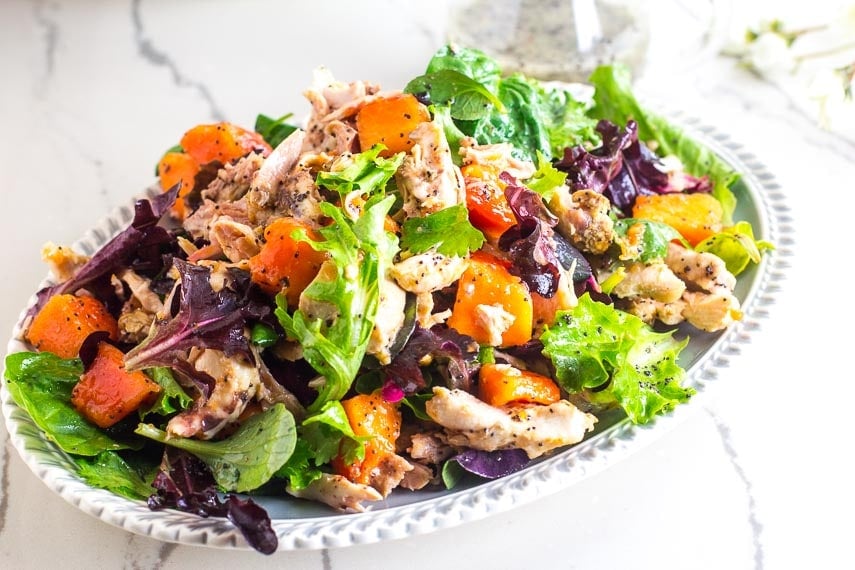 This is not your typical chicken salad! Juicy ripe papaya, along with pieces of rotisserie chicken, baby greens, fresh cilantro, and a slightly sweet poppyseed dressing. Makes a filling lunch or a light dinner. Get the recipe.
Chicken Tamales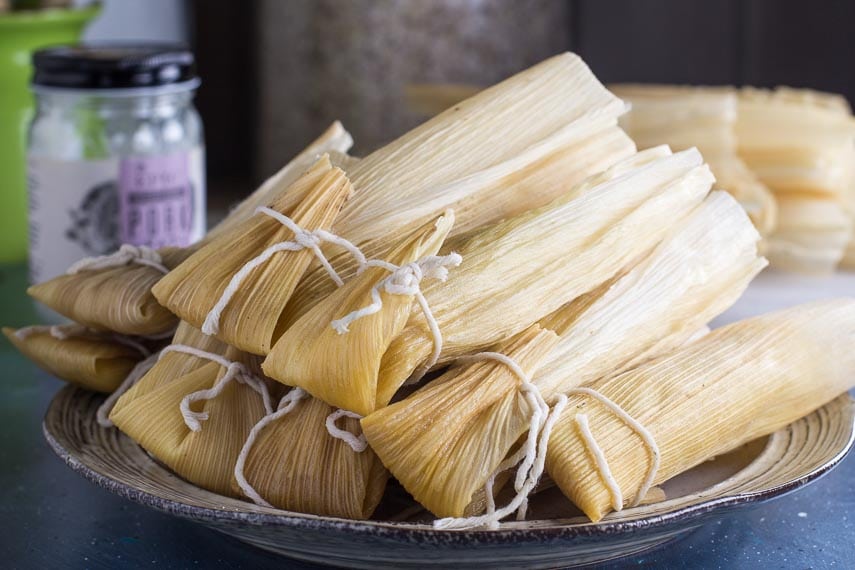 You can make tamales at home with our easy-to-follow directions. Using cooked chicken and a prepared enchilada sauce speed up the process. Get the recipe.
Mediterranean Pasta Salad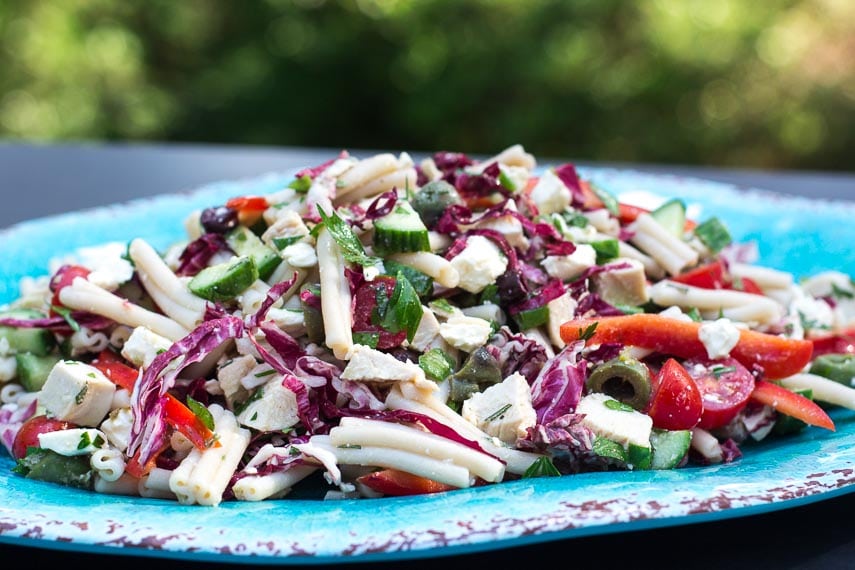 This salad features pasta, chicken, feta, tomatoes, cucumbers, olives and fresh red bell peppers dressed with a red wine vinaigrette. Get the recipe.
Pineapple Chicken Salad
Cooked chicken, fresh pineapple, scallion greens, celery, toasted pecans and tarragon create a very fresh tasting salad. Get the recipe.
Chicken Salad with Grapes & Almonds
Mayonnaise and sour cream dress this chicken salad, with grapes and sliced or slivered almonds. Get the recipe.
Chicken Pot Pie
Chicken pot pie might be our favorite way to use cooked chicken. This is comfort food! A flaky, buttery crust sits on top of tender chicken in a quick-to-make gravy with peas, carrots, potatoes and mushrooms. Get the recipe.
Asian Chicken Salad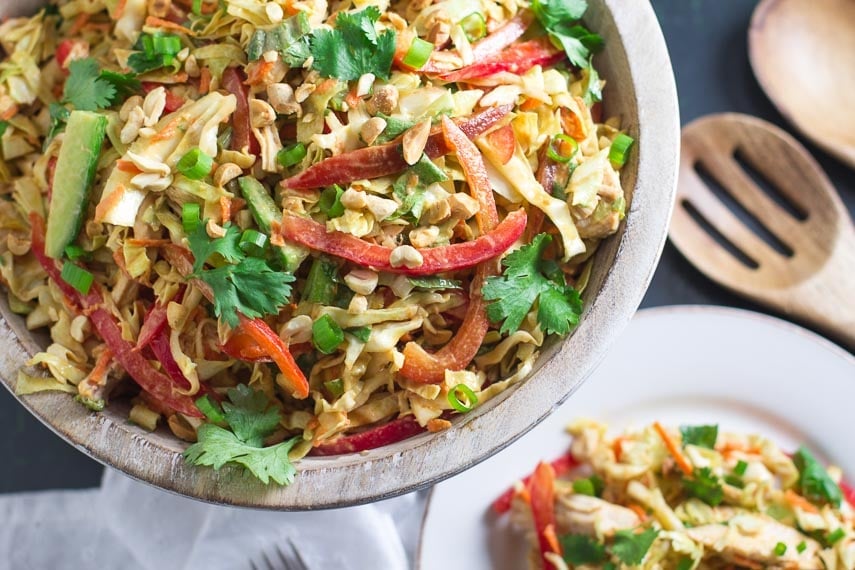 This peanut butter dressing, that contains fish sauce, soy sauce, rice vinegar, brown sugar, lime and sambal oelek is hugely flavorful. It pairs perfectly with shredded cooked chicken, cabbage, carrots, red bell pepper, scallions, and fresh cilantro. Get the recipe.
Quick Pasta with Chicken Broccoli & Goat Cheese
Toss cooked pasta with garlic-infused oil, cooked chicken, cooked broccoli (that you simultaneously cook in the pasta water), goat cheese, Parm and lots of black pepper. Dinner comes together in about the time it takes to cook the pasta. Get the recipe.
Chicken Salad with Cranberries & Pecans
Dried cranberries and toasted pecans add texture and flavor to this chicken salad made with mayo and a little Dijon. Get the recipe.
Buffalo Chicken Fries
Start with frozen French fries and cooked chicken. Make a quick "Buffalo" sauce with butter, hot sauce and Worcestershire sauce. Combine with some carrots and celery, melted jack cheese and a drizzle of blue cheese dressing, too. Munchies satisfied. Get the recipe.
Chicken Enchiladas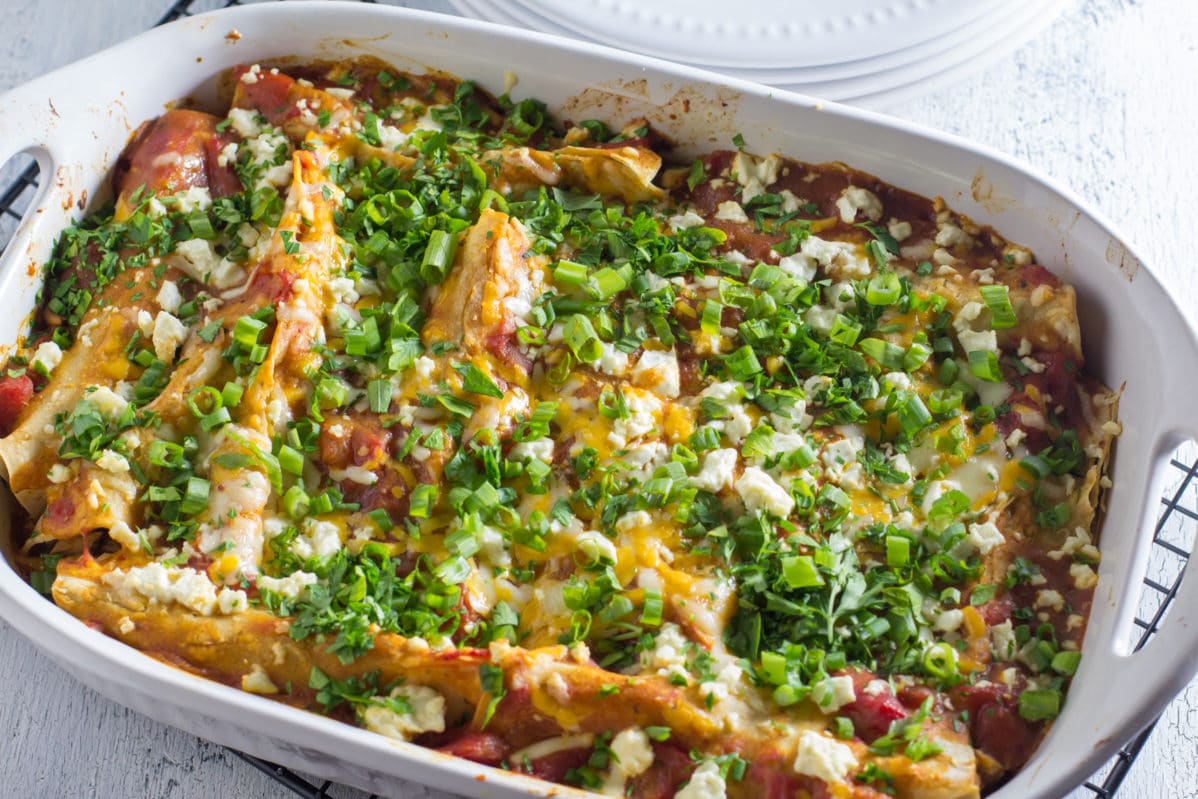 These enchiladas are a one of our most popular recipes. Corn tortillas, homemade Red Enchilada sauce, cooked chicken and cheeses in a casserole dish. Rolling the tortillas is the only part that takes any skill – and don't tell anyone we said this – but you can layer up the ingredients and the tortillas in a casserole dish without the finicky rolling. Still tastes great! Get the recipe.
Chicken Salad with Gruyere Green Beans, Tomatoes & Basil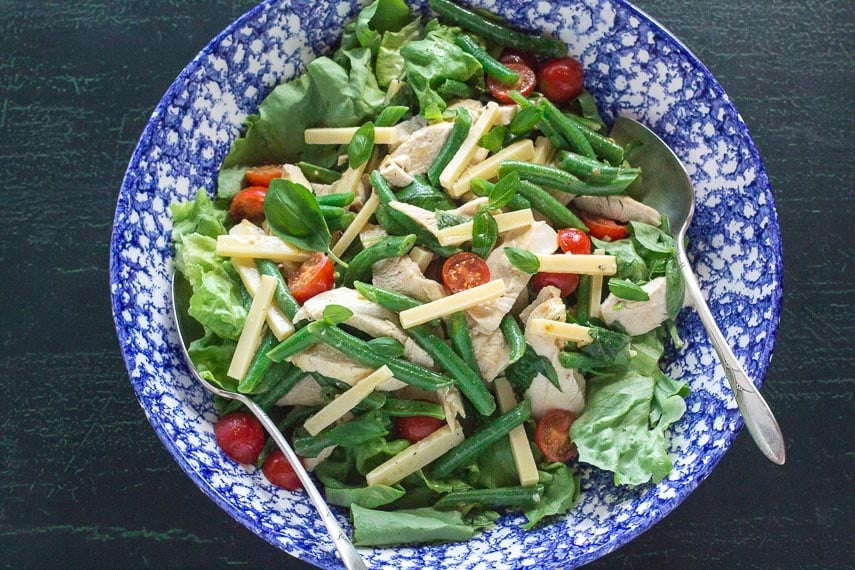 This is an unusual chicken salad, elegant enough for a light summer dinner main dish for guests. A very mustardy dressing coats cooked chicken, tender-crips cooked green beans, juicy tomatoes and small batons of Gruyere cheese, showered with fresh basil. A study in color, flavor and texture contrast – that comes together in a flash. Get the recipe.
Green Goddess Chicken Salad
Make our Green Goddess dressing first, with its combination of fresh herbs – parsley chives, tarragon and scallion greens – anchovy, buttermilk and garlic-infused oil Then toss with cooked chicken and extra scallion greens for a verdant take on classic chicken salad. Get the recipe.
Chopped Chicken Caesar Salad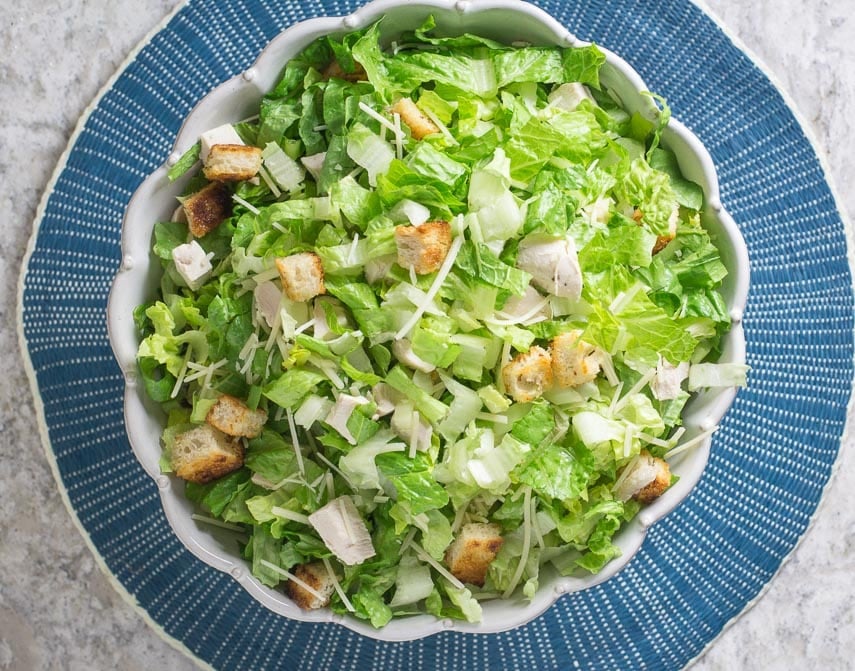 We love a Chicken Caesar, and this version is a chopped version, making it really easy for a portable lunch. Crisp Romaine lettuce, cooked chicken, crunchy, garlicky sourdough croutons and a creamy buttermilk-based dressing with Parmesan cheese, anchovy, Dijon mustard and Worcestershire sauce. Get the recipe.
Curried Chicken Salad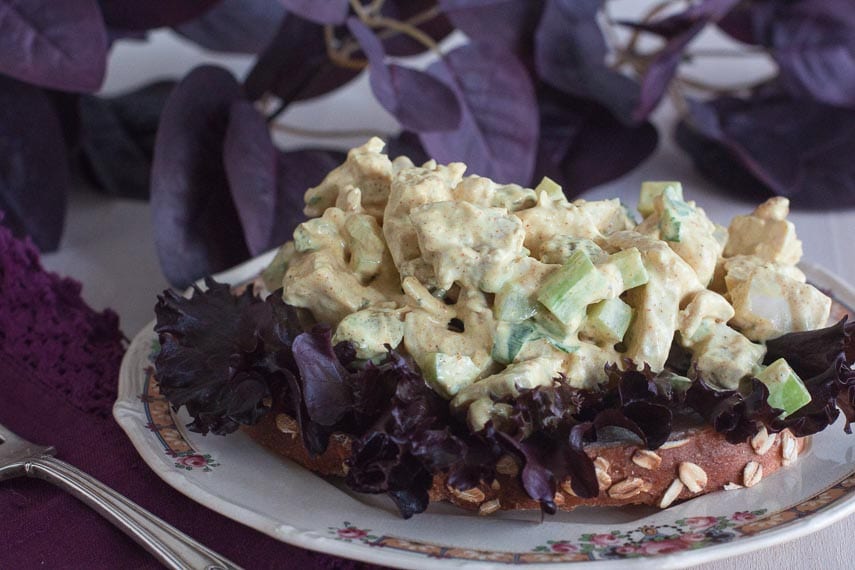 Mayonnaise and sour cream with curry powder combined with scallion greens and Granny Smith apple. Raisins add chewiness and sweetness. Great as a salad or for a sandwich. Get the recipe.
Chicken Cheese & Broccoli Twice Baked Stuffed Potatoes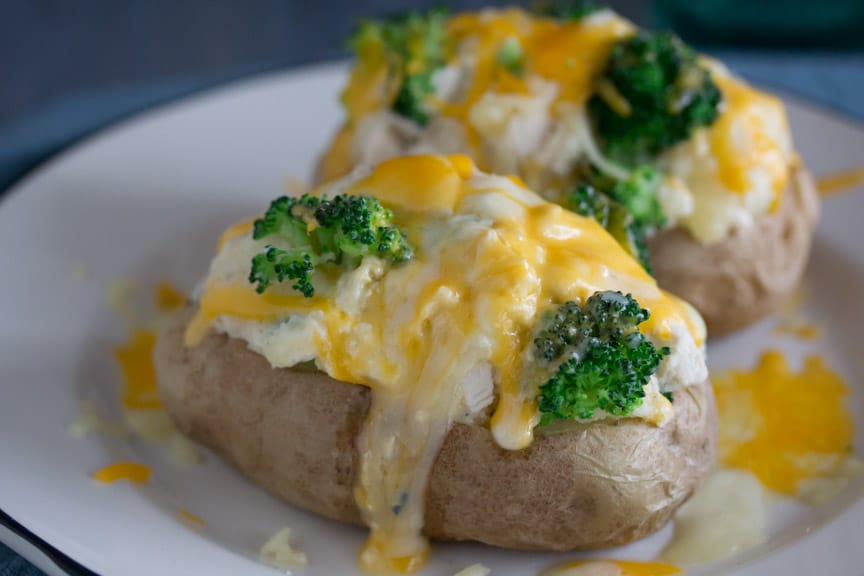 You can cook the potatoes in the microwave, and even heat the stuffed potatoes in the microwave. No need to heat up the oven. Baked (or microwaved) potatoes are stuffed with broccoli, chicken and cheese, sour cream and scallions. A great light dinner with a big salad alongside. Get the recipe.
Turkey Coconut Curry
We use cooked turkey for this dish, but cooked chicken works, too. Fresh ginger, turmeric, coriander and cumin, along with coconut milk create a fragrant sauce for cooked chicken, spinach and tomatoes. Serve with rice. Get the recipe.