Following a low FODMAP diet requires a whole new way of thinking about food, and it can be perplexing, especially at first. We are here to hold your hand and show you How To Make The Low FODMAP Diet Elimination Phase Easier To Follow.
Some Background On The Low FODMAP Diet
These recommendations are based on the assumption that you have a legitimate IBS diagnosis and that a medical doctor has recommended the low FODMAP diet. The diet is a medically directed diet and is not meant to be sampled after self-diagnosis. It is not for weight loss. It is not a "cure" for SIBO or IBD. It is also meant to be undertaken along with a Registered Dietitian (RD).
We do understand that you will be on your own most of the time and we want to make sure that you have the greatest likelihood of success in managing and eliminating your IBS symptoms, stay within your budget, as well as streamlining your time in the kitchen, meal planning and shopping And of course we want you to eat deliciously!
If you haven't read each article about the Three Phases of the Low FODMAP Diet we suggest you start there.
Phase 1: The Low FODMAP Diet Elimination Phase: Short & Sweet for Your Health!
Phase 2: Your Guide To The Low FODMAP Diet Challenge Phase
Phase 3: The Low FODMAP Diet Integration Phase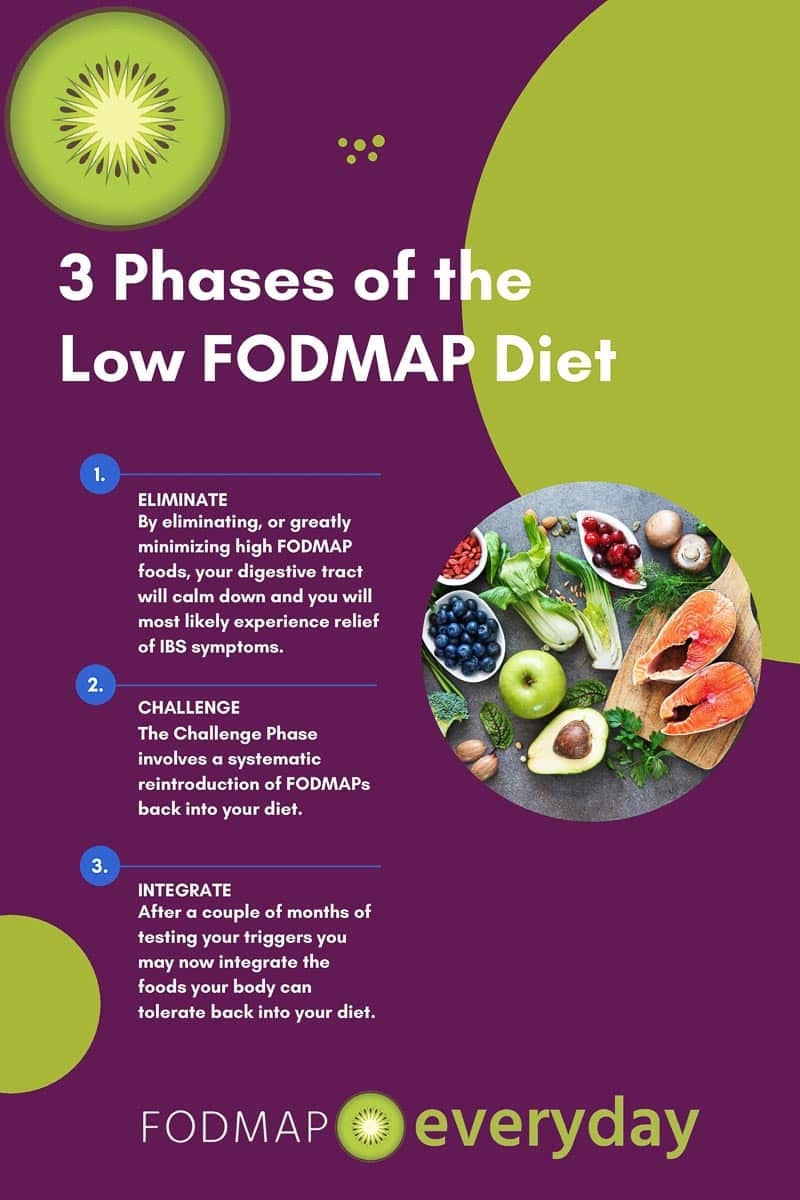 Tips For Managing The Elimination Phase of The Low FODMAP Diet
The low FODMAP diet is a 3-phase diet, and we have articles for you on each of the stages: Elimination, Challenge and Integration. The Elimination phase is the most restrictive yet is only meant to last an average of 4 weeks – but we know that month can look ominous, especially if you think of it as a state of restriction.
We like to focus on what we can eat, as opposed to what we cannot. Let's look at our best tips for making the low FODMAP diet easier to follow – especially during that more restrictive first phase.
Arm Yourself With Reliable Tools & Resources
You cannot follow the low FODMAP diet for IBS properly without reliable tools and resources. We have gathered a list of the must have tools and resources in our Resources section. Take a look.
At the very least you should download the Monash University Low FODMAP Diet app and the FODMAP Friendly Low FODMAP Diet app.
These are the two primary resources we recommend, and they have reliable, accurate information. Monash University and FODMAP Friendly are the only two entities doing original research and if you use any other apps (and even some websites), you might be starting out with incorrect information.
The easiest way to get confused and frustrated is to be dealing with conflicting information, or info that you are not sure of in terms of its reliability. Monash University and FODMAP Friendly are the gold standard.
---
Work with a Low FODMAP Diet Experienced Registered Dietitian
The most direct, easy way to success with the low FODMAP diet is to work with a Registered Dietitian (RD). We strongly suggest that you do and now more than ever, it is easier to find one as so many will meet with you remotely. Brush up on all the great reasons why this is a smart decision:
---
Focus On What You CAN Eat
Let's begin with your mindset.
Focus on what you can eat during the Elimination phase. Download both the Monash University Low FODMAP Diet App and the FODMAP Friendly Low FODMAP Diet App. Review the full list of ingredients and the serving sizes that are available for you to eat during Elimination (called the Food Guide on the Monash app and Food List on FODMAP Friendly app). The lists are HUGE!
Sure, you may not be able to eat an entire apple with lunch every day, but you can have cantaloupe, strawberries, kiwis or mandarin oranges instead. You might not be able to have cream cheese on a traditional bagel, but you can have brie on a slice of sourdough bread.
The low FODMAP diet, even during Elimination, does not restrict any entire food group. You can have fruits and vegetables. All your favorite proteins like steak, chicken and fish are no FODMAP foods and unrestricted in terms of how much you can eat (from a FODMAP perspective). Many whole grains are included in low FODMAP serving sizes, too, such as rice, quinoa and oats.
The diet is neither gluten-free nor dairy-free, which surprises many new to the diet. You can have a small amount of wheat bread (unless you are celiac), and even ice cream! Yes, there is a lot to discover, and we are here to help you learn about all the foods that you CAN eat.
We suggest you read these articles to get you started:
Understand that stress and anxiety can exacerbate IBS symptoms, so an important way to make this easier on yourself is by focusing on the positive and looking at all of the low FODMAP options, rather than the restrictions.
You may also want to read: 5 Easy Steps to Change Any Habit
---
Keep A Journal/ Food Diary
It is very helpful to keep track of what you are eating – and how you are feeling afterwards. It can be difficult to remember everything and keeping a food journal is recommended by most dietitians. It can be helpful for you, of course, but it is also helpful for your dietitian to review, so that they can make suggestions.
You can go old-school, and use an actual journal – there are many tailored specifically to IBS and will prompt you to note physical sensations, emotional state, pain level etc.
There are also apps, if you would prefer to use your smartphone. Bowelle (iPhone) and Cara Care (iPhone & Android) are both quite popular.
---
Consider A Low FODMAP Meal Planner
The fact is that if you cook at home, you will have more control over what goes in your food – all the better to monitor and control your FODMAP intake. A meal planner can help you organize, create shopping lists – in addition, ours will ensure you are following the low FODMAP diet guidelines by eating meals that have been developed by a trusted low FODMAP recipe developer.
FODMAP Everyday® has teamed up with the preeminent meal planning service Real Plans because they offer the most robust and easy-to-use meal planning system on the market. Whole30 chose them as their meal planning partner for the same reason. You can read more about our planner and all of the reasons we believe a planner can help you succeed on the low FODMAP diet without breaking the bank or your will to live: Here are our Top 10 Reasons You Need Our Low FODMAP Meal Planner.
In short: Our Real Plans FODMAP Everyday® planner is connected to our almost 1000 recipes from our website. You can start with a meal plan template that we have created for you, or customize your approach based on you and your family's needs.
A shopping list will be automatically generated, which can be customized. For instance, if you always have Garlic-Infused Olive Oil on hand you can tell the system never to add that to your shopping list. If you detest broccoli and olives, you can tell the Real Plans system never to show you recipes that contain them.
There is a drag and drop interface, and users tell us that this our Real Plans Meal Planner helps them save time and money. There is a 10-day money back guarantee so there is no risk in trying it out. If you have been struggling with planning out your meals for the week, this just might be the answer.
---
Supplement Home Cooked Meals With Delivered Prepared Meals
Even if you enjoy the process of creating meals from scratch, every now and then you might want a break. Eating out can be expensive, and it is not always easy to discern what is in restaurant food in terms of FODMAPs.
Especially during the short Elimination phase when you want to be sure all of your food intake remains within the low FODMAP diet guidelines we recommend using one of the low FODMAP prepared meal delivery services to supplement your weekly meal rotation.
And if you hate to cook or just feel too overwhelmed you can undertake the entire Elimination phase with the support of one of these services. Modify Health has a wonderful RD support service that is also available. So many folks tell us they cannot find an RD. Modify Health can connect you with a FODMAP savvy dietitian at a very competitive price, who can work with you in general and help you with meal choices.
And for our readers Modify Health has made this generous offer! Click the picture and see details below.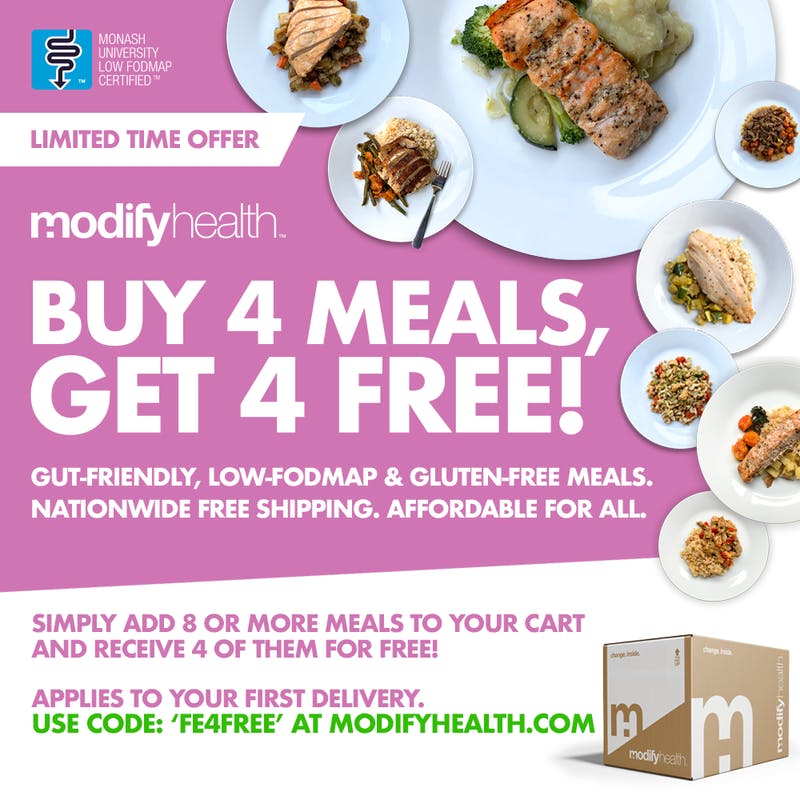 We are so lucky that there are truly excellent low FODMAP prepared meal services in the United States, Australia and the UK that will send heat-and-eat low FODMAP dishes right to your doorstep.
Make sure to note which are lab tested and low FODMAP certified; this gives you an added level of assurance. (PS: We have found meals on-line that claim they are low FODMAP, but they are not. We have not included those here).
Meal Services By Country
United States:
Modify Health – Certified by Monash University. BBQ Tofu with Carrots & Kale, Chipotle Chicken with Cabbage and Tomatillo, Lemon Parsley Salmon, Quinoa & Veggie Bowl with Chipotle, Blueberry Rice Porridge with Almonds and more.
Epicured – Minestrone Soup, Thai Green Curry, Vietnamese Shrimp Noodles, Lemon Rosemary Salmon, Buckwheat Pancakes with Strawberries, Sea Bass with Roasted Fingerling Potatoes and more.
Australia:
Lemon Leaf – Certified by Monash University. Gluten-free & lactose-free with vegan options. Enjoy options such as Vegetable & Ricotta Lasagna, Carrot Bliss Protein Balls and more. Nutritious and delicious, handcrafted with great quality, fresh and locally sourced ingredients.
We Feed You – Certified by Monash University. A unique range of low FODMAP-ready meals to support people with IBS and other special dietary needs. Try dishes such as Poached Chicken with Aromatic Rice & Bok Choy, Beef Cottage Pie Topped with Chat Potatoes & Mozzarella Cheese, Marinated Eggplant & Noodles with Zucchini and Edamame, Mexican Pulled Pork and more.
United Kingdom:
Field Doctor – Certified by Monash University. You can find dishes such as 100% Plant-Based Lasagna, Chicken Tagine, Beef Ragu Penne, Goan Fish Curry and more.
Germany – serving EU:
Froyda – Certified by Monash University. 100% Plant based foods, based in Germany, specializing in soups and curries. Gluten and lactose-free. Subscription service. Try the Korma Curry, Madras Curry, Palak Tofu and other choices.
Here in the United States we have taste tested both Modify Health and Epicured and have greatly enjoyed dishes from both. You can even find some of our most popular FODMAP Everyday® recipes at Modify Health! They come up in rotation, but be on the lookout for our Chicken Enchiladas, Stovetop Mac n' Cheese and our super popular Maple Balsamic Chicken with Roasted Blueberries.
---
Take Advantage Of Low FODMAP Prepared Foods, Condiments & Seasonings
Along the same lines as ordering low FODMAP full meals to be delivered, you can also take a more moderate approach to cooking from scratch and begin with low FODMAP lab tested and certified prepared foods to help streamline your home cooked meals.
We have created several ways for you to easily identify low FODMAP products:
Visit our online low FODMAP Shop – we have curated thousands of products and put them into an easy to navigate shop. Links to Amazon US, UK, AU or CA along with directly to brand shops.
Shop at Amazon US or UK? Visit our Low FODMAP Shop on Amazon. We curated and organizedhttps://foodisgood.com/ all of our favorite low FODMAP products for you.
Download our Low FODMAP Supermarket Shopping Lists – RD reviewed curated low FODMAP products by the thousands
Download a Low FODMAP Supermarket Scanner App
A few quick hints: We have found that many supermarket and big box store rotisserie chickens are low FODMAP. Use them to create any of our chicken salads, many of our soups and other dishes that begin with cook chicken.
Then, also familiarize yourself with all of the amazing condiments, simmer sauces and seasonings that you can buy that are low FODMAP to make your scratch cooking easier than ever.
Particularly popular are FODY marinades and sauces like their Korean BBQ, Sesame Ginger and their Taco Sauce. Smoke n' Sanity has all kinds of seasoning blends to jump-start your cooking, like Cajun Creole, Garlic Parmesan, Sweet Maple Dust and SnS Triple S (we love these last two together on roasted salmon).
---
Cook/Bake Repeat
There is nothing wrong with finding dishes you love – and making them again and again. Especially during the more stringent Elimination Phase, we encourage you to make it as easy for yourself as possible.
If this means roasting a chicken every Sunday night and using it for a few meals during the week (week after week), we say go for it. A batch of Breakfast Cookies every week can take care of breakfast and snacks. The last thing you want is to be hungry and find yourself without any low FODMAP food at hand.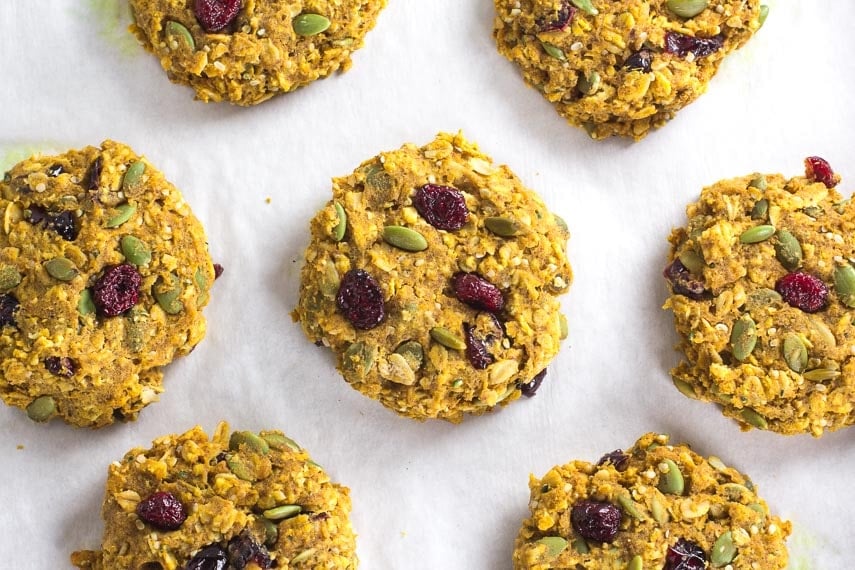 ---
Big Batch Cooking
Cooking large batches of food is often no more difficult than smaller amounts. Roast 2 chickens at a time. Make a double batch of soup, chili or cornbread. Make a big batch of potato salad, tuna or egg salad to draw upon during the week to make packing lunches more streamlined. Same goes for treats and snacks.
Make a few batches of our energy balls (like the Chocolate Peanut Butter and the Cranberry White Chocolate), freeze some and have them on hand to grab as needed.
Join Others On The Same Journey
It is much easier to be successful on the low FODMAP diet for IBS if you have a community of support and encouragement surrounding you. For some, family and friends can either be supportive – or not. Regardless of whether you have in-person support you can find like-minded people who are going through what you are – and who can share the triumphs and challenges with you.
We have created a couple of communities on Facebook:
Low FODMAP For Foodies is for the true food fanatic who loves cooking from scratch and is comfortable in the kitchen. We get into the nitty gritty of sourdough starter, which honeys might have lower fructose content, how to create Thanksgiving meals for non-FODMAP members, and everything food related. Someone recently posted a passion fruit pie that we all drooled over! We run a tight ship over there and keep a strict eye on the posts, ensuring that they are all moderated and present evidence-based FODMAP information.
Uncensored Low FODMAP Recipes is where you can get really creative and it has less stringent rules. In this group we allow linking to recipes that are not necessarily low FODMAP, but that you might be working with. This group is best for those very familiar with the diet, comfortable in the kitchen and in their Challenge Phase or beyond.
We also offer free webinars throughout the year. Sign up for our newsletter to stay in the loop.
---
The Takeaway
The low FODMAP diet Elimination Phase can be daunting, especially at first, but there are tools and resources to make it easier.