From Our House to Yours – Low FODMAP Hanukkah Recipes
We hope that this Hanukkah brings blessings to you, your family and friends. We've gathered some offerings for your table that we hope will help bring some joy and happiness as you gather and reflect.
---
Our gluten free Rolled Sugar Cookie dough forms the basis for these celebratory Hanukkah Sugar Cookies. The winter months bring several opportunities to celebrate. Use any shaped cookie cutter you like, but we love these menorahs and dreidels.
We bring you our Jelly Doughnuts (Sufganiyot) for Hanukkah – or anytime you want a gluten-free jelly-doughnut! This is an ALL NEW RECIPE that we have re-worked to be better than ever. And we have a second version, too. See below. This version is a bit cake-ier. If you want yeasty sponginess, keep reading.
Why 2 versions of jelly doughnuts? Because we love them! This version is extra springy and spongy. Also, these donuts are filled with jelly before frying and the former ones are filled after. You have low FODMAP choices!
Latkes are associated with the celebration of Hanukkah (or Chanukah, depending on your spelling approach) as they are deep pan-fried in oil and it was a one-day amount of oil that ended up being able to light the Menorah for 8 days – the miracle that the Jewish faith celebrates. These are the crispiest potato pancakes you will ever make!
These Vegetable Latkes, as you can see in the colorful images, are a little different. Each one is a 50/50 blend of starchy russet potatoes and either (left to right in image) zucchini, carrots or beets. You can brighten up your table with these one evening- adding a little color to your plate and palate.
The sweet and sour approach in this brisket is found in many Jewish recipes – perhaps because brisket became associated with Rosh Hashanah and dried fruit and/or sweet wine were added as a way to celebrate a "sweet" New Year. My family would make it during Passover and Hanukkah as well and the "sweet" flavors sometimes carried over.
If you are a slow cooker fan, then this recipe probably won't come as a surprise. After all, pot roast is a slow cooker classic. But perhaps you have been wondering how to make a low FODMAP version? This is it! Rich with tomato paste and red wine, tons of flavor from leek and scallion greens sautéed in Shallot Infused Oil, bay leaf, thyme and sweet root vegetables. It comes together very easily and the complex flavors work their magic over time, right in the slow cooker. We also have an Instant Pot Beef Stew!
I don't mean to get preachy, but y'all have to have a simple whole roast chicken in your arsenal. I make one every week – and this recipe for Orange Rosemary Roast Chicken is easy to make and complies with all of Monash University's low FODMAP science. This recipe is Elimination Phase safe! This means you can rest easy and KNOW that it is a perfect main dish item for us to have in our regular rotation.
One-Pan Chicken Dinner to Schmaltz Nirvana
We want to sing the praises of schmaltz. Don't know what that is? It is chicken fat, plain and simple and it is like liquid gold. Let me entice you with a description of this Spatchcocked Chicken with Sourdough Croutons & Schmaltz.
Need a one-pan meal that you can prep in less time than it takes for the oven to preheat? This One-Pan Chicken, Carrots & Potatoes with Maple Mustard Sauce is a favorite of ours. "They" say that you should never take a picture if raw chicken as it would be unappetizing. Look below. We disagree!
The blend of spices – saffron, turmeric, cumin, ginger and cinnamon – might seem unusual. Combined they are indeed heady and fragrant but they are also perfectly balanced by the acidity from the Preserved Lemons as well as lemon juice. This is one dish that I do not salt at all, which is highly unusual. The salt from the Preserved Lemons and the two kinds of olives is plenty.
---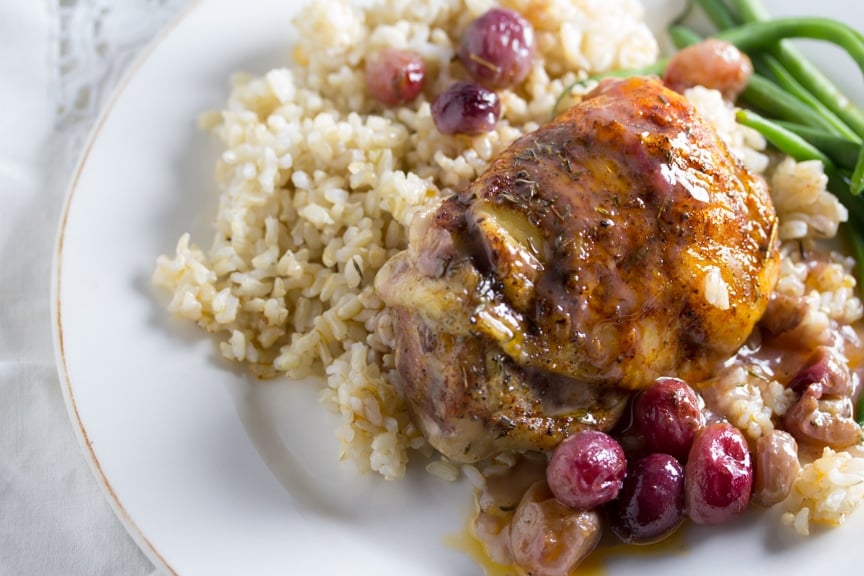 This recipe for Chicken with Grapes, Thyme and Smoked Paprika takes advantage of the "new" trend of roasting grapes and using them in savory ways. The reason I put the quotes around "new" is because while roasted grapes have only recently hit social media, they have been cooked this way for decades such as in cailles aux raisins, the very traditional French preparation of quail with grapes.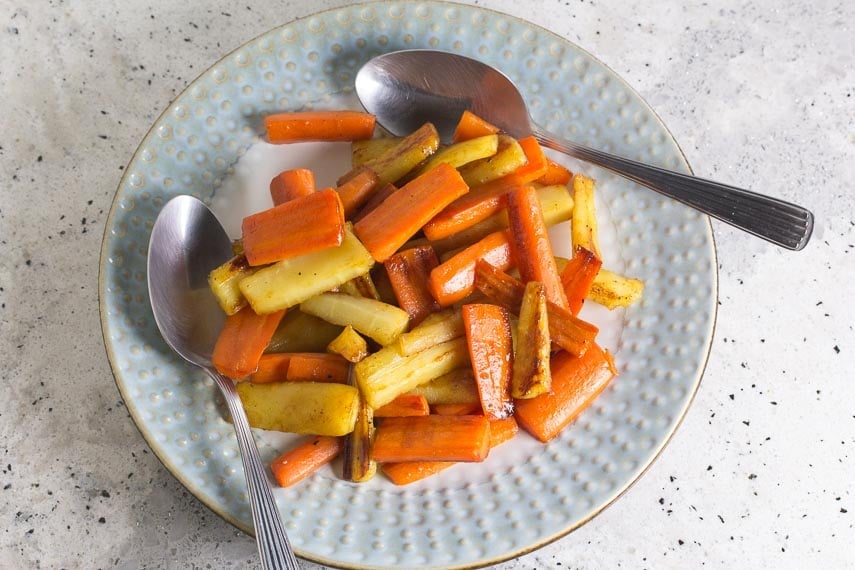 Did you know that it takes 40 quarts of maple sap to make just 1 quart of maple syrup? This is one reason why it is pricey, but there is nothing like it. Here we use a tiny bit to add a gentle sweetness to root vegetables in our Maple Glazed Carrots & Parsnips. This is a one-pot dish made in a skillet in about 10 minutes. A perfect accompaniment to roast chicken or meatloaf.
We love a good kale salad and our Kale Quinoa Salad with Blueberries, Green Beans, Feta & Pecans has been on the site from our inception. It is so good, in fact, that I served it at my all low FODMAP wedding! (Not one guest knew; the food was fabulous). This Low FODMAP Kale, Carrot & Apple Salad is streamlined (no grain here) and combines kale and carrots with apples. Yes, apples!
This green bean dish starts with super-fresh slender green beans, which are low FODMAP in servings of 15 beans or 75 g. These are simply blanched in water until very crisp-tender and drained.Then comes the "onion" part. A good amount of chopped scallion greens and leek greens are sautéed in Fody Shallot-Infused Olive Oil until soft, fragrant and luscious, then the par-cooked beans are added to the pan and given a quick sauté. A little salt and pepper and that's it! You're done and your Low FODMAP Triple "Onion" Green Beans are easy enough for a weeknight (this is a 10 minute dish), yet special enough for a holiday side dish.
In Yiddish the word tsimmes has two broad meanings. It can reference a stew made of vegetables, often with fruit, almost always with some sort of dried fruit and sometimes meat as well. It also means "a mess" or "a fuss", as in "why are you making such a tsimmes?"
Our gluten-free noodle kugel is comfort food itself.
Finally! A Low FODMAP Gluten-Free Rugelach
There are three kinds of recipes that a recipe developer encounters: ones that work seamlessly almost immediately, ones that need a few re-dos and then ones that show you again and again that they are just not going to work. This Low FODMAP Gluten-Free Rugelach was a whole new beast. Well, it was really falling within the last category but there was no way I was going to give up and not bring the FODMAP world a rugelach recipe! It was going to have to be gluten-free and lactose-free; this was uncharted rugelach territory.
Low FODMAP Coconut Macaroons – Easier Than Ever!
We have several macaroons recipes, because frankly we can't get enough of them! These Low FODMAP Simple Coconut Macaroons are the easiest of them all and require just a few ingredients.
Easy to Make Low FODMAP Gluten Free Mandelbrot!
I grew up with Mandelbrot, so I knew that I wanted to re-create one for my current lifestyle. I give you Low FODMAP Mandelbrot! Tender, yet crisp. Sweet, but not too sweet. And perfect for dunking in your favorite hot beverage (black tea for me).
Looking for Hanukkah Gift Ideas? We put our favorites here!