There is nothing like homemade soup or a hearty stew, especially when it is cold outside! (For you hot weather folks, we do have a few cold soups). We've got 23 recipes for you, from Instant Pot quickies to long simmered renditions. Comfort food in a bowl.
Instant Pot Chicken Noodle Soup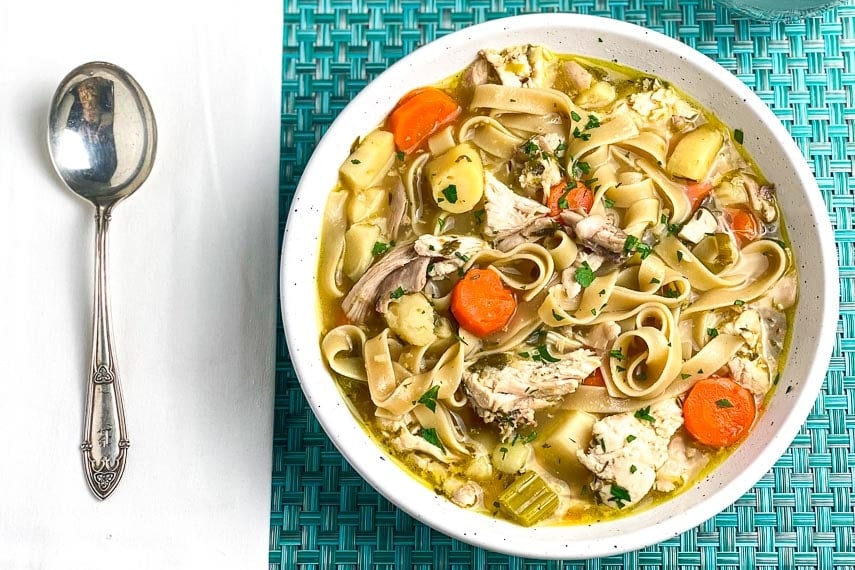 Get out your Instant Pot and homestyle chicken noodle soup can be yours quickly, with long-simmered flavor. Get the recipe.
Tomato Soup with Grilled Cheese Croutons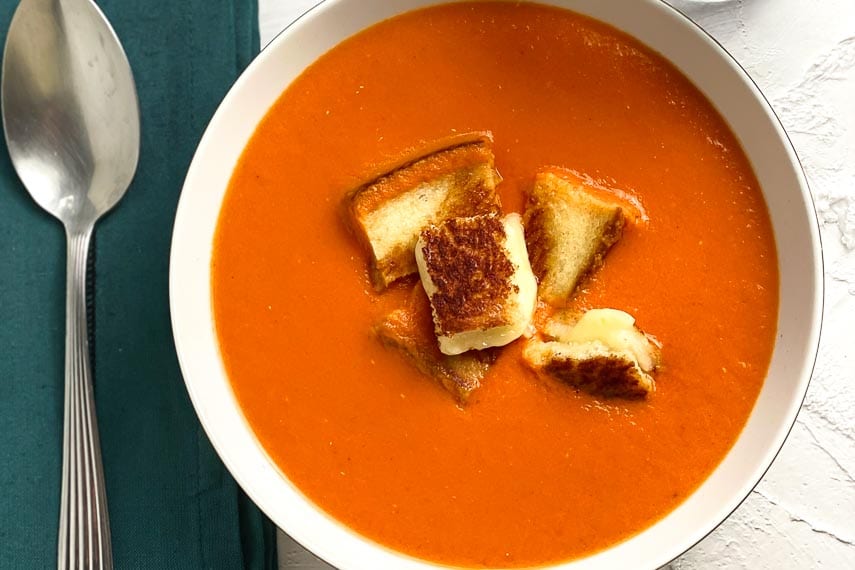 Sure, you could have a grilled cheese sandwich on the side, but there is something fun and special when you have grilled cheese croutons bobbing around in your tomato soup. Get the recipe.
Vegan Root Vegetable Soup
Potatoes, parsnips, and carrots puréed make a creamy soup, with no added dairy. It all starts with sautéing scallion greens in garlic-oil. And only 5 minutes of prep and about 35 minutes of simmering. Get the recipe.
Soba Miso Soup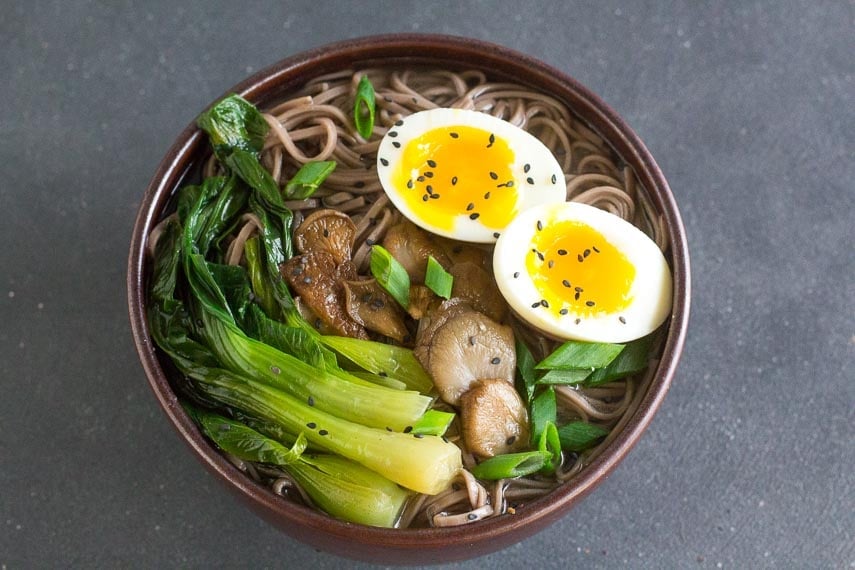 This soup has it all: slurpy soba noodles, vegetable broth, tender crisp baby bok choy, meaty oyster mushrooms and jammy eggs. Miso adds umami – rich, savory flavor. Get the recipe.
Salmon Chowder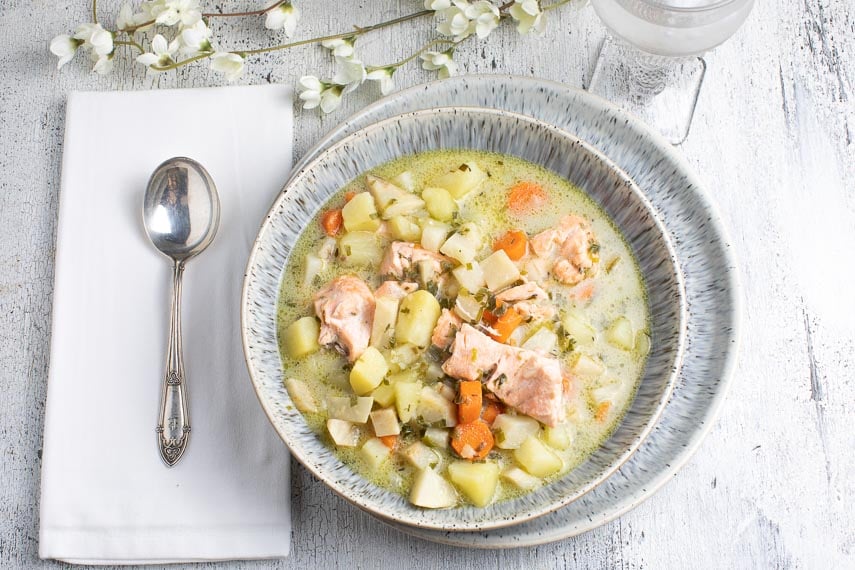 Our Salmon Chowder combines heart-healthy salmon with leek and scallion greens, carrots, stock, coconut milk, bay leaf, thyme, and Yukon Gold potatoes. And, this hearty, comforting chowder can be on the table in about 30 minutes. Get the recipe.
Instant Pot Beef Stew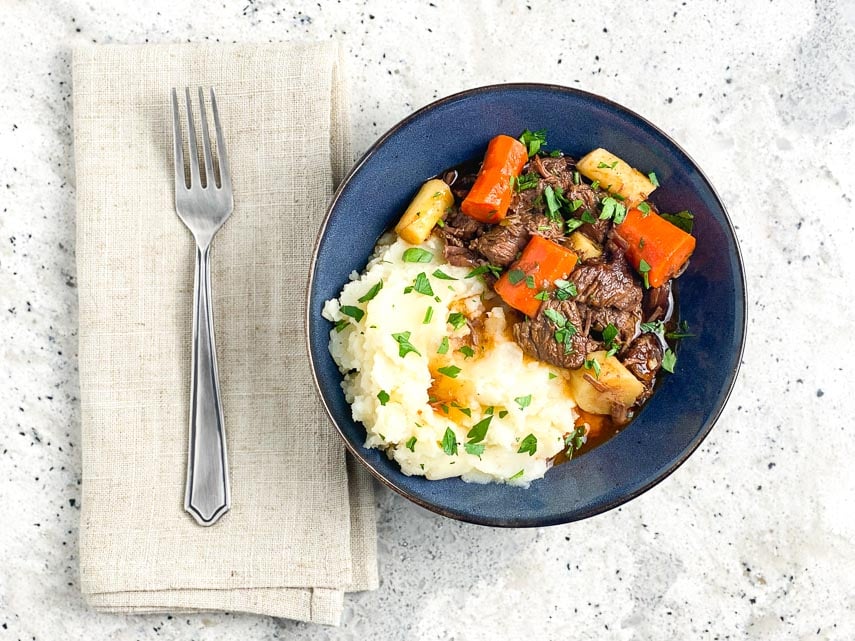 Beef stew that tastes like Grandma's but made in the Instant Pot in about 2 hours – and the prep time is mere minutes! Tender hunks of beef, carrots and parsnips in a tomato and red wine sauce. Get the recipe.
Fish Chowder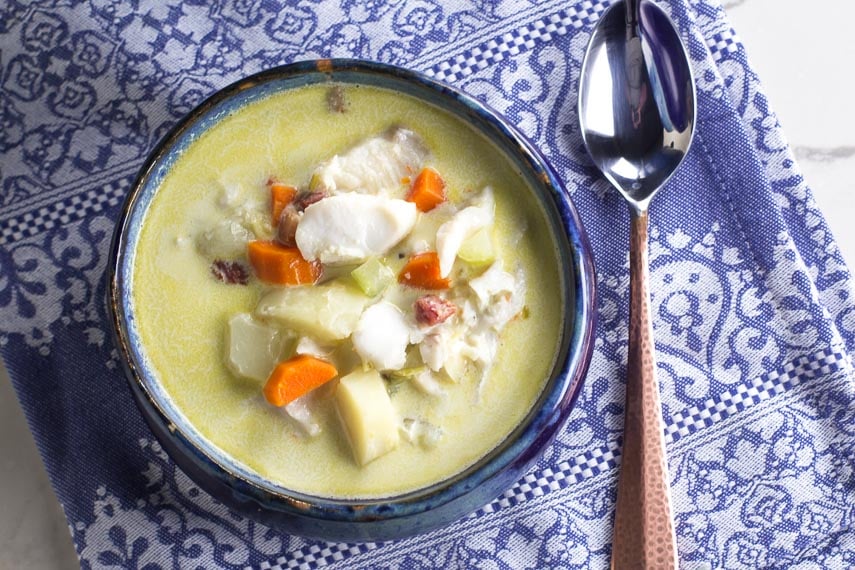 We were so pleasantly surprised when we learned that a chowder didn't have to be an all-day affair. This begins with slab bacon and leeks. Carrots, parsnips, and potatoes join white fish, such as cod or haddock. The stock is bottled clam juice! A trade secret that offers plenty of deep-sea flavor in an instant. Get the recipe.
Tofu Kimchi Stew
Get ready for a plant-based, spicy tofu stew – with loads of kimchi! Garlic-oil, ginger, hot pepper flakes, scallions and firm tofu create a 30-minute stew you will be craving again and again. Get the recipe.
Clam Chowder
In 40-minutes you can have real New England style clam chowder on the table! Bacon, leeks, scallions, potatoes, tender clams, thyme, and a little bit of cream (but not too much). Finish off with a good amount of black pepper. Get the recipe.
Vegetable, Pasta & Bean Soup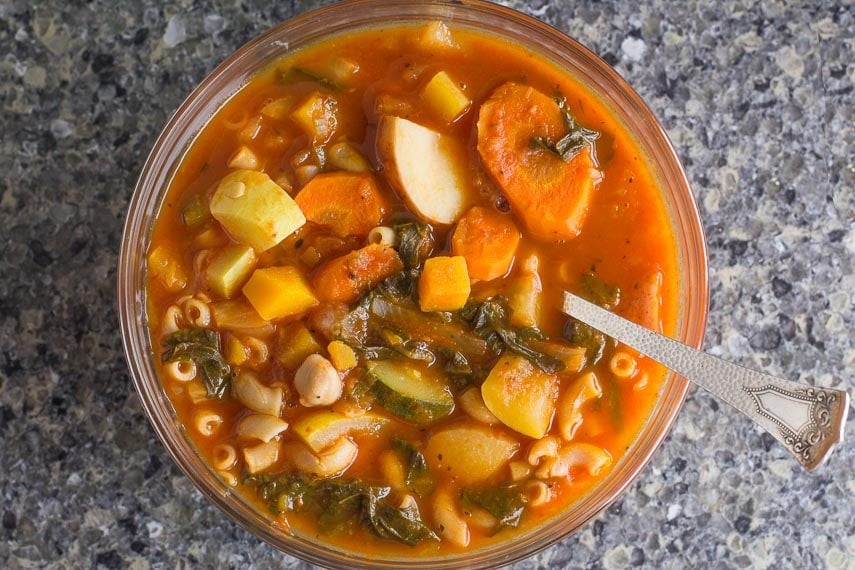 Want a hearty plant-based soup that has tons of fiber and protein? Look no further than this soup with many kinds of vegetables, vegetable broth, pasta, and beans. We have a recipe for the broth, but you can use purchased as well. Get the recipe.
Shrimp & Corn Chowder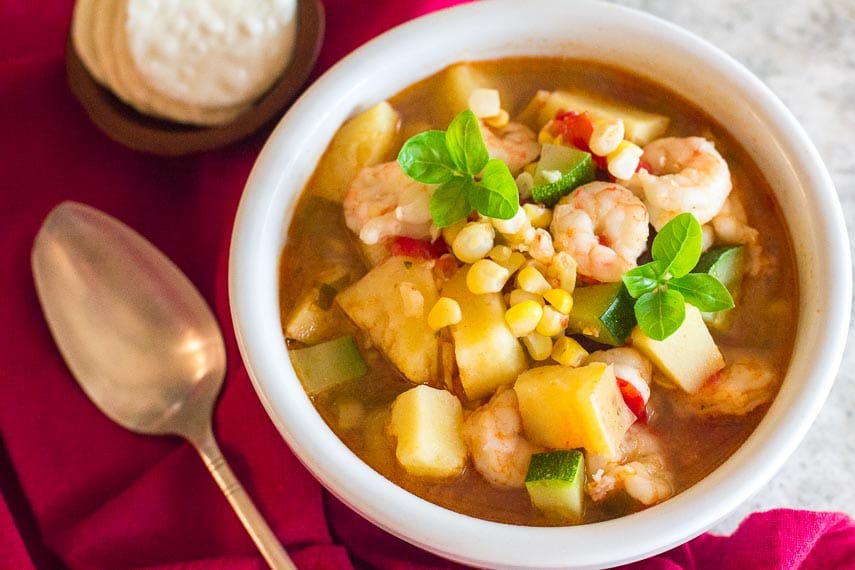 With a bag of frozen shrimp in the freezer, a quick dinner is at hand. This chowder, with corn and potatoes, comes together quickly and is both satisfying, yet light. Get the recipe.
Gazpacho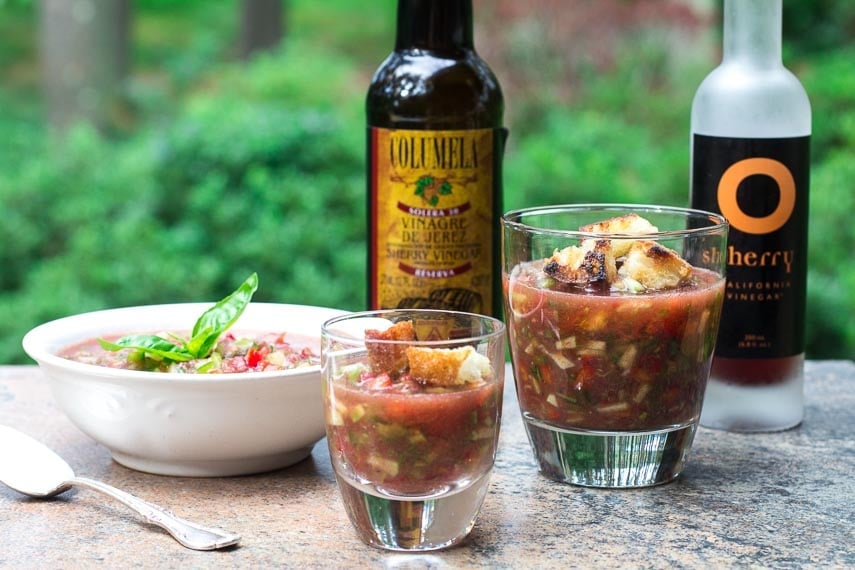 A cold soup for hot, hot, hot weather days. When you need to eat, but it is so hot out you can't figure out what would fit the bill, gazpacho is perfect. It is also lovely as a starter for a warm-weather party. This is a classic tomato and cucumber-based gazpacho with plenty of garlicky flavor. Get the recipe.
Spicy Smoky Pumpkin Soup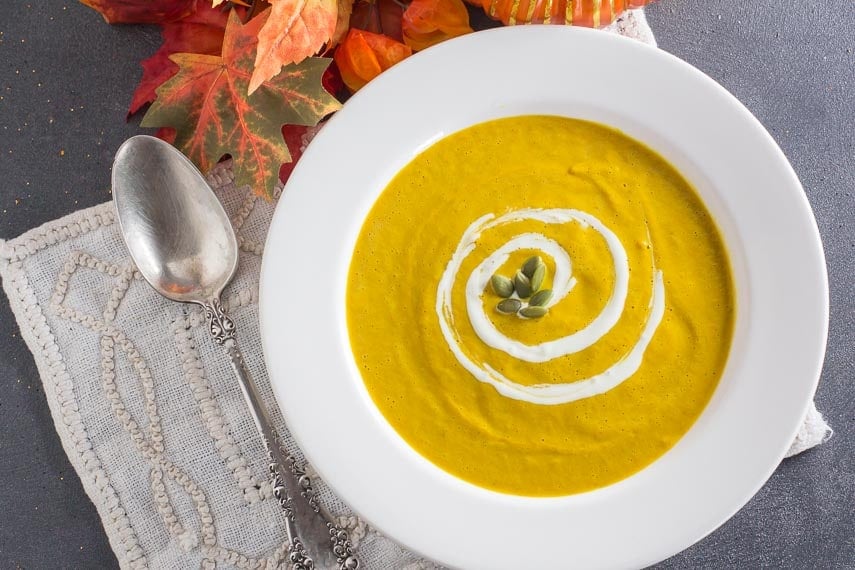 This recipe uses pure canned pumpkin, with your choice if vegetable broth or chicken stock as the base. Begin with scallion greens sautéed in garlic-infused oil; smoked paprika lends smokiness. A little half-and-half provides extra creaminess. Get the recipe.
Irish Lamb Stew
Cubed lamb, potatoes, carrots and barley, leeks and scallions come together in this hearty stew. Very easy to make, with about 15 minutes of prep. Get the recipe.
Cold Soba Soup with Watercress & Radishes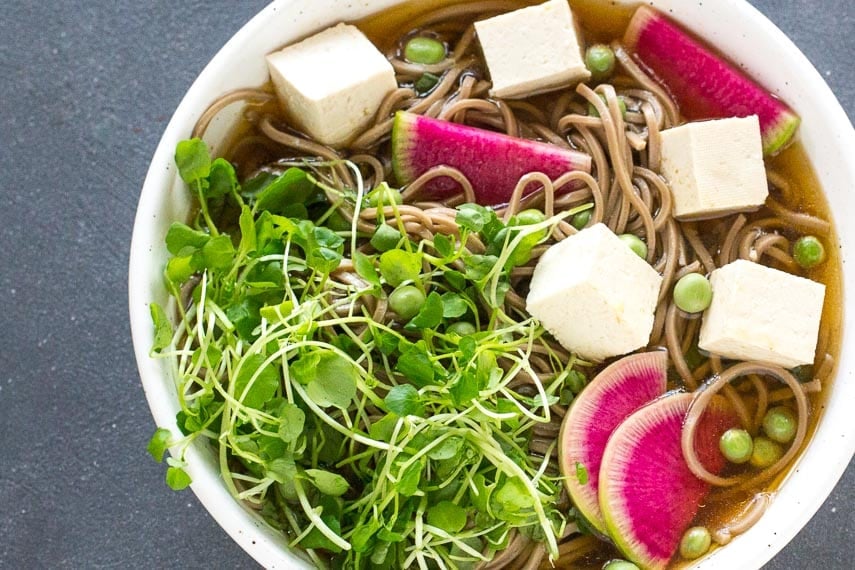 If you have never had a cold soup, this could convert you. Soba loads of peppery watercress and crunchy radishes in a vegetable broth base. Soy sauce, ginger, toasted sesame oil and rice vinegar add flavor. Pass the Sriracha. Get the recipe.
Bouillabaisse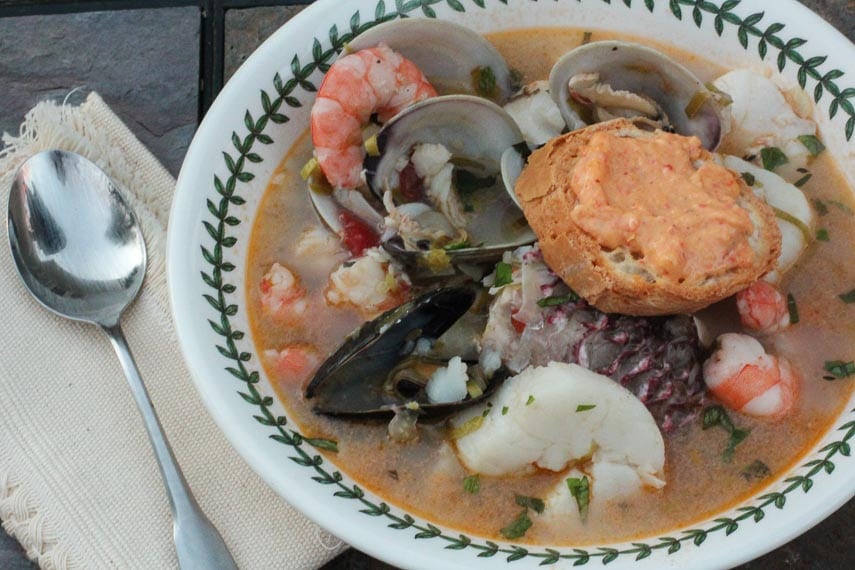 This classic French dish is for special occasions. You will spend a pretty penny on the ingredients because this Bouillabaisse features shrimp, clams (or mussels), fish and scallops. Garlic oil, fennel, leeks, tomatoes, thyme, and basil all come together in a dish to remember. Toasted baguette with Roasted Red Pepper Aioli is a perfect accompaniment. Get the recipe.
Cucumber Gazpacho
Cucumbers, almonds, almond milk, spinach, and mint, blended smooth makes a delicious – and beautiful green – cold soup. About 10 minutes of prep time, with an overnight sit in the fridge, so plan ahead. Get the recipe.
Pho Bo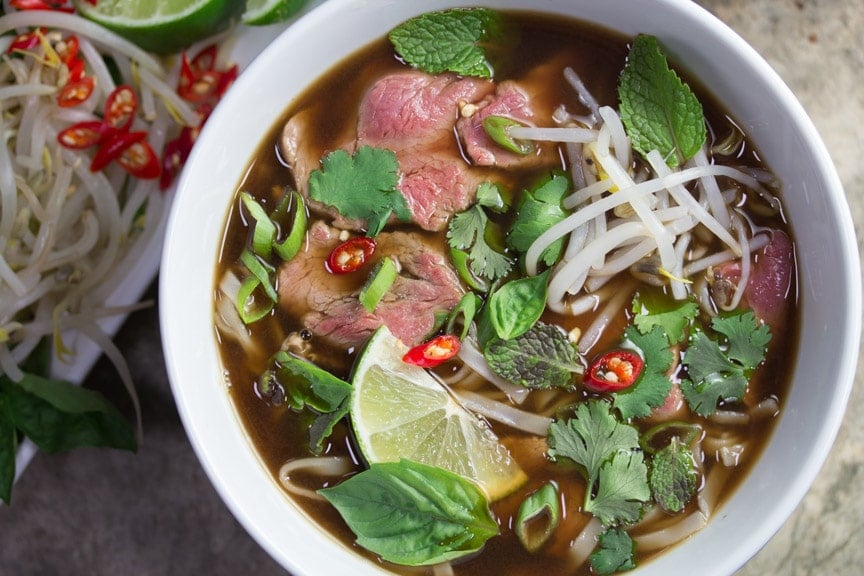 Best made with homemade beef stock (we have that recipe, too, of course), this beloved soup combines tender slices of beef with bean sprouts, hot peppers, mint, Thai basil, rice noodles and more savory Asian ingredients, such as fish sauce and star anise. Get the recipe.
Garden Vegetable Soup
We often make a double batch and freeze half. This soup is so versatile. You can season simply with salt and pepper, or add miso, soy sauce or even stir in some pesto upon serving. With bread alongside, you have a fantastic homestyle meal. Get the recipe.
Onion Soup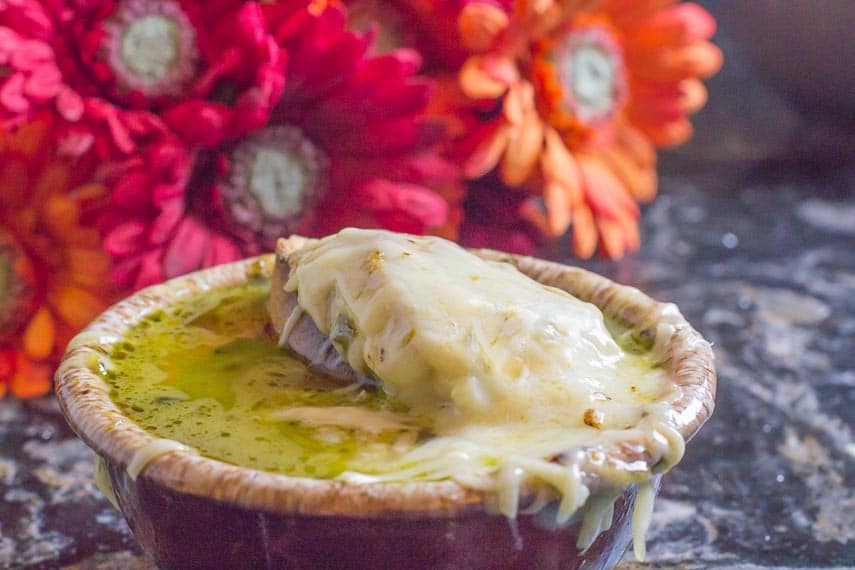 You can have Onion Soup without digestive upset! All those onions can be a GI trigger for many. Our version focuses on leek and scallion greens, which have been clinically proven to provide all the onion taste, without the tummy upset. Don't leave out the French bread crouton and melted Gruyere on top! Get the recipe.
Sick Day Soup aka Japanese Penicillin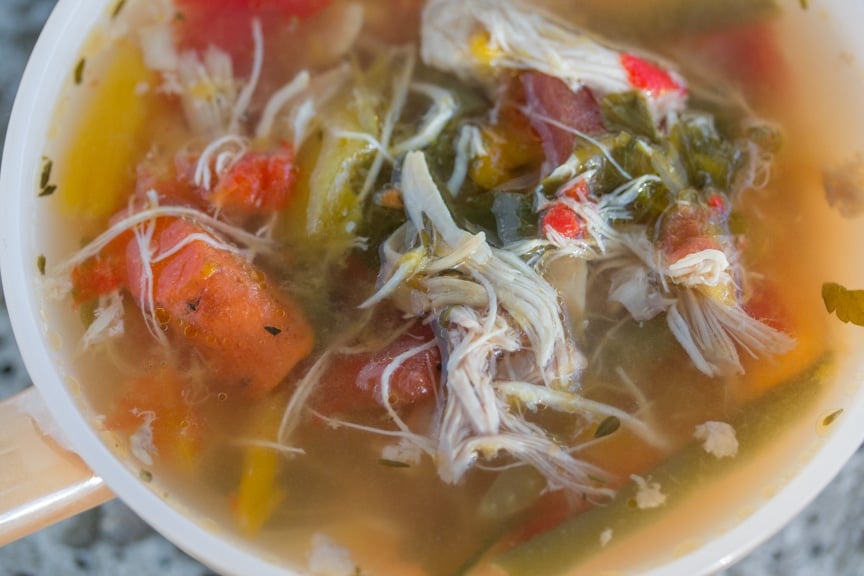 On days when you are under the weather (what kind of euphemism is that, anyway) a bowl of chicken soup has long been the "cure". Have you heard of "Jewish penicillin"? It's chicken soup! In Japan miso soup is the restorative. We combined the two! Best of all worlds. Get the recipe.
Turkey Quinoa Meatball Soup
Little protein-packed quinoa and ground turkey meatballs bobbing in turkey (or chicken) stock, with added greens. A meal in itself. Get the recipe.
Matzo Ball Soup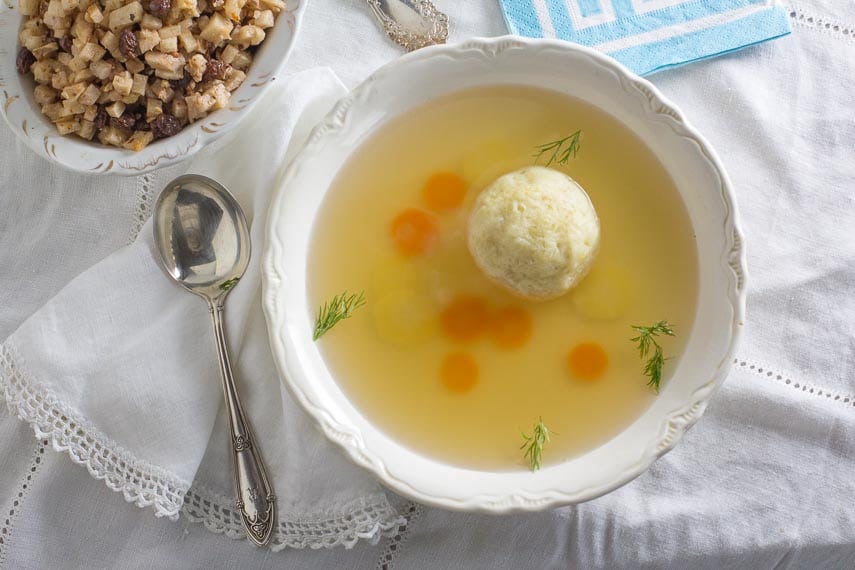 If you have never had matzo ball soup, you are in for a treat. Our families often made it once a year at Passover, but it can be enjoyed any time of year. Clear, savory chicken stock with a hearty matzo ball front and center. Get the recipe.