These are our community's favorite Top 100 Low FODMAP Recipes. Are you struggling with irritable bowel syndrome (IBS)? Are you following the low FODMAP diet and having a hard time finding delicious recipes that even the whole family can enjoy? You are in the right place! At FODMAP Everyday® we specialize in teaching you how to THRIVE on the low FODMAP diet! Get ready to eat well, without the IBS triggers!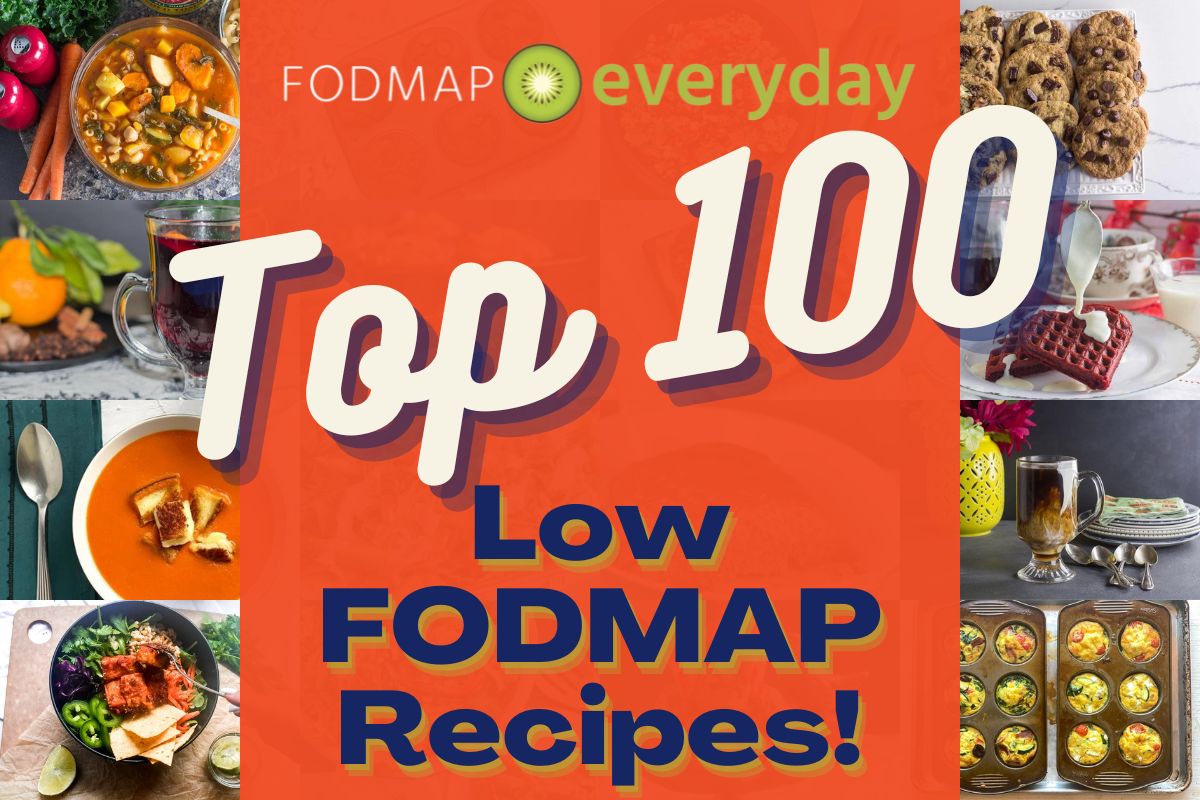 We have divided them up for you in easy-to-use categories: Low FODMAP Breakfast Recipes, Low FODMAP Brunch Recipes, Low FODMAP Lunch Recipes, Low FODMAP Soup Recipes, Low FODMAP Dinner Recipes, Low FODMAP Snack Recipes, Low FODMAP Dessert Recipes , Low FODMAP Beverage Recipes, a section on Plant-Based, vegetarian and vegan and a special section on all kinds of low FODMAP chocolate recipes.
Let's start at the beginning of the day…
Low FODMAP Breakfast Recipes
Start your day out right with a low FODMAP breakfast. Set the tone of the day eating a breakfast that is even appropriate for the Elimination phase.
The best? Yes, they are! Low FODMAP, gluten-free and chock-full of a low FODMAP amount of blueberries, per serving.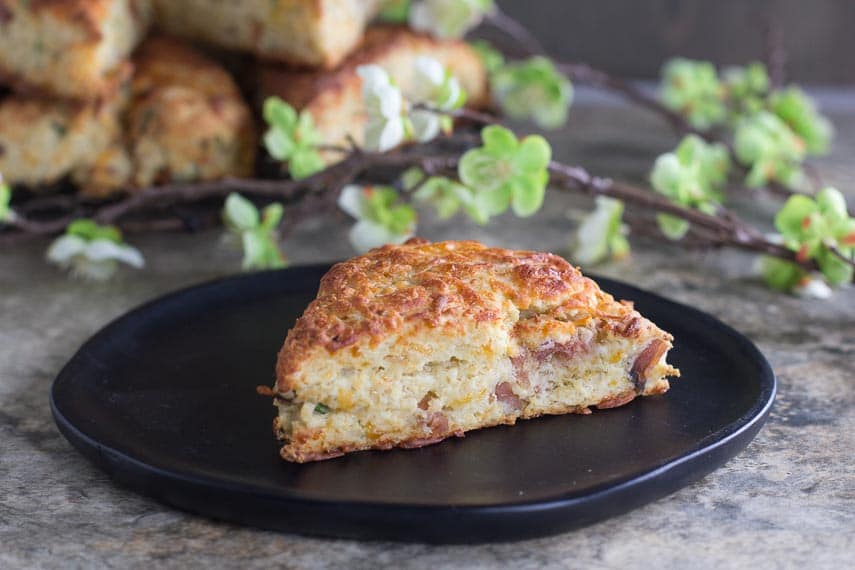 We have several ham recipes on the site and what they have in common is that there is always leftover ham! These scones are a great way to use it up – or ham bought for the purpose – and these scones can be enjoyed for breakfast, brunch or a snack.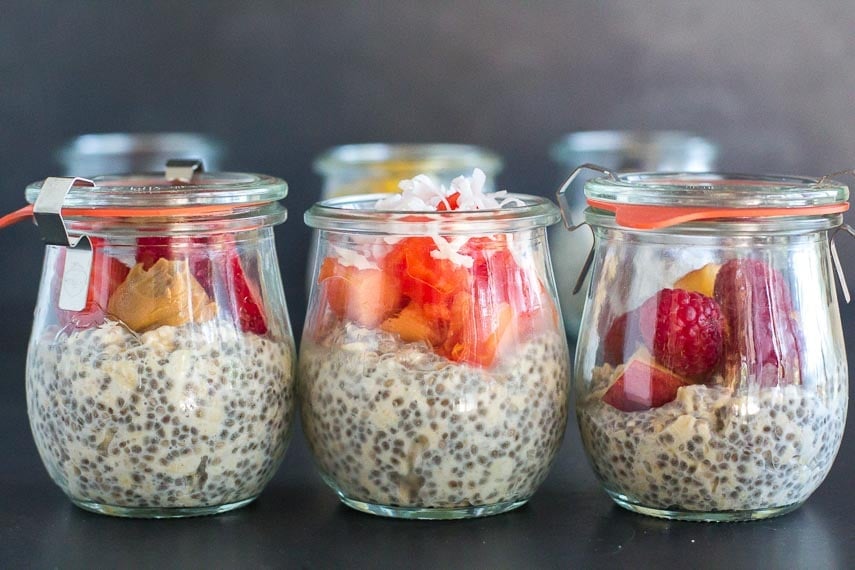 Our recipe for Low FODMAP Overnight Oats & Chia gives you many options for personalization, from adding fruit to nuts to dried fruit and more.
We have recipes for large frittatas, but this approach lets you portion control and individualize your mini frittatas made in muffin tins. They freeze well, too.
Calling all pumpkin spice fans, now in an easy-to-make crunchy granola! Make a large batch, because you will want to eat this granola out of hand as a snack, too.
Bacon, lettuce and tomato reimagined in an omelet! Blue cheese, too. Easy enough for a weekday, but fancy enough for guests. You could even make this for a light dinner.
Cookies for breakfast? YUP! We have several recipes for you – and they happen to be vegan as well. This one combined low FODMAP amounts of apples with cinnamon.
Low FODMAP Brunch Recipes
You could of course use any of our low FODMAP breakfast recipes for brunch – and vice versa – but we tend to think of brunch as a bit heartier. Check out these recipes – all low FODMAP, of course,
There are low FODMAP servings of ripe bananas, and did you know that buckwheat is gluten-free and low FODMAP? They work together beautifully in our low FODMAP pancake recipe.
Need pancakes for a crowd? Our Low FODMAP sheet pan pancakes are the way to go! Serve with pure maple syrup, of course.
Eggnog just screams holiday to us and this recipe for do-ahead French Toast is fabulous for winter holiday get-togethers.
Looking for Red Velvet cake? We've got that! But how about red velvet waffles, low FODMAP and gluten-free, for breakfast or brunch?
When I couldn't decide wither to make a pumpkin coffee cake or a gingerbread one, I came up with this combo! Crunchy brown sugar streusel crowns it all.
Potatoes contain no FODMAPs, and neither does oil. Most home fries are made with garlic and/or onions; our version is low FODMAP and will satisfy your home fries cravings.
Before you think making sausage sounds way too hard, check out this recipe! These are patty-style sausages, and they are as easy to make as a hamburger patty.
Find yourself a low FODMAP bagel and whip up a batch of these tender scrambled eggs with salty, smoked salmon, bits of cream cheese, chives and fresh dill.
Low FODMAP Lunch Recipes
What are you going to pack for lunch to take to work? What travels well in an insulated bag? Be prepared mid-day with our low FODMAP lunches, so that you will stick to your low FODMAP regime.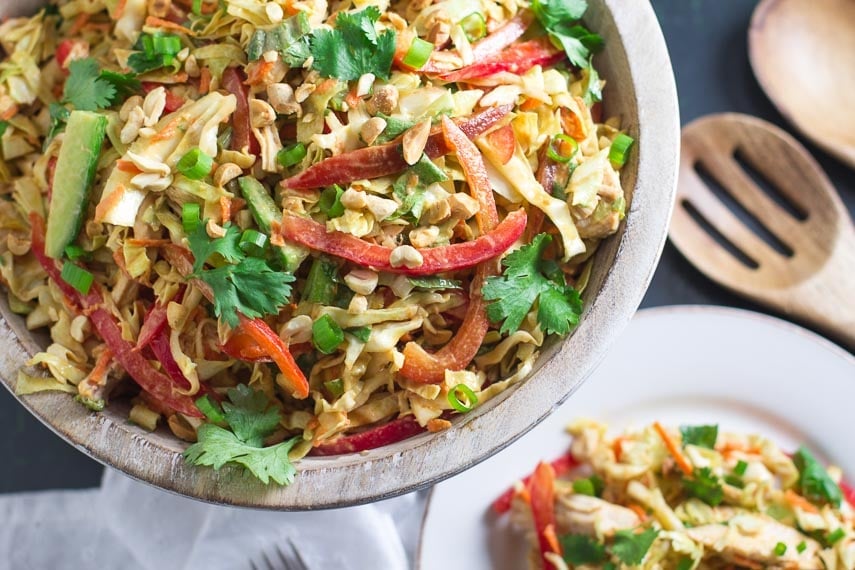 This salad combines cooked chicken with crunchy cabbage and bell peppers with smooth, tangy peanut sauce. A community favorite.
This pasta salad features Greek flavors and ingredients like tomatoes, cucumbers, feta, chickpeas and lots of dill and mint. A tangy vinaigrette ties it all together. Please be sure to read the notes on the various colors of peppers. They do not all have the same FODMAP content.
Making salads in a Mason Jar is fun, colorful and portable. We give you several ways to approach creating your own, as well as some combos we love.
If you know macaroni salad, and tuna salad, then you can probably envision this mash-up – which we think should be a new classic.
This verdant variation of chicken salad is based on our Green Goddess Dressing, which you will find quite versatile, so make extra!
Everyone needs a basic tuna salad, and ours is low FODMAP – with a suggestion for a surprise, crunchy vegetable.
This warm salad makes a lovely main dish for lunch or a very hearty side. And yes, there are low FODMAP servings of avocado!
There are low FODMAP amounts of chickpeas – we suggest drained, canned chickpeas. This salad is simple and quick and packs very well for take-along lunches.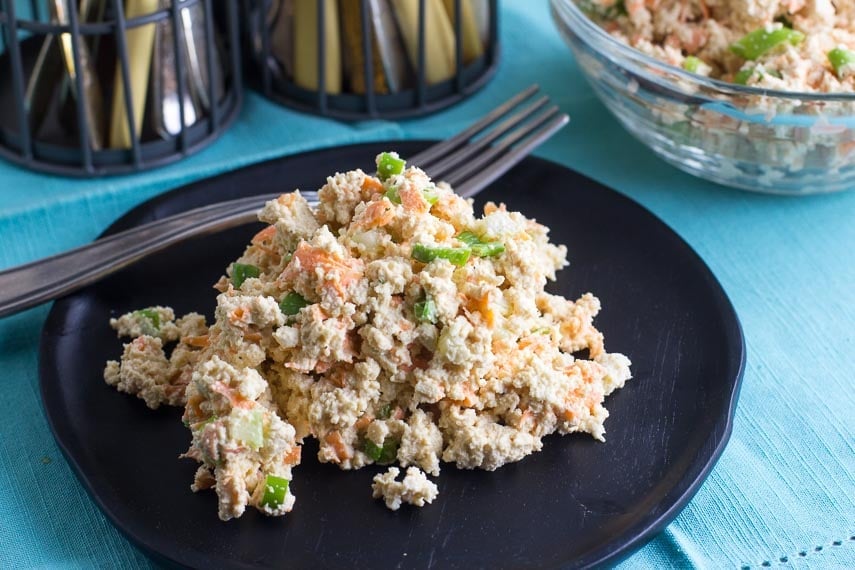 First, freeze the tofu! It transforms the texture allowing it to absorb seasonings and dressing in a unique way.
Low FODMAP Soup Recipes
We have low FODMAP soups, both hot and cold, hearty and brothy. Some are based upon low FODMAP stocks and broths, and we have those basics, too: vegetable, chicken, turkey, dashi and beef.
If you think soups are hard to make, try this one! Gather your vegetables together, get out a big pot, and follow the easy directions. You will be rewarded with a big batch of veggie-packed soup. Stir in some Low FODMAP Basil Pesto right before serving for a special finish.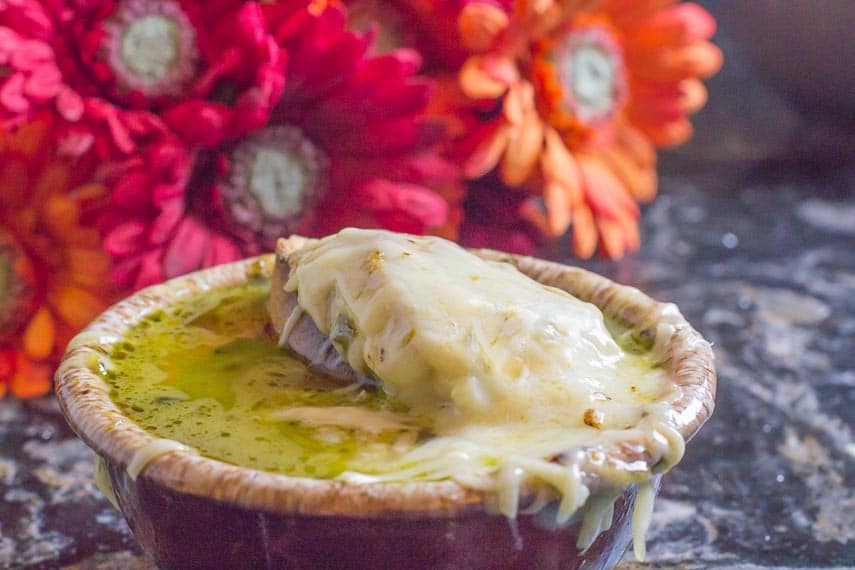 We figured out how to make a low FODMAP onion soup, complete with a melted cheesy crouton and topping!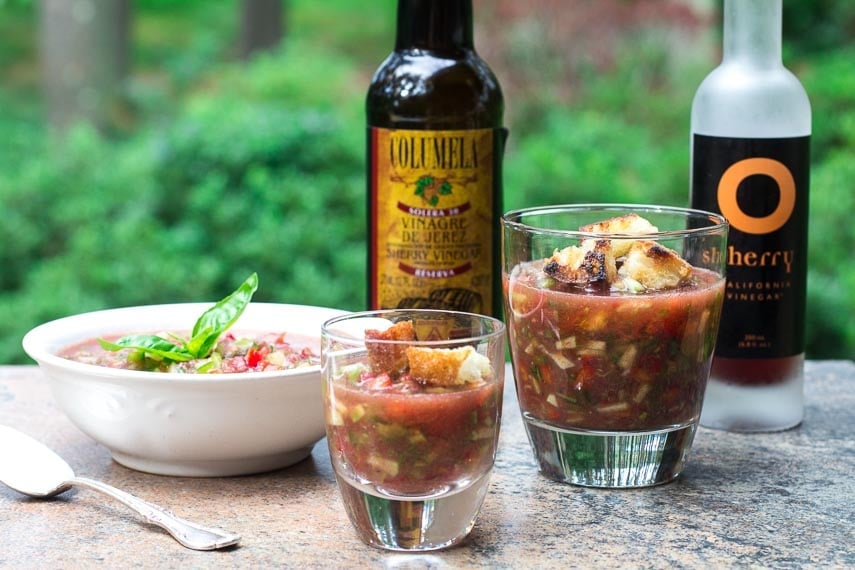 This classic cold soup made low FODMAP! Perfect for those hot, hot days as a starter, lunch or light main dish.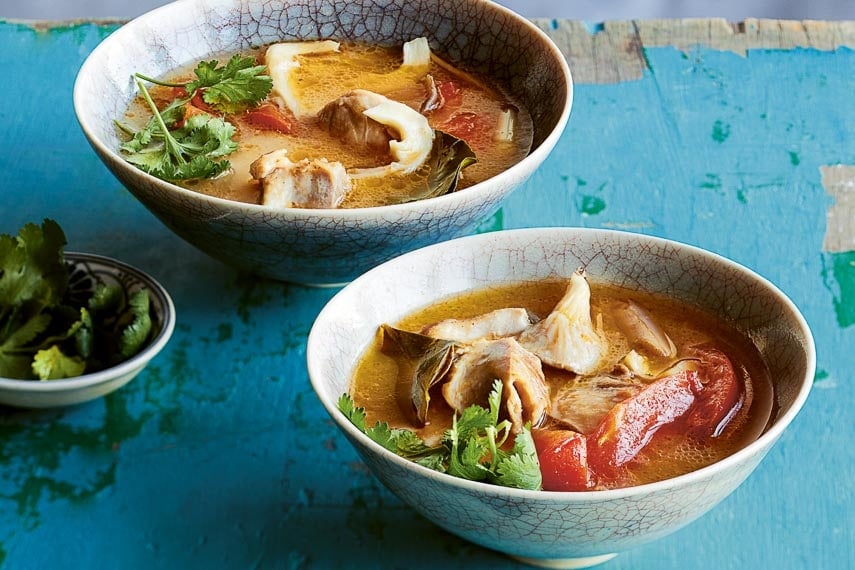 Thai flavors of coconut, fish sauce, makrut lime and lemongrass create a fragrant broth for chicken, oyster mushrooms and tomatoes, finished with cilantro.
This smooth puréed soup tastes and feels creamy but contains no dairy! The velvety texture comes from carrots, parsnips and potatoes in a vegetable broth with a little almond milk.
These high protein ground turkey and quinoa meatballs are enhanced with a little Parmesan and are suspended in a turkey stock, simmered with greens.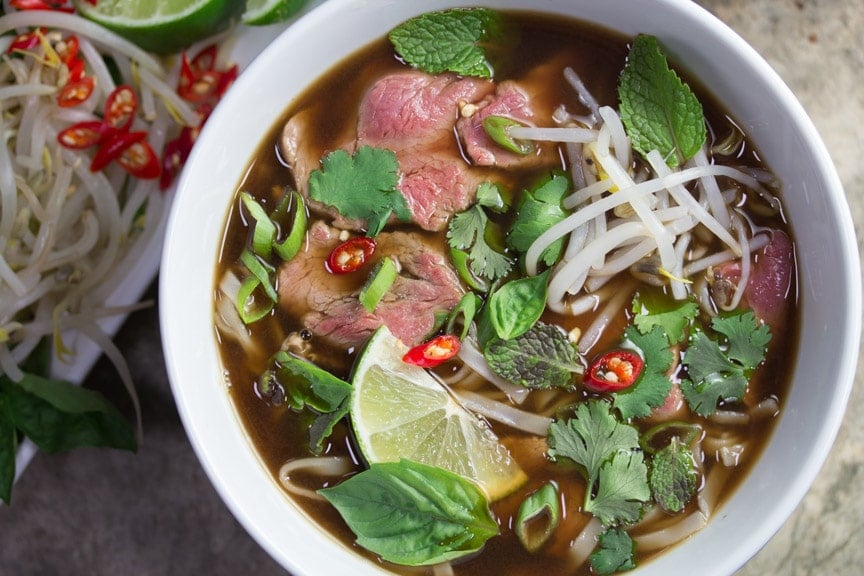 You can make a low FODMAP Pho Bo! Ours begins with our own low FODMAP beef stock. The finished dish is only as good as the stock you begin with, so start with a good one.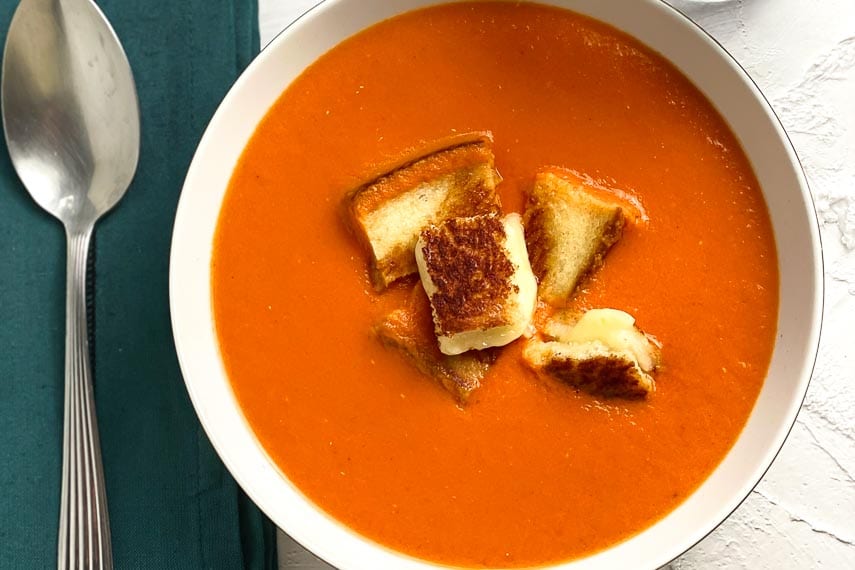 Our low FODMAP version of cream of tomato soup features grilled cheese croutons for dipping! The soup is great on its own, but out of this world with the dippers!
Use your Instant Pot to make old-fashioned chicken noodle soup to rival Grandma's!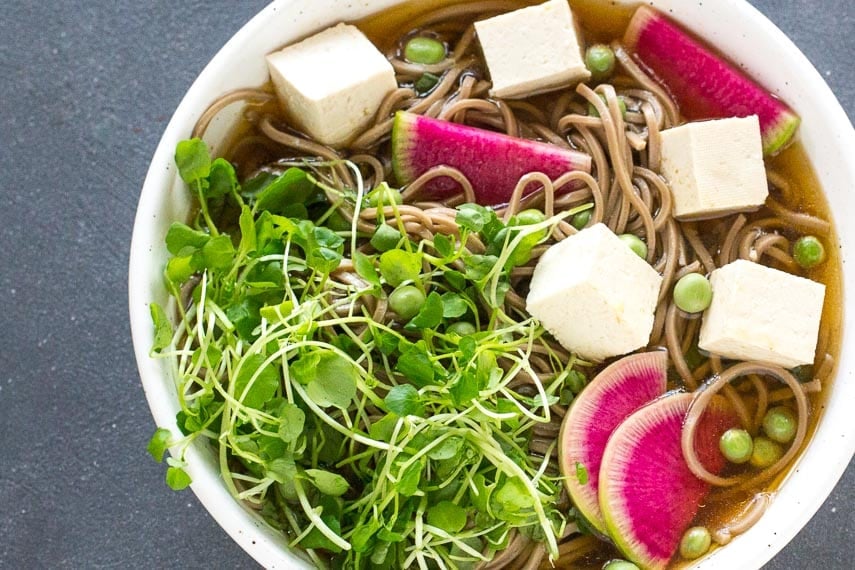 There are low FODMAP amounts of soba and this recipe showcases them in a classic cold presentation.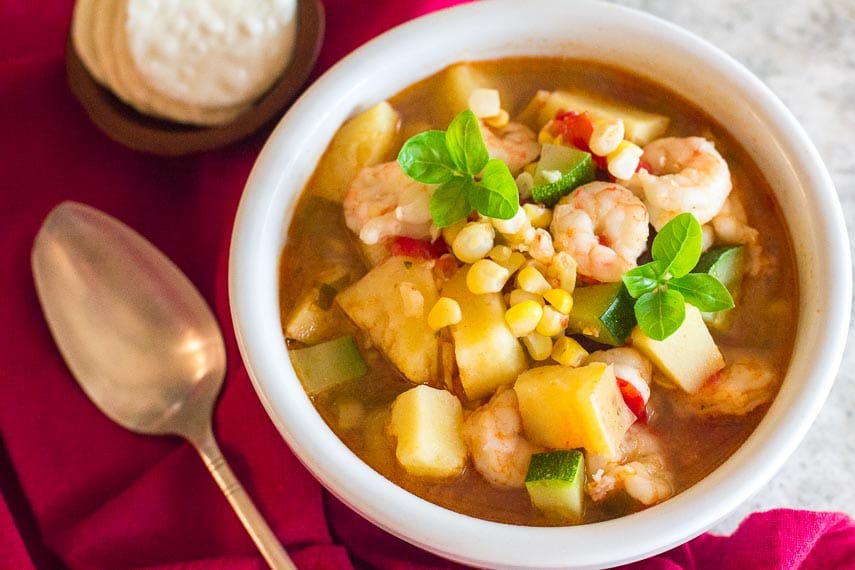 There are low FODMAP amounts of all kinds of corn products, including corn kernels, combined with sweet, briny shrimp, potatoes and zucchini in this quick to make chowder.
Low FODMAP Dinner Recipes
We know many of you are cooking dinner for family, and not all the family members are following the low FODMAP diet. We promise you that our recipes are beloved by everyone!
Everyone needs a whole roast chicken recipe! This one features low FODMAP vegetables like carrots, parsnips and low FODMAP amounts of Brussels sprouts. Dinner in one pan.
Juicy chicken thighs, low FODMAP sweet sausages, scallion and leek greens, bell pepper, a low FODMAP amount of celery and tomatoes come together in a rice hearty dish seasoned with paprika, oregano and chile.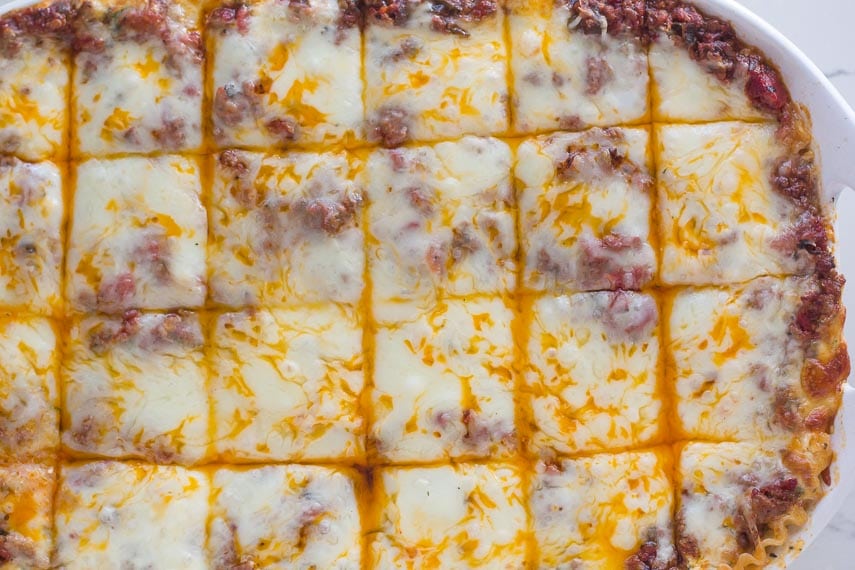 We have two low FODMAP lasagnas for you! A lighter version, and then this classic hearty style. Feed a crowd – even non-FODMAPers will love this dish.
Zucchini noodles, tofu, carrots and bell peppers in a zesty, creamy peanut sauce gently spiced with chile. Garnish with cilantro and scallion greens.
Summer rolls are easier to make than you might think, and we have expert step-by-step images to guide you. Make yours with shrimp, tofu, or even all-vegetable. We have a peanutty sauce for dipping as well as a low FODMAP sweet chile sauce!
Some curry blends are high FODMAP; we show you how to make low FODMAP curry, here paired with tofu and green beans for a plant-based main dish.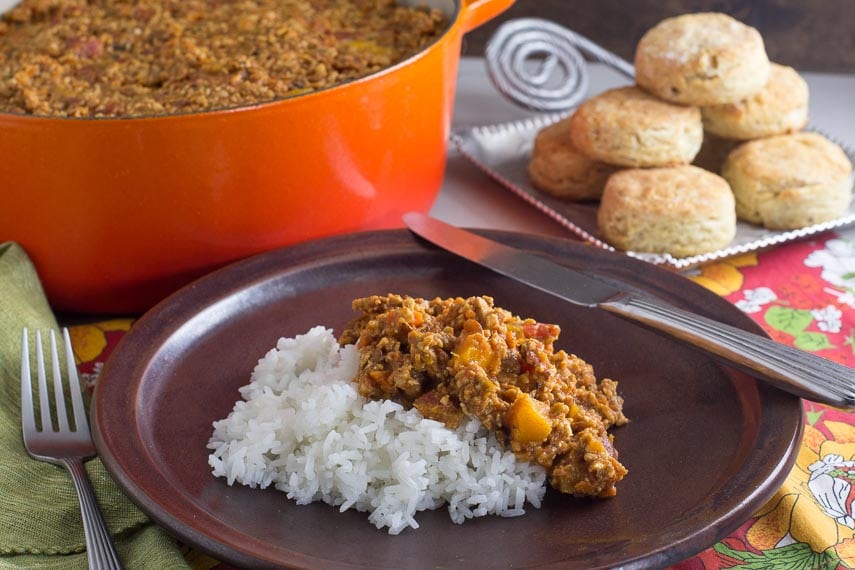 Looking for a hearty vegan chili? Ground tempeh has a similar texture to ground beef, plus the extra protein from the lentils, butternut squash, tomatoes and all the expected chile seasonings combine to make a fantastic cold-weather dish.
A classic made low FODMAP with low FODMAP gluten-free elbow noodles. White cheddar cheese creates a creamy sauce – and extra cheese in the crispy breadcrumb topping makes this dish extra special.
This meatloaf features finely chopped/grated bell peppers and carrots making it super moist. We love it with mashed potatoes for dinner, but almost like it even better as a sandwich the next day – or the next!
Here is a lighter take on classic Shepherd's pie, this one featuring ground turkey, complete with a mashed potato topping. Comfort food in a casserole dish.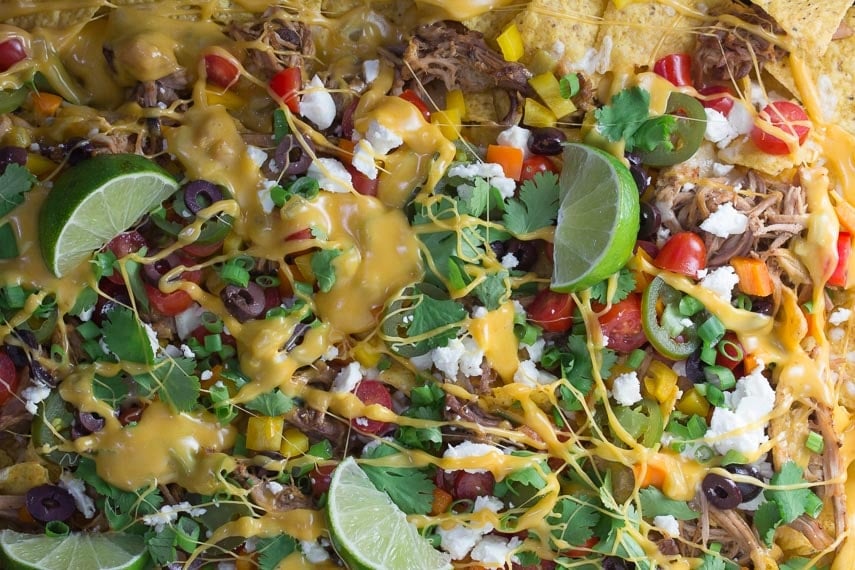 Did the name of this recipe lure you in? It is possible to have recipes such as this, even during the Elimination phase of the low FODMAP diet. The shredded pork component has many uses and is easy to make. Here it's layered up with corn chips and a creamy, cheesy sauce.
Our slow cooker pot roast is an old-fashioned classic reimagined as low FODMAP with carrots, potatoes and lots of delectable, rich sauce.
Low FODMAP Snack Recipes
Can you snack while following the low FODMAP diet? YES! Just choose your snacks wisely 🙂
Kale chips or expensive to buy, but they're actually very easy to make. This version uses cheesy nutritional yeast, smoked paprika and low FODMAP garlic and onion powders.
Just like the classic with crunchy Chex cereal, pretzels, nuts with a low FODMAP garlicky seasoning featuring Worcestershire sauce and cayenne.
This is not too sweet cake is made with whole grain cornmeal and dotted with low FODMAP amounts of berries.
Our recipe for roasted chickpeas focuses on low FODMAP seasonings and we have both sweet as well as savory versions.
These high protein and high-fiber muffins are jampacked with oats, chia seeds, hemp seeds, ground flaxseeds, as well as natural peanut butter and mashed bananas.
Kids love help making these energy balls that feature oats, peanut butter and all your favorite trail mix ingredients like dried fruit, nuts and even little bits of chocolate.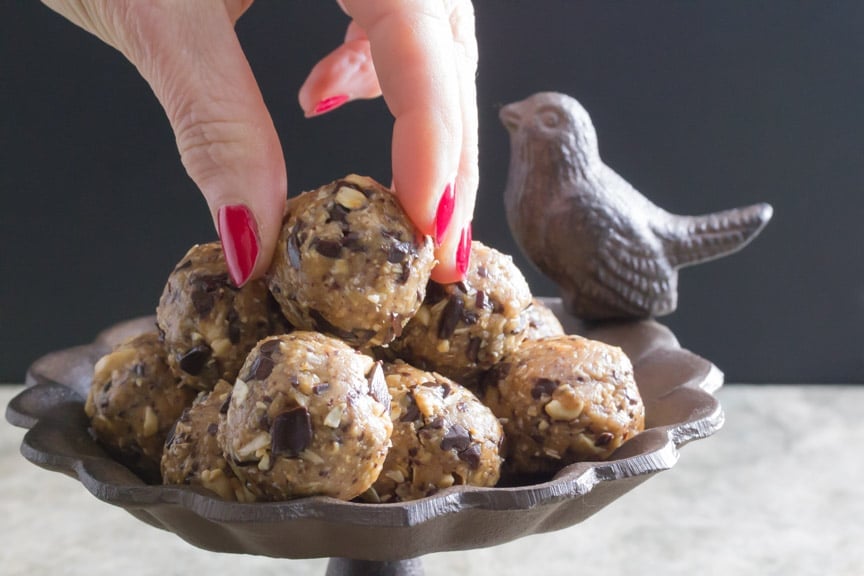 We have several energy ball recipes on the website but these featuring chocolate and peanut butter are a community favorite.
Deviled eggs are a great high protein snack and when you add bacon, well, they become even more of a special treat. And we love hunting for decorative platters, made just for deviled eggs!
Did you know that popcorn has a very large low FODMAP serving size? A little garlic-infused olive oil and Parmesan and you have a great high-fiber snack.
Not all muffins are sweet. These are moist and made with olive oil and feature pockets of goat cheese and juicy raspberries.
Low FODMAP Dessert Recipes
Life is short. Eat dessert first! Well, maybe not literally, but we wouldn't dream of a life without desserts and baked goods, so we have spent quite a bit of time in our Test Kitchen whipping up all sorts of treats for you, from cookies to brownies, cakes to pies, and more.
Cookie dough used to just be, well, cookie dough, but these days there's cookie dough ice cream and all sorts of other cookie dough flavored treats. These are our cookie dough Blondies which, if you are a cookie dough fan, or about to become your favorites.
We think our low FODMAP chocolate chunk cookies are the best and we stand by our recipe, which happens to be gluten-free as well.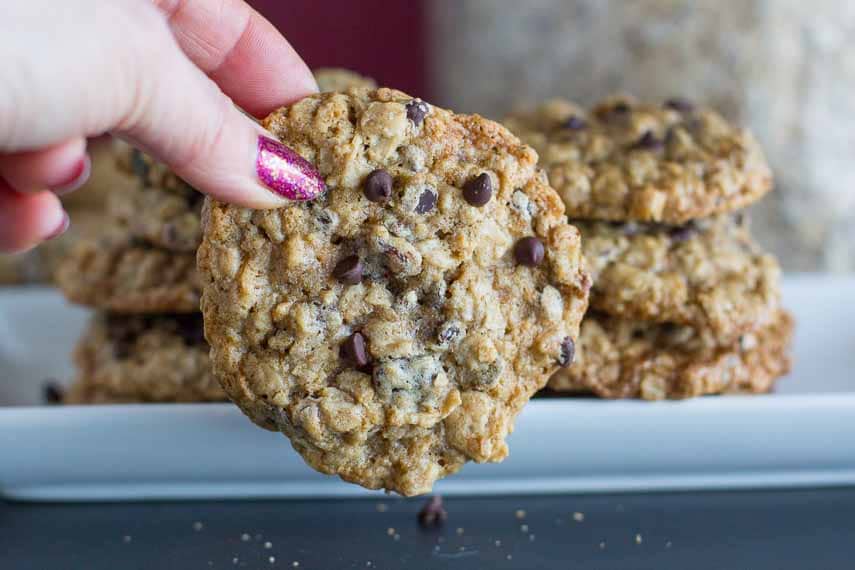 Looking for a one-bowl wonder? We have several one-bowl baking recipes, and these oatmeal chocolate chip cookies are always a crowd pleaser.
We have several peanut butter cookie recipes on the site. These might be our favorite due to their delectable chewy texture and the fact that they are studded with lots of dark chocolate chunks.
This brownie recipe has been with us since we launched our website, and it is a perennial favorite. It makes a big batch, and we even show you how you can make half with nuts and half without.
We have a recipe for homemade Low FODMAP Nutella, and once you've made it, other than eating it by the spoonful, we think you should definitely try these Nutella brownies.
We have several cream cheese brownie recipes on the site, this is the basic version with a vanilla cream cheese swirl in a dark chocolate brownie base. Definitely check out our espresso version, and the peanut butter and jelly version, as well.
Need a chocolate cake to feed a crowd? This is a low fodmap and gluten-free version of Texas sheet cake.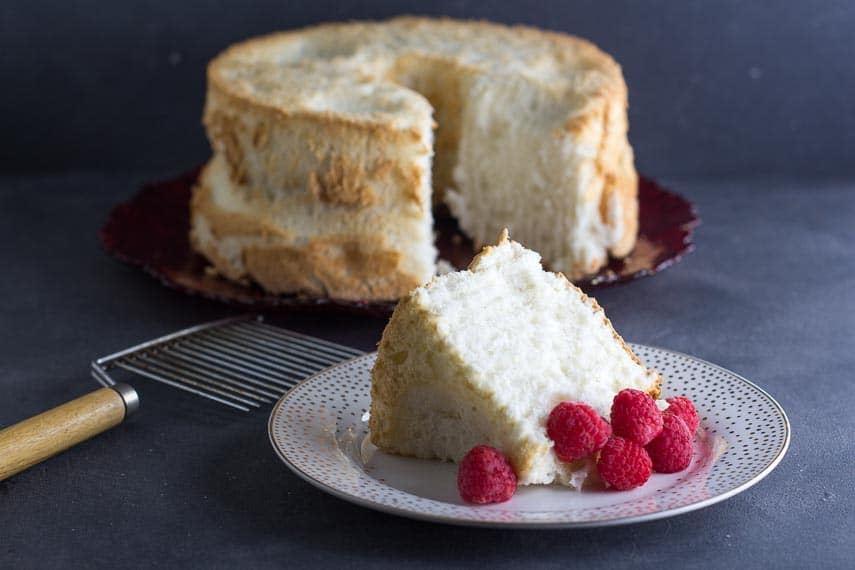 Light, sweet, and airy just like a traditional angel food cake, serve this gluten-free version with fresh fruit on the side. Get out your angel food cake pan! And check out our recipe for Lemon Curd to use up all your egg yolks.
We have several flourless chocolate cake recipes on the website. It's hard to pick our favorite, but this one is easy to make, elegant, and never disappoints.
OK, this cake is a bit over the top and we do suggest small serving sizes but how can you resist the flavors of salted caramel and banana all rolled into one spectacular dessert?
Chocolate and peppermint go so well together. We have brownies and cookies featuring those flavors, as well as a frozen ice cream buche de Noel. This is a simple snack cake that is most welcome especially during the winter holidays.
What is a pudding cake? It's a batter that is poured into a pan and bakes into a separate cake layer, and a luscious pudding -like layer. Serve warm with a scoop of lactose-free vanilla ice cream.
We have a classic, double crusted blueberry pie for you on the website as well, but this fresh blueberry pie has become our favorite. And, once you make the cream cheese crust, you will want to use it for other pies as well.
We have all kinds of cheesecake recipes for you on the website but this pumpkin cheesecake in a ginger crust is a crowd favorite, especially during the fall months.
There are a few pumpkin pie recipes for you to peruse, but this classic one could not be easier to make.
This version of Key lime pie uses the more readily available Persian limes, and we think it is even better for it as they are tangier.
Low FODMAP Beverage Recipes
Cheers! Santé! Salud! To Your Health! You do not have to relegate your drinking to water! Wine, beer and even some hard alcohol is low FODMAP – and of course we have mocktails as well as smoothies, too. Think of us when you need a hot or cold beverage recipe that is low FODMAP.
This fiber rich smoothie features spinach, frozen banana, fresh raspberries and a little bit of peanut butter.
Get out your blender! This combination of coconut milk, pineapple and passion fruit will transport you to the tropics.
How about a little after dinner treat? Our low FODMAP Irish coffee can be made with regular or decaf coffee with a little bit of whiskey, sugar and cream.
There are many kinds of hard alcohol that actually do have low FODMAP serving sizes and whiskey is one of them. Here it is combined with a low FODMAP amount of apple, some Simple Syrup, lemon juice and a dusting of cayenne. You can swap out the cayenne for cinnamon, if you'd like.
Vodka, sparkling water, orange and basil combine with a little bit of sugar for a refreshing summer cocktail.
Get out your fancy glasses! This festive cocktail combines vodka, sparkling wine, cranberry juice with a wedge of grapefruit.
Whether you are looking for hot chocolate or hot cocoa, we have recipes for both. This is our hot chocolate and it is decadent!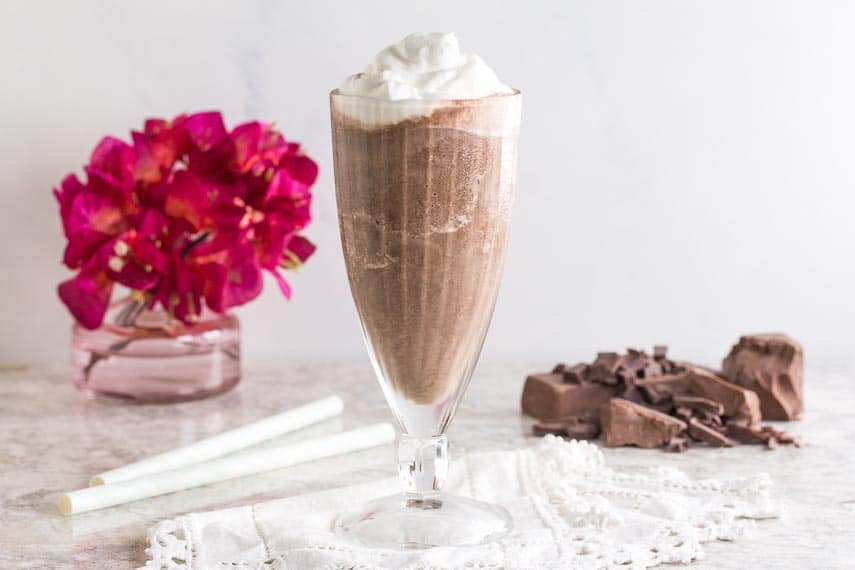 Never heard of frozen hot chocolate? It is exactly like it sounds – a slushy, frozen, chocolate beverage/dessert.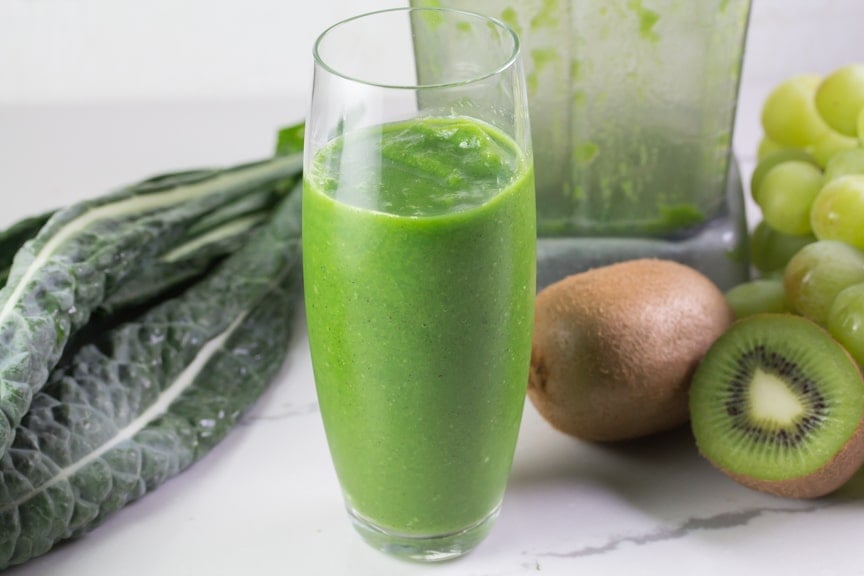 Our green smoothie is a great way to start the day featuring green grapes, spinach, kiwi and cucumber.
Red wine is low FODMAP, and this spiced, warm beverage is perfect for winter holiday celebrations.
Get out your punch bowl or a large picture! This is a lovely non-alcoholic punch featuring black tea, cranberry juice, and lots of fruit such as clementines, grapes, lemons and limes.
Low FODMAP Plant-Based Recipes
We have hundreds of recipes that work for a plant-based diet, as well as vegetarian and vegan.
Think you don't like tempeh? This dish has converted many! The flavors of soy sauce, maple syrup, lime, smoked paprika, cumin and chile create a very flavorful plant-based dish.
Gumbo made low FODMAP! The protein is jackfruit and the dish is hearty with oyster mushrooms, okra, tomatoes, and loads of spices like basil, oregano, thyme and asafetida.
This simple Low FODMAP Bánh Mì sandwich features tofu, pickled veggies, lemongrass, ginger, cilantro, jalapeno, lime, and toasted sesame oil at center stage, for the perfect balance of sweet, salty, sour, freshness, and umami.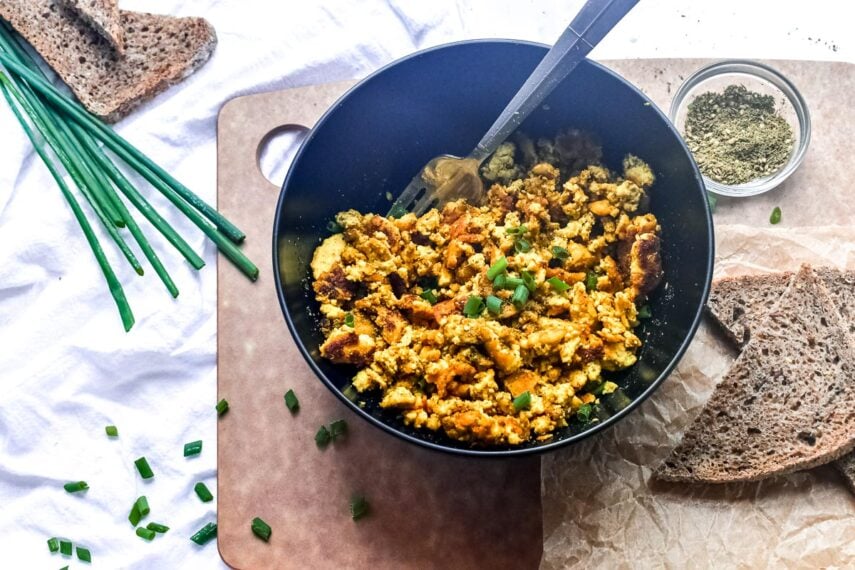 This play on classic scrambled eggs uses tofu in place of eggs for a plant-powered, protein-rich twist.
Our Low FODMAP Roasted Pumpkin Quinoa Salad is hearty enough for a main dish at lunch. Japanese pumpkin, also known as kabocha squash and Kent pumpkin, contains No FODMAPs and quinoa is low FODMAP, protein-packed and easy to cook.
Vegan chocolate chunk cookies – moist, chewy and sumptuous.
Looking for a vegan main dish? Pre-cooked polenta is easy to sauté – and we take advantage of low FODMAP amounts of oyster mushrooms and no FODMAP kale.
A pot pie for vegans! The perfect holiday main dish with potatoes, carrots, parsnips, mushrooms and kale.
This is a perfect late summer, early fall pasta sauce taking advantage of eggplant, zucchini and tomatoes at their peak.
Mushrooms can be low FODMAP and this recipe shows you how to enjoy their earthy flavors and textures, while adhering to the low FODMAP diet,
Low FODMAP Chocolate Recipes
We have a special section for all things chocolate! Did you know that you can have dark, milk and white chocolate? You can!
Gluten-free chocolate chunk cookies choc full with milk chocolate, pecans and orange.
Sweet white chocolate offset by bitter coffee in a chocolate chip cookie dough. Hazelnuts add crunch.
Moist blondies packed with white chocolate and chewy dried cranberries.
Rich muffins – maybe better for brunch or as a snack. A chocolate batter studded with chocolate chips.
No better way to get a dark chocolate fix than with our easy cocoa-dusted truffles. Splurge on really high quality chocolate for best results.