Get ready for Rosh Hashanah with a delectable assortment of recipes, from Matzo Ball Soup, in homemade Chicken Stock, to roast leg of lamb, roast chicken dishes, salmon recipes, noodle kugel, tzimmes, maple glazed root vegetables, even a Honey Cake, and an Apple Old-Fashioned! Whether you are Jewish or not, you will love these 23 recipes, plus information about the tradition of apples and honey.
All of these recipes are IBS Friendly, Low FODMAP and gluten-free!
Gluten-Free Honey Cake
Our Gluten-Free Honey Cake is a simple, "plain" cake, perfect alongside a cup of your favorite hot beverage. Lovely for Rosh Hashanah, too. Speaking of hot beverages, there is black tea in the batter, which lends moisture and flavor. Get the recipe.
Moroccan Chicken with Preserved Lemons & Olives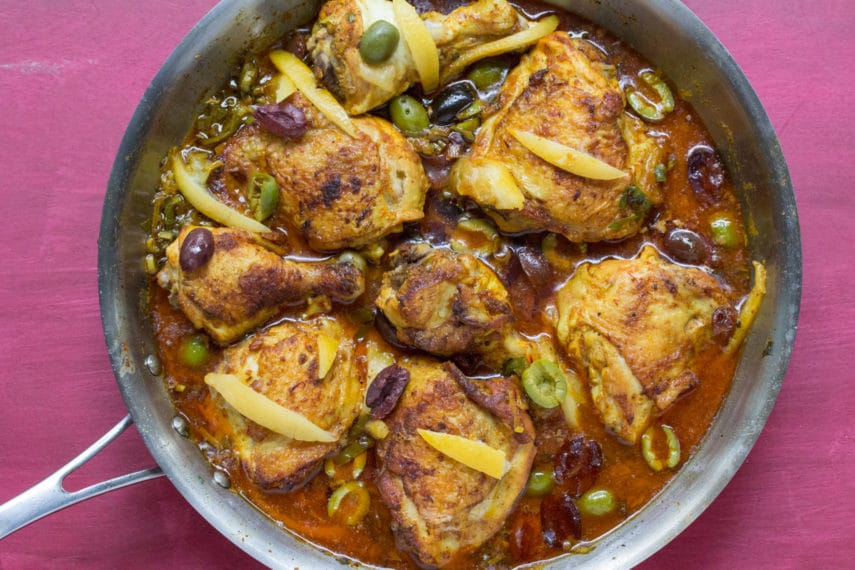 The blend of spices – saffron, turmeric, cumin, ginger and cinnamon – might seem unusual. Combined they are indeed heady and fragrant but they are also perfectly balanced by the acidity from the Preserved Lemons as well as lemon juice.
This is one dish that I do not salt at all, which is highly unusual. The salt from the Preserved Lemons and the two kinds of olives is plenty. You can of course salt before serving if you like, but restrain yourself from salting the dish early on. Get the recipe.
Moroccan Lamb Shanks with Pomegranate & Mint
This recipe is rich in North African flavors of coriander, cumin, fennel and mint. And if you have never cooked lamb shanks, you are in for a treat! They make an impressive presentation, yet are simple to prepare. Get the recipe.
Orange Rosemary Roast Chicken
Y'all have to have a simple whole roast chicken in your arsenal. I make one every week – and this recipe for Orange Rosemary Roast Chicken is super simple to make. Get the recipe.
Spicy Apple Old-Fashioned
It's fall, and my thoughts turn to all things apple. How about making a Spicy Apple Old-Fashioned? Get the recipe.
Chicken Thighs with Grapes, Thyme & Smoked Paprika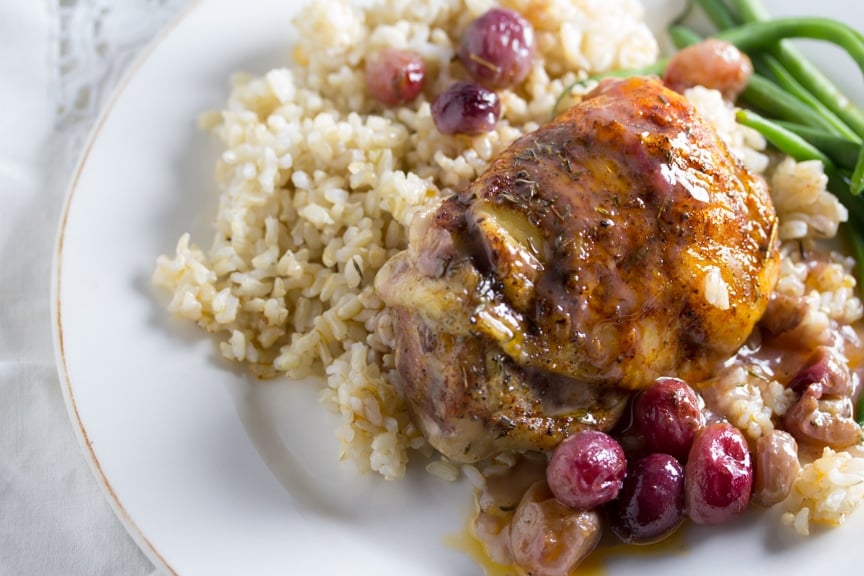 This Chicken with Grapes, Thyme and Smoked Paprika is a simple one-pan, oven-roasted meal that highlights the sweetness of the grapes, the smokiness of the paprika and the savory-ness of the chicken and thyme.
It comes together in less time than it takes for the oven to preheat and is easy enough for a weeknight but fancy enough for guests. Get the recipe.
Carrot & Potato Tsimmes
In Yiddish the word tsimmes has two broad meanings. It can reference a stew made of vegetables, often with fruit, almost always with some sort of dried fruit and sometimes meat as well. It also means "a mess" or "a fuss", as in "why are you making such a tsimmes?"
We like serving these at Rosh Hashanah when sweet foods are used as a way to welcome the New Year, which we hope will be a sweet one! Get the recipe.
Whole Roast Chicken & Vegetables
Do you need another chicken recipe? YES and this Low FODMAP Whole Roast Chicken & Vegetables is it! Once you make it, you will be able to vary it to your liking with seasoning or other vegetables. They key is a cast iron pan and a very hot oven. Get the recipe.
Spatchcocked Chicken with Sourdough Croutons & Schmaltz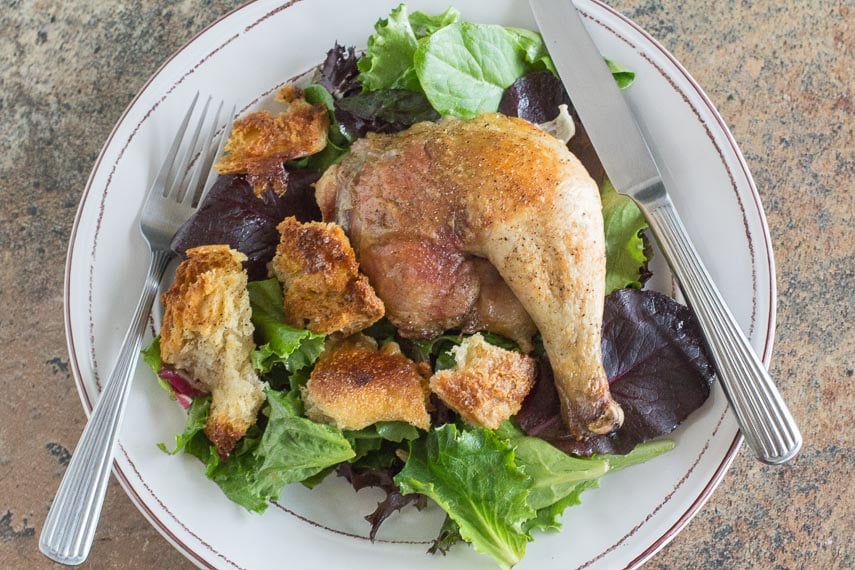 One-Pan Chicken Dinner to Schmaltz Nirvana. We want to sing the praises of schmaltz. Don't know what that is? It is chicken fat, plain and simple and it is like liquid gold. Let me entice you with a description of this Spatchcocked Chicken with Sourdough Croutons & Schmaltz. Get the recipe.
Maple Glazed Carrots & Parsnips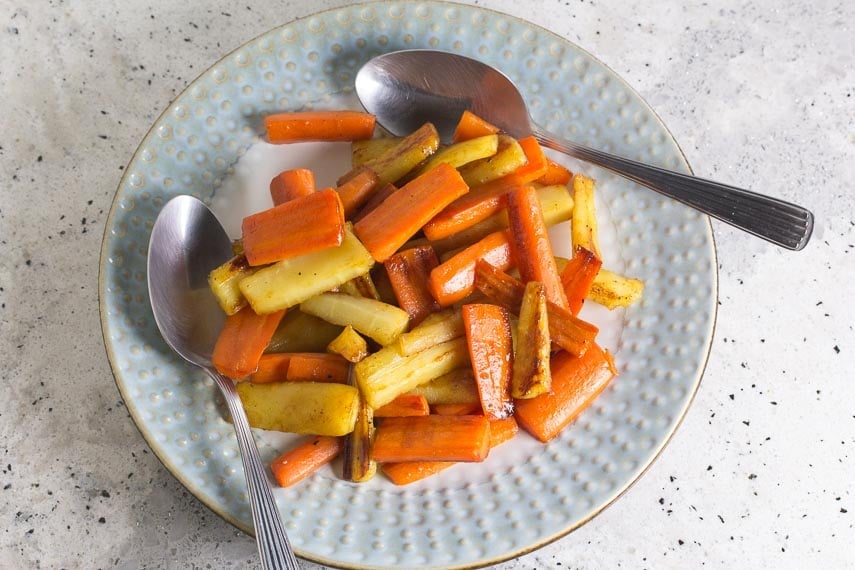 This is a one-pot dish made in a skillet in about 10 minutes. A perfect accompaniment to roast chicken or meatloaf. Get the recipe.
Gluten-Free Noodle Kugel
Foods that are custardy and can be eaten with a spoon often make comfort food lists. Noodle Kugel is high on the list for many a Jewish child (or grown child).
It's not that you can't eat noodle kugel if you aren't Jewish, it's just that you have probably never encountered it! Cooked noodles are combined with sugar, eggs and some dairy. Try this as a side dish! Get the recipe.
Carrot Cake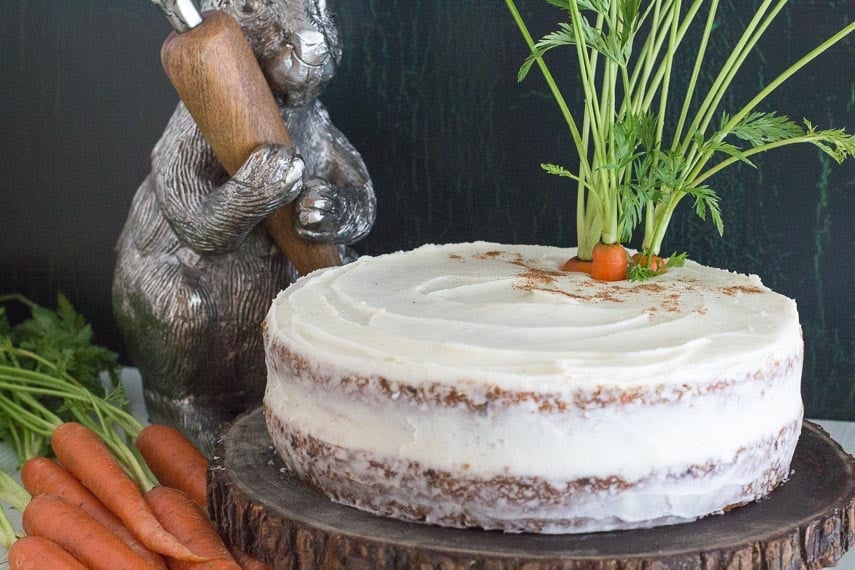 How about tucking a whole pound of shredded carrots into a luscious, moist, cinnamon-accented gluten-free carrot cake with nuts and raisins and a lactose-free cream cheese frosting? Do. I. Hear. A. YES???? Get the recipe.
Garlic & Herb Roast Leg of Lamb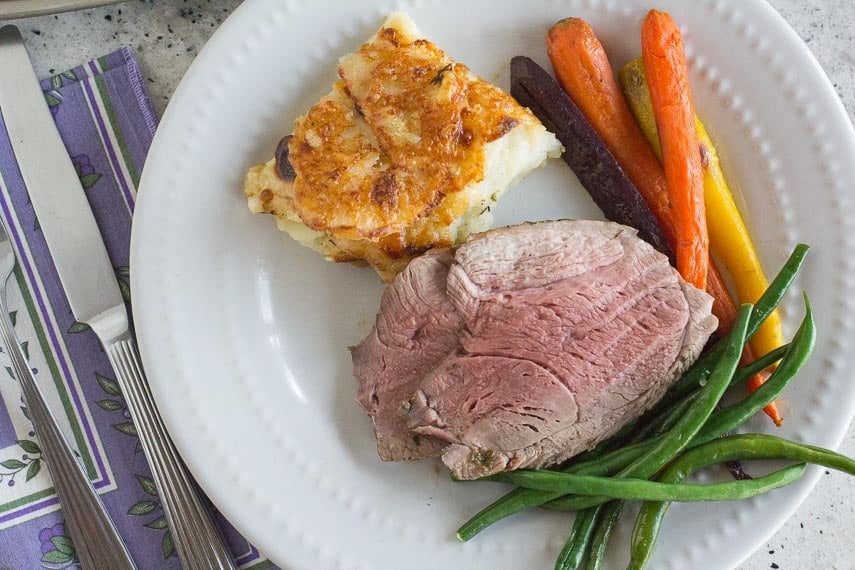 Leg of lamb is the dish I always think of when I want an elegant main dish for a party. It is a little less expected than beef or poultry and lamb is actually quite versatile. It lends itself to Mediterranean flavors, Indian or even very simple preparations like this Garlic & Herb Roast Leg of Lamb. Get the recipe.
Gluten-Free Matzo Ball Soup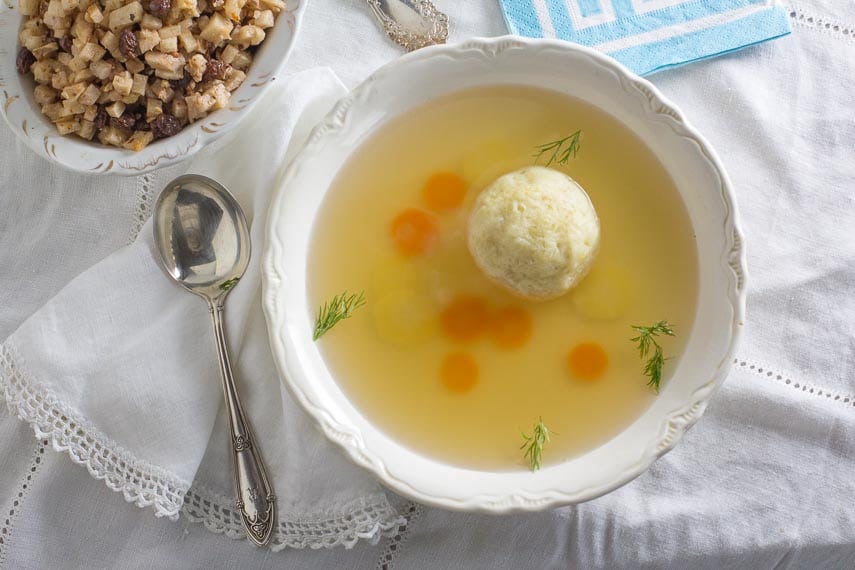 It is possible to make light gluten-free matzo balls, and we show you how. Make your own homemade chicken stock, for best results. Get the recipe.
Citrus & Herb Oil Poached Salmon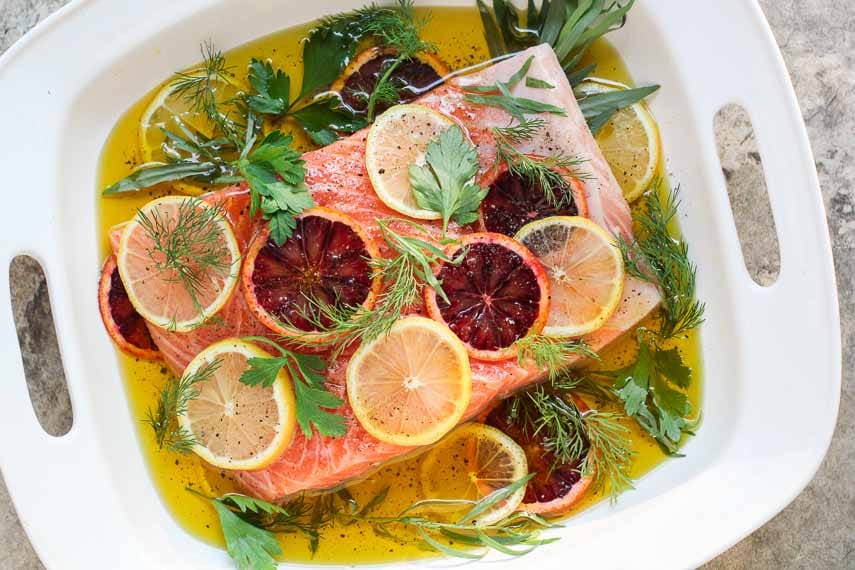 It is just like it sounds – which we know sounds a bit odd, but stick with us here. You are using a good quantity of oil and the salmon is slowing roasting in the oven bathed in the oil at a low heat. The result is a silky smooth flesh texture that is simply sublime.
Nothing else compares. You do need enough oil to cover the fish so follow the recommendations for amount of fish, oil and size of vessel or your results might change. It is better to err on more oil than less. Get the recipe.
Slow Roasted Boneless Leg of Lamb
Our Slow Roasted Boneless Leg of Lamb features flavors of garlic, lemon and anchovy and is quite simple to make. Slow roasting uses the reverse sear technique, which means we roast the lamb in a low temperature oven for a couple of hours, and then finish it off searing in a very high heat oven. You will be rewarded with an evenly roasted leg of lamb, done to your liking. Note that we suggest an overnight marination in the refrigerator prior to roasting, so plan accordingly. Also make sure you have room in your refrigerator for a roasting pan, and an instant read thermometer on hand. Get the recipe.
Short Ribs with Horseradish & Red Wine
We love the bold flavor that horseradish provides in everything from a simple sour cream sauce to go with Roast Prime Rib to an incomparable flavor enhancer as in these Short Ribs with Horseradish & Red Wine.
Baked Rice with Olives, Feta & Pomegranate
This Baked Rice dish is not only colorful and incredibly flavorful, it is super easy too. Note the "baked" in the title. If you have never baked rice before, you are about to learn a tried and true technique. Get the recipe.
Sweet & Sour Brisket
Brisket is an incredibly versatile cut of meat. If it hasn't made it into regular rotation in your house, this recipe for Sweet & Sour Brisket with Red Wine, Grapes and Sweet Potatoes might just encourage you to do so.
Warm Salad of Sautéed Carrots, Preserved Lemon and Mint
Have you ever thought of eating warm salad? This version is going to convert you! This recipe does work best with preserved lemons, which you can buy or make. We have a Preserved Lemon recipe for you to try. They are simply a combination of lemons and salt and if you have some around, you will find many uses for them. Get the recipe.
Miso Lime Glazed Salmon
This easy Miso Lime Glazed Salmon dish is super-quick to make, thanks to a 5-ingredient glaze. Get the recipe.
One-Pan Chicken, Carrots & Potatoes
Need a one-pan meal that you can prep in less time than it takes for the oven to preheat? This One-Pan Chicken, Carrots & Potatoes with Maple Mustard Sauce is a favorite of ours. Get the recipe.
Are Apples Low FODMAP?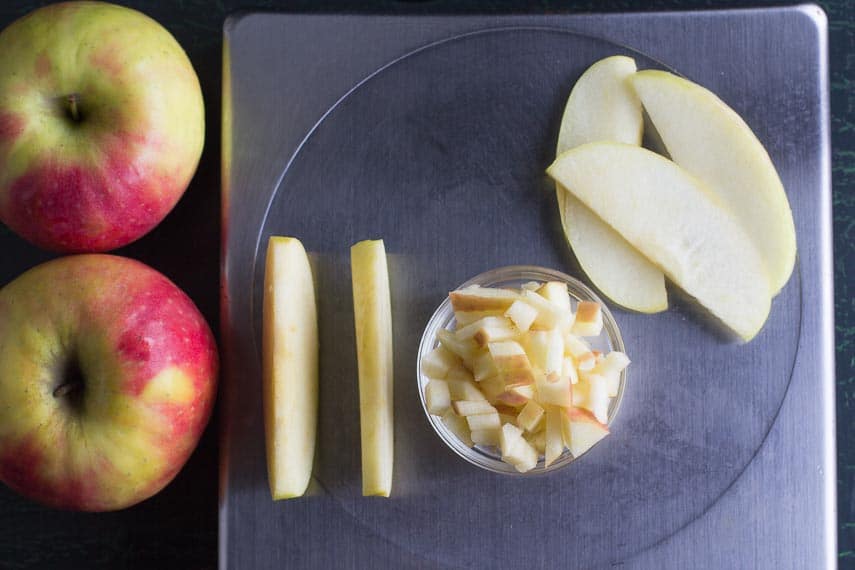 Great question! And the answer is, YES, you can eat apples on the low FODMAP diet. Monash University has lab tested both Pink Lady Apples or green Granny Smith apples and they have small low FODMAP serving sizes of 20 to 25 g. Read our article for complete guidance.
Apples & Honey for Rosh Hashanah
Apples dipped IN honey – are synonymous with a tradition associated with the Jewish holiday of Rosh Hashanah, which is why we are talking about apples and honey from a FODMAP perspective. Read more here.
Is Honey Low FODMAP?
Is honey low FODMAP? The short answer is yes, and it depends on your honey. Monash University has lab tested clover honey as well as what they simply label as "honey" and report different findings. Read more here.
Easy Peasy Dinner and Dessert: 20 One-Pan, One Bowl Recipes for Busy Nights
We all need One-Pan, One-Bowl recipes in our repertoire, and we've got 'em! From main dishes to soups, pasta, curries and desserts, these kitchen-tested recipes will get you in and out of the kitchen fast. With minimal clean-up, too! Click here for all of our One-Pan, One Bowl recipes!
36 Dishes You Didn't Know You Could Make With Rice Noodles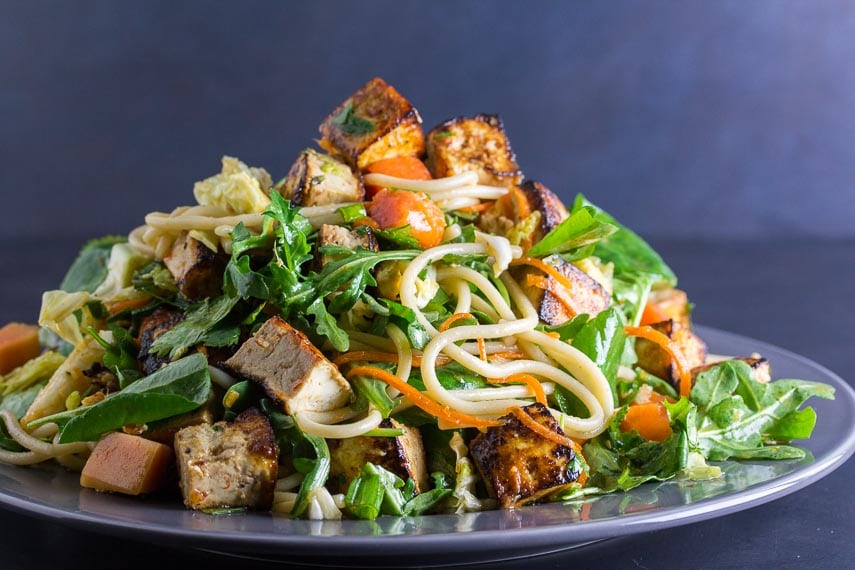 Rice noodles are naturally gluten-free, but that isn't the only reason to cook with them. They are delicious unto themselves, come in a variety of shapes, and are the noodle of choice in so many Asian-inspired recipes. But it doesn't stop there! There are rice-based lasagna noodles, shells, manicotti, elbows…From soups to main dishes, casseroles, salads and summer rolls, we have 36 recipes for you to get you slurping with joy. Click for 36 Dishes You Didn't Know You Could Make With Rice Noodles
30 Quick & Easy Recipes For A Happy Gut: Low FODMAP and Flavor Packed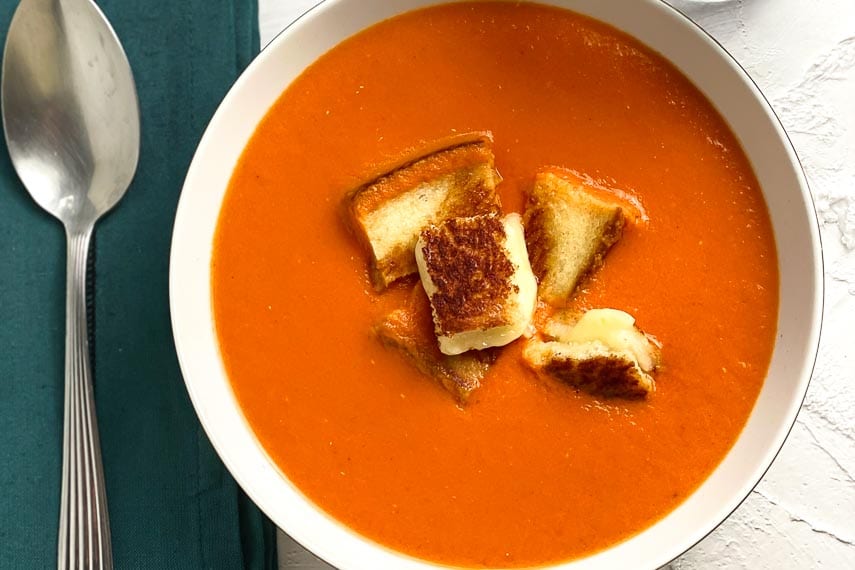 At FODMAP Everyday® we define "Quick" as a dish that can be on the table, ready to eat, in 30 minutes or less. "Easy" recipes have 15 minutes or less of prep time. All of these recipes are low FODMAP and free of gluten so they can be served to tender tummies too! Click for 30 Quick & Easy Recipes For A Happy Gut: Low FODMAP and Flavor Packed