Let FODMAP Everyday® help you with the centerpiece of your holiday meal, while following the low FODMAP diet. These are our very best Thanksgiving & Christmas Low FODMAP Main Dishes, from turkey to ham, roast beef to something a little different like duck, or a simple roast chicken. And we have vegetarian and vegan options, along with some hearty pastas for those that like those additions on the table. Having irritable bowel syndrome IBS does NOT mean deprivation! We have the low FODMAP foods and low FODMAP recipes you are looking for!
Our low FODMAP recipes are lactose-free, and most are gluten-free as well. You can use our Recipe Filter to find dairy-free and/or search for recipes focused on particular ingredients. Our recipes use an evidence-based approach (based on science from Monash University and FODMAP Friendly) and bring onion and garlic flavor to your cooking, with the appropriate swaps.
We are here to help you throughout the holiday season. You can have all your favorite foods – turkey, grains, veggies, the works – all recipes developed to be easy on your gut. Watch your servings; portion size is important and it is a great time to brush up on Stacking.
Leftovers Ideas
We have included some leftover ideas for you too. Cook once, eat several times! And yes, we heartily suggest you try the funny sounding Thanksgiving Nachos!
Mains Need Sides & Desserts…and Apps & Drinks
Of course, we have the low FODMAP sides you need as well – and desserts! Please refer to those articles: Thanksgiving & Christmas Low FODMAP Side Dishes and Thanksgiving & Christmas Low FODMAP Desserts as well as one devoted to holiday cookies! You'll find everything from Green Beans with Almonds to Cranberry Sauce; Maple Syrup Glazed Carrots to your favorite low FODMAP vegetables; even a Leafy Green Salad. We have classic Pumpkin Pie (in our foolproof all butter crust) to chocolate desserts – try our Chocolate Pecan Pie With Whiskey; a Cranberry Almond Bundt Cake is a great treat to have on hand for guests.
Looking for holiday Appetizers or Drinks? We've got those roundups, too.
The Bird: Turkey & Friends
Here are our favorite turkey recipes, as well as our Turkey 101 article, which will help you choose, order and prepare the best bird. They can be juicy! Some are roasted in the oven – others made in the Instant Pot and Slow Cooker! We also have some duck and chicken dishes for you.
Think turkey has do be dry? Not so! We show you how to buy and prepare the juiciest bird you have ever had.
Save that turkey carcass to make flavorful stock.
A boneless turkey breast can easily be stuffed for an elegant main dish. Easy to carve, too. This version is stuffed with squash and kale.
Spatchcocking a turkey makes for quick roasting – and the pieces will be evenly juicy.
Brining a turkey is a great technique for a juicy bird. Low FODMAP beer and brown sugar add flavor as well as moisture.
Put your Instant Pot to work! If you are serving 2 to 4 people, this is a great holiday main dish.
Your slow cooker can help make the main holiday meal.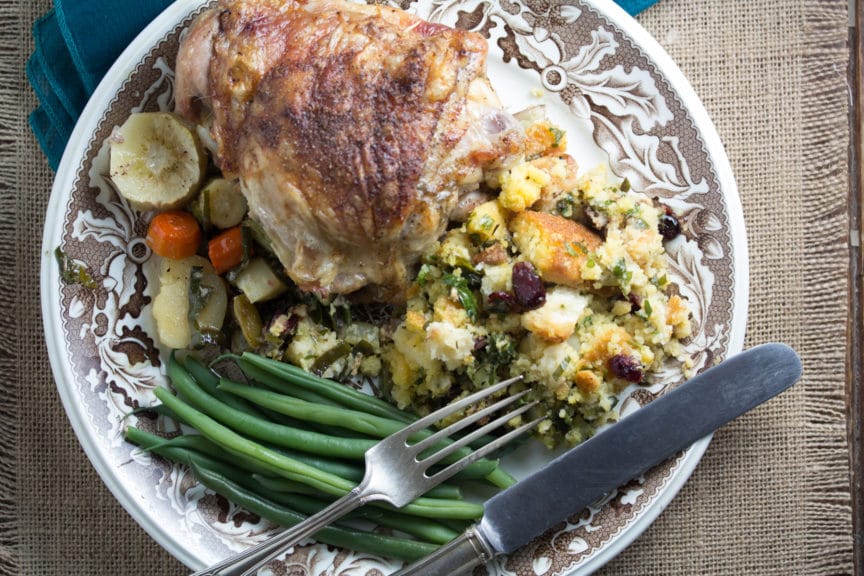 Crank the heat and cut the turkey into pieces for quick roasting.
Cooking low and slow yields a tender results – and this dish highlights underused turkey wings.
Not a turkey fan? Roast a chicken, which still goes well with all the traditional sides.
Duck breasts are quick to cook and provide an elegant variation on the expected poultry.
We look forward to leftovers! This pot pie is one great reason why.
This pie brings together all of your leftovers in one dish. Always a conversation starter.
OK, we know you are looking at this and scratching your head. Trust us. TRY THESE!
With low FODMAP curry powder and canned coconut milk in the pantry this dish will come together in a flash.
A classic sandwich – made low FODMAP, complete with Russian Dressing.
Hams
We love ham – and they serve a crowd, which make them perfect for parties.
Ham can be low FODMAP. Read how to choose the right one.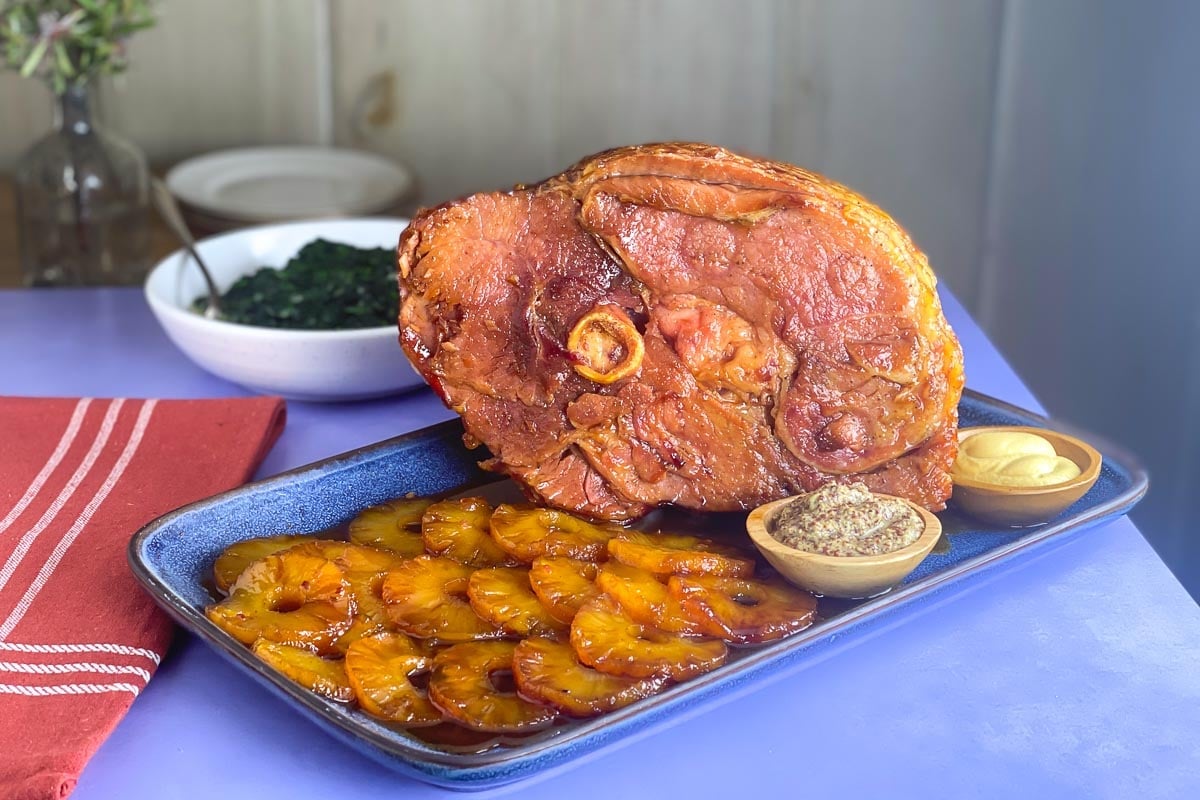 Pineapple and ham is a classic combo – and our recipe is low FODMAP.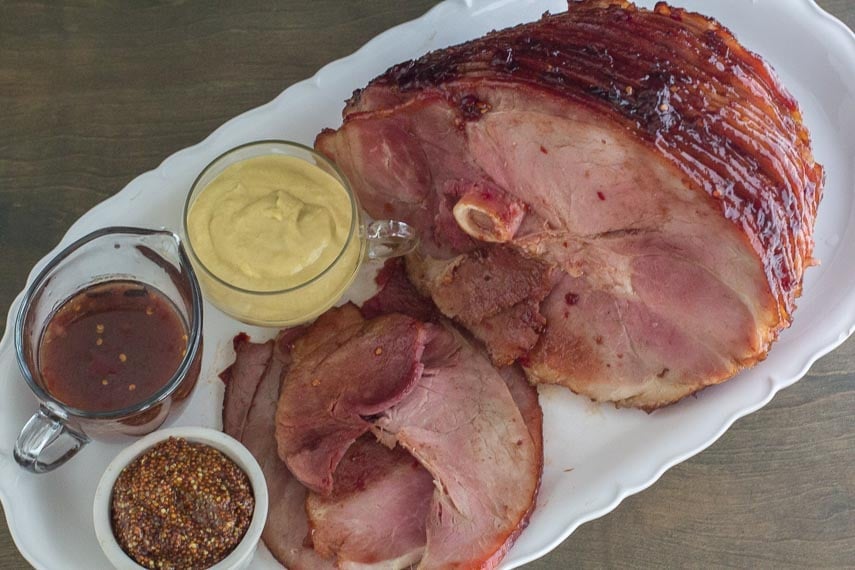 Sweet/tart cranberry and a bit of heat are a lovely addition to ham.
Classic brown sugar baked ham, made into a low FODMAP rendition.
Leftover ham in a flaky pastry. These savory scones are a lovely breakfast, brunch or snack.
Classic quiche, with ham and cheese in a flaky, buttery low FODMAP, gluten-free crust.
This strata is like a quiche, without having to make a separate crust.
Robin and I used to make this savory bread pudding at our bakery all the time. Folks loved it for lunch or a light dinner.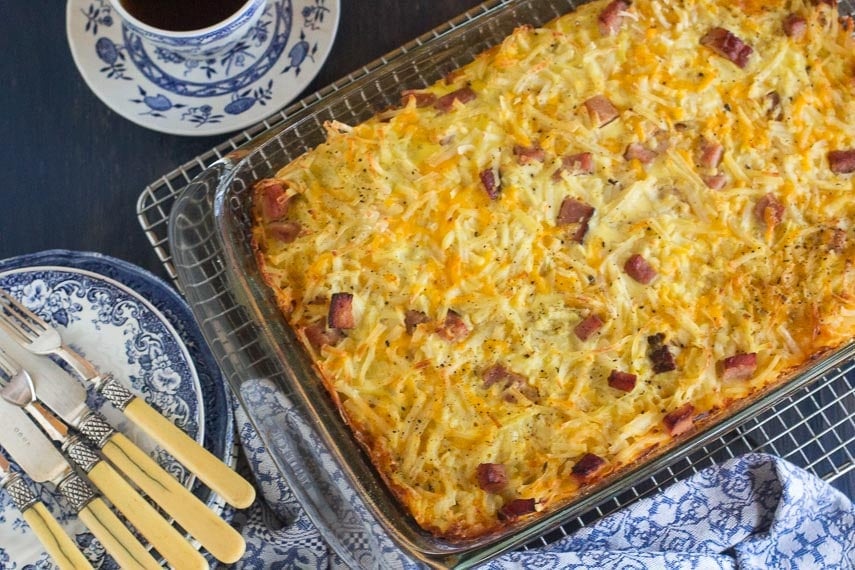 Potatoes and ham – a beloved combo – in a breakfast casserole.
Beef & Lamb
Three ingredients to a juicy, tender roast beef. Use a sharp carving knife to slice effortlessly.
Enhance your Standing Rib Roast with a delectable, flavorful crust of Dijon mustard, rosemary, thyme and Garlic-Infused Olive Oil.
Roast beef doesn't get easier than this! No need to tell guests how simple this main dish was to make.
Using low heat to slow roast lamb yields a tender result. Get out your carving board!
Lamb shanks are a dramatic main dish, perfect for a holiday.
Low FODMAP garlic flavor in this classic leg of lamb roast.
Horseradish is a powerhouse condiment that is low FODMAP!
This sweet and sour brisket is fork tender and feeds a crowd.
Leftover roast beef? Make roast beef hash!
Vegetarian & Vegan Holiday Main Dishes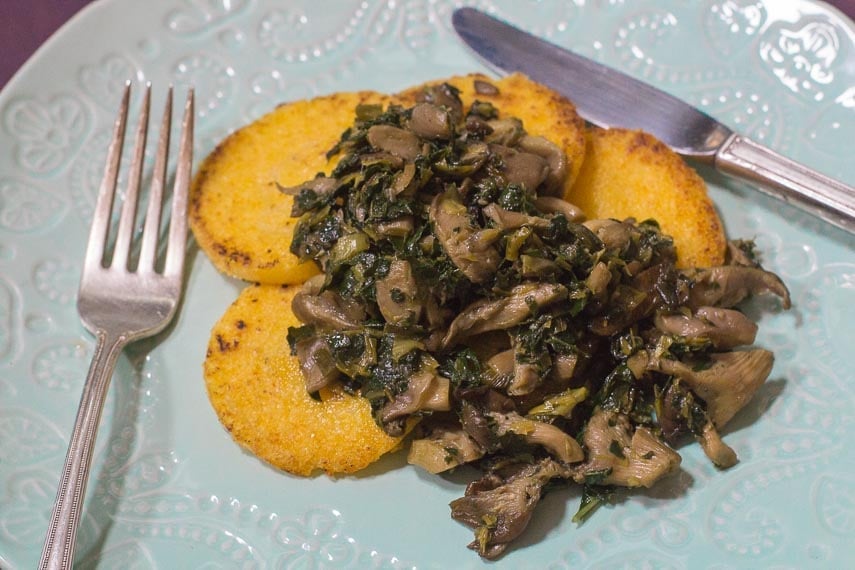 Sliced pre-cooked polenta makes a great vegan main-dish. Hearty low FODMAP oyster mushrooms and kale add color, texture and nutrition.
Pot pie can be vegan! Here we have root vegetables and a luscious gravy under a pastry.
This stuffing has so much going for it: bread, winter squash, chestnuts, grapes – it is a powerhouse of flavor and texture. Add some gravy for a great main! And yes, we have a Vegetarian Gravy! It will blow your mind.
Looking for a vegan stuffing that can become a main dish? This is it!
Polenta can be a satisfying hearty plant-based main dish.
This one-skillet frittata can function as an easy main dish during any weekday – or grace the holiday table.
Kabocha is a winter squash that is sweet, creamy and hearty. The quinoa adds texture and protein.
Pasta! Pasta! Pasta!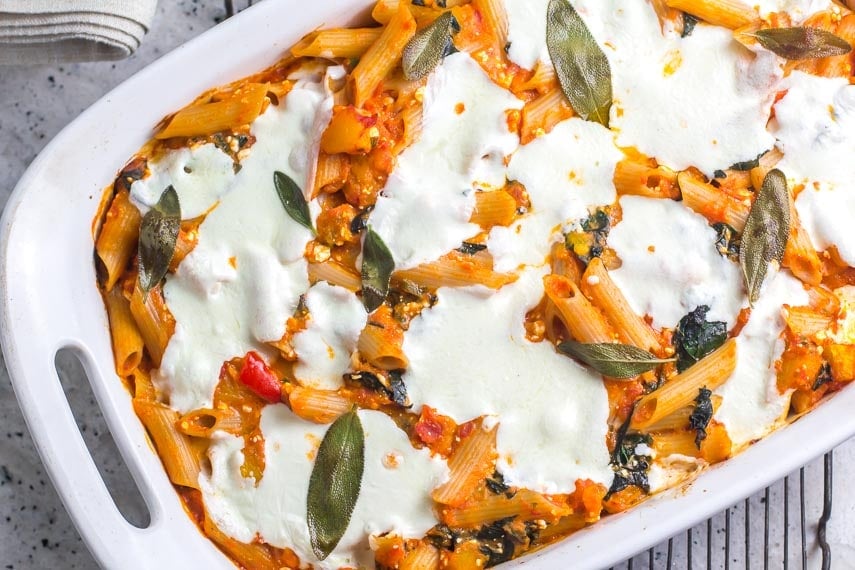 Look for low FODMAP gluten-free pasta, such as rice based. The pumpkin adds creaminess, color and flavor and the sage adds savoriness.
What makes this baked pasta dish "super deluxe" is the combo of pasta, ground protein of choice (turkey, pork or chicken), sausage, fennel seeds, Italian herbs and loads of cheeses.
This is an elegant penne dish, formed and baked in a springform pan. Unmold it and wait for the oohs and aahs.
Baked ziti is comfort food to the max – and low FODMAP sausages make it extra hearty.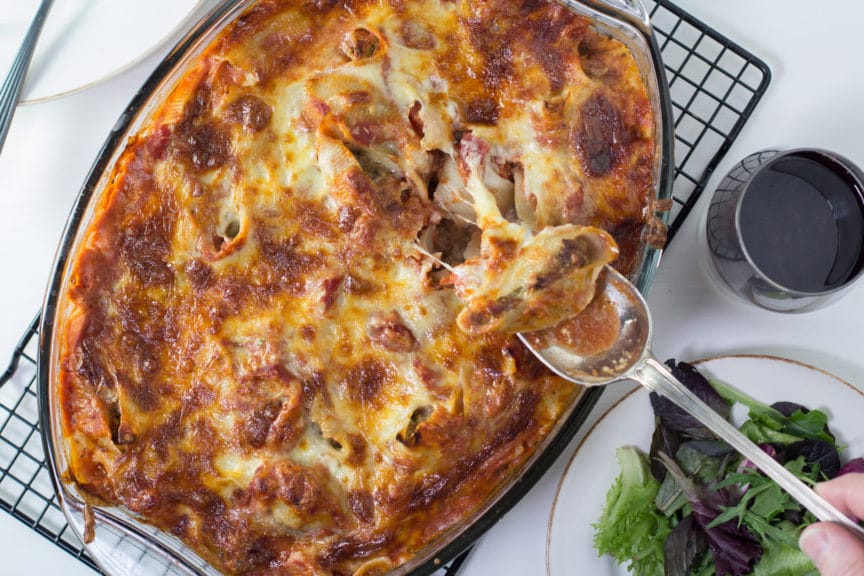 Baked shells are a crowdpleaser – and add meatballs to the mix and folks will clamor for the recipe. We love Tinkayada large shells.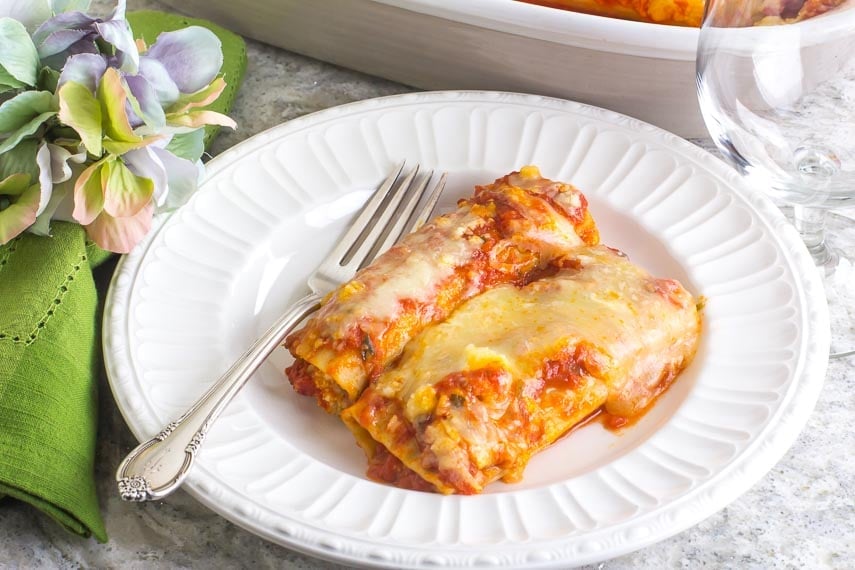 Our manicotti is a hearty vegetarian main dish. You might have to order the manicotti shells, so plan ahead accordingly.