Whether it's the Thanksgiving table or Christmas dinner, you all told us that the side dishes were the most perplexing when it came to preparing something delicious and staying on the low FODMAP diet.
We've got great news for you! We have dozens and dozens of low FODMAP Thanksgiving and Christmas side dishes for you from green vegetables to stuffings, root vegetables to cranberry sauces, leafy salads to grains – we've got it all to add flavor and variety to your holiday meal. We want FODMAP Everyday® to be your first and one-stop for low-FODMAP recipes.
This is our Thanksgiving & Christmas Low FODMAP Side Dishes recipe roundup! Let's plan that shopping list and get cooking! These are the perfect sides for your event, small or large.
And if you are following a gluten-free diet (not necessarily low FODMAP), 99% of these recipes are gluten-free, too. Many are dairy-free.
Low FODMAP Side Dish Tips
Some of us are experienced menu planners, and others need a little more help, so we're going to give you some basics.
Main Dish Dictates
Once you have chosen your main dish, which could be anything from turkey, to ham, to roast beef (as examples), it will help dictate your sides. For instance, we would never dream of having a holiday roast beef without popovers because family members would mutiny. Or, if we're having turkey, some sort of stuffing have to come into play. You get what we mean.
Balance Your Choices
Then you want think about balance. If you have a turkey and a bread-based stuffing, you are going to also want gravy, cranberry sauce, some sort of green – which could take the form of a hot green vegetable or a green salad – and maybe some sort of root vegetable dish. Know your crowd. Some families have to have classic mashed potatoes on the table while others would be more welcoming of something a little different like mashed sweet potatoes or a root vegetable tian.
Logistics Are Key
You also want to think about logistics. Take advantage of the oven, the top of the stove, the microwave if you have one, and possibly even a slow cooker. Our mashed potatoes for a crowd can be made ahead and are in a slow cooker which frees up the oven and stove top for other dishes. Items like our make-ahead gravy and cranberry sauces can be made days and days ahead. Definitely take advantage of that. Depending on where you live, it might even be cool enough for you to keep the green leafy salad in an airtight container in the garage or outdoors on a porch while you're getting everything else ready. Use what you have to make it as easy on yourself as possible.
And don't forget to season well with salt and freshly ground pepper, where applicable – and if your herbs have been sitting around in the cupboard for a long time, then re-stock!
Low FODMAP & Gluten-Free Stuffings & Dressings
If you are going to be precise, stuffings are inside the bird, while dressings are alongside. We don't care what you call them – just make sure you have one on the table! Our stuffing recipes are beloved by the whole family, whether they are inside the turkey or in a baking dish, alongside. Or, have some in the bird and extra in a casserole!
This simple stuffing begins with low FODMAP sourdough and takes advantage of low FODMAP amounts of celery, leeks and scallions.
This stuffing has IT ALL! Bread based, moistened with broth or stock, packed with winter squash, oyster mushrooms, kale, chestnuts, grapes, fresh parsley and all the expected seasonings.
Low FODMAP buttermilk cornbread baked in a skillet with kale and mushrooms. Perfect for a smaller crowd. Garlic-infused olive oil, rosemary, sage and thyme create an easy, flavorful, savory dish.
A combo of cornbread and wild rice makes for a very savory stuffing. Dried cranberries add chewy texture, as do crunchy pecans.
We know what you are thinking. Apples? They do have a small low FODMAP serving size and pair beautifully with sourdough for an elegant, yet easy, stuffing that also features sausage.
Bacon and cornbread combine with juicy pomegranate seeds and a low FODMAP amount of celery for a twist on a classic.
Vegans rejoice! We have a stuffing for you complete with hearty whole grain brown rice, juicy apples and hazelnuts.
This red and green baked rice dish is quite festive!
Potatoes, Sweet Potatoes & Root Vegetables Side Dishes
Did you know that many types of potatoes can contain no FODMAPs? It is easy to find a hearty potato side dish for your low FODMAP holiday table from our dozens of choices.
You CAN have a classic potato gratin on the low FODMAP diet. No one will know this is "diet" food. The dash of nutmeg is a lovely, traditional addition.
This take on potato gratin includes low FODMAP oyster mushrooms. Gruyere cheese adds a lovely, nutty flavor.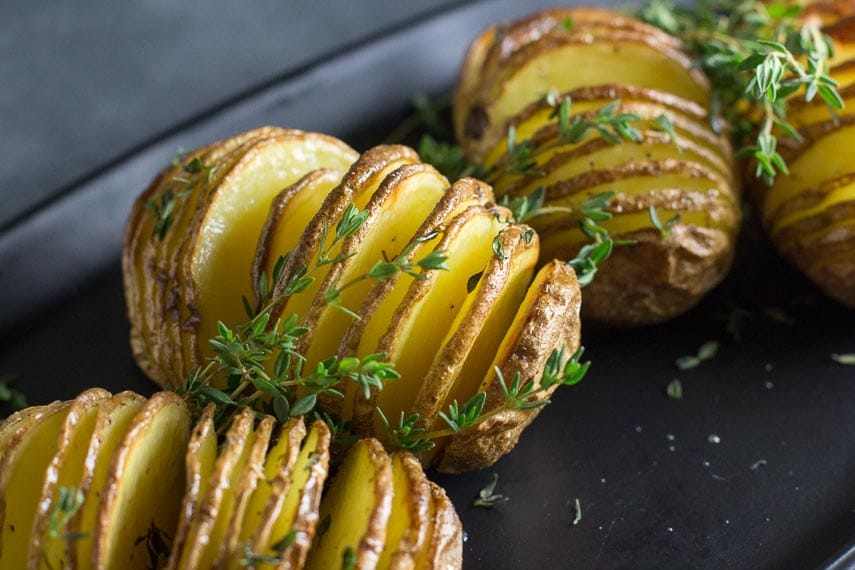 Folks always love the look of these potatoes – and then when they dig in and experience the contrast of tender insides and crispy exterior they often ask for the recipe.
This is a combo of tender carrots and potatoes with a smattering of raisins, and a hint of lemon and honey (in low FODMAP amounts, of course).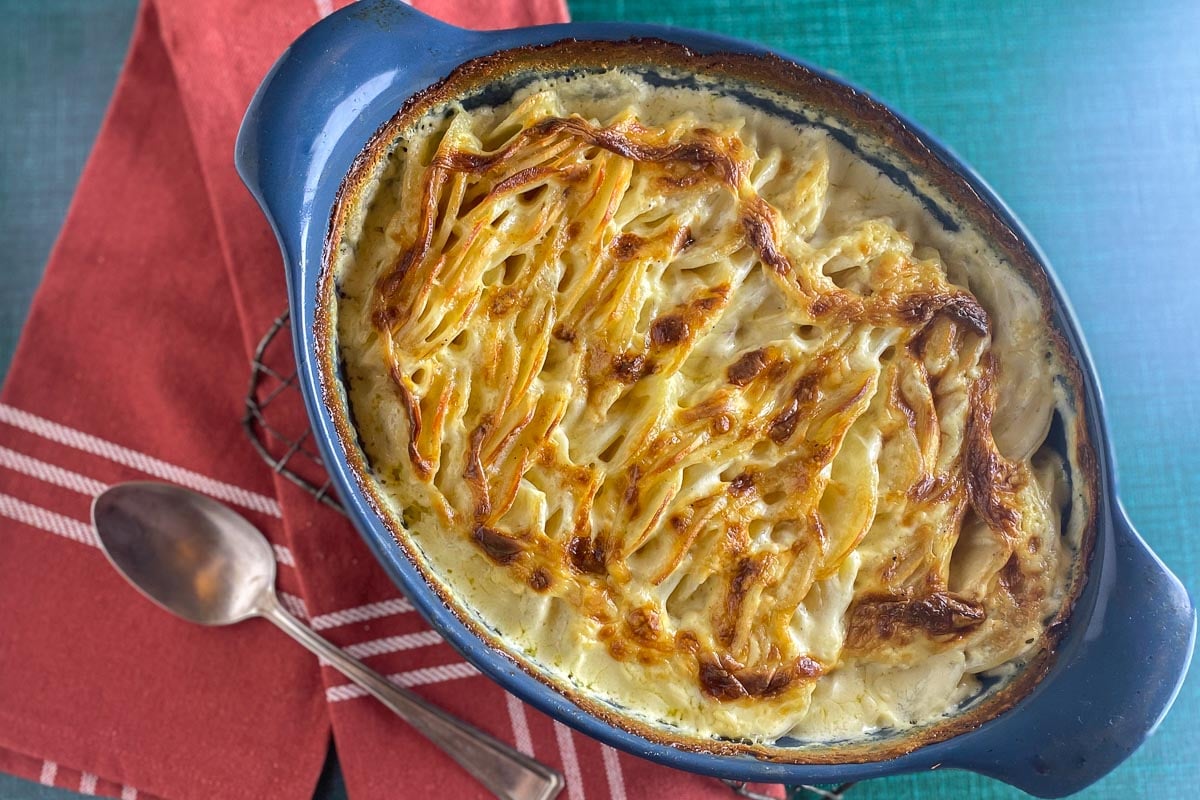 Scalloped potatoes made low FODMAP created with lactose-free dairy and butter.
Vegans want mashed potatoes too, and this is the perfect rendition.
We all love sour cream and chives in a baked potato; here they enhance mashed!
Our do-ahead mashed potatoes are one of our most coveted community recipes. Easy, delicious, creamy and smooth – and takes advantage of your slow cooker. Frees up the oven and stove.
Berbere spices – a North African blend featuring allspice, cardamom, paprika, fenugreek, cinnamon, chiles and more – enliven this mash of potatoes, parsnips and carrots.
Sweet potatoes have a small low FODMAP serving size. We extend the serving size by adding starchy white potatoes. Candied pecans add flavor and crunch.
This gorgeous side dish is best if you are serving a small crowd. Take the time to slice the potatoes, sweet potatoes, beets and parsnips into evenly sized sliced rounds.
This combo of carrots and parsnips is easy to make – and the sauce made with Dijon mustard, butter and dill is elegant and a bit special.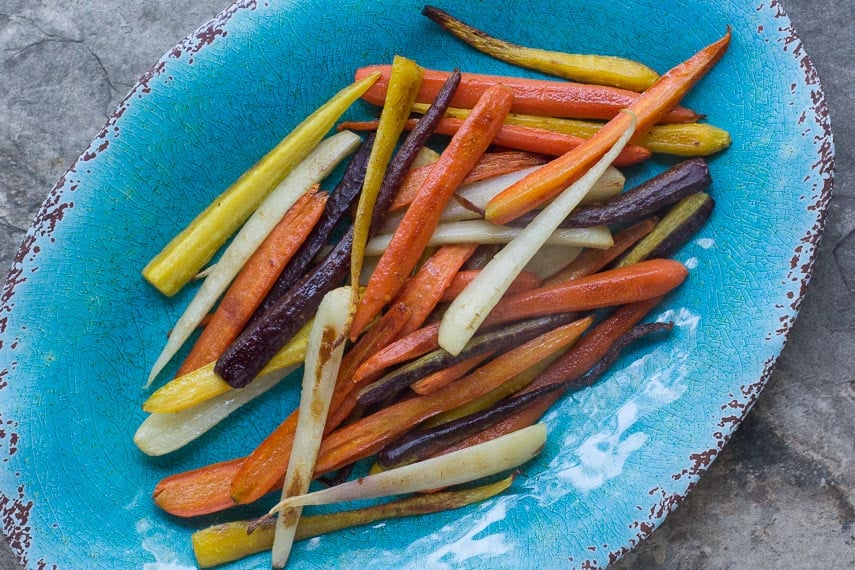 Some colors of carrots are high in fructose, so this recipe is best for those who do well with that FODMAP.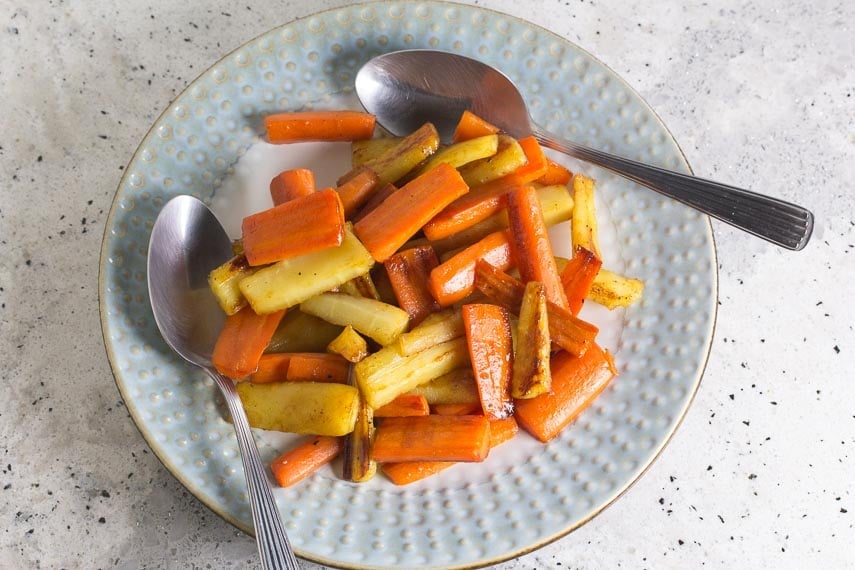 Butter and maple syrup tossed in a pan with sweet, earthy carrots and parsnips is an easy side dish.
A low FODMAP amount of honey is combined with rice syrup to gently sweeten these carrots. The acidity of lime and brightness of parsley round out the dish.
Green Vegetables: Hot Sides & Cold Salads
Get your greens and veggies! Hot or cold, or one of each, green vegetables balance out all the rich holiday dishes. Don't leave them out!
Loads of onion flavor infuse this dish – all from low FODMAP sources!
Sometimes a very lean and simple steamed green vegetable is what you need!
Green beans and almonds are a classic combo for the holiday table.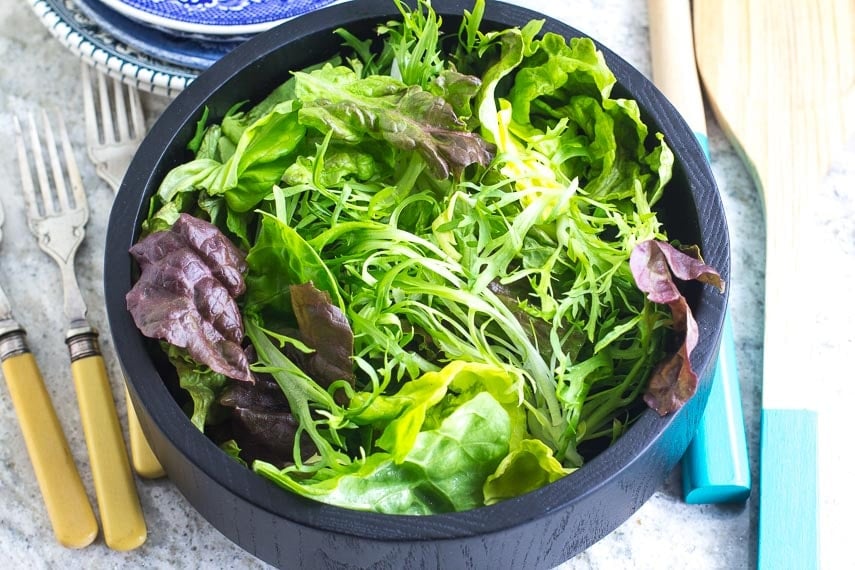 This salad features a selection of NO FODMAP greens! Pair with your favorite vinaigrette.
There is a low FODMAP serving of Brussels sprouts! Raw, as in this salad, they go a long way!
This very hearty salad with protein rich quinoa and hearty pumpkin is a great choice for vegetarians and those eating plant-based.
Brussels sprouts and bacon are a classic combo – and we have made the dish low FODMAP!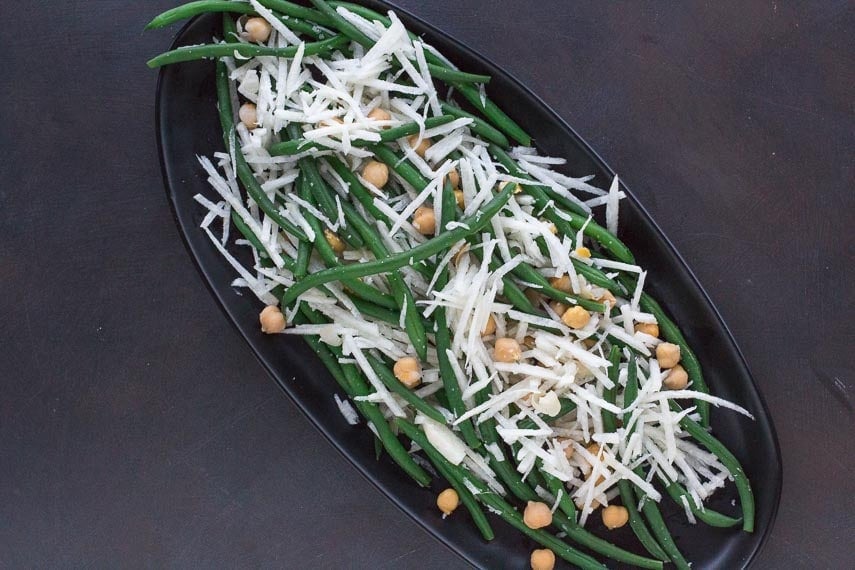 Raw, crunchy jicama helps create this very fresh tasting salad.
One look at the image with the combo of flavors, textures and colors and we cannot wait to dive in.
The combo of earthy chestnuts, kale and low FODMAP garlic make for a lovely holiday side dish.
Forget what you think about kale salads. This combo with sweet carrots and a low FODMAP amount of apple is an unusual version and converts those who think they don't like raw kale.
Fresh, herbaceous parsley, crunchy fennel, sweet oranges and briny olives create a salad to remember.
This salad is lovely warm or at room temperature. If you buy pre-cut winter squash, it will come together very quickly.
Calling all classic creamed spinach fans! Ours is low FODMAP. Lactose-free!
Did you know that collard greens have a generous low FODMAP serving size?
Low FODMAP Gravy, Cranberry Sauces & Condiments
You gotta have gravy – and we have several recipes, including a do-ahead and even a vegetarian version which is incredibly luscious; all lactose-free, too. And cranberry sauce? We admit we usually make more than one. Both fresh cranberries and dried have low FODMAP serving sizes, BTW.
Not only can you make gravy ahead, but you can also then be sure to have plenty!
Oyster mushrooms have a very generous low FODMAP serving size and they work magic in this gravy.
We didn't think it was going to be possible, but this vegetarian gravy is AMAZING!
This is a low FODMAP version of my Mom's easy cranberry sauce: sugar, water, cranberries, orange zest and cinnamon stick.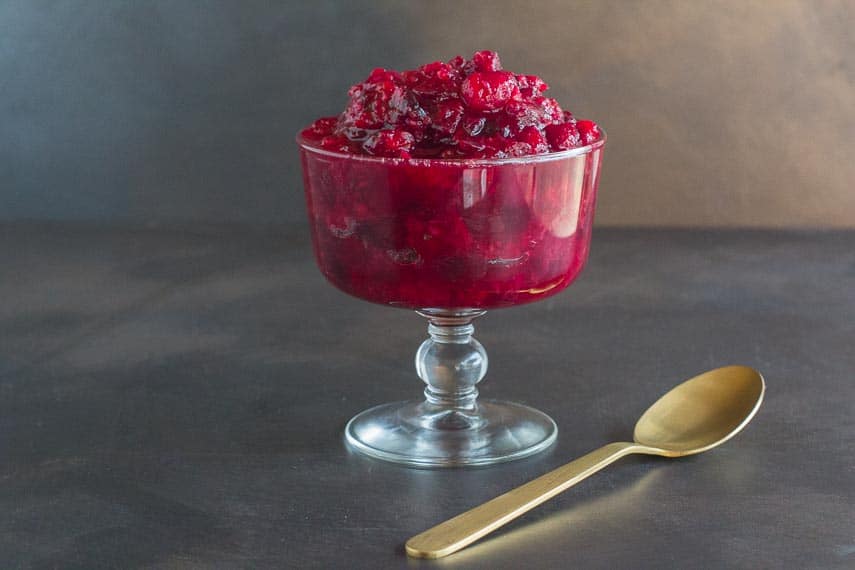 Tangy horseradish pairs so well with sweet/tart cranberries.
This is almost like a chutney, made with balsamic vinegar, garlic-infused oil and savory spices.
The raw take on cranberry relish is crunchy and tart and makes a nice counterpoint to traditional cranberry sauces. It features pineapple, walnuts, cinnamon and cardamom.
Brown sugar, fresh ginger and tangerines create an all new take on cranberry sauce.
This cranberry sauce is made with purchased low FODMAP orange marmalade!
Dry red wine and 5-spice powder help make an unusual cranberry sauce. For the adventurous!
Sweet, chewy raisins, umami-packed miso, mustard, garlic-oil and more come together in this unusual condiment, that we love with both turkey and ham.
Thanksgiving Holiday Recipes That Won't Make You Bloat
These are our very best Thanksgiving & Christmas Tummy Friendly Main Dishes, from turkey to ham, roast beef to something a little different like duck, or a simple roast chicken. And we have vegetarian and vegan options, along with some hearty pastas for those that like those additions on the table. Read: Thanksgiving & Christmas Low FODMAP Main Dishes
Holiday Appetizers For Everyone! Even For Delicate Digestions!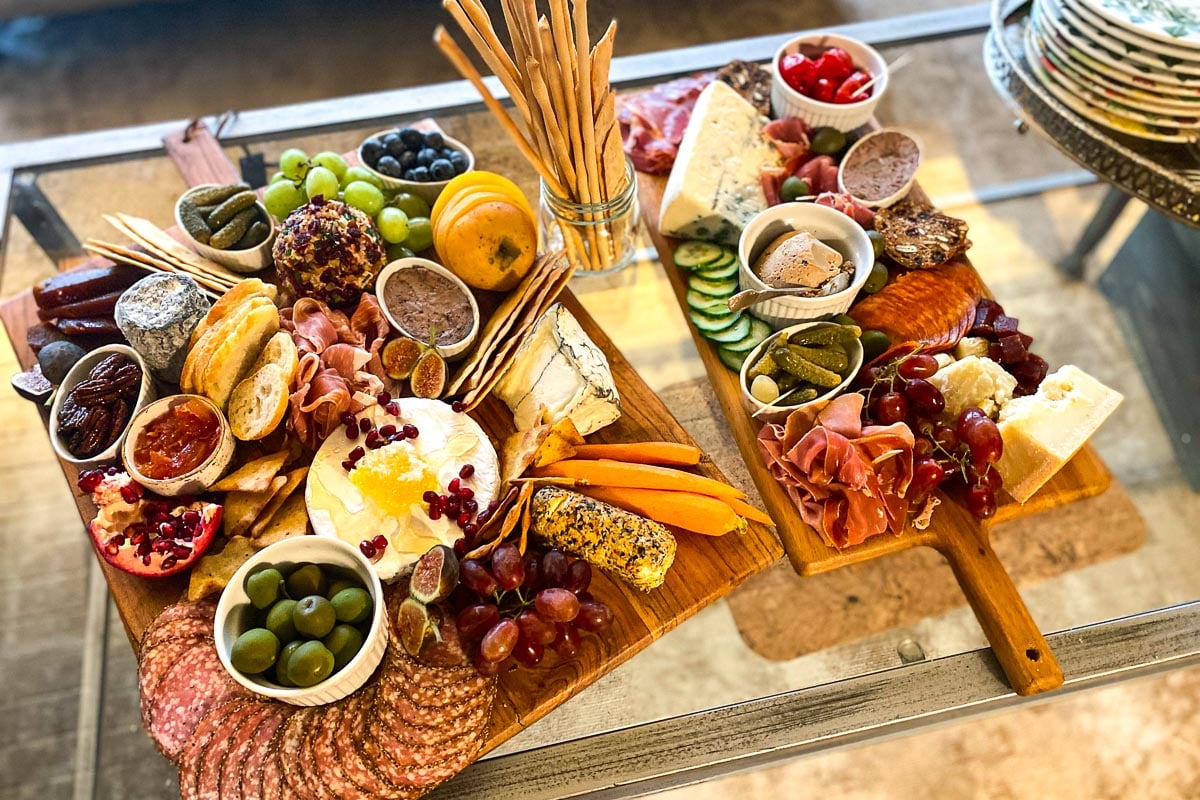 Appetizers! Perhaps not an everyday thing, but around the holidays we love to have a spread of little nibbles. These are our very best Thanksgiving & Christmas Low FODMAP & Gluten Free Appetizers and hors d'oeuvres from simple, to sublime, easy to elegant. You will find what you are looking for whether you need a dish to take to a party, something for a buffet, or a plated appetizer.
Read: Low FODMAP & Gluten Free Holiday Appetizers.
Thanksgiving & Christmas Drinks: Cocktails, Mocktails & More For Even The Most Sensitive Of Stomachs
These are our favorite Thanksgiving & Christmas Low FODMAP Drinks, from spirited cocktails, to no-alcohol mocktails, eggnogs, mulled wine, punches, mimosas, spritzers, champagne drinks, hot cocoa, hot chocolate and more. Read: Thanksgiving & Christmas Low FODMAP Drinks: Cocktails, Mocktails & More.
Thanksgiving & Christmas Low FODMAP Desserts to Enjoy While Keeping Your Bloat at Bay
When gearing up for Thanksgiving or Christmas, we might first think of turkey or ham, but our thoughts go to pies and desserts pretty quickly! We have over 50 Thanksgiving & Christmas Low FODMAP Desserts for you. We will help you keep IBS symptoms at bay and still enjoy your holiday season. Click for Thanksgiving & Christmas Low FODMAP Desserts.
Low FODMAP & Gluten-Free Tummy Friendly Christmas Cookies
Looking for the best low FODMAP gluten-free Christmas cookies and bar recipes? Whether you are celebrating Christmas or any other winter holiday, we have 60+ low FODMAP gluten-free cookies, brownies and bars for you – and they are easy on your digestion. Click for Low FODMAP & Gluten-Free Christmas Cookies.