These are our favorite Thanksgiving & Christmas Low FODMAP Drinks, from spirited cocktails, to no-alcohol mocktails, eggnogs, mulled wine, punches, mimosas, spritzers, champagne drinks, hot cocoa, hot chocolate and more.
Let's Talk Thanksgiving & Christmas Low FODMAP Drinks
Water and sparkling water are low FODMAP, but so are so many other beverages, from orange juice and cranberry, to many kinds of wines (including sparkling), gin, vodka, whiskey, brandy, tequila, tea, coffee and more.
Whether you want a hot beverage, something spirited (alcoholic) or not, there is much to choose from.
And of course, we have the rest of the meal covered in these recipe roundup articles:
Is Alcohol Low FODMAP?
Let's first address alcohol in general. Alcohol can be a gut irritant, but there are also many alcoholic beverages that are low FODMAP. As always, you must know your own tolerances and heed them for your best gut comfort. And of course, if drinking alcohol, please exercise moderation no matter what.
We have a few articles for you to review as you begin to think about making your Thanksgiving & Christmas Low FODMAP Drinks.
Big Batch Drinks
Most of our low FODMAP drink recipes are for single servings, but some are for large batches – and others lend themselves to making in larger amounts. If you are having a party, making a large pitcher of lemonade (spiked or not) or punch is a user-friendly way to fete your guests.
Non-alcoholic combination of black tea, cranberry juice, citrus and grapes. You could offer vodka or gin on the side, if you like. A clear glass pitcher shows off the pretty colors.
Lemonade and rosé wine. Take the time to make the fruit-filled ice ring; it is so festive! Put that punch bowl to use! PS: Make sure your ring fits in your bowl.
Everyone loves lemonade! This recipe shows you how to make a big batch – and then enhance it with herbs and/or alcohol, if you so choose. Set out in a tall pitcher.
Our white wine sangria includes fruit as well as basil and mint for a refreshing beverage. Get out your prettiest pitcher.
Think lemonade is just for summer? Think again! With a big batch of this sunset colored drink, no one will go thirsty. Got fancy straws? Set them out!
Liqueurs
Did you know that it is easy to make your own liqueurs? We have several for you – they can be sipped alone or used to create mixed drinks (White Russian, anyone?) They make lovely host gifts, too.
Kahula is based on high FODMAP rum. Our version uses low FODMAP vodka.
Salted caramel flavors in a creamy liqueur. Use your prettiest shot glasses, or create mixed drinks.
As of December 2021 Monash University released lab test information on brandy, which they say is low FODMAP in "1 shot glass" amounts. Assuming those are Australian shot glasses that would be 30 ml. They do state 30 g. This means you could buy Grand Marnier and have some! We are leaving this recipe here for those of you who might want to make their own version using vodka and whiskey.
This creamy liqueur is perfect on the rocks, or make a Mudslide with this and our Low FODMAP Coffee Liqueur.
Cocktails
Sip an elegant cocktail – while sticking to your low FODMAP diet!
Gin martinis, anyone? Yes, they can be low FODMAP. Martini glasses put to great use.
Whiskey, ginger simple syrup and a bit of beet juice, which is low FODMAP! You have old-fashioned glasses, don't you? Clear ones show off the pretty burgundy color.
Fresh basil combined with sparkling water, vodka and orange.
We like Hendrick's gin for this drink.
Plain vodka can work, but peppercorn vodka makes this extra special, along with the lime, grapefruit zest and jalapeño. Sippy straw optional but fun!
Make your Simple Syrup first, then stir together with whiskey, lemon juice, a dash of cayenne and slice of low FODMAP apple.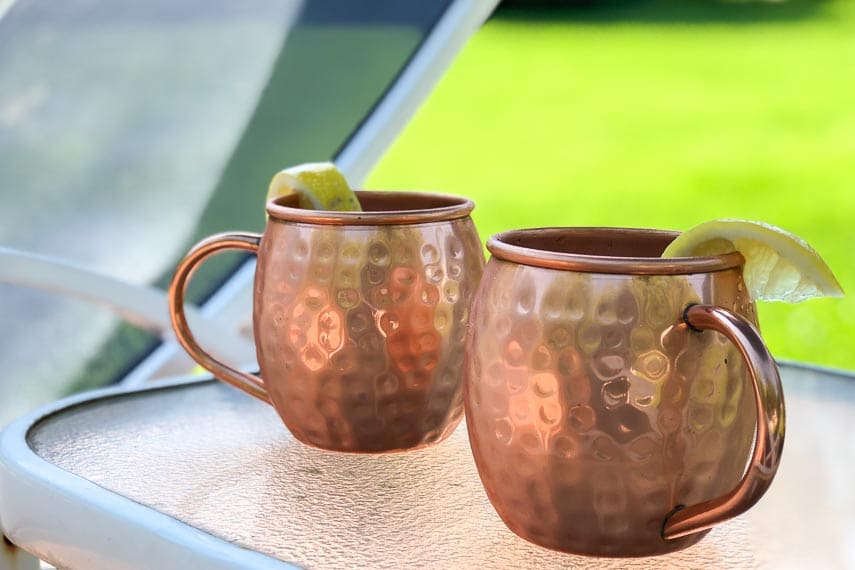 You don't need copper mugs, but they are traditional for a Moscow Mule. The mugs make a lovely gift, too. Package with the recipe written out by hand.
Gin is enhanced with wasabi, lime and cucumber, with a little Simple Syrup.
Mocktails
Some of us do not drink alcohol and then there are those times when those of us who do, just want a non-alcoholic option. We have many low FODMAP drinks for you that fit this bill.
This pretty and flavorful beverage is from ZERO PROOF drinks & more 100 Recipes for Mocktails & Low-Alcohol Cocktails.
Another drink from ZERO PROOF drinks & more 100 Recipes for Mocktails & Low-Alcohol Cocktails. Simply combine the ingredients, freeze until slushy and serve.
After a day of holiday shopping you need to hydrate! Try this sunny drink.
This delicately colored beverage might seem summery, but you can use frozen blueberries and it will quench your thirst.
Seek out low FODMAP gingerale or ginger beer (we like it sweetened with pure cane sugar). Blood oranges have been lab tested by FODMAP Friendly, by the way. Another great reason to have that smartphone app.
Cranberry and cinnamon combine beautifully in this non-alcoholic drink. Pull out your fancy stemware.
Passionfruit has a generous low FODMAP serving size, here combined with coconut flavored sparkling water, like La Croix.
A thin low FODMAP slice of pear is all you need for autumnal pear flavor in this gingery drink. We love collecting swizzle sticks! They make a fun gift, too.
Prepare your Simple Syrup first, then this drink will come together in a flash.
Eggnogs
Eggnog is one of those beverages that usually only makes an appearance at this time of year. Whether you want one with alcohol, or without, we have these two low FODMAP versions for you.
A little whiskey and fresh nutmeg make this lactose-free version of eggnog a new classic. Check out this grater for fresh nutmeg; we wouldn't be without it.
This non-alcoholic eggnog is based upon a cooked custard. Grate that nutmeg fresh!
Hot Beverages
Cold weather just begs for special hot beverages: hot chocolate, hot cocoa and more.
This is THEE BEST hot chocolate and we stand by it! Use the best quality chocolate as possible. Valrhona Guanaja is a great choice.
Hot chocolate and hot cocoa are not the same! This is the cocoa version. We like Scharffen Berger natural cocoa for this one.
You really do need the mini candy canes to hang on the mugs! They make this Hot Mint Chocolate extra special.
First you make little chocolate truffles. Then, stash them in the fridge or freezer for near instant hot chocolate – WAY better than any mix.
A hot cocoa drink brought to us by Danielle Capalino MSPH, RD, CDN and her book Healthy Gut, Flat Stomach Drinks: 75 Low-FODMAP Tonics, Infusions, and More.
Coffee, a little dairy and whiskey. We love these glass mugs for our Irish coffee.
A little honey goes a long way and we like this warming drink when we are under the weather – or just need to warm up from the inside out. Glass mugs let us appreciate our beverage.
Wine, Champagne & Sparkling Wine
Wine and sparkling wine do have low FODMAP serving sizes!
Red wine, spices and citrus = a holiday treat. Fun for a tree trimming party or other get-togethers.
No need to buy expensive champagne. Try a lesser expensive Prosecco. Still low FODMAP! Get out the flutes!
We used etched wine glasses for this easy wine spritzer. Threading the grapes onto a skewer is optional, but fun and appreciated.
We love a coupe shaped glass for this sparkling drink.
This pretty pink frosty drink is perfect for a party. Pass the coupes around on a silver tray.
You can use a sparkling cava for this sea breeze version of a mimosa.
OK, this is not a drink. Here we are EATING champagne, but I had to include the recipe. The gold-rimmed glasses are quite fitting, don't you think?