We also have an article on Thanksgiving & Christmas Low FODMAP Desserts that you might like to check out.
If you love to bake, be sure to see our 275 page e-book, Low FODMAP Baking.
Before you start baking, let's talk about some basics. Here we will point out some important points about ingredients and equipment.
Baking Ingredients
The better the ingredients, the better your cookies. The right kind of butter, fresh eggs, using the ingredients called for, every choice you make will affect the end result. We want your baking time maximized and will help you create the best ever gluten-free Christmas cookies!
Butter
Which butter is the best to use? The one called for in the recipe! I know that sounds cheeky and obvious at the same time, but I see folks making swaps all the time. They figure, hey, why not use high-fat European butter? Well, if the recipe calls for it, then absolutely use it, but typical American supermarket butter, which is what we use in our Test Kitchen (like unsalted Land O' Lakes) is 80% butterfat. High-fat European style butters are typically about 84% – 86% and will wreak havoc if the recipe wasn't developed with them. Stick with what is called for,
Flour
While the low FODMAP diet is not a gluten-free diet, both gluten and FODMAPs (fructans in particular) are found in wheat. For this reason the majority of our recipes are gluten-free.
Our go-to flour that we use in most of our recipes is Bob's Red Mill 1 to 1 Gluten Free Baking Flour. I have found it gives the results most similar to baked goods and desserts made with conventional wheat all-purpose flour. I occasionally use other flours, such as King Arthur Measure For Measure, but I do not consider them equal or swappable. The King Arthur acts for like a traditional cake flour, in our experience. Please do use what is called for in the recipes.
If you would like to make your own gluten free flour blends, we have two recipes for you. Our FODMAP Everyday All Purpose Low FODMAP Gluten-Free Flour (which contains xanthan gum), and our Gum Free Low FODMAP Gluten-Free Flour Blend.
Equipment
Believe it or not, the equipment you use can greatly affect the outcome of your cookies – particularly when it comes to cookie sheet pans and your measuring equipment.
Baking Sheet Pans Can Make or Break Your Gluten-free Christmas Cookies
I have written several books on cookies and I the very first thing I did before I wrote the first cookie book (which happens to be A Baker's Field Guide To Christmas Cookies) was test baking sheet pans side-by-side. I cannot overstate the difference that your baking sheep pans make in how your cookies turn out.
Commercial weight "half-sheet pans" gave the best results by far. Your cookies will bake evenly and will not burn. The pans are quite sturdy, will not warp and can be used for jellyroll cakes, roasting vegetables and so much more. The term "half-sheet pan" refers to an actual dimension. These pans are abut 18 by 13-inches with a 1-inch lip.
Possibly the worst performing sheet pans were air-cushioned. True, cookies won't burn, but the sugars in the cookies will not caramelize either and the cookies baked on these were pale in color and flavor.
Measuring Equipment
Not all measuring equipment is created equal. Please use high quality measuring cups and spoons in order to actually measure by volume as accurately as possible. Toss any sets that are dented for sure! In side-by-side tests, tablespoons were shown to vary by more than 100%! Read more here.
Holiday Cookie Platters
Once you have made your cookies – and we do encourage you to make as many different gluten-free holiday cookies as you can – you will want to share them, and we encourage you to do so. But we do have a lot to say about the classic holiday cookie platter.
If you create a holiday cookie platter laden with all sorts of cookies, which is what we often see, you have to pick and choose wisely. We suggest pairing crisp cookies with crisp, and soft with soft, for instance. If you don't the moisture in the moist cookies will soften the crisp ones. And flavor counts, too. Do not put peppermint or mint flavored anything with other cookies – yup, you got it. Everything ends up tasting like mint. The same thing can happen if you pair highly spiced cookies together with simple sugar cookies or shortbread. The buttery delicateness in the plain cookies will be lost and they will pick up the spice aromas of the others.
After you have spent all that time and money making your holiday cookies, you will want them to be enjoyed and experienced in all their unique glory.
I like going to the dollar store and getting lots of small airtight tins and packaging my cookies separately. Plus, then its like getting to open numerous gifts!
Low FODMAP Baking Tips for Gluten-free Christmas Cookies
This is certainly not a complete list, but if you follow and check off all of the items detailed in this bullet list, you will be set up for success.
Baking is an art and a science. Follow the recipe exactly, and this means using the suggested ingredients and equipment.
Make sure you are baking soda and baking powder or fresh.
Your spices should be fresh as well.
Use high quality measuring equipment. This goes for measuring cups, measuring spoons and scales.
Pay attention to temperature recommendations. If a recipe calls for room temperature milk, do not use it cold.
Use an oven thermometer.
Do not underestimate the power of a commercial half sheet pan. They conduct heat very differently from flimsy supermarket pans.
Also, pay attention to the pan prep recommendations. If a recipe suggests lining a cookie sheet pan with parchment paper, do not use a silicone mat. Your results will not be the same.
We give time cues, but visual cues are more important. If a toothpick is supposed to test clean when inserted into a brownie/bar at 30 minutes, and you were still seeing wet batter, bake the bars until the toothpick tests clean.
Cooling is important. Have those cooling racks ready.
Pay attention to storage information as well. In general, refrigeration dries out baked goods.
Package crisp cookies with crisp, and soft with soft. This is because the moisture in soft cookies will soften crisp ones!
And, while we know it is tempting to make a cookie tray laden with all your holiday creations, we suggest not doing this, unless right before serving. Spiced cookies, and especially cookies with mint, will lend their aroma and flavors to other cookies, ruining their cookie flavors.
Now, let's get to the low FODMAP cookie, brownie and bar recipes! (And rich chocolate truffles).
Watch For More Holiday Baking Tips For Low FODMAP & Gluten-free Christmas Cookies
---
Classic & Specialty Low FODMAP Gluten-Free Christmas Cookies
We think this is, hands-down, the absolute Best plain rolled gluten-free sugar cookie recipe. It is easy to make, and it is easy to work with and has become our most requested gluten-free Christmas cookie recipe. Use it for cut-out sugar cookies for Christmas, Hanukkah or even Valentine's Day. And if you were looking for a great icing recipe, we have that too – or simply top with colored sugar or sprinkles!
---
Low FODMAP gluten-free Gingerbread cookies are a classic winter holiday flavor, and these rolled gingerbread cookies are gluten-free and get rave reviews – even from people not following the diet. The small amount of molasses is low FODMAP!
---
Looking for a ginger cookie that SNAPS? This is it! Crunchy, easy and really gingery.
---
Are you a bit crafty? These little sugar cookie mice will be a hit with everyone, kids – and big kids. The tails are licorice!
---
These cookies use a special flour blend with pectin, which provides a special texture. There are low FODMAP amounts of strawberry, raspberry jam, and orange marmalade, which you can pick and choose from for the filling.
---
Crumbly, with that beloved sandy texture, these pecan cookies are showered with confectioners' sugar and are a gluten-free take on a classic holiday cookie.
---
A simple shortbread cookie that is fantastic plain but can also be enhanced to your heart's desire. Dipped or drizzled with chocolate, toffee bits, nuts, etc.
---
Simple crescent shaped cookies, with the ends dipped in chocolate! Gluten-free and extra special. Finely textured almond flour makes these extra-special almond flour sugar cookies. Make sure the almond flour you use is fine in texture and made from blanched almonds for best results.
---
Did you think that fruitcake was going to be off-limits? Our version is gluten-free, low FODMAP and packed with diet compliant amounts of dried fruit, nuts – and alcohol!
---
A chocolate cookie dough, rolled into a ball and coated in a variety of coatings, crinkles and cracks upon baking, hence the name. Chocolate Orange Crinkle Cookies; Chocolate Cinnamon Crinkle Cookies; Chocolate Peppermint Crinkle Cookies; Chocolate Spice Crinkle Cookies; Chocolate Molasses Crinkle Cookies. Your choice! Or make a few kinds. These gluten-free Christmas cookies belong on your holiday cookie platters!
---
People will think these are real mushrooms! Toss in a basket and serve – and wait to watch the looks of surprise. Perfect alongside a Buche de Noel!
---
This is a no-bake cookie that improves as it sits – and yes, whiskey is low FODMAP!
---
A little peppermint extract and red food coloring transforms simple meringue cookies into this colorful, festive treat, especially welcomed at the winter holidays. They are fat-free, too.
Chocolate, Chocolate Chocolate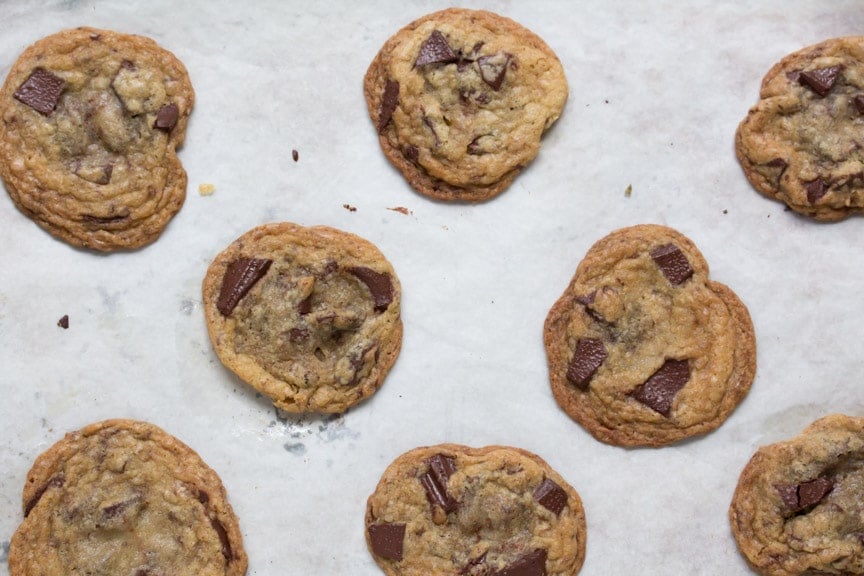 This is our basic gluten-free chocolate chip cookies recipe, that we think is even better with big chunks of chocolate – but there is nothing "basic" about the texture and flavors, which are out of this world. Maybe it is time to read about dark chocolate and the low FODMAP diet!
---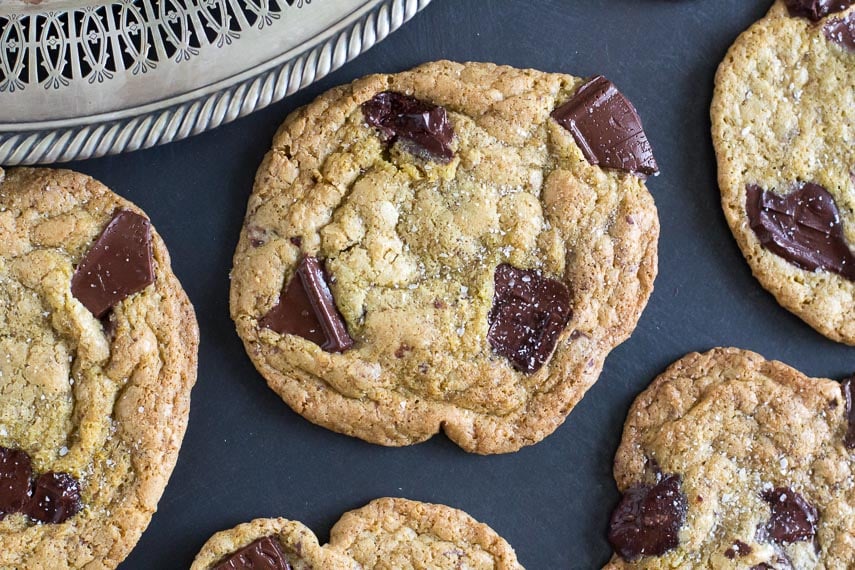 These chocolate chunk cookies use gluten-free buckwheat and an extra hit of salt to create an all-new chewy take on classic chocolate chunk cookies.
---
We have several one-bowl baking recipes, but this one is hands down my fave. A lot of you have asked if you can leave out the raisins. Yes, you can 🙂 – but we think they add a chewy texture that is quite welcomed, in addition to flavor.
---
While we piped these out with a star-shaped pastry tip, you could dollop out with a teaspoon.
---
We often cannot choose amongst our macaroon recipes – but this chocolate one is extra special. And, if you are looking for grain-free cookies, macaroons are a good choice!
---
These are egg white based. Like a hazelnut packed meringue cookie, with a bit of cinnamon.
---
Chocolate and peppermint. Chocolate cookies dough, chocolate chips and peppermint candy.
---
Espresso and white chocolate, in addition to hazelnuts, in a classic brown sugar dough.
---
Milk chocolate, in addition to toasted pecans and orange zest, in a classic brown sugar dough. A truly elegant chocolate chip cookie variation.
Chocolate cookie dough studded with chocolate chips. Decadent and delightful. And it's fun to press all the chocolate chips into the dough balls.
---
Follow this recipe to a "T" and you will be rewarded with perfectly chewy and satisfying vegan chocolate chunk cookies. Read through before you start; there are some important time cues.
Biscotti & Mandelbrot
These are a decadent biscotti recipe with cocoa and chocolate in the batter; hazelnuts add crunch.
---
Mandelbrot are like a somewhat softer, richer biscotti. Try them dipped in your hot beverage of choice.
---
Crispy biscotti with anise seeds and bits of almond. A classic cookie all-year round. These are great to have on hand for last-minute guests.
Truffles, Candies & Brittles
These are incredibly easy to make; read the recipe through. You might have to order the cookies to crush.
---
These are our simplest truffles. Get ready to get your hands a bit messy. If you are a truffle fanatic, you might enjoy my book on Truffles.
---
These truffles are little bit fancier than our cocoa dusted. These have a crisp outer shell of dark chocolate.
---
This cookie brittle is like the crispiest, crunchiest chocolate chip cookie in a slab form. The recipe does not include eggs – which enhances the crisp texture.
Looking for Brownies, Blondies & Bars?!
Brownies, Blondies and Bars are perfect for making ahead and hold up well for shipment. Learn more here 11 Brownies, Bars and Blondies for Gift Giving! Mix and Match! Gluten Free & Low FODMAP
Chocolate brownies, crunchy peppermint candy and a ribbon of peppermint filling. These are RICH! Watch your portions.
---
These are a simple chocolate chunk and nut bar. Start here is you are looking for an easy bar recipe.
---
Rice crispy treats that bring together the flavors and textures of a "Chunky" candy bar! Peanuts, chocolate and raisins all together!
---
Here we have rice crispy treats with cappuccino flavors – espresso and cinnamon tame the super-sweet marshmallow.
---
These are THE BEST gluten-free low FODMAP lemon bars. They just are 🙂
---
Browned butter pairs so beautifully with maple syrup in these easy bars. Nuts add crunch.
---
Classic Florentine cookies in a bar form, which is easier to make. They combine the flavors and textures of caramel and honey, chocolate, dried fruit and nuts – all in low FODMAP amounts. Watch your serving sizes!
---
PB&J in a bar form.
---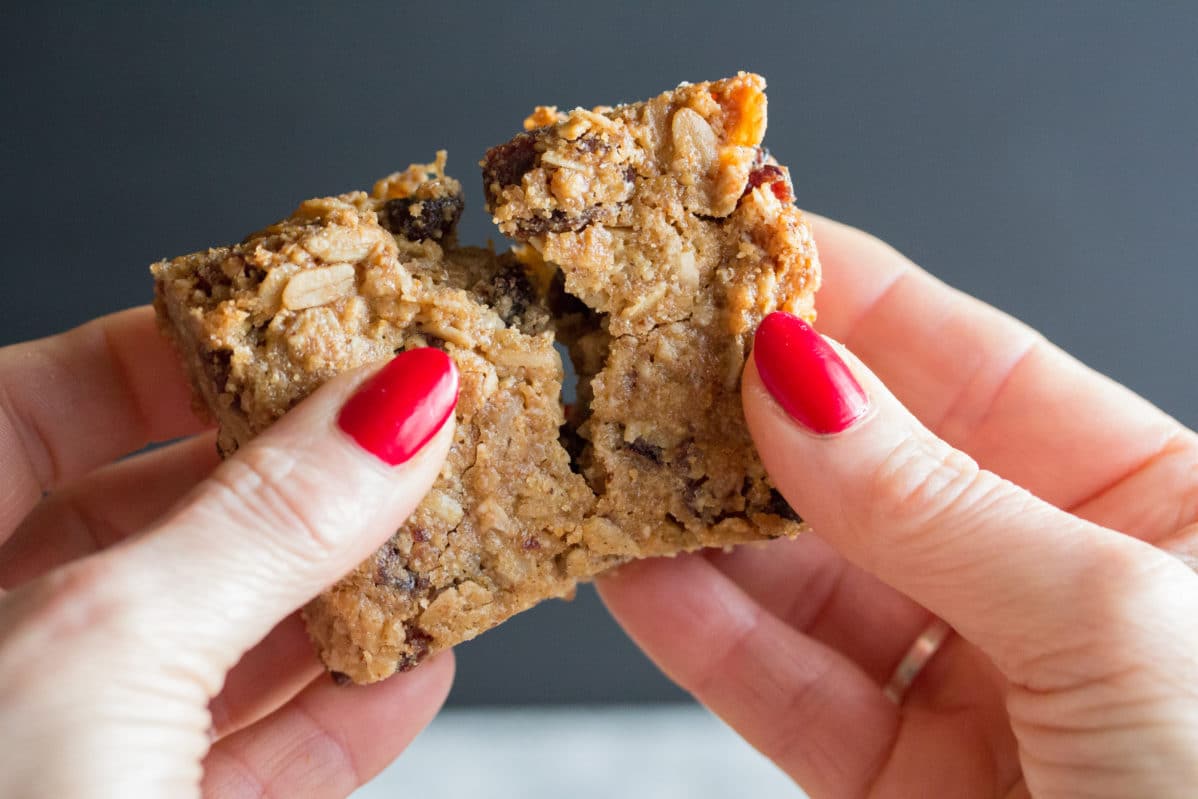 Homemade gluten-free soft and chewy granola bars – low FODMAP, of course.
---
These are decadent! Gluten-free chocolate chunk bars, brushed with low FODMAP coffee liqueur, topped with a cloud of coffee flavored frosting.
---
Tart dried cranberries with sweet white chocolate dot a brown sugar dough for a lovely chewy bar.
---
This blondie is like a PSL (pumpkin spiced latte) in a bar form! Gently spiced with some coffee flavors, as well.
---
Chocolate, coffee, salt, whiskey and caramel in a low FODMAP, gluten-free bar. Gluten-free Christmas cookie can come in bar form! And an extra-special recipe, like this one, is a great host gift.
---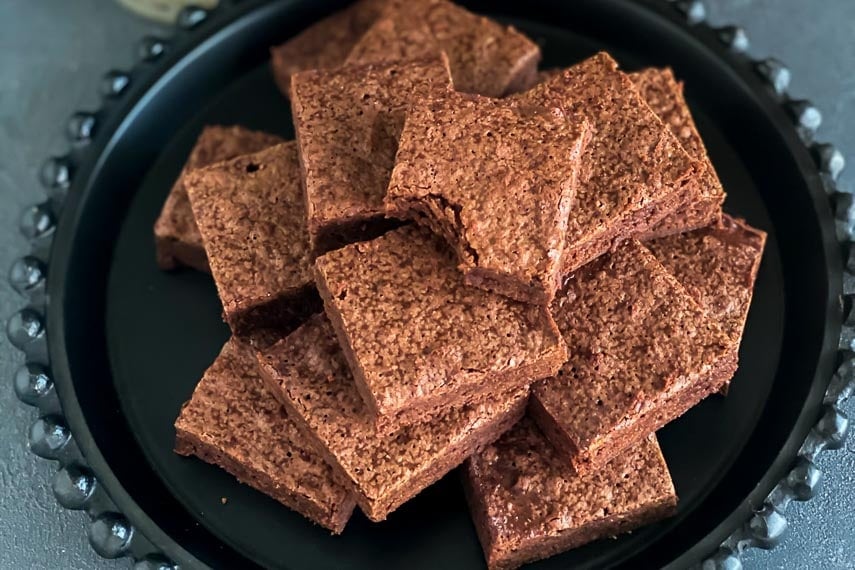 One-bowl and whisk and you can make low FODMAP gluten-free brownies.
---
Dark chocolate brownies with white chocolate chunks. Yes, you can have both kinds of chocolate (and milk, too) on the low FODMAP diet.
---
These are our fave chocolate brownies; they are rich, rich rich! We show you how to make one batch, creating half with nuts and half without, to please everyone.
---
Make our Low FODMAP Nutella first, then, stop eating it by the spoonful and try this brownie recipe (we have Nutella banana muffins, too). Truth be told, we love these any time of year, but certainly consider them as you are planning our your gluten-free Christmas cookie baking.
---
Toasting coconut and almond flour creates an extra special taste and texture in this brownie.
---
You have to be a coffee lover – or these won't be your cup of tea. These have a powerful coffee flavor. Not for the faint of heart.
---
YES! You can have cream cheese brownies that are gluten-free, lactose-free and low FODMAP. This is our basic recipe. The next two listings are for variations.
---
These take our basic cream cheese brownie recipe and adds peanut butter and jelly flavors.
---
This recipe takes our basic cream cheese brownie recipe and flavors of espresso.
---
If you are a cookie dough lover, these blondies should be next on your list to bake.
Old-Fashioned Favorites & Others Too Delicious To Miss!
You can never have too many oatmeal cookies recipes – and these are chewy with raisins; these are a crowd pleaser.
Vegans rejoice in this pretty sandwich cookie; play with the cut-out shapes for the jam to peek through. You can pick and choose the shape of the cookie, as well as the shape of the peek-a-boo window for these gluten-free Christmas cookies.
Cream of tartar and cinnamon star in this homespun gluten-free snickerdoodles cookie. The cinnamon-sugar topping is so simple, yet classic. You might think of these as an everyday cookie, but we think they make perfect gluten-free Christmas cookies.
The easiest gluten-free peanut butter cookies to make – let the kids help! Perfect for everyday, but a nice choice as gluten-free Christmas cookies as well.
Natural peanut butter, ground flax seeds and sugar create magic when they are brought together to make these chewy PB cookies – that are low FODMAP, vegan and gluten-free.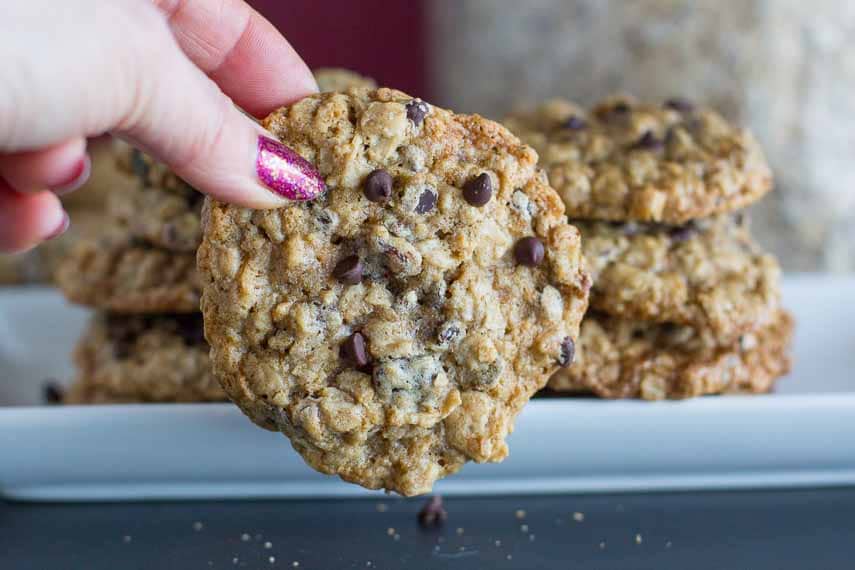 One-bowl and a whisk, rolled oats, chocolate chips. A classic that kids and adults love.
We have several peanut butter cookies recipes, from one with just a few ingredients, to vegan, to this one, which we freakin' LOVE! A chewy texture and studded with lots of chocolate chunks.
Not all peanut butter is the same, and when it comes to baking, it is best to use the type called for. In this case, it is no-stir style, such as Skippy. The heart shaped is very sweet, but you can also make simple rounds.
We have two coconut macaroon recipes (here is the other). These are for coconut lovers! And yes, of course they are based on low FODMAP amounts of dried coconut. A great choice for a dairy-free option.